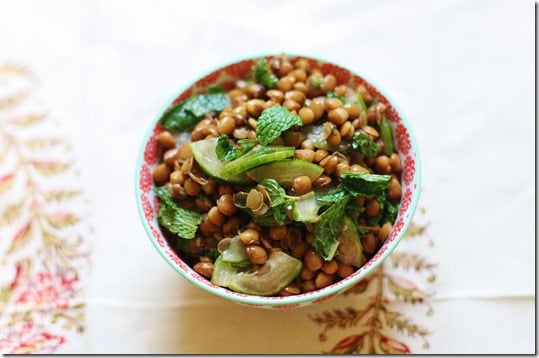 Hope you all had wonderful weekends! DC turned cold and drizzly just in time for Saturday, but that allowed for some productivity at least.
The last time I was in New York, my mother announced to me that she doesn't like lentils. I was almost personally insulted: I love lentils. Love, love, love them. This is not so surprising—I love nearly all legumes—but my adoration of lentils is rather unique. They're faster cooking than chickpeas or black beans, they're fantastic sources of iron and protein, and they're one of the most heart-healthy foods you can eat. Not only is the high fiber content in lentils excellent for maintaining healthy cholesterol levels, but they also contain high levels of folate, which may have a protective effect against heart disease. They're also very filling, and some people who have a hard time digesting beans find lentils to be slightly less…challenging.
This is one of those magical, four or five-ingredient recipes that is shockingly tasty for how little work it takes. The flavors—cooling cucumber and mint, and tangy, tart balsamic vinegar—are vibrant enough to stand on their own.
And needless to say, when a recipe is this minimalist, it takes very little time to prepare. Aside from cooking the lentils the night before, this recipe took me all of five minutes to prepare. And had I not forced myself to savor each bite, it could easily have taken me less time to devour it!
Brown Lentil, Cucumber, and Mint Salad (vegan, gluten free, soy free)
Serves 2 generously
3/4 cup brown lentils
1 2/3 cups cold water
1/3 cup cucumber, cut in half lengthwise and then sliced paper thin
1/4 cup chopped mint
2 tablespoons balsamic vinegar
1/4 tsp sea salt
Dash pepper
1) Rinse lentils under cold water and drain. Place in a saucepan with 2 cups water. Bring to boil over medium heat, and reduce simmer. Cook until tender–this could take anywhere from 15 minutes to an hour, depending on how old and/or dry the lentils are. Watch for all the water to be absorbed and the lentils to be very tender. Alternately, used canned, organic lentils! No shame there, and even faster.
2) Transfer beans to a mixing bowl and cool till room temperature. Add the cucumber, mint, balsamic vinegar, salt and pepper. Mix, and serve!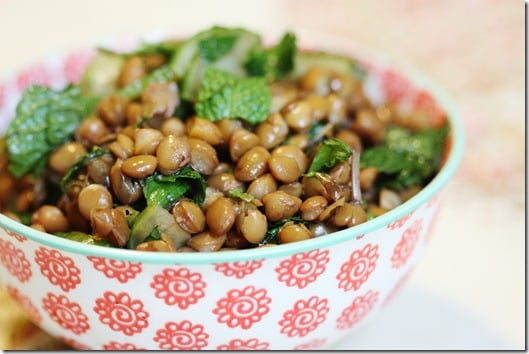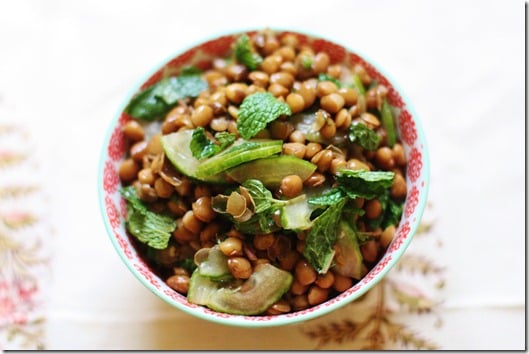 Simple, fresh, nutrient-dense, and satisfying.

I'd serve this dish over a large plate of greens, topped with avocado slices, chopped walnuts, nutritional yeast, hemp seeds, or cashew cheese for a quick, easy lunch. You could also stuff it into a wrap along with arugula and avocado, or mix it with a cup of whole grains for a more filling meal!
Before I sign off, I'm afraid I need to end this post on a serious note. Did you all see this article about horse racing in New Mexico in the New York Times over the weekend? It's legitimately horrifying, and worth reading.
I bring up the article not only because it's urgent and bravely reported, but also as a way of commenting upon my own consciousness of animals and how they're treated. Saratoga Springs is one of my favorite places; every summer, I used to sit under the stars at SPAC and listen to music with Chloe. I loved wandering around and checking out local cafes, and always fantasized about the day when I'd have the funds to come back and stay at one of the fancy spas.
Of course, the thing Saratoga is most famous for is its horse racing. Though that never held any appeal to me, I also can't claim that I gave the city's major tourist attraction any thought. In all the years I visited, it never occurred to me that horse racing might be exploitative or cruel. That eating meat might be cruel had certainly crossed my mind—I flirted with vegetarianism at that point, though I didn't yet have the courage to take the vegan plunge—but I didn't consider other forms of animal exploitation: horse racing, horse-drawn carriages, rodeos, and so on.
Today, I understand that animal cruelty goes far beyond leather, fur, dairy, and meat. It includes circuses, rodeos, marine parks, puppy mills, and—believe it or not—a good many petting zoos. As you all explore compassionate journeys, I encourage you to research the kinds of abuse that dominate these industries, which are kept alive by our own ignorant amusement. Animal lives hang in the balance, and we all have the power to spread awareness.
OK. That's some food for thought—but as an upbeat counterpoint, the season premiere of Mad Men is right on the horizon. Enjoy it, or your evening plans outside of it!
xo