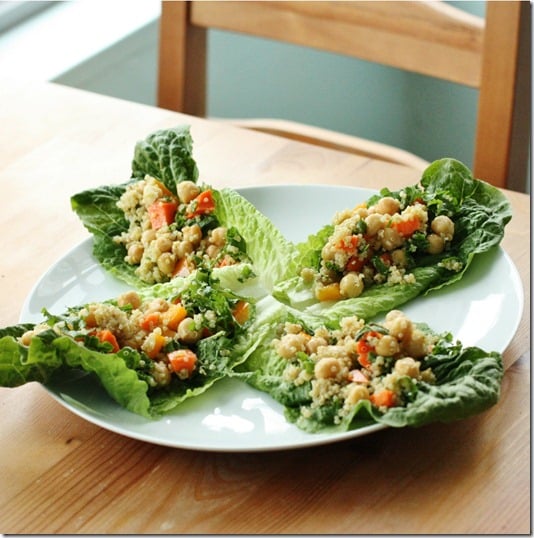 Since posting my bell peppers stuffed with "confetti guacamole" last week, I suppose I've been enjoying the idea of "confetti" anything: confetti salad, confetti rice, confetti kelp noodles. It sounds a lot more jolly than "rice with mixed vegetables," doesn't it? Yesterday, as I was whipping up lunch in a hurry (I'd studied longer than I expected to in the morning, and was downright famished), I decided that I'd extend the confetti craze to quinoa, too. After all, confetti implies a celebration, and quinoa—my favorite pseudograin—is well worth celebrating.
Since our discussion of the ethics of quinoa production recently, I've been trying to explore different companies' practices and make an informed choice about where my quinoa comes from (rather than shopping from the bulk bin, which is economical for me, but leaves me with question marks about what brand I'm supporting). I read this online and decided to give the Alter Eco brand a try. Not the cheapest, but until I learn a little more about quinoa that is both ethically sourced and affordable, I'm testing the brand. I'll let you know what else I find! Sometimes it feels a little nitpicky to examine these choices so closely, but conscious consumerism is more and more important to me, so I'm doing my best to balance it with a student lifestyle.
The quinoa in this dish is mighty simple: it's cooked, tossed with some fresh chopped veggies (whatever you happen to have on hand would work) and some hemp oil, sea salt, lemon, and mustard (a standard dressing of mine for cold grain salads). I stuffed the quinoa into romaine leaves for a little extra crunch and presentation, but of course you can eat it on its own, with a big salad, with additional steamed veggies, or with a cup of soup. If you're craving some added fat, it's great with avocado slices or hemp seeds (kind of like my spring quinoa with hemp seeds and peas!).
And it's worth mentioning that the chickpeas give wonderful texture to this dish as well, not to mention added nutrient power.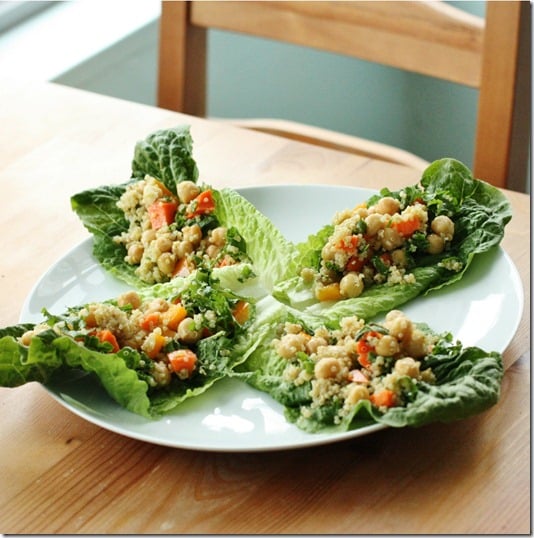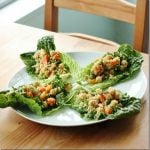 Hurry Up Vegan: Confetti Quinoa and Chickpea Lettuce Wraps
Author -
2

cups

cooked quinoa

1 1/2

cups

cooked chickpeas

1

cup

diced bell pepper

1

cup

shredded kale

1

cup

diced carrots

1

cup

diced celery

2

tbsp

chopped chives

2

tbsp

lemon juice

2

tbsp

hemp oil

olive, avocado, flax, or sacha inchi oils are also fine

1

tsp

dijon mustard

Sea salt to taste

Black pepper to taste

16

romaine lettuce leaves
1. Mix the quinoa, chickpeas, pepper, kale, carrots, celery, and chives together.

2. Whisk together the oil, lemon, salt, and pepper. Pour this dressing over the quinoa mixture.

3. Stuff quinoa salad into romaine leaves and serve!
These wraps are lovely for breakfast, lunch, or for dinner! The chives are optional, of course, and you can vary the spices depending on what's seasonal and to your taste. Dill, parsley, rosemary, cilantro: it's all good.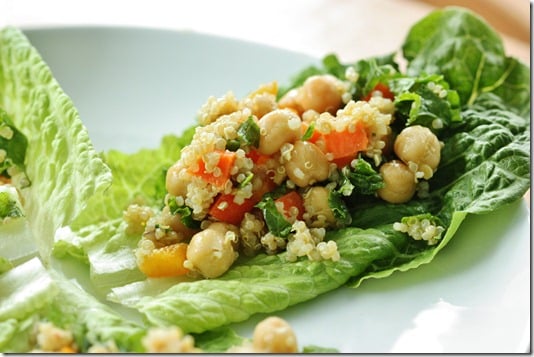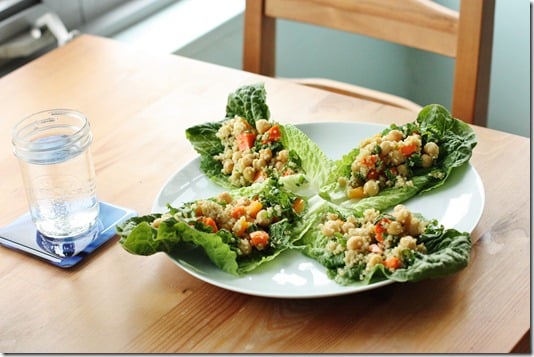 Yet another easy, student-friendly recipe!
Hope you enjoy, friends. Tomorrow's recipe—featured on Food 52—will give you some tips on using one of my favorite "secret weapon" vegan ingredients!
xo