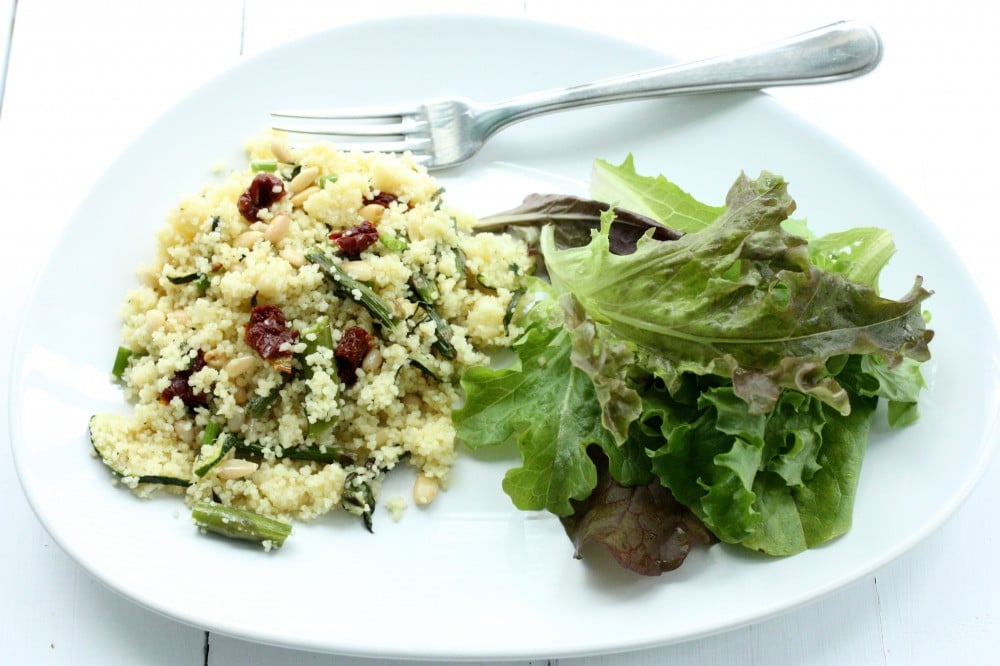 I included this easy, delicious recipe for couscous with asparagus, zucchini, sundried tomatoes, and pine nuts in my vegan lunch column for Food52 last week. As my editor and I were emailing about it, she asked me delicately whether I'd ever heard that couscous is in fact a tiny pasta, rather than a grain (which is what I'd called it). I said that no, I hadn't, but that I was sure she was probably right, and right she was: couscous is indeed a teeny tiny pasta, made of small granules of durum wheat. Who knew?
In truth, I tend to overlook couscous, favoring bulgur wheat, quinoa, and millet instead. But when I found myself two weeks ago trying to brainstorm a lunch that would be both super fast and super elegant, I realized that couscous was the obvious choice. There's something magical about a pasta/grain/whatever that cooks up in 5-10 minutes and is reliably good.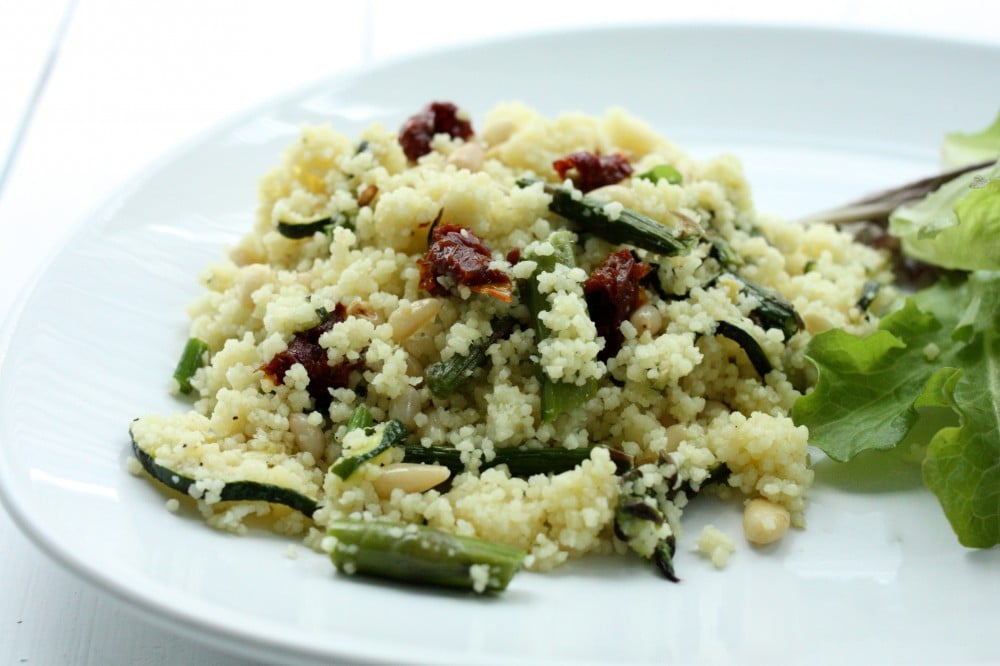 I used asparagus and zucchini in this recipe because a) they're what I had, and b) I can't stop eating asparagus right now–it's probably my favorite spring vegetable. But you can definitely use other seasonal vegetables. Like so many of my recipes, this one is really just a template.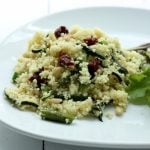 Couscous with Asparagus, Zucchini, Sundried Tomatoes, and Pine Nuts
Author -
1

cup

whole wheat or regular couscous

1 1/4

cups

water or low sodium vegetable broth

1/2

tsp

sea salt

1

bunch asparagus

cut on the diagonal into 1 1/2 inch pieces

1

cup

zucchini

sliced lengthwise and then cut into thin half moon shapes

1

clove

garlic

minced

1

tbsp

olive oil

1-2

tsp

fresh lemon juice

1/3

cup

sundried tomatoes

chopped into small pieces (oil packed or dry and rehydrated is fine, though I prefer oil packed)

1/3

cup

pine nuts

lightly toasted

1/4

cup

chives

chopped
1. Bring the water or broth to boil. Add the couscous and sea salt, and stir it thoroughly. Remove the pot from heat, cover it, and allow it to sit for 5-10 minutes. Fluff couscous with a fork and set it aside.

2. While you wait for the water to boil (or the couscous to sit), heat the olive oil and garlic in a large skillet. Add the asparagus and zucchini and sautee them until they're bright green and very tender (7-10 minutes). Season them to taste with salt and pepper.

3. In a large mixing bowl, combine the cooked couscous, the lemon juice, the tomatoes, the cooked vegetables, the pine nuts, and the chives. Season it all to taste with salt and pepper, and serve.
This lunch is good enough to serve to friends, and the dish itself is flavorful and filling enough to make as a quick weeknight supper, too. I'd serve it along with a big salad and/or some soup (maybe a chilled soup, now that the hot weather is on!).
If you want the vegetables to be a bit sweeter and have more depth of flavor, you can of course roast them. But that'll take longer, which may defeat the purpose of a recipe like this. In any case, I hope you enjoy it!
Before I sign off, I wanted to say that I really appreciated some of the comments on yesterday's weekend reading, especially the link I shared about being self-critical. They gave me some food for thought, and perhaps they'll spark a follow up post. Lots to consider. I'm grateful, as always, for this smart and thoughtful community.
xo