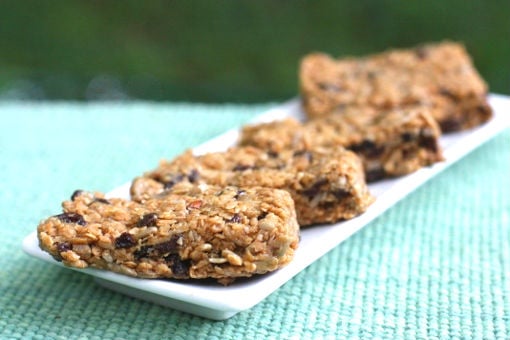 Happy Friday, friends! Thanks for all the nice feedback on the amended CR look. I didn't want to change anything dramatically, but a little freshening up was in order. Glad you guys like it too.
I'm writing from New York, where I'm taking comfort in good restaurants, good friends, and good reading for a week. I'll be sharing some of those foods with you, of course, and some of my activities. But first, I want to share my newest hurry up vegan recipe, which is a healthy snack bar that's ready in no time.
This recipe was inspired by the latest segment of the Kathy Gena show, which ought to air next week. Our idea was to make a bunch of recipes that are appropriate for students–both kids and grown up students like me. You'll get to see all of the goods, including a grain salad, some DIY trail mix tips, and a super-quick tofu scramble, when the video goes up. But I'm giving you a sneak peak with these snack bars, which are so quick and easy that even the busiest of moms (or blogger-turned-premeds) can whip them up in an instant. The ingredients? Just a simple mix of oats, sunflower seeds, raisins, and (especially if you're cooking for kids) carob chips, along with some nut butter and agave as a binder.
The nut butter I chose to use in this recipe is actually a seed butter–sunflower seed butter from Maranatha, which my friend Kathleen gave to me as a housewarming gift (thanks Kathleen!). It's delicious, and a great alternative for kids (and adults) with tree nut allergies.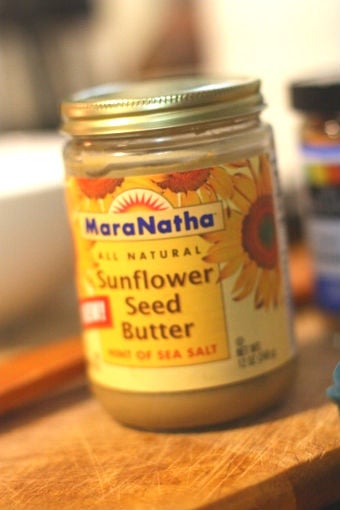 The base is a mix of quick oats, sunflower seeds, raisins, and carob chips. You could of course change this however you'd like. For example, almond butter would be great here, and so would peanut (buy organic!). You could also use rolled oats (regular or GF) and different seeds (I think sesame would be fantastic). Instead of raisins and carob chips, you could make a more grown up (and superfood friendly) version with goji berries or mulberries and cacao nibs. The sky's the limit!
Best of all, this recipe doubles very easily as a granola. If you want to go that route, instructions are below!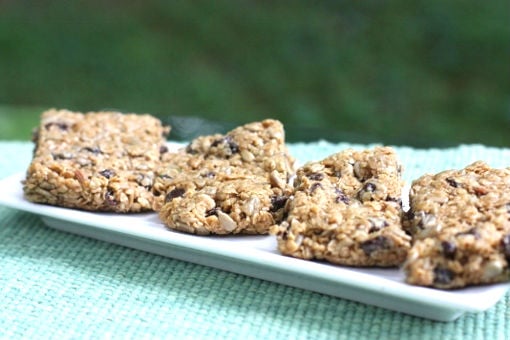 Five Minute, No-Bake Sunflower Seed and Oat Bars (Vegan, semi-raw, can be soy or gluten free)
Makes 10-12 bars
2 1/2 cups rolled or quick oats (substitute gluten free oats if needed)
1 cup sunflower seeds (raw or toasted)
1/2 cup raisins
1/2 cup carob chips (or cacao nibs)
2/3 cup nut or seed butter of choice
1/2 – 2/3 cup agave nectar or brown rice syrup (adjust based on how well things stick together)
1) Mix oats, sunflower seeds, raisins, and carob chips in a large bowl.
2) Whisk together nut butter and agave. Pour into oat mixture, and mix well, till everything is sticky and combined. If it's too dry, add a bit more agave.
3) Press mixture into a shallow baking dish that you've lined with foil or saran wrap. Cover with more foil/saran, press well into the baking dish, and refrigerate for 4 hours. Cut into bar shapes, wrap, and keep refridgerated till ready to use. They ought to last two weeks at least.
OR:
4) After mixing wet ingredients with dry, crumble mixture into bite sized pieces and bake at 375 degrees for about forty minutes, or until crispy and brown.
OR
5) Follow step 4 until you get to baking, and dehydrate for 10 hours at 115 degrees instead for a more-raw option.
Enjoy!
It's hard to believe that anything so tasty and filling could also be so easy. But that's what hurry up vegan posts are all about!
Need more hurry up vegan? Try my summer white bean and vegetable pasta:
My coconut corn soup and black bean burgers:
Or my quinoa black bean salad.
And stay tuned for more lunchbox friendly recipe ideas–complete with embarassing footage!