So happy you liked the GF, vegan zucchini waffle! Your response, coupled with the delicious brunch experience, makes me think it's high time I perused eBay for a waffle maker, so that I can experiment with more flavors. Hmm…
Today, I'm sharing the dinner feature I enjoyed last Thursday night, which is to say, approximately twelve hours before my physics midterm. Rule of thumb around here is that, if I have enough time to make a dish the night before an exam, then it's quite easy indeed. The trick to this dish is that it involves pre cooked quinoa and the rosemary cashew cheese I made some time ago for my raw cherry "pizzas"; I liked the flavor so much I made another batch soon after, and this dinner employed the leftovers.
I've always said that one of the tricks to staying organized throughout a busy week is to make a couple of key foods either on the weekend or early in the week, before bedlam descends. In my home, reliable weekend or Monday night food prep staples will include:
1 large batch cooked quinoa, another large batch cooked rice (or another grain; sometimes it's millet, sometimes barley, and bulgur wheat if I'm short on time)
1 super large batch legumes. Typically, half of this turns into a bean dip/spread, the other half is used in salads and entrees.
1 nut pate
2 interesting, tasty salad dressings
1 batch raw bread (flax, pumpkin seeds, seasoning, and juice pulp dehydrated for a few hours)
On lucky weekends, I'll also make some interesting dishes that I intend to reuse through the week: soups, stews, curries, veggie burgers, and so on. But those dishes are a luxury of time and focus, which has been rare for me this summer. More often than not, I'm throwing together the simple basics you see above with fresh vegetables. And when time is short, raw entrees—lasagnas, noodle dishes, and so on—are useful to me because they require no waiting for things to cook.
The recipe I'm sharing is typical in that it brought together my food prep staples and the fresh, seasonal produce in my fridge. Like most of my express food, it's minimalist, but flavorful and delightful nonetheless. Though one doesn't see zucchini pasta and quinoa together often, I found that the combined textures worked very nicely, and the fresh rosemary made it all sing.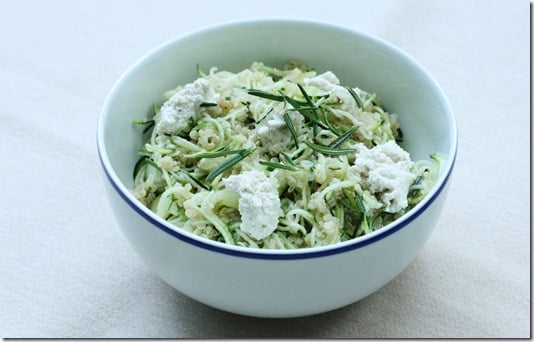 Zucchini Noodle and Quinoa Bowl with Fresh Rosemary and Herbed Cashew Cheese (high raw, vegan, gluten free, soy free)
Serves 1
1 large zucchini, spiralized (I use this spiralizer) or made into ribbons with a vegetable peeler
1 cup cooked quinoa
2 tsp sacha inchi oil (substitute avocado or olive oil)
2 tbsp fresh, chopped rosemary
1 tbsp nutritional yeast
Salt and black pepper to taste
1/4 cup herbed cashew cheese (recipe included in this post)
Mix all ingredients together except for cashew cheese. Transfer to a serving bowl and place dollops of cashew cheese on top. Enjoy!
I love all of the texture in this dish!!

I'd serve this with a simple side salad, sprinkled with lentils or split peas. Any assortment of veggie sides will do!
Dishes like this are proof that the simplest foods can be rewarding and beautiful to look at (and eat). I hope you enjoy it, if you try it!
And as of today, you have one week left to win a free juicer. Enter now, and see you tomorrow!!
xo