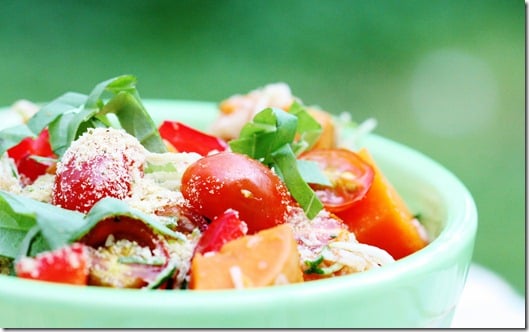 Yesterday, my friend Catherine commented on my Facebook page to say that she loves that I'm featuring so many "hurry up vegan" recipes lately. That's good! The majority of food you see on my blog between now and May 10th, which is when my last final takes place, will be simple and speedy. The recipes will be snapshots of dishes I throw together on the go, rather than artful meals I plan and execute laboriously on a weekend.
While I do love leisurely, creative cooking—and look forward to its return on my blog—I started Choosing Raw with the intention of showing people how healthy, high raw food could fit into a busy, professional lifestyle. I'm not a person who sits down to perfect place sittings and antique Limoges on a weeknight, and proceeds to feast on a magazine-ready meal; I eat in between work, often on my own, and frequently at my desk. What you see here on the blog is what you get: my meals, as they fit into an often hectic lifestyle. Thanks for allowing me to write this blog while also prioritizing my life as a student, and for assuring me that you're all looking for quick, easy recipes, too!
Tonight's dinner was just about as simple as they come, and it featured a lot of Choosing Raw "standards"—zucchini pasta, sweet potatoes, hempesan. It also features balsamic vinegar, which is also a personal favorite. When I first "went raw," I was introduced to apple cider vinegar, and for over a year I was so infatuated with it that I forgot about good, old-fashioned balsamic. But balsamic vinegar is really pretty wonderful, and I must be craving it more than usual lately, as Sunday's lentil recipe also featured it!
One of my favorite salads is romaine, sweet potato, cherry tomatoes, basil, avocado, balsamic, and fresh summer corn. So this raw pasta dish is a spin on that salad, with the addition of bell pepper, and with hempesan in place of avocado to stay true to the pasta theme (though adding avocado would be delicious). The sweet potato is cooked, of course, but if you want the dish to be warmer (especially in colder climates) you could roast or sauté the tomatoes and peppers. Yum!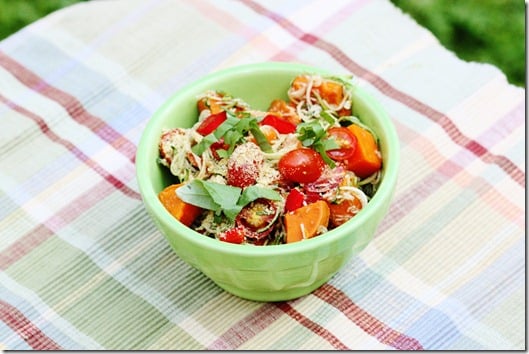 Zucchini Pasta with Cherry Tomatoes, Sweet Potato, Basil, and Hemp "Parmesan" (high raw, vegan, gluten free, soy free)
Serves 1 (you can easily double it!)
1 Large zucchini
1/2 bell pepper, chopped finely
5-10 cherry tomatoes, halved (depends on how many you want in the dish!)
3 large basil leaves, chiffonaded
1 small baked or steamed sweet potato, cubed
1 1/2 tbsp balsamic vinegar
2-3 tbsp hempesan topping
1) Spiralize zucchini. If you're looking for a spiralizer recommendation, my faves are the Paderno Spirooli, and the Joyce Chen saladacco slicer, both on Amazon. If you don't have a spiralizer, simply use a box grater or a mandolin to slice the zucchini instead!
2) Toss zucchini with all remaining ingredients, and serve.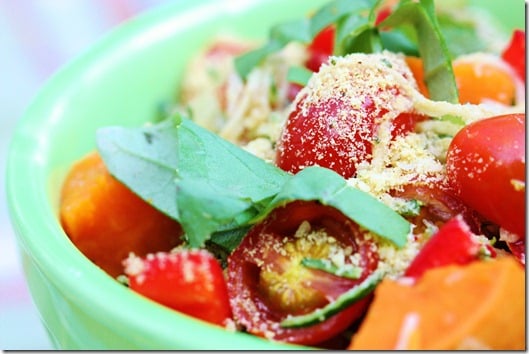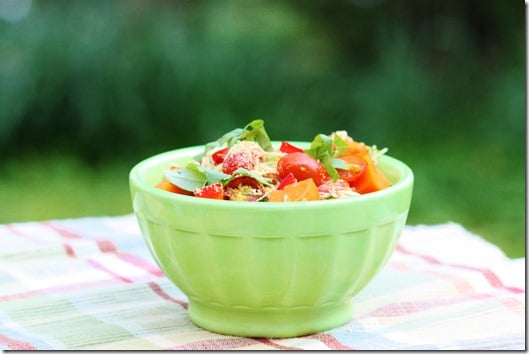 This dish is bursting with color! What a treat for the eyes and the tastebuds both.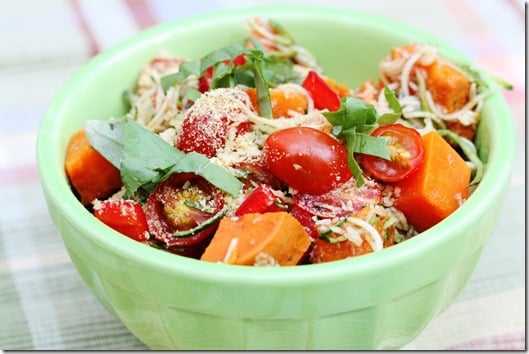 Hempesan, by the way, is simply my version of a vegan "parmesan" topping—a really easy blend of essentially half and half proportions of hemp seeds and nutritional yeast. It's full of protein from the nooch and hemp, rich in Omega-3 fatty acids, and also a great source of extra B-12. I put it on tons of my dishes, and love the taste!
Wondering what you'd pair this dish with? I'd serve it with a side salad of any steamed or raw vegetables you like, along with 1/2 cup legumes and a simple dressing. Avocado slices would be a nice touch! Hope you guys enjoy this simple dish.
Before I go, I wanted to mention that the wonderful feminist poet and essayist Adrienne Rich passed away today at 82. I enjoy Rich's poetry, but her essays move me even more, and I have always been inspired by how she devoted her life to championing women's rights, racial equality, gay rights, and economic justice. I thought I'd share a quote or two that I like, in case you're all feeling contemplative and eager to be inspired:
"Responsibility to yourself means refusing to let others do your thinking, talking, and naming for you; it means learning to respect and use your own brains and instincts; hence, grappling with hard work. It means that you do not treat your body as a commodity with which to purchase superficial intimacy or economic security; for our bodies to be treated as objects, our minds are in mortal danger. It means insisting that those to whom you give your friendship and love are able to respect your mind. It means being able to say, with Charlotte Bronte's Jane Eyre: "I have an inward treasure born with me, which can keep me alive if all the extraneous delights should be withheld or offered only at a price I cannot afford to give.'"

Responsibility to yourself means that you don't fall for shallow and easy solutions…marrying early as an escape from real decisions, getting pregnant as an evasion of already existing problems. It means that you refuse to sell your talents and aspirations short…and this, in turn, means resisting the forces in society which say that women should be nice, play safe, have low professional expectations, drown in love and forget about work, live through others, and stay in the places assigned to us. It means that we insist on a life of meaningful work, insist that work be as meaningful as love and friendship in our lives. It means, therefore, the courage to be "different." The difference between a life lived actively, and a life of passive drifting and dispersal of energies, is an immense difference. Once we begin to feel committed to our lives, responsible to ourselves, we can never again be satisfied with the old, passive way."
Tonight, if you wish, try to think about one way in which you exercise "responsibility to yourself," as Rich so aptly puts it.
This may mean that you make one or two choices that allow you to treat your body with respect and care. It may mean that you act responsibly to your own ideals, and do something active for a cause that means something to you. It may mean that you stand up for yourself in a relationship—romantic, sexual, professional, platonic, familial—in which you've historically been unable to find your voice. It may mean you take one step closer toward developing a professional life that is meaningful and fulfilling to you. Whatever "responsibility to yourself" means to you, exercise it.
And have a great night

xo