Hello again from San Fran! Hope your Saturdays were fabulous. This trip, so far, is awesome — if you missed any of yesterday's fun, check out this morning's post for the deets!
I woke up this morning bright and early and not at all jetlagged. I ventured outside for a run, but quickly chickened out: it was too cold, and San Fran has too many hills. Back indoors I went, and finished my run on the hotel gym treadmill, which was much more my exercise scene 😉
After that, I was pretty hangry. I wanted to wait for the Ferry Building Farmer's Market to eat, but appetite trumped anticipation, and I decided to pick up some warm oatmeal to combat the foggy morning chill. I found a diner nary a block away that met my two favorite oatmeal criteria: 1) vegan, and not made from instant oats, and 2) nice big portion sizes. Score. Back in the room, I enjoyed it with half a sliced banana and some nut butter. Hit the spot:
After that, I made my way up five very, very, very steep blocks to the Fairmont hotel, where I was reunited with my favorite person in the world: my Chloe. Our reunion was briefly dominated by some amusement over my sweaty brow and huffing and puffing from the walk, but we were soon busy chatting and catching up as we walked to the famous Ferry Building Farmer's market.
We had been told that this was one of the most spectacular markets in the country: a combination of outdoor vendors and indoor specialty shops. And we were not disappointed.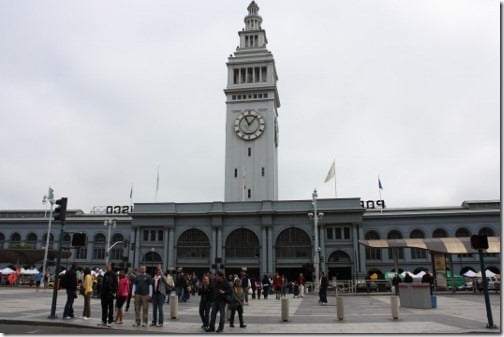 This whole experience–the people watching, the shops, the food, the vendors—was amazing from start to finish. I think I'll have to let photos do much of the talking: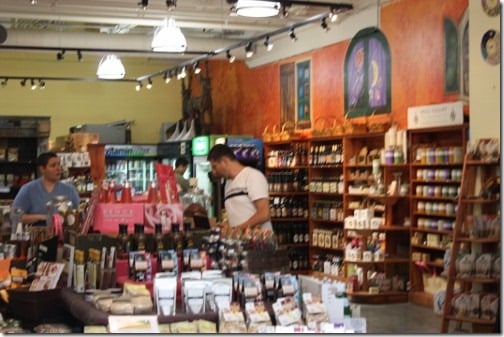 (INCREDIBLE raw sprouted dips, including hummus, and wheatgrass shots!)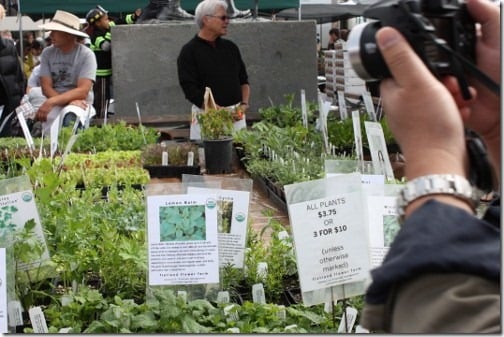 California sure is a land of plenty. We were completely overwhelmed. The only thing I could focus on was my intense craving for a Gala apple, so that's what I got for a snack:
Chloe had some figs, and she and Knud split a very pretty open faced salmon, tomato, and onion sandwich for breakfast, made right before our eyes:
We walked around some more, and Chloe was given the chance to indulge her intense love of oysters:
A very happy, beautiful lady: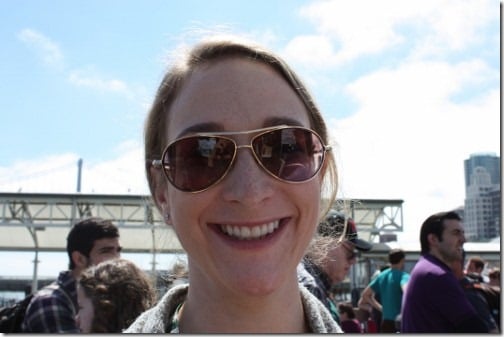 After that, I was allowed to indulge a love of my own. As we made our way back to the building to see the shops, Chloe blurted out, "Gen, avocado truck!"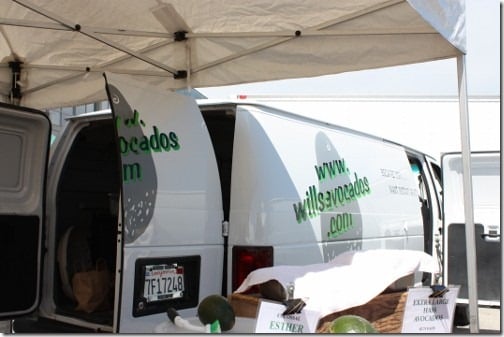 As I zoomed over, I vaguely heard Chloe explaining patiently to Knud, "Gena has a bit of an avocado problem." By the time they caught up with me, I had already asked to sample the Esther avocados, which I'd never tried:
They tasted like a cross between Haas and Florida avocados. Yum. I got some photos of the bounty—wish I could have taken these all home and made salads with them!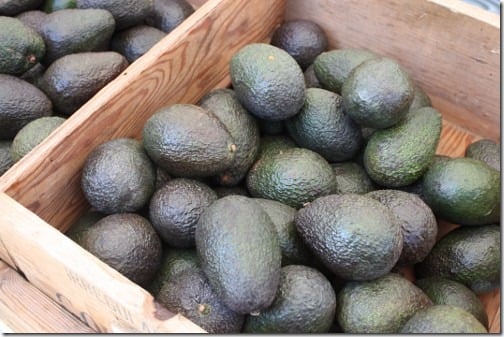 After this, we all sat down inside for some tea:
And food talk. One of the nicest things about traveling with Chloe and Knud is that we are all, in our own ways, foodies. We love talking about food, planning our days around food, comparing our food, and savoring food together. When people have asked us about this trip and what we're doing, we've all responded that we don't really care what's on the agenda, as long as it involves near constant eating. It's great to travel with people who who are as passionate about food as I am. At the least, it makes it a little less weird when I'm busy snapping photos of my meals!
While inside, I was impressed with this Vegan donut vendor—rock on, sistah!
After some scenic photo ops: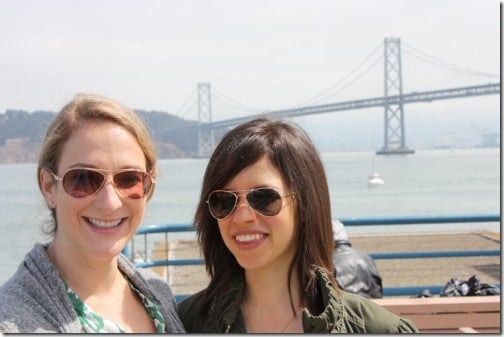 …my appetite was once again in full force. Lunchtime. I'd already found a place I was dying to try:
Um, had I died and gone to heaven? This, at least, is sort of how my foodie heaven would look: raw, vegan food stands with kale salad at the turn of any corner. It was such a treat to find the kind folks from Alive at the market, selling their delectable raw foods!
My lunch, not surprisingly, consisted of two salads: massaged kale and a celeriac slaw:
A raw hummus wrap:
And a blueberry "limeade" that I forgot to photograph. The drink and salads were great; the wrap was really just OK—barely any hummus, and tons of the same shredded veggies I was having in my salad. Still, it was a treat to find the kind of food I love to eat at the market, especially the kale!
After this, we reluctantly said goodbye to the market. Chloe and I agreed that, between the two of us, we'd already had our fill of totally satisfying meals. Knud, though, was after some Dim Sum, so we started strolling to Chinatown. I forgot, of course, to catch photos of the Dim Sum. Bad Gena! I''m getting better at photodocumentation overall, though, right?
We realized as we ate that we were mighty close to San Fran's famous City Lights bookstore.
This place is an institution, not only for San Fran natives, but for all of us in the world of letters. Neighborhood bookstores are vital to the culture of literacy and shared ideas, and yet they are sadly dwindling in number. I've had the pleasure of meeting the owner of City Lights through work, and I can't say enough about how bravely he continues to champion quality literature. Case in point:
I was especially psyched to see so many FSG titles on the shelves!
After this moment of book worship, we strolled through what must be San Fran's Little Italy. Good espresso is one of my favorite indulgences, especially when I travel, so I stopped for a dry soy cappuccino:
Which I proceeded to spill all over my camera. Blogger panic!
Bad, bad cappuccino:
Knud quickly took up the role of knight in shining armor, clutching my dripping camera to his chest (and staining his sweater in the process) while I scrambled for napkins. Thankfully, the camera emerged from my little mishap undamaged. I lost some good espresso, tho 🙁
Our last stop of the afternoon was Fisherman's Wharf—every bit the scenic attraction it's said to be. I loved getting photos of Alcatraz and the sea lions!
What an exquisite city this is. My oh my. It's almost enough to make me overlook the train system…
We made our way through the sea of tourists, and then decided to stop in a wine bar for a leisurely afternoon "flight." Chloe got champagne:
…which was all a little too "flavored." And Knud got a trio of reds, of which his highest praise was that they started to grow on him after a glass:
Still, a nice sojourn. Even nicer company:
In fact, no matter what I do on this trip, the main thing is that I'm spending time with them.
And with that, our day of activities wrapped up. Chloe and Knud went back to the hotel to rest, and I returned to my room here, snacked on some of my Gnosis trail mix, and changed for dinner with my friend Amanda at Cafe Gratitude – a raw, vegan institution!
That's me thinking, "at last, I have arrived."
No raw foods devotee doesn't know of the famous Cafe Gratitude and its famous menu mantras: each dish is labeled as "I am _____________ (grateful, enlightened, fulfilled, festive, etc.)." The whole ethos and spirit of Cafe Gratitude is to give thanks for the bounty of what we have, and to be conscious and mindful of emotions. In fact, our awesome waiter this evening, Danny, told me that working at Cafe Gratitude has virtually changed his life.
For the food alone, I can see why. Check out, if you will, this killer menu.
I have to admit, I knew what I wanted long before I got here. When you've been hoping to dine at a restaurant for 3 years, you have a meal in mind! First, I asked to sample the coconut soup. It was delicious, but too spicy for me. So I settled on appetizer option #2, which was the "I am insightful" spring rolls: avocado, seasonal fruit, carrots, cucumbers, tomatoes, beets, sprouts & fresh herbs wrapped in blanched collard greens. Served with Thai coconut-almond butter dipping sauce & coleslaw. Amanda and I split them. Hooray for generous portion sizes! Far better than the spring rolls I've had in other raw joints:
These were generally divine, but I have to say that the dipping sauce made the meal. It was far more herb-y than almond buttery, in a really good way. I could have drank it as a soup!
For our entrees, Amanda and I ordered the same thing: the "I am fulfilled" large cafe salad. It's described as mixed greens, avocado, carrots, beets, cucumbers, tomato, a flax chip, Parmesan & teriyaki almonds. I wasn't so into the teriyaki almonds, but I got the rest as is. The flax chip was made with carrot, and slightly sweet, and I loved it. I was also super impressed with the salty, but not too salty raw parm. Amazing! I decided to have mine with the fig-balsamic vinaigrette, which was almost as incredible as the almond butter sauce. I kept mashing both of them into my salad bowl!
Fulfilled indeed. Check out the two very happy ladies:
To top off this perfect meal, I had a house kombucha:
Anything carbonated upsets my stomach, but I really like kombucha, so I make exceptions on special nights. And this was a special night, indeed. Cafe Gratitude was every bit the raw dining mecca I had hoped. Over drinks today, Chloe and I were talking—as foodies will—about what our last meals would be. I said it would be salad (probably kale salad) and something–maybe hummus, maybe rice, maybe sweet potatoes. What's the point of this story, you ask? The point is that I love salad. And my salad tonight would most definitely be "last meal" worthy.
Thank you to Danny and to all of the CG staffers for making me feel embraced. I've been to many a raw restaurant, and they've all been great in different ways, but it was obvious to me this evening that CG cooks and serves and feeds the community with a special sense of purpose. It was inspiring, and I'm sure it's part of why my meal was so tasty. Next time, I want the tomato soup special that I (tragically) didn't notice on the chalkboard till I was leaving!
With that, another day of foodie heaven draws to a close. I'm stuffed with raw eats and ready for bed. I'll be back tomorrow to tell you all about day three in Fog City—and dinner at the famous Millennium!
xo