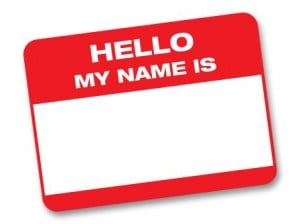 Well, hello there.
Forgive my absence this weekend! I was in Woodstock, NY, volunteering at a fantastic vegan event that will get full coverage here on Choosing Raw in just a few days. In the meantime, I'm interrupting a work night with some random facts about myself that will most likely bore you, but may possibly provide you with a few moments of distraction if you happen to be procrastinating at work.
Not that any of you do that. Not that I do that.
Last week, my dear friend Diana awarded me not one, but two blog awards! I'm not worthy of either, but since she was generous enough to share the love, I'm going to keep the torch burning. The first was the Over the Top badge.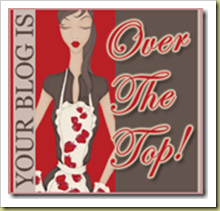 This honor requires me to respond to the following questions with a single word. As impossible as it is to characterize, say, one's goals with a single word, I gave it my best shot:
1. Where is your cell phone? Kitchen
2. Your hair? Clean
3. Your mother? Kindness
4. Your father?  Amusing
5. Your favorite food? Avocado
6. Your dream last night? Forgotten
7. Your favorite drink? Water
8. Your dream/goal? Fulfillment
9. What room are you in? Living
10. Your hobby? Recipes
11. Your fear? Emptiness
12. Where do you want to be in 6 years? Exhilarated
13. Where were you last night? Car
14. Something you aren't? Shy
15. Muffins? Muffins?
16. Wish list item? Vegetable Garden
17. Where did you grow up? Manhattan
18. Last thing you did? Dishes
19. What are you wearing? PJs
20. Your TV? Small
21. Your pets? None
22. Your friends? Family
23. Your life? Blessed
24. Your mood? Productive
25. Missing someone? Mom
26. Vehicle? Shoes
27. Something you're not wearing? Bra
28. Your favorite store? Montmartre
29. Your favorite color? Blue
30. When was the last time you laughed? 7:05 PM
31. Last time you cried? Yesterday
32. Your best friend? Chloe
33. One place that I go over and over? Met (Opera)
34. One person who emails me regularly? Mom
35. Favorite place to eat? Home
The second act of kindness was the Kreativ Blogger Award: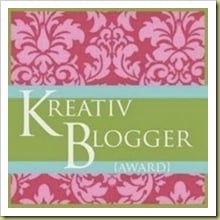 Which asks that I tell you all seven things you didn't know about me. Get excited.
1.    I'm an only child (and a very typical one at that), but I've had nine various stepsiblings (if you count a parent's long term monogamous relationships, marriage notwithstanding, as capable of bestowing step-relatives upon one, which I do).
2.    I don't like pets. There, I said it! Shoot me, OK? I'm still a dedicated vegan, I promise. I like babies a lot, does that count?
3.    I've lived in the same forty block radius my whole life. I guess I like my zipcode.
4.    My best friend from college and I were born on the same day in the same year, and at roughly the same time. We're also both geminis, which makes the whole "twin" resonance even, well, creepier.
5.    My bellybutton is pierced, and it's very un-me. New beaus and beach companions are always shocked.
6.    I've never ventured further west than Chicago in this fine country of ours. Which means I have a lot of raw restaurants to visit in L.A..
7.    I hate garlic and onions. Oh wait, you guys knew that.
OK OK, how bout this: I used to spend most summers and great parts of the year in New Hampshire. My rural childhood included such activities as hay-bailing, maple syrup collecting, and even cow-milking. I watched a goat give birth once. So don't let the whole diehard New Yorker thing fool you.
And now, it's time to pass these sweet honors on to seven other bloggers. This is a cruel and impossible task, to choose, but I'm just picking a few friends whom I don't recall winning these same awards in the recent past. Ready, set:
1.VeggieGirl Liz
2. Heather of Be Well & Take Care
3. Rose of On a Lobster Placemat
4. Elise of Hungry, Hungry Hippie
5. Leslie of The Whole Plate
6. Sabrina of RhodeyGirl Tests
7. Biana of Vegan Crunk
Can't wait to hear what they say!
Thus concludes this brief exercise in sharing intimate and random details about the life of Gena. Surprised by my answers? Not surprised? Want me to shut up and show you some food photos already?
Fear not, friends. Tomorrow is a new day.
xo