Thanks so much to those of you who read and commented on my interview at The Lunchbox Bunch yesterday. I appreciate it!
Since the Veggie Girl Power Series is all about celebrating vegan women, I thought it would be a good day to talk my friend Melisser's wonderful new book, The Vegan Girl's Guide to Life.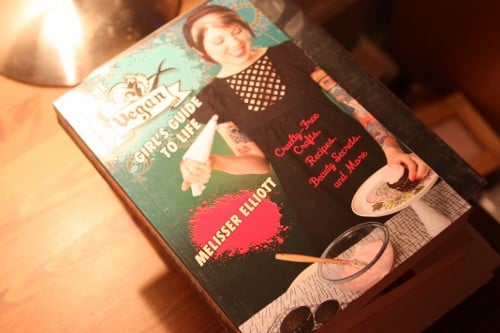 Before I go any further, a full disclosure: I'm a little biased. See, months ago, Melisser wrote to me saying that she needed a nutrition expert to write a short, user-friendly section on the basics of vegan nutrition for the book, answering such questions as: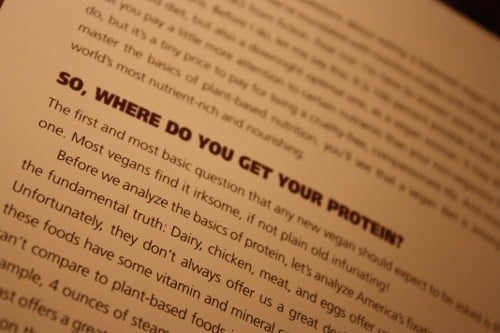 And…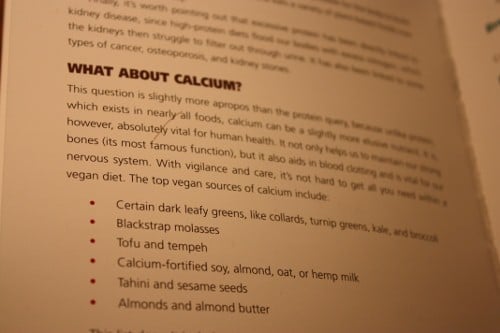 Honored, I said I would be happy to oblige! My short primer on vegan nutrition, then, can be found early in the pages of The Vegan Girl's Guide to Life. In it, I offer some basic talking points (vitamin B-12, etc.). I even offer something I rarely offer on my blog: samples of what daily vegan meal plans might look like, featuring some of Melisser's delicious recipes (NB: the reason I don't do this on my blog is because my readers vary too much in nutrition needs for me to write prescriptively. In the case of Melisser's book, it wasn't hard to show readers how her recipes might fit into a balanced day of eating.):
But enough about me. My contribution is but a tiny part of this comprehensive guide to vegan living: the clothes, the beauty and skin care, the household cleaning, the DIY and craft tips, and, of course, the food. It's also a Who's Who of vegan women, featuring the recipe contributions and craft projects of some of the most respected vegan chefs and bloggers in the world (Isa Chandra Moskowitz, Hannah Kaminsky, Celine Steen, Julie Hasson, Kittee Berns, Kelly Peloza, and more), as well as interviews with women who are at the helm of vegan businesses. Some of my favorite interviews are with Sara Sohn, maker of the incredible Sweet & Sara vegan marshmellows: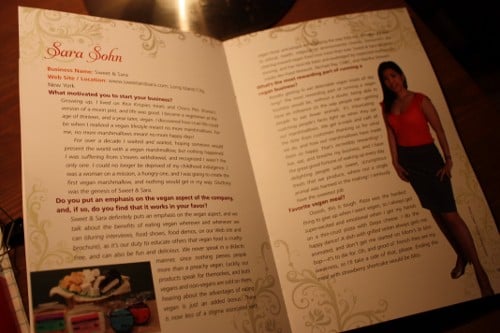 With Leanne Mai-ly Hilgart, founder of my favorite new vegan fashion house, Vaute Couture: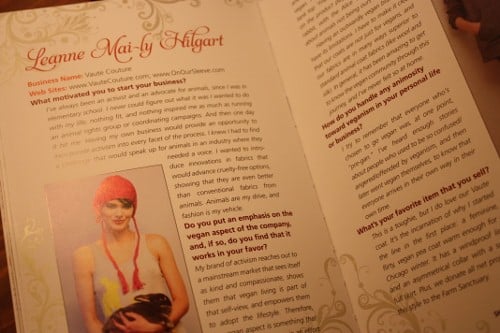 And with Blythe Anne Boyd, founder of Lula's Sweet Apothacary here in NYC: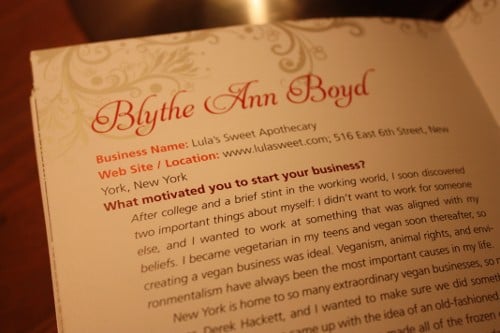 What an inspiring group of vegan businesswomen!
It's no great secret that the details of vegan living–from makeup to footwear–are what have proven most difficult for me. (I've written about it here.) Food was easy: there's nothing I "miss" eating as a vegan, and anything I did miss at the start has faded from memory or been replaced with other foods I like. Even when I did miss certain foods, it was easy for me to say, "for the sake of animals and my own well being, it's not a big deal to go without __________."
Clothing, though, is a separate matter. Getting used to the idea of no longer purchasing wool, leather, and down has been very, very, very hard, and I haven't fully gotten there. Instead, I've come up with various compromises: I no longer buy any new leather, wool, or down, but I'll accept hand-me-downs and thrift store items, and I'll also buy them used. I also haven't thrown away my old leather boots and bags: I know it sets a poor example to wear these, but I also have a really hard time letting go of items that have served me for many years and are still wearable. It's a struggle, and I simply haven't resolved it for good. It's true that throwing out shoes and bags would be financially disastrous for me: even if vegan bags and shoes are, by and large, cheaper than leather ones, they still cost money, and I can't afford to replace my whole closet of accessories. But even as I write this, I know that a part of me is too comfortable making excuses: it's time for me to challenge myself to be as consistently animal-conscious in my clothes shopping habits as I am in my eating habits.
That's where Melisser's book is such a wonderful source of inspiration! She and many of the other vegan women she features are totally savvy about vegan living in ways that go beyond food. She has shopping tips, cleaning tips, and she even runs a website, Cruelty Free Face, dedicated to animal-friendly skincare and beauty products. She's a perfect mentor for me as I get used to the nuts and bolts of vegan living, and I can't wait to read the Vegan Girl's Guide to Life in full!
Of course, the first thing I did when I got the book was to gaze at the recipes. Two caught my eye immediately, and it was a lucky coincidence that I was planning on making dinner for my friend Rose that weekend. Entertaining is a great excuse to try fun new recipes! The first I tried was Melisser's Moroccan Chickpea and Kale Tagine Over Quinoa. I added some butternut squash to it, and otherwise followed the recipe (which you'll have to find in her book!) exactly:
Rose and I loved it!
Next, I decided to try my hand at the lovely Celine's recipe for "Peanut Butter n' Jelly Muffins," which Melisser features in the book. Celine is yet another one of my favorite vegan bloggers. In fact, she's one of the first bloggers I followed, and to this day I adore her literary sensibility, her exquisite baked goods, and her elegant photography. The recipe for the PB&J muffins is very much like the one for her regular peanut muffins, here, but instead of adding chocolate chips, you add a pocket of jam in the muffin center.
…cover them with more batter, and then bake:
The resulting muffins taste so much like peanut butter it's uncanny, and it's such a delightful surprise to find a little jewel of jam in the middle when you break them open:
Delicious.
Thank you, Melisser, for your book, your blogs, and for all you do for vegan girls everywhere. You set a wonderful example for all of us who are trying to live with compassion, and I'm personally lucky to have been a part of your book! I encourage all of my readers–especially those of you who, like me, are a little unsteady transitioning into a cruelty-free lifestyle–to check out The Vegan Girl's Guide to Life. It's a great resource, and a fun read.
xo