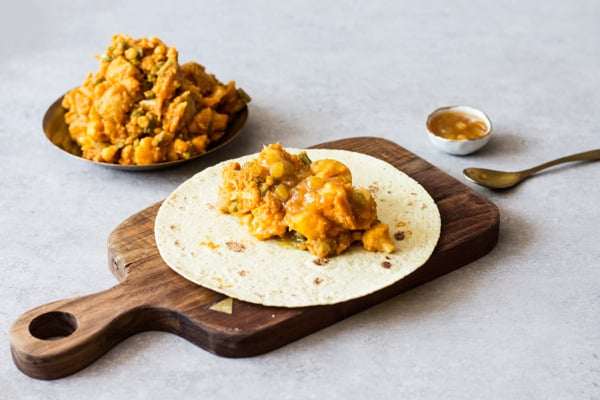 Aloo gobi has always felt like comfort food to me, a hearty, homey, stick-to-your-ribs mixture of potatoes and warming spices. And there's a reason why these aloo gobi wraps, and the comfort they offer, felt necessary yesterday. Before I made them, I spent 5 hours on the same 23 electrochemistry problems for my online homework. One of the problems took me more than an hour and a half, and by the time I gave up on it—having entered no less than 24 incorrect answers—I'd been reduced to tears
Ah, student life.
As it turns out, the problem that felled me was in fact faulty in the online homework system, which is why no combination amount of fiddling with signs, sig figs, orders of operation, or logic could possibly help me get it right. But it was traumatizing nonetheless, and not very different from many of my afternoons as a post-bacc student.
To make myself feel better, I committed to putting my books down, taking a head-clearing walk, and then making a good meal. Because, even though I can't always fix or understand the mistakes I make when I'm doing chem, calc, or stats, I can always roll with the punches as I cook. If I add too much salt or fat, I cut the recipe with more volume. If I under-season, I adjust. If my texture's too loose, I can add starch or flax to thicken; if it's pasty, I can add some creamy coconut milk or some broth or water. If flatbread falls apart, I call it crackers. There are few kitchen emergencies I can't deal with creatively: I wish it worked that way when it comes to redox reactions.
This dish may be suffering from a case of cultural schizophrenia: it's inspiration is aloo gobi, an Indian dish that combines cauliflower, potato, green peas, curry, and (usually) some tomato. Since I had quite a few wax potatoes handy, as well as some chana dal and green beans, I decided to make a spin on aloo gobi by using chopped green beans in place of peas, adding the dal, and topping it all off with a rich spice mix.
And, since I also had exactly two whole wheat wraps in the fridge, I decided to wrap the gobi up, burrito style. So this is a marriage of dishes and cuisines, but no matter what it is, it's inspired by street food, and–especially if you serve it with a scoop of chutney–it's absolutely delicious.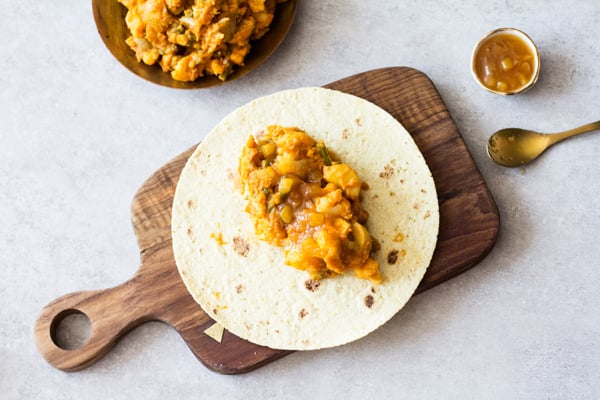 Indian Inspired Aloo Gobi Wraps
Recipe Type
:
main dish, entree
Cuisine:
vegan, gluten free optional, soy free, nut free
Author:
Prep time:
Cook time:
Total time:
1 tablespoon coconut oil
1 small yellow onion, chopped
2 cloves garlic, minced
3 large red potatoes, chopped into 1 inch cubes
1/2 cup chana dal (baby split chickpeas; you can substitute red lentils)
1 teaspoon salt
1 tablespoon curry powder
1 1/2 teaspoons ground cumin
1/4 teaspoon ground clove
1 tablespoon tomato paste

1 small head cauliflower, chopped
 (4-5 cups)
3 cups water
1 cup chopped green beans

Red pepper flakes to taste
1/4 cup full fat coconut milk or [url href="https://www.thefullhelping.com/purpose-cashew-cream-recipe/" target="_blank"]cashew cream[/url]
4-6 large whole wheat or gluten free vegan wraps
[i]Optional[/i]: mango chutney
Heat oil in a large pot over medium heat. When the oil is shimmering, add the onions. Cook, stirring frequently, until the onions are soft and clear (about 5 minutes). Add the garlic and cook, stirring constantly, for another 2 minutes.
Add the potatoes, chana dal, salt, curry, cumin, clove, tomato paste, cauliflower, and water. Bring mixture to a boil, then reduce heat to low. Cover and simmer for 25 minutes, until the dal and potatoes are tender.
Uncover and add the green beans, coconut milk or cashew cream, and crushed red pepper to taste. Cook for another 5 minutes, uncovered, until the mixture is thick and fragrant. Season to taste with additional salt or spices. Scoop about a cup of the aloo gobi into each wrap, top with chutney, and serve.
In place of wraps, you can also serve the aloo gobi over cooked brown rice or quinoa.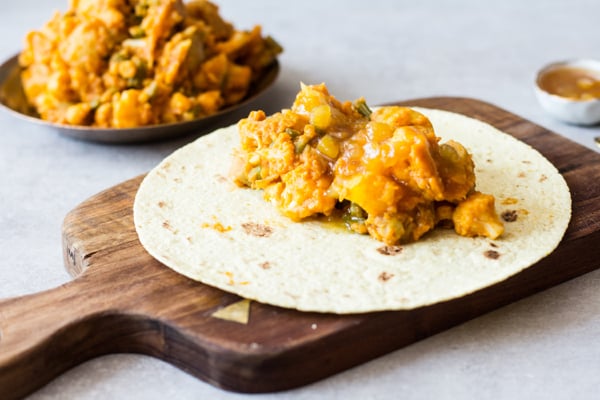 This dish was everything I needed it to be: it was fragrant. It was hearty and filling. It was fun to make, fun to eat, and it brought me back to the kitchen, which is the place I feel most confident, even when I'm not so confident about other things, like my agility with oxidation states. And after that meal, I felt ready to attack the unknown again. If you like fragrant and filling food, give these wraps a try: they're delicious, and nutrient dense to boot.
Where do you feel most confident? Does cooking help you to reconnect with a sense of self? What dishes bring you back to earth when you're melting down?
Great conversation, by the way, yesterday, with regard to ED histories and having trouble eating food that isn't to your liking. Check out the comments if you haven't already!
xo
Images courtesy of Lighter.