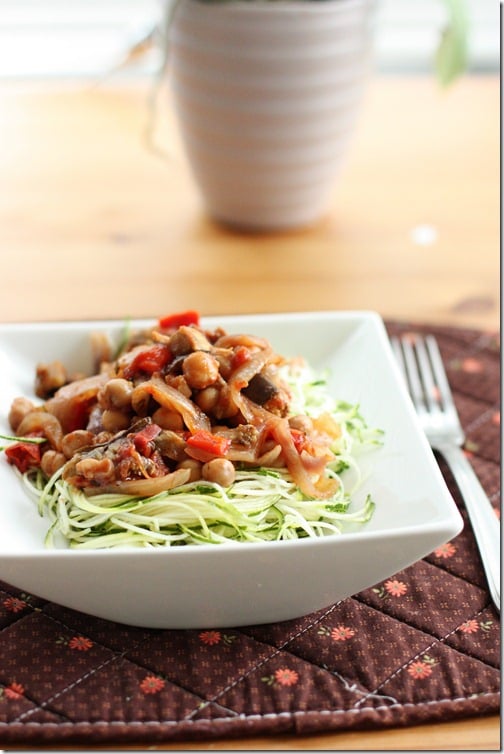 The first time I ever had a personal email exchange with Dreena Burton, it was because I emailed her asking for advice. I was having four people over, all omnis, and I just didn't know what to make. I recalled Dreena's books, and how satisfying, hearty, and authentic the food was, and I felt certain she was the person to ask.
One of the recipes she suggested (there were a few) was her chickpea ratatouille. It's similar to traditional ratatouille in some ways, but it's more legume than eggplant or zucchini, and the spice blend is totally original (ginger in ratatouille? so creative!). I made the recipe that night, with some brown basmati rice just as Dreena had suggested, and it was a hit. Ever since, it has been one of my go-to recipes for fast, easy entertaining.
On Sunday night, just as Sandy crept into D.C., I prepared a batch of the ratatouille. I love making it because it tastes as though it has been stewed and slow cooked forever, but demands only a couple of active steps. Just mix the veggies and let it bake! Full instructions can be found here. After you make it, be sure to check out Plant Powered Kitchen, which is Dreena's new website, full of delicious recipes and resources for vegan parenting!
For dinner, I enjoyed the ratatouille with brown rice and salad. The next day, I piled some leftovers atop zucchini noodles for a quick, easy, and cozy working lunch, as the storm roared angrily outside: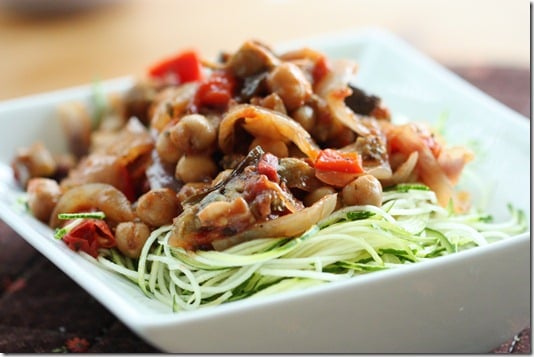 I'm not an onion lover, as we all know, but in this recipe the get cooked down till they're caramelized with juices from the tomato. Really, really delicious—and very little harsh onion aftertaste.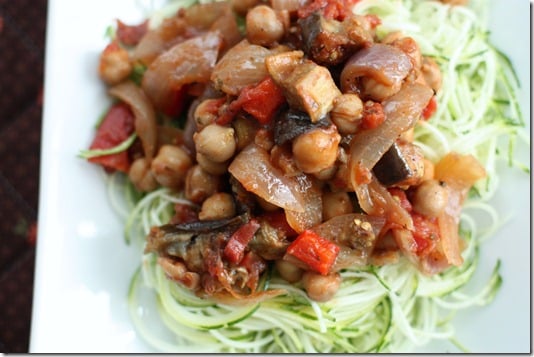 This was a wonderful meal. The recipe says 4-5 servings; I personally got about three large ones out of it, but you could count on it serving four for a dinner party if you have some good accompaniments. Dreena's suggestion for a grain is great, and if you choose to serve it over zucchini noodles, as I did with my lunch, you could add some raw crackers, veggies and an avocado dressing, or a raw or cooked soup.
On that note, I'm signing off to study a bit. Hard to believe that this week, which brought so much suffering to folks in the Northeast, is drawing to a close. I sincerely hope that relief will be brought to those who are still without power, heat, gas, communication lines, or food this weekend and all through next week. If you are a CR reader who is still in the dark or has lost your home, I'm sure you can't read this post, but I'm thinking of you anyway.
xo