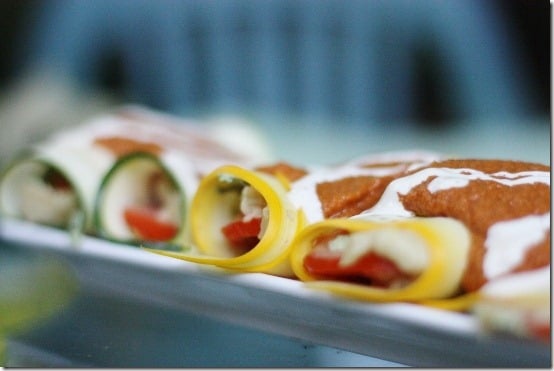 Great responses to the edamame hummus! I was excited to hear that some of you already tried it and loved it. Today's raw-ish entrée—high raw, vegan manicotti—may not be quite so quick or easy, but it is delicious, and I'm hoping that you guys will be as quick to give it a shot!
Last Thursday, my friend Andrea came over for dinner at the Hobbit House. I love preparing meals for friends, because I have such an advantage: I knew already that Andrea loves my cheesy parsnip spread:
…and that she loves anything with Italian flavors. With a bag of parsnips (on sale!) on my hands, a ton of fresh summer basil, two ripe tomatoes, and more zucchini than a vegetable patch, I knew precisely what I wanted to make her for dinner:
And I knew—or at least I suspected strongly—that the dish would be easy to prepare and very delicious.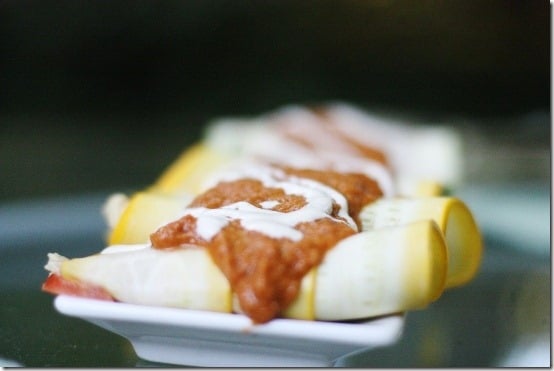 And it was.
High Raw, Vegan Manicotti (mostly raw, vegan, gluten free, soy free)
Serves 2
For the "pasta":
2 large zucchini
For the pesto:
Hemp pesto (recipe to come later this week!) or any other pesto—give my walnut pesto a try!
For the parsnip "cheese" filling:
1 batch of my cheesy parsnip spread
For the sauce:
1 batch of my sweet red pepper marinara sauce (all raw—no simmering needed!)
For the cashew cream:
Use 1 batch of the recipe in this post
To prepare:
1 large tomato, thinly sliced
To assemble:
1) Lay three sheets of very thinly sliced zucchini (pictured below) with edges overlapping, and cover with a thin layer of pesto, a layer of parsnip spread, and a layer of tomato:
Roll all three slices up from the edge to which the fillings are closer, to the far edge, and seal with a tiny smear of pesto. You should end up with nice, neat rolls (check out my hemp hummus zucchini wraps for an additional how-to):
Cover with a heaping layer of sweet pepper marinara and a nice drizzle of your cashew cream. Serve!
I rounded out my meal with Andrea with a huge bowl of fennel, romaine, and tomato with my raw, vegan Caesar salad dressing:
We also nibbled on the last of my black bean and quinoa salad with quick cumin dressing, making for two very messy—and very tasty—dinner plates:
What a spectacular night of high raw, all vegan food!
This meal reminded me of how fun it is to work with raw-ish entrees. In these busy student days, my cooking is dictated more by necessity and efficiency than by artistry: I make dips, spreads, versatile grain dishes, raw snacks, and salads, and little else. But there is such joy to preparing a raw or high raw meal that's complete and beautiful, and I hope that no amount of homework will ever keep me from this kind of dinner for long.
On that note, it's time for this sleepy blogger to retire. My midterm was (I think) alright, but I'm running on < 4 hours of sleep. Night!
xo