Hi guys,
As promised, I'm back with a special product review for you all. But first, I want to share a few words about my weekend.
We all have a proverbial happy place. Maybe it's a family vacation spot we remember fondly from childhood. Maybe it's our parents' place. Maybe it's a beach you visited on spring break one year and hope to get back to one day; maybe it's a neighborhood restaurant that you love to visit with your partner. It might even be a park bench somewhere.
I have a lot of happy places: certain restaurants (cough! Pure Food and Wine); the early American rooms at the Met (geek alert); tree-lined blocks on the Upper West Side; the steps on Columbia's main quad; the northern curve of the reservoir in Central Park; my Mom's apartment. But my happiest of happy places is Chatham, New York, where my best friend's folks live.
Why? A few reasons. To start, it's verdant and beautiful and quiet—therefore, a total antidote to my life in the city. It's also welcoming: Chloe's parents and sister are and always been like a second family to me. They're generous with their love and hospitality and care. It's rich with nostalgia: Chatham is where Chloe and I have been spending summer weekends and holidays since we were kids. Through adolescence and high school, college and the turbulent post-graduation years, through breakups and first loves and family strife and all of the other milestones of growing up, we've returned to that house for a sense of comfort. I always leave Chatham a little more certain of who I am than when I arrived. And even as time passe–which it does these days with frightening speed–our rituals in Chatham remain the same: cold drinks on the porch in summer, apple cider in the fall, the strawberry shortcake festival on the fourth of July.
For as long as I can remember, my memories of Chatham–like most worthy memories–are intertwined with memories of food. Great food. From fresh produce at the farmstand to herbs and vegetables from Chloe's mother's garden, holiday feasts simmering on the stove to fresh heirloom tomatoes and grilled corn in the summer, hot coffee on the porch in the fall (yes, I reserve the right to my coffee ritual up there) to lemonade in summer, being in Chatham means plenty of time in the kitchen.
In the last few years, of course, I've made a few additions to our kitchen traditions. They include green juice in the fridge, and mountains of marinated kale at the dinner table. Chloe's parents have watched these developments with a bemused eye and the occasional chuckle. So I think it came as no surprise to them that I brought a new goody this weekend: kelp noodles. I don't want to throw the "this will change your life" promise around too much, guys. But I have a feeling that kelp noodles are about to make a splash.
What are they? Quite simply, kelp noodles are made from all natural, raw kelp that has been stripped of its outer skin (leaving a clear, thin interior). They're then preserved in sodium alginate, a natural salt that's also seaweed derived, and shipped to customers in packs of five. They require no heating, prepping, or soaking (unless you want to soak them), and they keep for up to six months.
Best of all? They're crunchy, fresh tasting, and not at all "fishy"—so neutral, in fact, that they're a downright ideal substitute for regular pasta. Pasta, that is, that is 100% raw, 100% vegan, 100% gluten free, and boasts all of the benefits of sea veggies, including thyroid function, metabolic support, and iodine (for more on my adoration of sea vegetables, check out this post).
Sure, I love my zucchini pasta. But a girl needs a break every now and then, which is why I was delighted when the Sea Tangle noodle company—which is the best and most well known source of kelp noodles—graciously offered to send me some of their products. I received the classic variety, the green tea flavor (which I'll try soon), and some sea veggies to boot. I've been eager to taste kelp noodles for ages now, and I decided to bring the classic variety upstate for Saturday night's dinner.
The verdict? Success! I couldn't believe how neutral tasting and fresh these were. They'll make a perfect base for any pasta sauce: hot or cold, raw or not. And as I so often find with raw dishes that I bring along to dinner parties or weekends away, they were a universal hit: Chloe's family and guests snacked on them happily as we prepped dinner!
Since Chloe's mother's garden was bursting with basil, I opted for a simple pesto treatment, using a pesto of pine nuts, basil, lemon zest, salt, lemon juice, and olive oil.
I gave myself a generous serving of the noodles:
Tossed them with some fresh, local zucchini and heirloom tomatoes:
Plopped on the pesto:
And tossed. Alongside a big salad of fresh veggies, it made for a terrific dinner. And going back for seconds (which was a must) meant nothing more than pulling another serving of noodles out of the bag and dressing them with pesto–no boiling, no spiralizing!
Non-vegan offerings at dinner included grilled chicken:
Deconstructed Greek salad (Chloe's half Greek, too!):
Chloe's mother's famous roast veggies (including garden eggplant), which I loved:
And a giant peach tart for dessert. (Chloe's mother, sister, and aunt are all consummate bakers.)
I can't get over how simple to prepare and versatile kelp noodles are, and I suspect they'll become a staple in my kitchen. I recommend you all check out the Sea Tangle website for information on how to order some of these for your own kitchens. They make a terrific substitute for zucchini pasta if you aren't lucky enough to have a spiralizer (yet!), or simply if you've been looking for a low fat, gluten free, or vegetable substitute for your favorite pasta.
To end the post, a few more shots of my weekend in the country.
The home and gardens: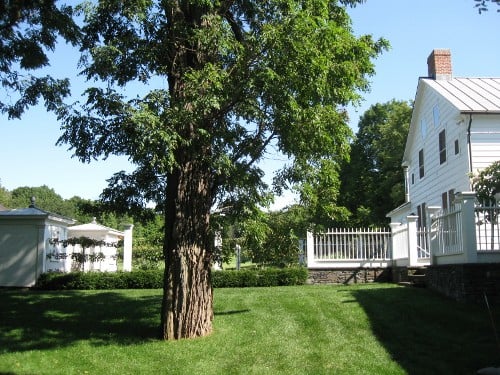 A place to read:
Some treats from the garden:
And on that note, I'd like to congratulate Chloe on her big news: as of today, she's officially engaged to be married! Official congrats, sweetie!<3
Back soon, all. Have a great night.
xo