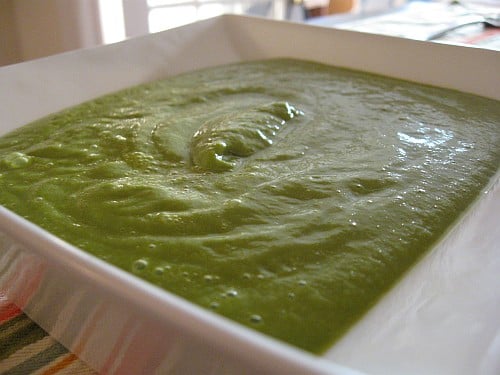 One of the cooler blog trends lately is rise of green smoothies (or green monsters, as so many like to say). The introduction of spinach and kale into everyone's morning smoothie was one of my favorite blogging developments of the year—and lately I've been delighted to see greens appearing in hot breakfast cereals too (thank you, Polly and Heather!).
Green smoothies are terrific: full of vitamins, fiber, and an easy, palatable way to get raw greens. But today I'm hoping to ignite some enthusiasm for another blended creation: the blended salad.
What is a blended salad? It's just a funny name for a raw veggie soup. Blended salads have all of the fiber and g goodness of green goodness of green smoothies, but they're savory, rather than sweet! They're also endlessly versatile: I have made dozens upon dozens of variations, and loved them all.I like to keep my blended salads as simple as possible, but you can easily add herbs or spices to change their flavor and character.
Many of my clients have taken to drinking these in the morning, as an alternative to smoothies; if you do that, I recommend a side of sprouted toast and picking clean flavors for your sleepy palate! At any other time of day, go crazy. One of the recipes I'm about to share is given some kick with cayenne pepper.
My basic blended salad formula is always the same:
1-2 cups water
¼-1/2 avocado
1-2 cups vegetables, chopped
1 cup greens
1 tsp-1tbsp cold-pressed oil (optional)
¼ tsp. salt
This is just a suggestion: you can use pretty much any combination of vegetables you like in whatever amounts you like. I enjoy adding avocado for creaminess and/or a drizzle of oil, but both are optional; blended salad purists use vegetables and water alone, which is equally tasty!
Blended salads are not only quick to make, but also very gentle on the digestive tract. They're wonderful healing foods, and they're often encouraged in the holistic health community for those whowho suffer from any kind of digestive condition. I often turn to them when my stomach is a bit off: one of my favorite variations (Kristen's Harvest Soup) got me through my recent battle with a batch of bad sprouts! You can base your blended salads on any flavors or veggies you like. My favorite combinations are zucchini and avocado based, but tomatoes and cucumber are also great bases; carrots and beets can liven them up, too.
Now, I won't lie: these may not have the immediate appeal of your green monsters. But I think you guys might grow to love them for their simplicity and rich nourishment. I challenge you all to try them one of these days (maybe, for tradition's sake, a Wednesday)! And if you do, let me know!
In the meantime, here are my top blended salad recipes, and a mini-photo gallery for you all. All recipes serve 1-2: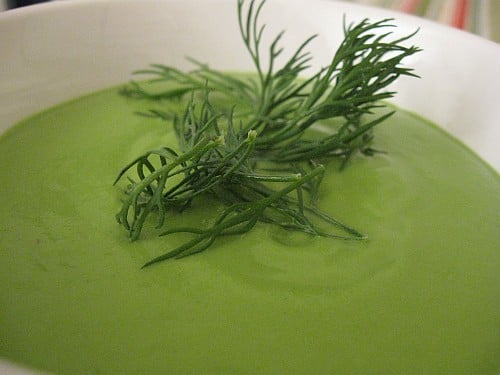 Creamy Zucchini Soup
1 zucchini, chopped (about 1 generous cup)
1 cup greens (spinach, kale, chard, etc.)
1 tbsp lemon juice
1 tsp white miso (not necessary, but I enjoy the flavor it lends to raw soups and blended salads)
¼ tsp salt
½ avocado, chopped
2-4 tbsp fresh dill (depending on your taste)
1 cup water
1 tbsp oil
Blend all ingredients on high in a blender until smooth; drizzle in oil slowly. Serve with sprigs of dill for garnish!
Jennifer Cornbleet's Garden Vegetable Soup (modified by yours truly)
1 small zucchini, chopped
½ large tomato, chopped
2 stalks celery
1 cup greens
10 leaves fresh basil
½ large avocado, chopped
1 tbsp lemon juice
1 tsp white miso
¼ tsp salt
Dash of cayenne
1 ½ cups water
Blend all ingredients except for the spinach and basil on high till smooth. Add them and blend again, also adding more water if the soup is too thick. Enjoy!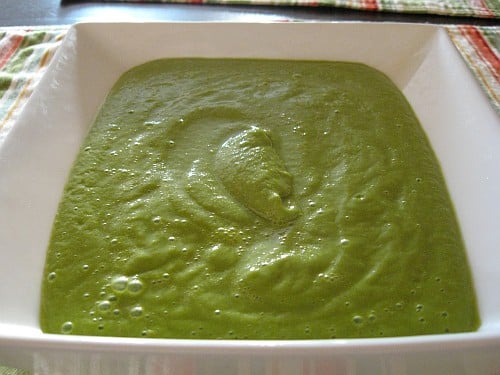 Blended Spinach Salad
2-3 cups spinach leaves
1 cup water
Dash salt
Dash pepper
Squeeze of lemon
½ large avocado, chopped
1 tbsp oil
Blend all ingredients on high till mixed, then drizzle in oil until soup is creamy. (You can jazz this up with whatever herbs you like.)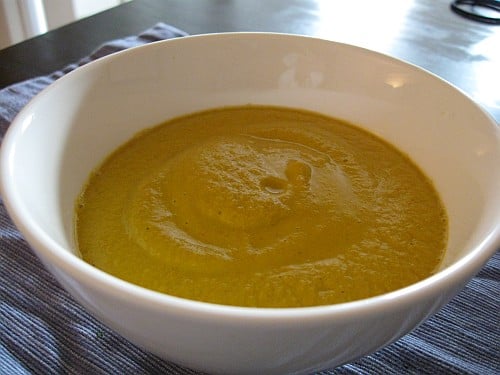 Harvest Soup (adapted from Kristen Suzanne)
1/2 cup water
1/2 large zucchini, chopped
1 medium tomatoes, quartered
2 stalks celery, chopped
1 cups carrot, chopped
1 date, pitted
1/2 tsp Himalayan crystal salt
1/4 teaspoon black pepper
2 tbsp flax oil
Handful dulse strips
Blend all of the ingredients, except for the flax oil, on high speed in your blender until really creamy (approximately one minute – I prefer this soup a tad warm and very creamy). Then, while the blender is running on low speed, add the flax oil. Continue blending, at a higher speed, for another minute or less. This will make it slightly warm.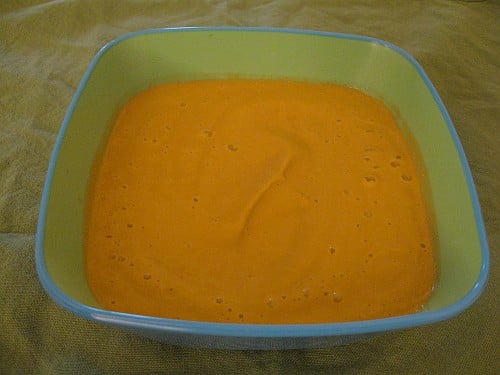 Gena's Basic Tomato Soup
1 ¼ cups chopped cherry or Holland tomatoes
½ avocado
1 cup water
2 tbsp balsamic vinegar
1 tsp agave or dash of stevia
Dash of salt
Blend all ingredients on high till smooth and creamy. Add more water if needed. If you prefer a slightly creamier soup, go ahead and drizzle in some oil on high speed.
I also love this soup as a light dip for veggies or even a light dressing for big summer salads!
I hope you'll all be inspired to try out one or a few of these recipes at home: and remember to personalize them according to your tastes! Garlic could be added to nearly all of them. If you must. There's no easier way to get a ton of veggies into your day. So get to chopping and blending, and enjoy!
xo