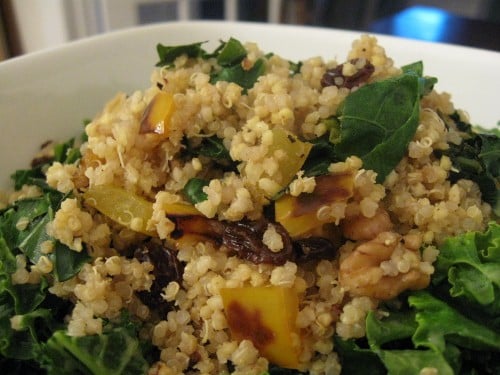 Why, good evening.
Thank you for your thoughtful responses to my guest post on self-acceptance at Cake! They mean a lot to me. It's not always easy to write about these more harrowing topics, so the feedback is appreciated. I hope you'll all check in for part two tomorrow.
Tonight's dinner came together at the last moment. I didn't expect to be home in time to cook anything (my hours are late these days), and I'm a little low on groceries. Fortunately, a few things I'm always sure to have in stock are dark leafy greens, grains, and nuts and dried fruit. So when I saw Diana's recipe for Italian Fried Rice, I knew I was in lucky. Greens? Check. Raisins? Check. Walnuts? Check. Rice?
Oh, wait. I didn't have any rice. But I did have the dregs of a bag of quinoa and a bag of millet, which, put together, amounted to enough for a single serving of mixed whole grains. So I turned Diana's recipe for Italian Fried Rice into Italian Fried Quinoa+Millet, and dinner was born.
Given the haste with which I prepared it, I didn't necessarily expect a blogworthy meal, but of course I should have: when is a recipe by Diana not blogworthy??  There's a lot more to this raw dessert diva than her skills with a date+nut pie crust, friends. If I could glean but a fraction of Diana's skills as a chef, I'd be a lucky woman. Diana, you are a culinary goddess, and I bow at your altar.
Now, I did do some tweaking to Diana's recipe. I changed portions around to serve one person. I say below that you should prepare 1/4 – 1/2 cup of dry grains; 1/4 probably wouldn't be enough for me, so I recommend making 1/2 cup. If you can't finish it, you can always save it to toss over a nutrient-dense salad the next day at lunch! I also omitted the garlic (duh) and added some bell pepper (just cause I had some leftover). You should feel free to modify this recipe liberally. Any greens will work, and most grains would be nice in it. I think it would be great with sundried tomatoes, too–the possibilities are endless!
Italian Fried Grains (serves 1)
1/4-1/2 cup (dry) quinoa, millet, or rice
1 very heaping cup dark leafy greens (collard greens, spinach, kale, etc.), chopped
1/3 bell pepper, chopped
1 tbsp raisins
1 tbsp walnuts, chopped
1 tbsp lemon juice
1 1/2 tbsp nutritional yeast
Olive or coconut oil
Salt and pepper to taste
Cook the grains according to package instructions. Set aside.
Heat some coconut or olive oil in a pan (I used coconut), and add the bell peppers. Sautee till they're just tender. Add the greens, raisins, and walnuts, and stir, adding some vegetable broth or a drop of extra oil if they get dry.
When the greens are just tender, throw the cooked grains in the pan, and give it all a good stir. Add the lemon, nooch, and salt and pepper to taste, and heat through.
You're done!
Diana enjoyed her dish straight up:

But because I'm apparantly incapable of eating a meal that doesn't involve raw kale, mine got served over some massaged greenies. Doesn't it look heavenly?
It was only after inhaling finishing the dish that I realized I should have dotted it with some of my raw, fermented "goat" cheese. Next time! I can't wait to try it with real brown rice, too.
Nothing beats dinner in a hurry–let alone dinner in a hurry that also happens to be fantastic. And I'm in luck, because Mz. D happens to be having me over for her famous raw kale and veggie crackers tomorrow night. Two nights of Dianspiration in a row? My cup runneth way over.
With a happy belly, I'm off to edit.
Night night.
xo