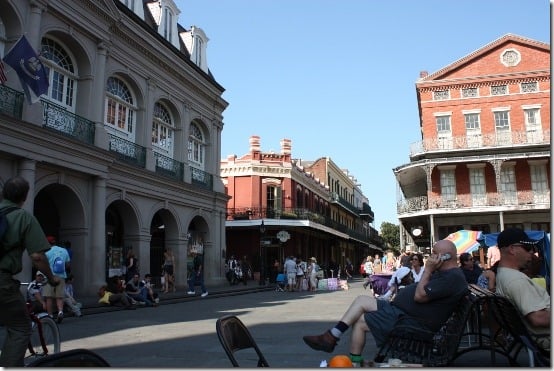 Happy Saturday, friends!
Glad you enjoyed yesterday's post! I love these diary-like chronicles of traveling. To answer many questions about my hair: yes, my hair is naturally curly, and it will vary from loose waves to ringlets depending on humidity. I don't wear it that way most of the time because I actually prefer it straight (hence the customary blow drying), but I have to admit that student life is giving me less motivation to keep it straight lately: I'm just too busy. And there's certainly no point attacking it with a blow drier down here, where the Louisiana climate will quickly curl it up again.
I woke up this morning craving oat bran, so oat bran it was: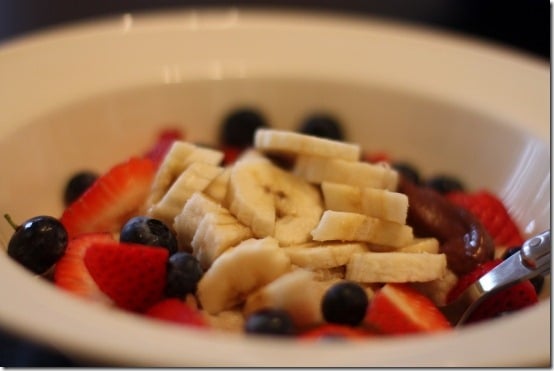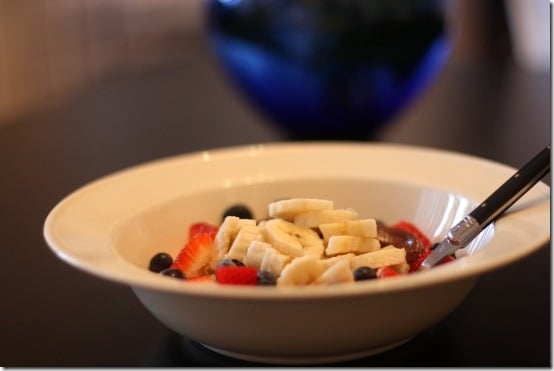 Oat bran cooked with chia seeds, flax, almond milk, and topped with banana, berries, and Justin's chocolate almond butter. Delicious, and devoured quickly in Chloe's elegant dining room, with its perfectly appointed vases and frames and upholstered seats. My bestie has such a talent for homemaking: when we lived together, I felt so grateful for her organized mind, her meticulous neatness, her knack for decorating, her appreciation of artwork. I think I do a good job of keeping my cozy little apartment in good order, and certainly I've mastered the culinary part of the domestic arts, but my talents pale in comparison to hers.
I sat down to draft a special guest post I've got on the lineup, and then it was time for a morning run. It's a gorgeous day here—a gray morning gave way to a sunny afternoon—but I knew that if I waited any longer, I'd end up being pummeled by the afternoon sun. I set out for a breezy and warm loop around the Tulane area of Nawlins. The highlight was a long stretch along scenic St. Charles, with its stately homes and trolley car tracks: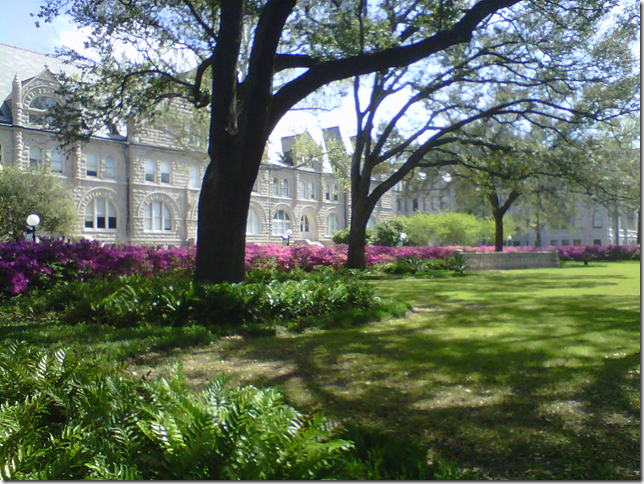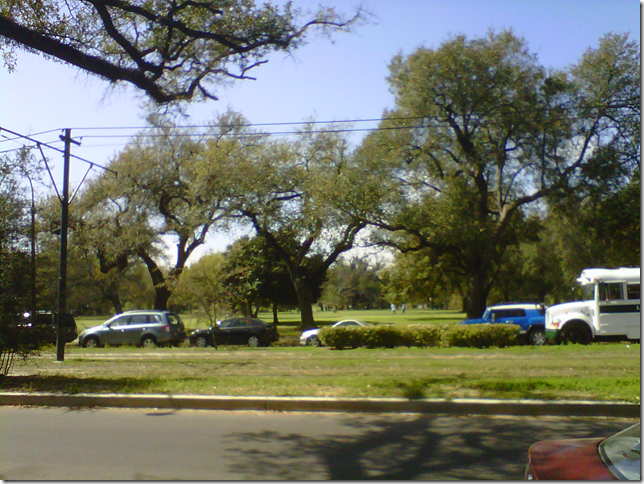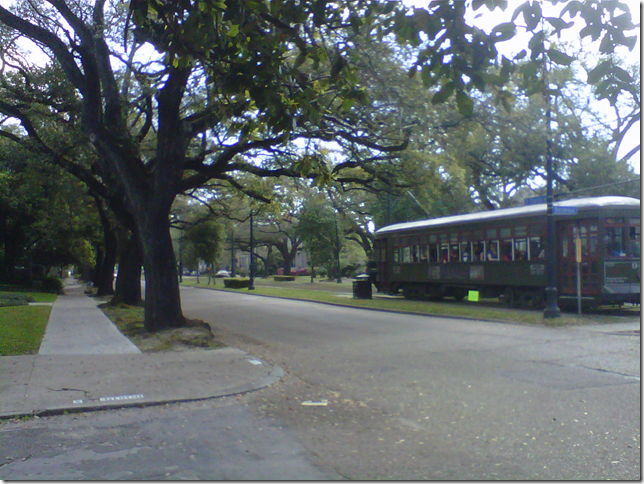 (Sorry for the cell phone pics!)
I even found a street with my name—sorta. Only one "n," like me, though it's the "J" spelling of Gena: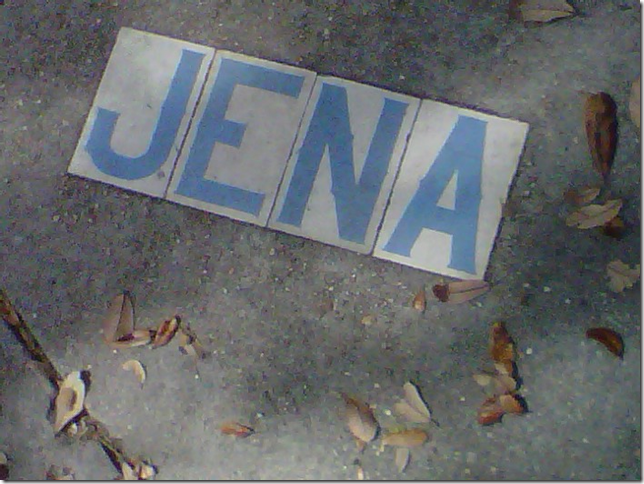 I definitely spent the majority of my run listening to Chloe's and my famous road trip playlist from 2004, which appears to be an interesting mix of Led Zeppelin, Rage Against the Machine, Courtney Love, and…the Dixie Chicks. Hmph.
A little while after returning home, I threw together some lunch food: a big kale salad, topped with a a some Ezekiel toast and the last of my raw mashed potatoes: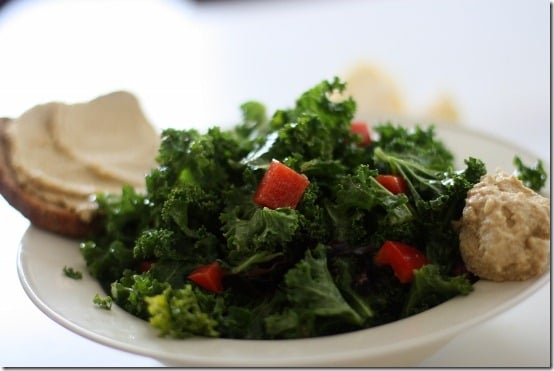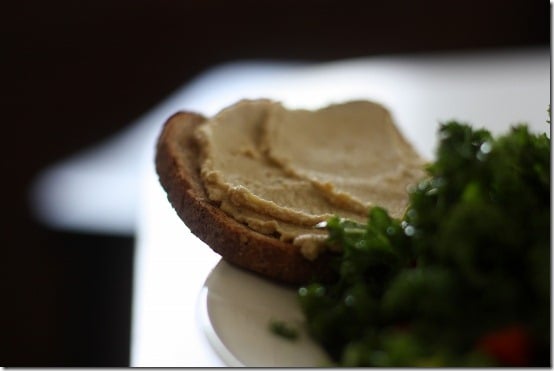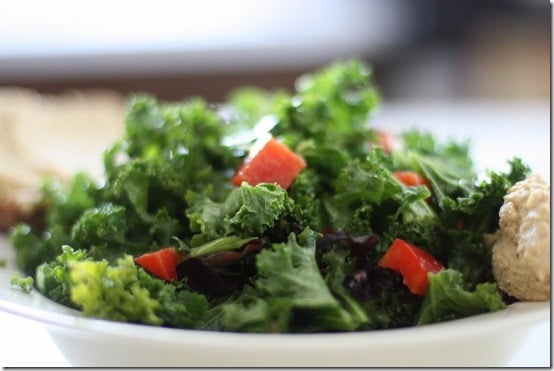 After that, it was off to the Quarter for some strolling, shopping, and people watching. It was, as usual, a lot of fun: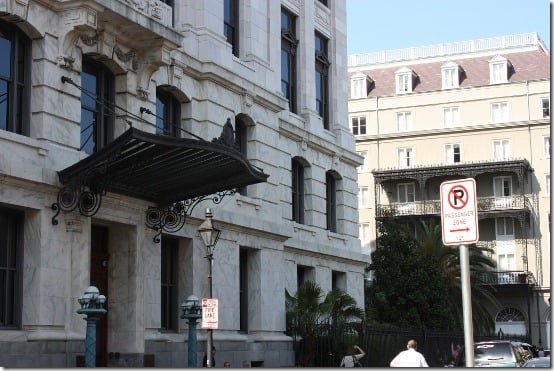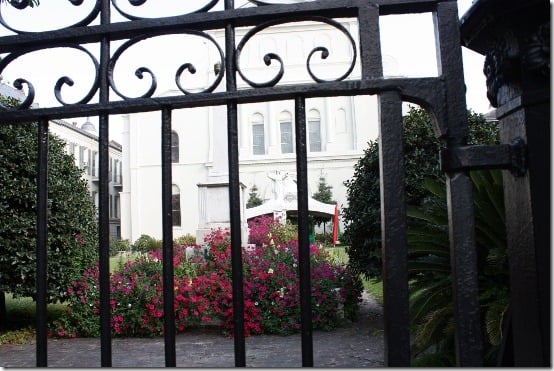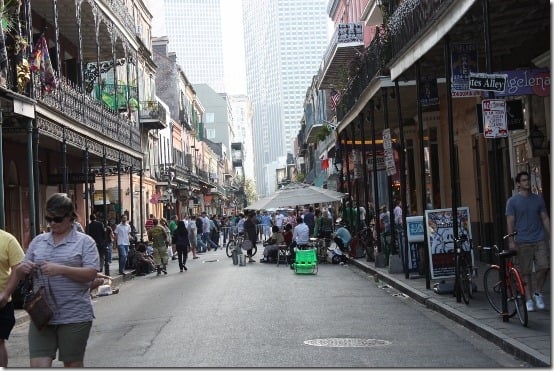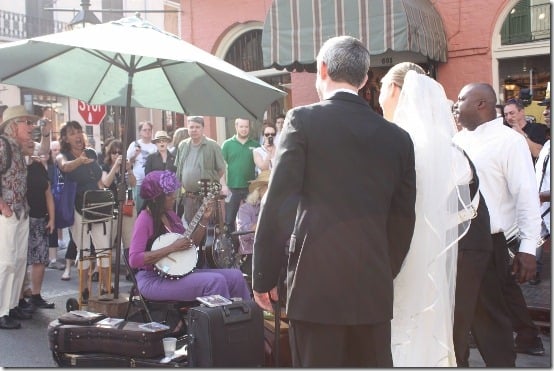 While strolling around, we happened upon an exhibit of Al Hirschfeld's drawings of over six decades of Tennessee Williams' work, on display at the Historic New Orleans Collection.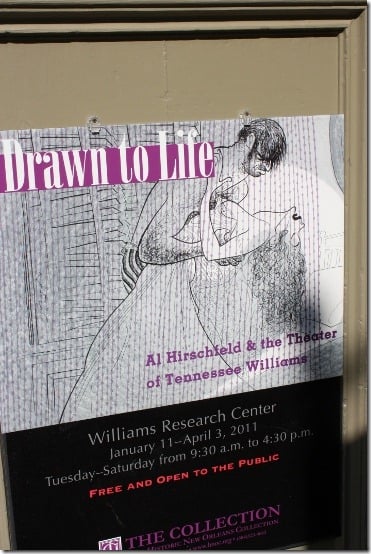 Hirschfeld was a champion of Williams' plays, and their most incisively lighthearted scribe. It's a great show, and it was made all the more fun by the fact that Chloe and I are both huge Hirschfeld fans, and I'm a Williams fanatic. We had a lot of fun playing "find the Nina."
When we got home, my friends Nat and Meredith joined us for a cocktail before our planned dinner at a local restaurant, Dante's Kitchen. I had been duly warned by Chloe that this wasn't a vegan spot by any stretch of the imagination, but I'd also peeked at the menu, and noticed the many local vegetable selections, so I was hopeful. When we arrived at Dante's, I was indeed excited to see the huge chalkboard listing of what veggies are local and in-season: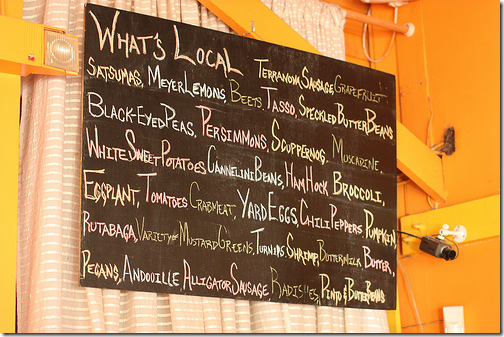 That image is actually courtesy of Jason over at Off the Broiler. Why? Because I stupidly left the memory cards for my camera at home. Blogger FAIL. I was fretting about this, and trying to figure out how I could get my blackberry to take non-horrifying photos, as we began to examine the menu, and I began my customary (polite) interrogation with our waiter: what could be veganized? Was he sure the carrots had no butter on them? None at all? Was the rice cooked in chicken stock? Etc.
As it turned out, my camera wasn't needed tonight, because the menu—while very local and very seasonal—wasn't very vegan. There was a vegetable platter prominently advertised, which was promising, but I've done enough restaurant dining to know how to probe, and probing revealed that it was sautéed in butter. Our lovely and kind waiter momentarily thought that he could have the dish made without butter, but then the chef said it couldn't be. Which means that I was left with an arugula and beet salad (goat cheese omitted), some carrots, and some mashed yams with molasses and cinnamon. Given that Dante's prides itself so heavily on its vegetables—in fact, I'd say that the overwhelming emphasis is on the produce selection—I thought it was too bad that it was so hard for them to veganize various items.
Even so, I was delighted that Chloe, Nat, and Meredith loved their meals as much as they did. And when Chloe mentioned that she was a little "annoyed on my behalf," and complimented me on being friendly in spite of the restaurant's limitations, I appreciated the sentiment, but also responded that I wouldn't have it any other way. I look forward to a day when all restaurants accommodate vegans and omnis with equal graciousness and effort, but for now, I know what I'm getting into when I dine out. It won't always be easy, and there's no point being a diva: one meal is just one meal, and I'm capable of savoring a night out with good friends in spite of sometimes limited food options.
Tonight was a celebration of Chloe's new blog and fledgling career plans, my return to school, and the fact that Nat is a soon-to-be FSG novelist!! (I'm only sorry that I won't be around to torment him with copyediting queries.) That's where my head was at: I wasn't focused on what I could or couldn't eat. As much as my life revolves around food, and as passionately as I love all things culinary, I realize that the whole experience of dining with friends goes far beyond what's on my plate: it's about company, conversation, and shared pleasure. And in fairness to Dante, the dishes I did order were totally delicious, and I filled my beta carotene quota for the day.
(Side note: in spite of this upbeat message, I'm really glad I followed instinct and had a hefty afternoon snack. Vegan travelers, if you're not sure how well a restaurant can accommodate you, err on the side of caution, and snack well before your meal. You'll almost never regret it.)
And with that, another day of friendship, food, and frolicking along the bayou concludes. See you back here tomorrow.
xo