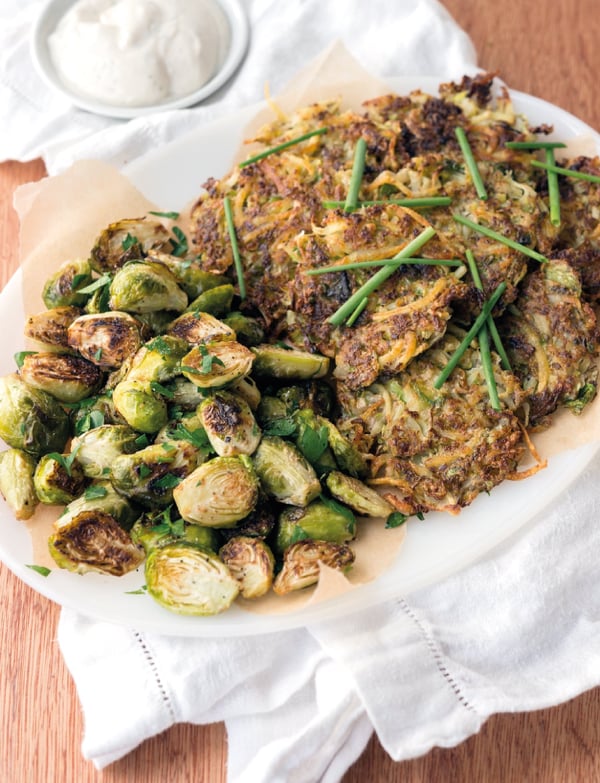 About a year ago at this time, I had the good fortunate to review Jess Nadel's creative cookbook, Greens 24/7, here on the blog. Today, I get to tell you about Jess' new book, Superfoods 24/7, and I'll be offering a giveaway at the end of this post. The new title picks up where the last one left off, with the theme of incorporating a powerfully nutritious category of foods (greens last time, superfoods this time) into everyday cooking. It is, like Jess' first book, playful, inventive, and inspiring. And Jess' delicious brussels sprout latkes with tofu sour cream are a perfect example of what this vibrant recipe collection has to offer.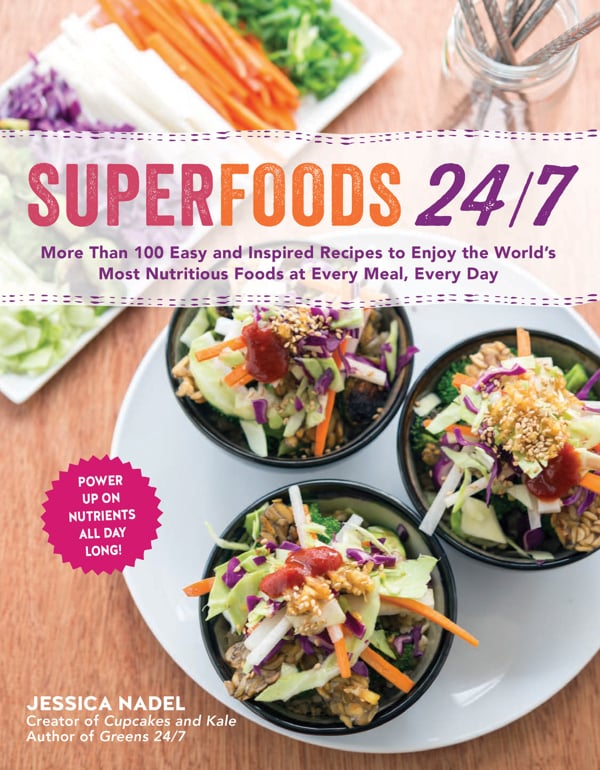 I get a little nervous when I hear the word "superfoods"; it's too often used to market expensive specialty items that may or may not be as miraculous as the claims suggest. But this isn't how Jess Nadel employs the word at all. Her definition of a "superfood" is simple: any food with particularly high nutrient density. The recipe collection features a few more exotic choices (matcha and goji berries), but for the most part Jess' list of superfoods includes ingredients that many whole food cooks already know and love, including:
• Amaranth
• Avocado
• Blueberries
• Chia seeds
• Cinnamon
• Coconut
• Edamame
• Flax seeds
• Ginger
• Kale
• Lentils
• Pumpkin
• Sweet Potato
• Quinoa
These tasty, nutritious plant-based foods are used in a diverse array of soups, salads, breakfast, smoothies, entrees, and wholesome desserts. Some of my favorite recipes include Jess' sunflower seed and sprout pad Thai: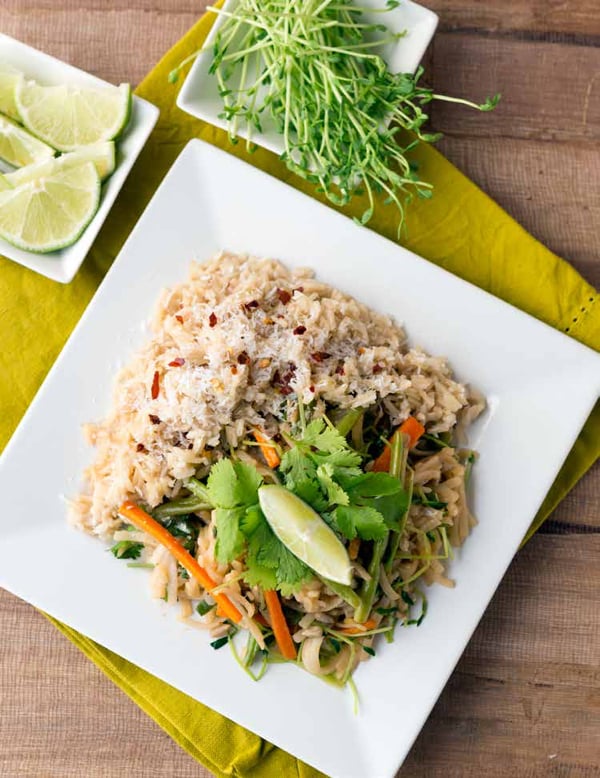 Her sundried tomato and coconut quinoa burgers: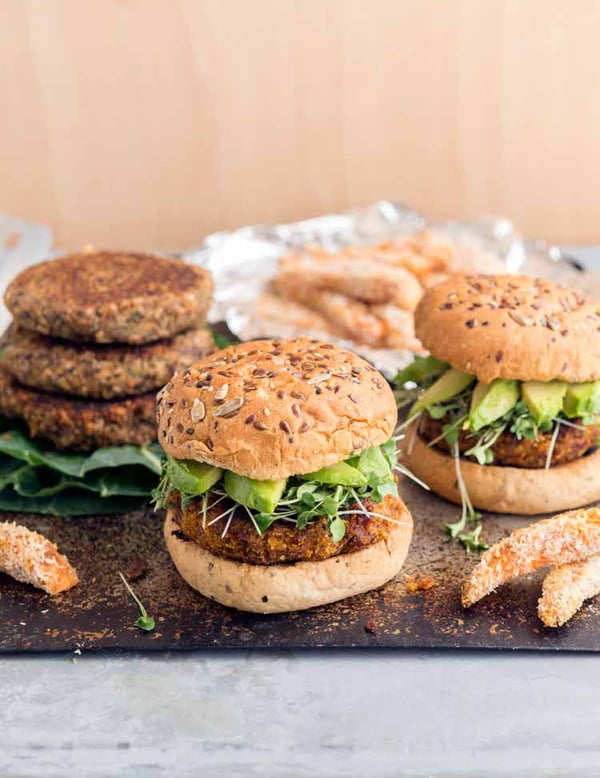 Her coconut kale soup: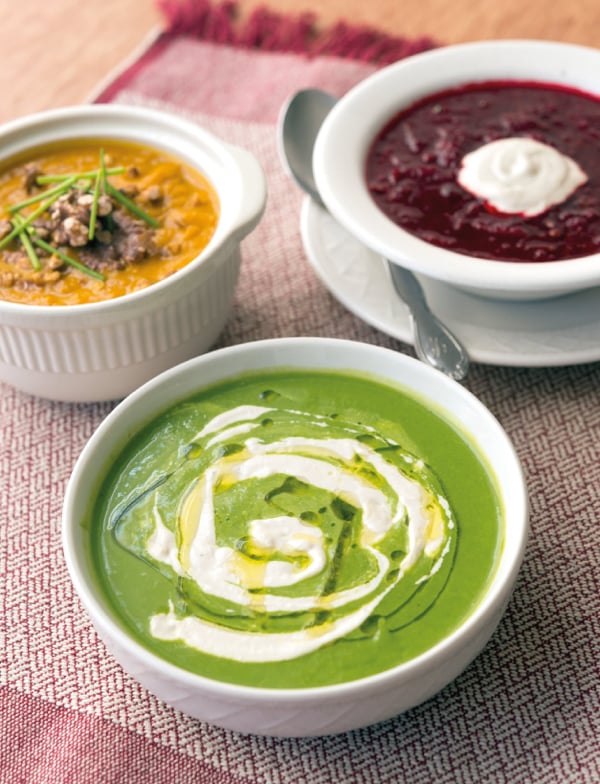 And her delicious minty matcha nanaimo bars:
As you can see, the book features beautiful photography from the very talented Jackie Sobon, and the images alone will entice you to give some of these superfoods a try, if you don't know and love them already.
The book features fun facts about Jess' favorite superfood ingredients, from nuts and seeds to fruits and legumes, as well as some general cooking tips and even several superfood-themed meal plans. As always, her tone is warm, welcoming, and accessible, and her recipes are totally unfussy. Jess makes it easy to love healthful ingredients.
I chose Jess' brussels sprout latkes with tofu sour cream to share today because the recipe combines two of my favorite categories of vegan superfoods: brassicas and soy. Beyond that, the recipe perfectly captures Jess' talent for folding super wholesome ingredients into comforting, homey dishes–dishes that you want to eat again and again. These latkes have a lighter and crisper texture than traditional potato versions, as well as a beautiful green hue, but they're every bit as addictive. See for yourself!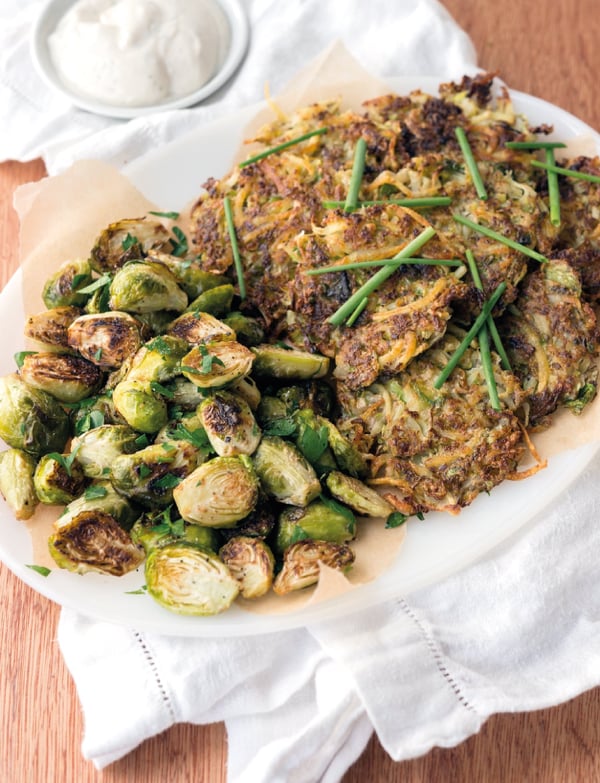 Jess Nadel's Brussels Sprout Latkes with Tofu Sour Cream
Author -
2

cups

180 g shredded Brussels sprouts

½

onion

thinly sliced

1

medium potato

grated

2

chia eggs

see below

¼

cup

30 g all-purpose flour or gluten-free all purpose flour

pinch

of paprika

fresh chives

chopped

sea salt and freshly ground black pepper

a little oil

for frying
For the Tofu "Sour Cream":
For the chia eggs, follow these instructions: to make one chia egg, mix 1 tablespoon of whole or ground chia seed with 3 tablespoons of water and let it sit for 5 minutes. The mixture will gel and become a bit gloopy, like a raw egg. Stir again and the "egg" is ready for use. It's best used in baked goods.

To prepare the latkes, in a medium bowl, mix together the Brussels sprouts, onion, and potato. Add the chia eggs and toss to combine.

In a small bowl, stir together the flour, paprika, and a little sea salt and pepper. Sprinkle this over the vegetable mixture and fold in to create a thick batter.

Heat a little oil in a cast-iron skillet over high heat. Scoop out 1/4 cup (60 ml) of batter and place in the oil, flattening it with the back of a spatula. Repeat with three more scoops to fill the pan. Cook for 2 to 3 minutes, until golden brown, then flip and cook for an additional 2 to 3 minutes until the underside is also golden brown. Remove to a plate lined with paper towels and then repeat with the remaining batter. If not serving immediately, keep warm in the oven at 250°F (120°C).

For the tofu "sour cream," place all the ingredients in a blender or food processor and blend until smooth. Alternatively, a hand-held immersion blender can be used. Any leftover cream can be stored for up to five days in the fridge.

To serve, top the latkes with a dollop of cream and a sprinkle of chives.
Recipe from Superfoods 24/7: More than 100 Easy and Inspired Recipes to Enjoy the World's Most Nutritious Foods at Every Meal, Every Day © Quantum Publishing, 2015. Reprinted by permission of the publisher, The Experiment. Available wherever books are sold. theexperimentpublishing.com.
Want to explore Superfoods 24/7 ? Awesome. Jess and her publisher, The Experiment, are generously sharing a copy with a US or Canadian reader today. Simply enter below to win, and I'll be emailing the lucky reader in two weeks!
Good luck, friends! And I hope you'll explore more of Jessica's soulful recipes by checking out her blog, Cupcakes and Kale, or by finding her on Twitter, Instagram, and Facebook.
On the topic of giveaways, there are still three days left in my giveaway to win a free Blendtec designer 625 high speed blender. Enter if you haven't already, and while you're at it, grab a super spicy and delightful butternut squash and five spice soup recipe.
And I wish you all a wonderful start to the weekend. See you soon, for weekend reading.
xo