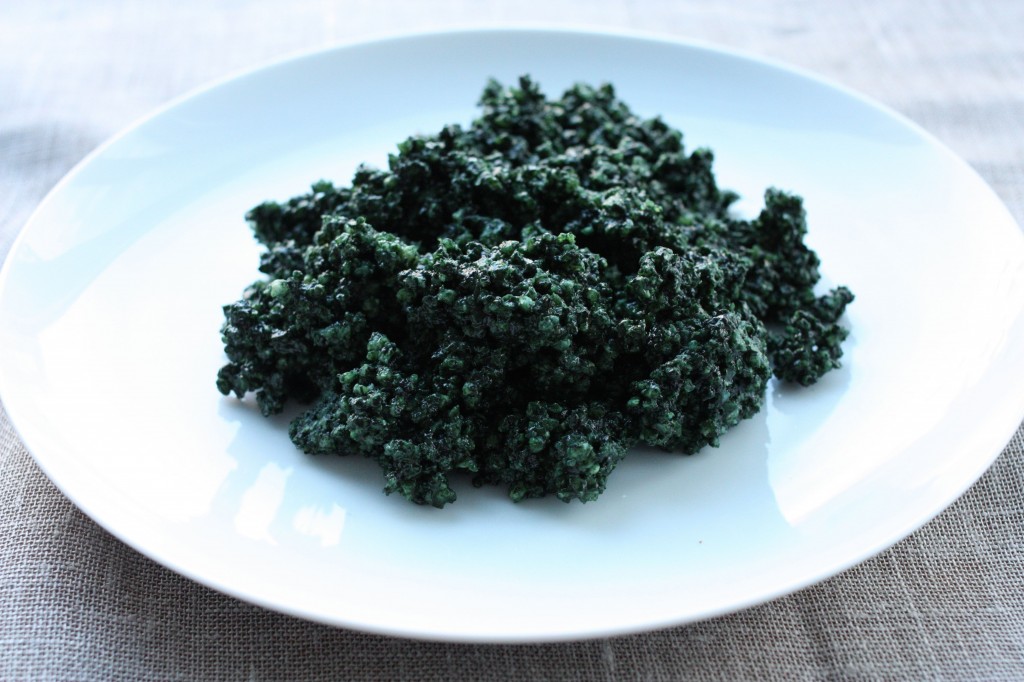 This is not the first time I've written about Jivamukti Cafe in NYC, and the food it inspires. That warm, cozy space also sparked my recipe for turmeric tahini dressing, which is now a favorite. The cafe, which is attached to Jivamukti Yoga School, serves hearty and healthy vegan fare, including protein rich vegan salads (like the "Montana," which has warm black beans, quinoa, & avocado, or the "Diablo," which has grilled seitan, brown rice, & kalamata olives, or the spicy tempeh, which is what it sounds like), juices, teas, raw and cooked soups, burritos, mix and match bowls, and (I love this) an entire menu of toasts, on which you can bet avocado toast features prominently. It's a great place to grab lunch, sit and sip tea, or nibble on a bowl of warm grains and read.
Jivamukti also happens to be one of the spots where Brendan and I tend to go for catch ups and conversations. A while back, I noticed that he always ordered the spirulina millet with turmeric tahini dressing. I was a little skeptical of this selection; I don't love spirulina, and I was certain the dish would taste like the bottom of a pond. It doesn't at all, a fact that surprises me even more now that I've made the recipe and know that it calls for five whole tablespoons of spirulina (which is a lot! I usually only put a teaspoon into smoothies, if I use it at all). It is mildly salty, nutty (thanks to flax oil), and absolutely delicious. It has taken me too long to make the recipe at home, but now that I have, I'm certain that it's going to be a regular staple for me.
A word about spirulina: it is a type of blue green algae, which was used as a food source by the Aztecs until the 16th century. I've heard it touted as a potential cure for cancer, hypertension, high cholesterol, candida overgrowth, and even HIV/AIDS. One popular natural health website presents it thus: "Imagine a plant that can nourish your body by providing most of the protein you need to live, help prevent the annoying sniffling and sneezing of allergies, reinforce your immune system, help you control high blood pressure and cholesterol, and help protect you from cancer. Does such a "super food" exist? Yes. It's called spirulina."
Here's the good news about spirulina: it's a complete protein (containing all of the amino acids essential for human life), and it contains a great deal of protein by weight (some studies say 70%, though the average is closer to 60%). (1) In a number of laboratory and animal studies, it has been shown to have some antiviral and immunity boosting properties, and possibly even some action against mutagenicity (hence the implication that it might help to fight cancer). (2, 3) Preclinical and clinical studies have also shown that it may help to reduce lipid levels in the blood (and consequently prove to be a useful agent in lowering cholesterol). (4) A good number of preclinical studies have also shown that it may have an anti-inflammatory effect (5), and one human study suggested that it can possibly help to prevent muscle damage. (6) Of the therapeutic potential pointed to in preclinical trials, it seems that some of the most consistently promising results fall under the category of spirulina's hypolipidemic (lipid lowering) properties, as well as it's potential in immune system support. (7) The additional good news is that, in the clinical studies that do exist, dosage was often only 2 grams daily; a teaspoon of spirulina (at least according to my kitchen scale) is about 3 grams, so a 2 gram dosage is pretty realistic.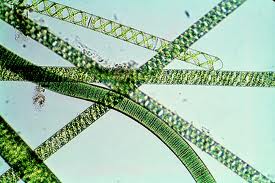 In spite of the promising preclinical evidence, most review articles on spirulina state that a great deal more clinical research remains to help establish the benefits of spirulina in humans, as well as appropriate dosages and dosage frequency. Another thing to be wary of is that the claims about spirulina's nutritional benefit can be misleading. Saying that spirulina is 60 or 70% protein by weight isn't the same as saying it's an ideal protein source; a full ounce (28 grams) of spirulina has 16 grams of protein. Which means that a teaspoon, which is a pretty average serving size, has less than 2 grams (very little). A full tablespoon has about 5 grams, which is more significant, and the fact that the protein in question is complete and easy to assimilate is certainly a good thing. But if you're at all sensitive to the taste, a tablespoon of spirulina is a lot of spirulina. And while spirulina does contain vitamin B-12, it's not a reliable source.
Spirulina is generally agreed to be safe and non-toxic. That said, it can be contaminated with toxins that aren't safe. In the last fifteen years, some spirulina samples have been shown to be contaminated with myocystins, a type of toxin linked to liver cancer, though the amount detected was below the limit set by that state's health department. (8) Another study detected a cyanotoxin with known neurotoxicity (9), and yet other studies have shown that samples in Japan and China have been contaminated with hepatotoxins (which affect the liver) (10). This means that quality control is paramount in sourcing the stuff. If you are interested in consuming it, it's worth reading up on a company's growing and harvesting practices, and asking a lot of questions. The spirulina I used in this recipe was sent to me by the lovely folks at Nuts.com. which has a description of their harvesting process on the site and quality assurance. Earthrise spirulina also has good feedback. Read up on it, and then make choices consciously. I'm not too worried about spirulina in my diet, as I don't consume it daily or even weekly basis (though this millet recipe may change that). But if you do wish to consume it regularly, as a supplement, it's worth being careful and chatting with a health care provider about it.
So, enough of the pros and cons and fine print. A pro of using spirulina is that it's fun, it's got a fantastic green hue, and it tastes marvelous in this millet recipe, which is a direct and only minimally modified adaptation of Sharon Gannon's recipe, printed in Yoga Journal.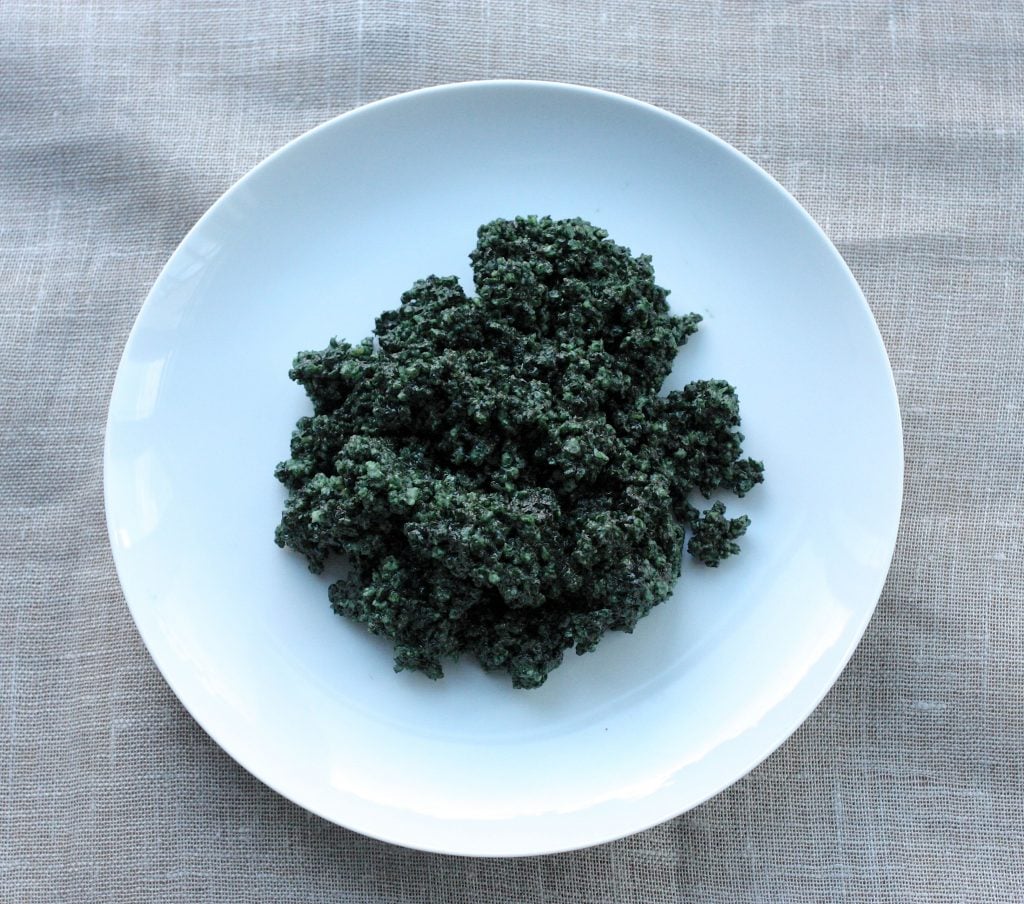 Jivamukti's Spirulina Millet
Author -
1. Place dry millet in a pot with water and bring to a boil. Cover, leaving the lid slightly ajar to allow steam to escape, and simmer gently for 30 minutes, or until the water is absorbed, and the millet is fluffy.

2. Add the spirulina, flax oil, tamari, and nutritional yeast to the millet. Use your hands to mix it all up -- and be prepared for bright green palms!
If you like, you can serve the spirulina millet with my turmeric tahini dressing. It's a perfect combination.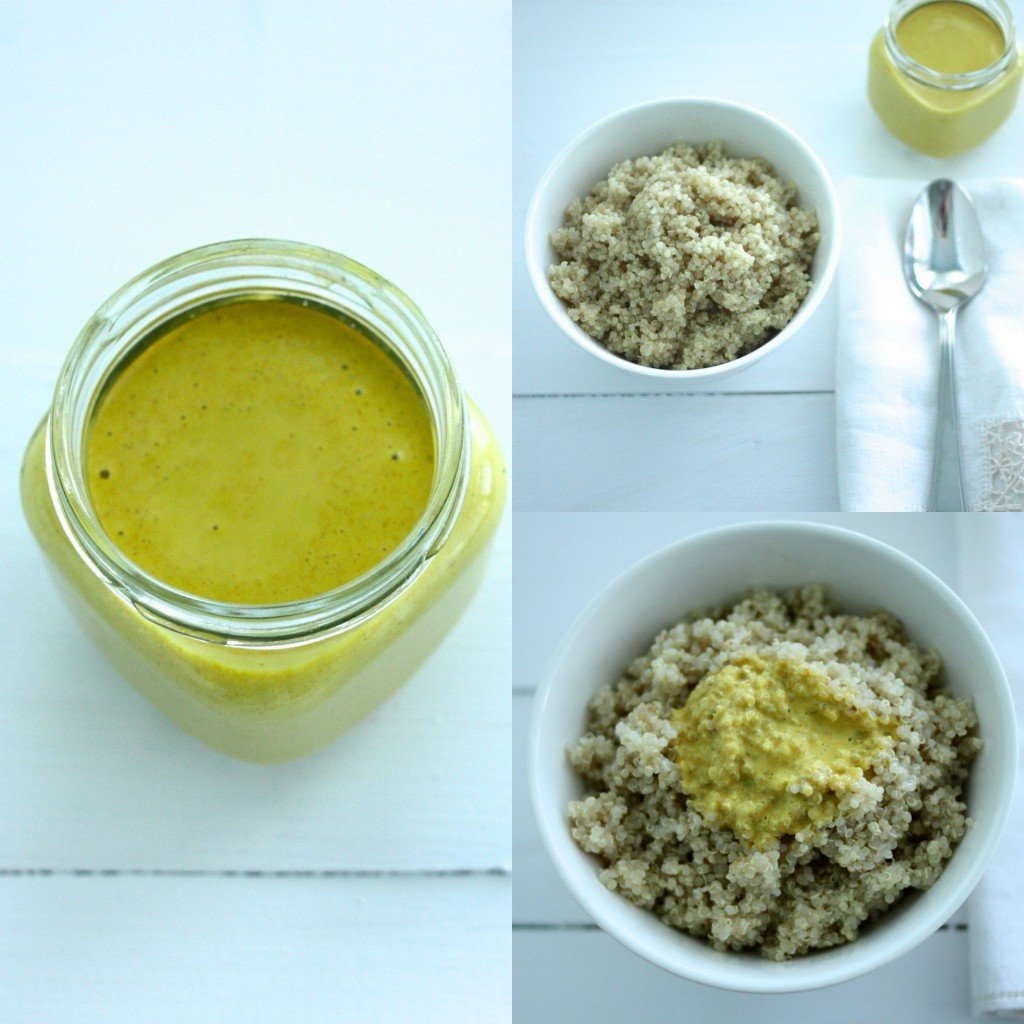 I bet that the same combination (spirulina, flax, tamari) would work well with brown rice or quinoa. And I also bet it would be a delicious grain dressing even without the flourescent green stuff. Seriously — don't wait till you have spirulina to make it. You could use the flax oil+tamari alone, or I bet you could even experiment with using some hemp protein in the recipe in place of spirulina. The possibilities abound.
Enjoy the food, and the factoids, and have a great night, everyone. If you're snowed under, stay warm. We didn't have a snow day at the physician's office where I work, but I did get to come home and watch the snow fall all night, which was peaceful and lovely.
xo
1. Ciferri O. "Spirulina, the edible microorganism". Microbiol. Rev. 47 (4): 551–78. December 1983.
2. Chamorro-Cevallos G, Garduno-Siciliano L, Barron BL, Madrigal-Bujaidar E, Cruz-Vega DE, Pages N. Chemoprotective effect of Spirulina (Arthrospira) against cyclophosphamide-induced mutagenicity in mice. Food Chem Toxicol. 2008;46(2):567-74.
3. Mao TK, Van De Water J, Gershwin ME. Effect of spirulina on the secretion of cytokines from peripheral blood mononuclear cells. J Medicinal Food. 2000;3(3):135-139.
4. Deng R, Chow TJ. Hypolipidemic, antioxidant, and antiinflammatory activities of microalgae Spirulina. Cardiovasc Ther. 2010 Aug;28(4):e33-45. Review.
5. 53. Gemma C, Mesches MH, Sepesi B, Choo K, Holmes DB, Bickford PC. Diets enriched in foods with high antioxidant activity reverse age-induced decreases in cerebellar beta-adrenergic function and increases in proinflammatory cytokines. J Neurosci. 2002;22:6114–6120.
6. Lu HK, Hsieh CC, Hsu JJ, Yang YK, Chou HN. Preventive effects of Spirulina platensis on skeletal muscle damage under exercise-induced oxidative stress. Eur J Appl Physiol. 2006 Sep;98(2):220-6.
7. Deng et al., 2010.
8. Gilroy, D., Kauffman, K., Hall, D., Huang, X., & Chu, F. (2000). "Assessing potential health risks from microcystin toxins in blue-green algae dietary supplements". Environmental Health Perspectives 108 (5): 435–439.
9. Chamorro G, Salazar M, Salazar S. Teratogenic study of Spirulina in rats. Arch Latinoam Nutr. 1989;39:641–649.
10. Iwasa M, Yamamoto M, Tanaka Y, Kaito M, Adachi Y. Spirulina-associated hepatotoxicity. The American Journal of Gastroenterology 97, 3212-3213 (December 2002).