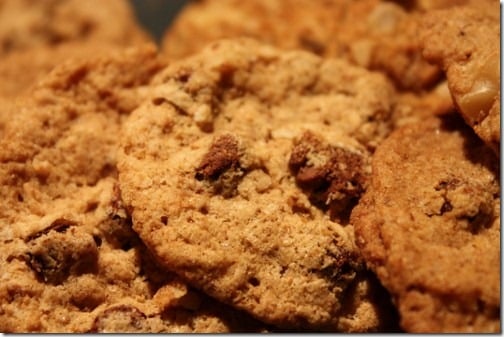 Great responses to my carrot cayenne juice! Happy to say that I continue to feel better. Nothing beats the healing power of fresh juice.
I like to think that I give you all a little range on CR. Sure, the vast bulk of my food falls on the super-healthy side of the spectrum, and that's how I like it. But I also like to offer you foods that are both healthy and decadent, which is what today's title is all about.
Since we were all wrapped up in a juice discussion after yesterday's post, I wanted to share a recent juice that M and I made. Inspired by the blueberry pineapple juice I had at the Dole Summit…
And happily surprised by the appearance of a pineapple in M's veggie delivery box…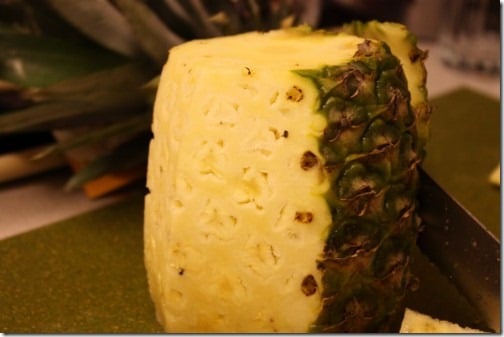 …we decided to give our own version a try. The only problem was that we didn't have any fresh blueberries—just frozen. Could we juice frozen berries? We weren't sure, but we knew we were going to try.
Um, FAIL. Juicing frozen fruit, as it turns out, is a terrible idea. But we got just enough blueberry pulp and color to make a beverage that looked layered and pretty:
What wasn't a fail was our sampling of cookies from Just Real Ingredients. This small, all vegan company, which started out with bake sale-sized batches of cookies, prides itself on baked goods made only from the simplest and most whole ingredients: rolled oats, nuts, vegan dark chocolate, healthy oils, and healthy flours, like spelt. The lovely folks at Just Real Ingredients sent me two varieties of cookies and one bag of granola to taste. M and I first tried the #3: an elegant, crispy chocolate chip:
And the #8, a hearty oat and chocolate mix: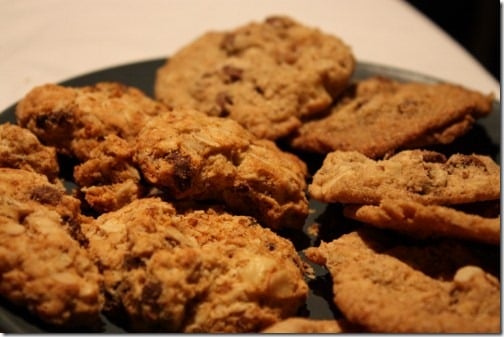 We really enjoyed both flavors, but we were particularly partial to the #8 cookie. They didn't last long! I was also very impressed with the ingredient list: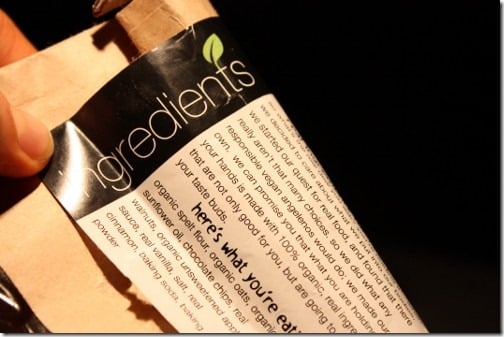 Organic spelt flour, rolled oats, sugar can juice, dark chocolate chips, walnuts, sunflower oil, applesauce, vanilla, cinnamon, baking soda, powder, and salt. That's it!
Today, for breakfast, I gave the granola a try. As we all know, most store-bought granola is notoriously caloric and high in fat. There are plenty of high quality brands, of course—I love Ezekiel granolas, and some Nature's Path varieties—but I'm choosy enough to opt for raw granolas most of the time instead, because they typically have cleaner ingredient lists. Just Real Ingredients, though, has finally come up with a toasted granola I love!
Again, a really simple ingredient list:
It's very nutty, tastes a bit like coconut, and it was delicious along with some chopped banana and blueberries:
Thanks to everyone at Just Real Ingredients for the wonderful samples! I love your commitment to simple, high-quality ingredients, and I also love that you don't let quality dampen great taste.
From juice to dessert, that's all she wrote for tonight. It was a long, emotional Friday (nothing bad, fear not—just draining) and I'm about to curl up with tea and a bit of work. Hope your weekends are off to a good start!
xo