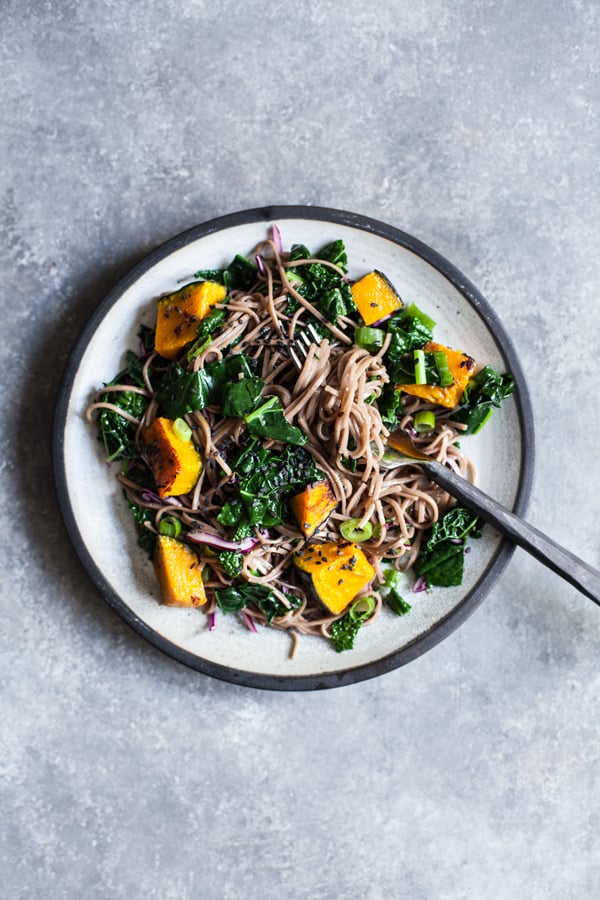 Usually I feel skeptical when I hear claims of a particular food's specialness or superiority. Can this or that ingredient really be so exceptional, so much in a class of its own? When I tasted kabocha squash, though, I was forced to admit that I really did instantly prefer it to every other type of winter squash.
For a long time I treated kabocha reverentially. I greeted it with the same kind of solemnity and ceremoniousness I reserve for perfect heirloom tomatoes in the summer: I ate it all on its own, maybe with a sprinkle of salt. I rarely used it in other dishes: it just seemed to flavorful and too good (and, let's face it, too much of a pain to open and cut) to simply fold into a dish.
I'm getting over this lately, having come to realize that kabocha is not exactly a culinary unicorn. It comes around each fall, which means that I can afford to branch out and find new ways to appreciate it. The good news about kabocha squash is that the flesh is so dense and flavorful that it can uphold an otherwise simple recipe. And that's what this kabocha kale miso sesame soba salad is: an easy mix of roasted squash, steamed kale, and soba noodles, dressed up in a spicy, flavorful vinaigrette.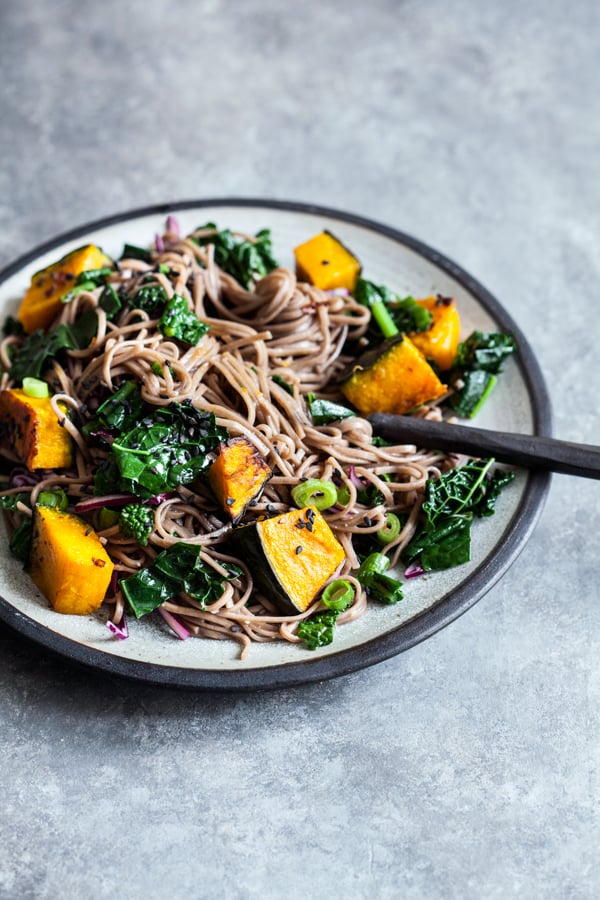 This recipe was enriched with culinary oils from Flora Health. The Flora brand first popped up on my radar years ago, when they started selling a vegan DHA oil long before it was easy to find algae-derived DHA supplements. I'm also a fan of the company's Udo's oil line, which features a vegan Omega 3, 6, and 9 oil blend that's great for drizzling onto salads, slaws, and other dishes.
Flora's new Hydro-Therm line of oils features new ingredients and flavors, including pumpkin seed, walnut, almond, sesame, and olive oils. These oils are created with a gentle, low-temperature process that helps to retain both natural flavor and also the integrity of the Omega-3 and 6 fatty acids, which are sensitive to heat. They're then packaged in light-resistant bottles to help retain freshness.
Each of the oils has a distinctive flavor and taste: the walnut oil is rich and savory, while the olive oil tastes fruity. The almond oil is perfect for adding a nutty flavor to autumn salads. And the sesame oil, which I used in this recipe, has a gently toasted flavor that isn't overwhelming, as regular toasted sesame oil often can be.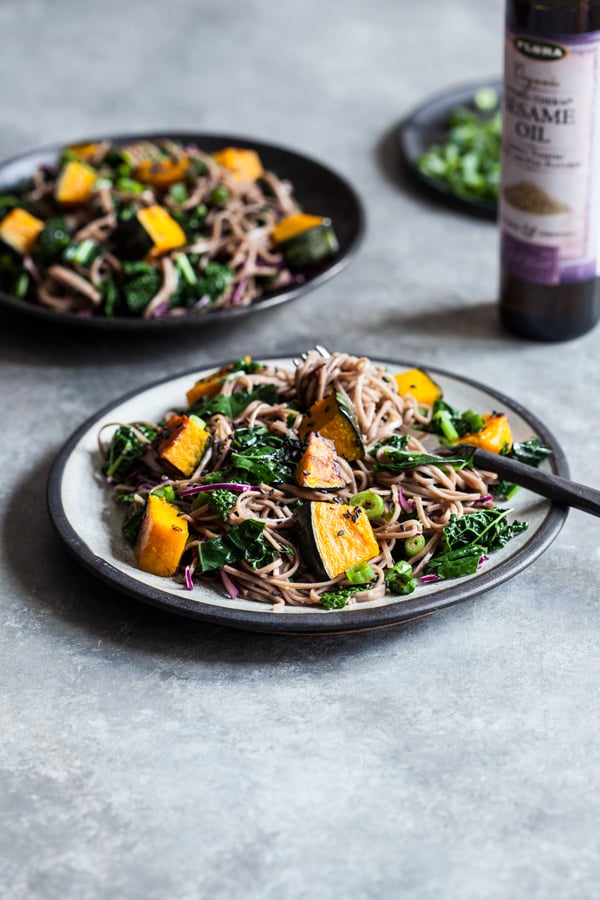 These culinary oils are flavorful enough that they can be used sparingly in recipes. This is one of my favorite features of nut and seed oils: they impart true flavor to dishes, which means that you don't have to use them with a heavy hand. A drizzle is often all that's needed, which is a nice bonus for those who are trying to be moderate with fat intake, or simply to take a minimalist approach with ingredients.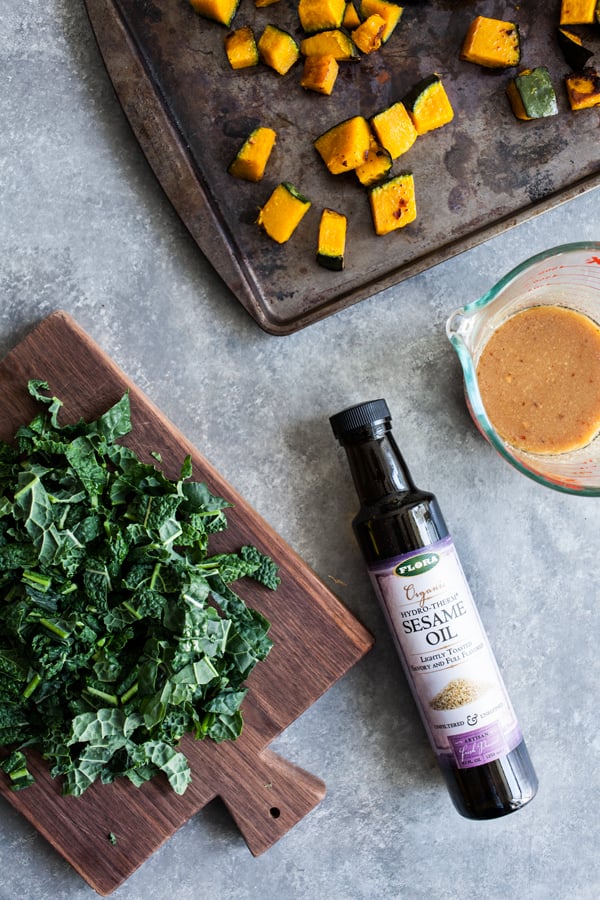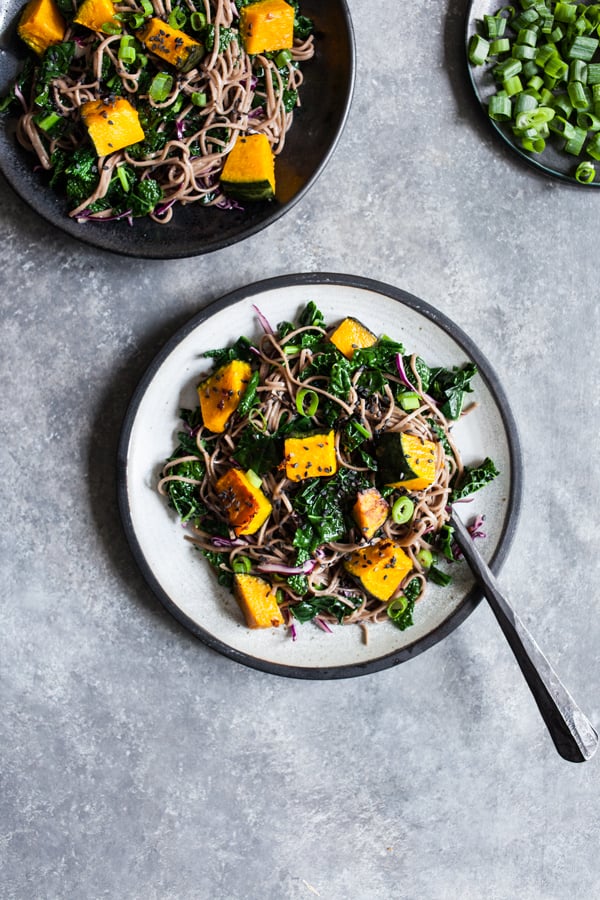 In this recipe, I roasted the kabocha with grapeseed oil (my go-to for high temperature cooking) and then dressed the noodles in a miso sesame vinaigrette that I made with the Flora sesame oil. The sesame oil is very lightly toasted, so if you're using regular toasted sesame oil at home, I recommend modifying the recipe to use 1 tablespoon of sesame oil and two tablespoons of a more neutral-tasting oil.
The kabocha squash and dressing add so much flavor that I didn't need to pile the noodles high with mix-ins (which is how I often treat soba salad at home!). Instead, I used steamed dinosaur kale and just a handful of red cabbage and green onions for crunch. I loved the results: the salad hits a perfect balance of textures and sweet/salty flavors.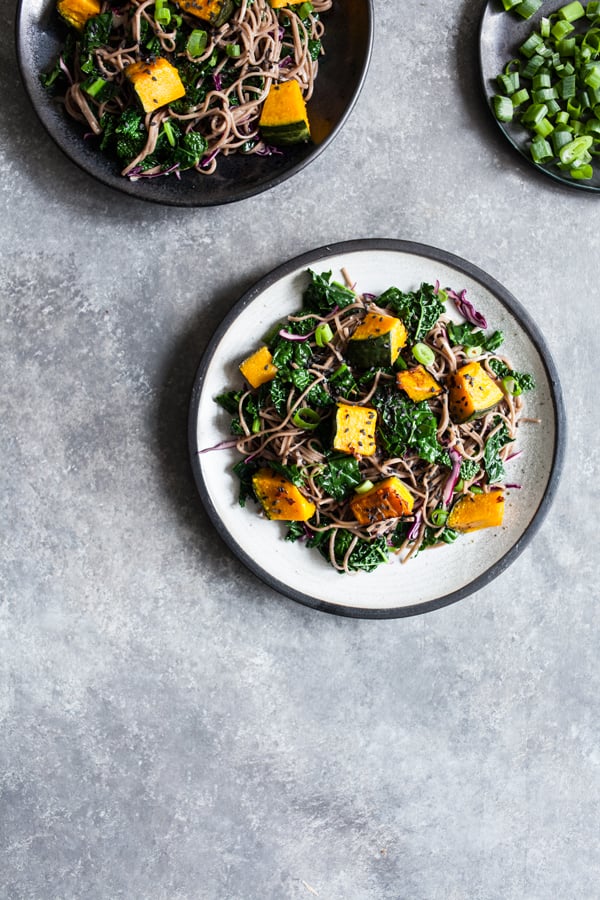 Kabocha & Kale Miso Sesame Soba Salad
Author -
1

lb

kabocha squash

cut into 1-inch pieces (approximately half of one small squash)

1

tablespoon

vegetable oil

such as grapeseed or safflower

Kosher salt

Crushed red pepper

1

bunch dinosaur

lacinato kale, cleaned and cut into thin ribbons

1

cup

shredded red cabbage

8

ounces

soba noodles

be sure to use 100% buckwheat if you are sensitive or allergic to gluten

2

green onion tops

chopped

2

tablespoons

white or black sesame seeds
For the miso sesame dressing:
2

tablespoons

white

red, or brown miso

2

tablespoons

unseasoned rice vinegar

1

tablespoon

tamari

1 1/2

teaspoons

maple syrup

1

teaspoon

finely minced or grated ginger

substitute 1/2 teaspoon ground ginger

1

clove

garlic

finely minced or grated on a microplane

3

tablespoons

lightly toasted sesame oil

or 1 tablespoon toasted sesame oil + 2 tablespoons neutral flavored vegetable oil, such as grapeseed or avocado

Crushed red pepper to taste
Preheat your oven to 400F and line a baking sheet with parchment or foil. Toss the squash cubes in the vegetable oil and place them on the baking sheet. Sprinkle with kosher salt and crushed red pepper. Roast for 20 minutes, or until the squash is golden at the edges and fork-tender.

While the squash roasts, bring a medium pot of water to boil. Fit it with a steamer attachment (or a sieve) and steam the kale till bright green and tender. Set the kale aside. Add the soba noodles to the boiling water and cook according to package instructions.

Whisk together or blend the dressing ingredients.

When the soba noodles are ready, drain them and rinse them thoroughly with cold, running water. Transfer the noodles, steamed kale, cabbage, chopped green onion, and sesame seeds to a large mixing bowl. Add the dressing and mix well to combine. Fold in the roasted squash. Serve with extra sesame seeds and chopped green onion, if you like--a squeeze of sriracha is nice, too!
Leftover soba noodles will keep for up to two days in an airtight container in the fridge.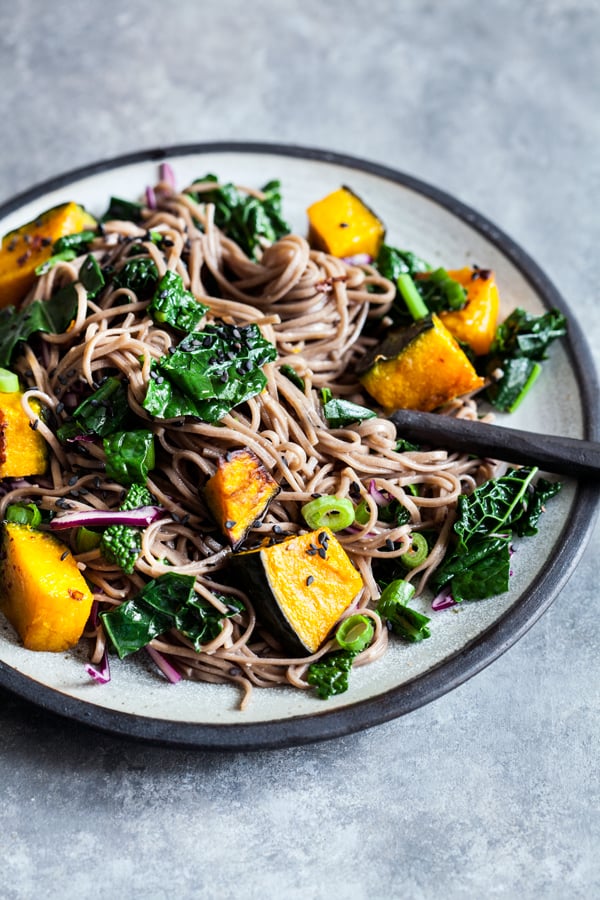 While kabocha will always have a special place in my heart, I'm also excited to try the dish with delicata squash, butternut, and sweet potato — all of which are great substitutes if you don't have kabocha (or you don't feel like hacking one open).
Hope you give this autumnal spin on soba salad a try soon–and if you do, let me know how you like it! Later this week, I'll be back to share news of a new vegan cookbook that features super easy, accessible breakfast and lunch recipes–one of which I'll be sharing with you. Till soon, and happy Tuesday.
xo
This post was sponsored by Flora Health. All opinions are my own, and I love this brand's flavorful nut and seed oils. Thank you for your support!