The other day, I revisited my black bean and sweet potato enchiladas—one of the most popular CR entrees, and one of my favorites. In order to make the mashed sweet potato and black been filling, I had to scoop some sweet potato out of the skin.
Normally I'd discard the skin without thinking too much of it; it does contain nutrients, so I usually leave it on in recipes, but on the rare occasion I want the flesh on its own, it doesn't seem like a big deal to toss it out. That said, I love finding ways to use every part of a food or ingredient when I cook, and I wondered if I might not find a way to make better use of it. And that's how this recipe for kale and quinoa stuffed sweet potato skins was born.
The idea is simple: if you need to use the flesh of a sweet potato on its own, gently scoop it out so that the skin remains intact. If you cut your sweet potato in half, you'll end up with what looks like two little canoes. And you can stuff them with just about anything you'd like: grains, beans, veggies, guacamole, hummus—the possibilities are endless.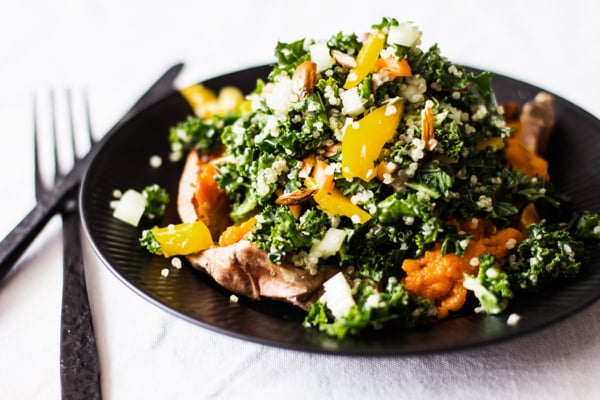 If you want a denser base for the recipe, you can leave some of the sweet potato in the skin (that's a more traditional "stuffed potato"). If you want to let the filling shine, you can scoop the flesh out altogether, and fold it into the quinoa and kale mixture. This is an easy, forgiving, and flexible recipe.
Kale and Quinoa Stuffed Sweet Potato Skins (serves 2-4)
Cuisine:
gluten free, soy free, tree nut free
Author:
Prep time:
Cook time:
Total time:
2 medium sized sweet potatoes
1/2 cup (dry) quinoa
4 tightly packed cups finely chopped kale leaves
2 tablespoons olive, flax, or hemp oil
Juice of 1 small lemon
1/4 teaspoon salt
Black pepper to taste
2 tablespoons finely chopped shallot
1 carrot, diced
1 bell pepper, diced
1 stalk celery, diced
1/3 cup toasted, slivered or sliced almonds (or pecans, or walnuts)
Preheat the oven to 400F. Prick each potato a few times with a fork. Transfer the potatoes to a baking sheet and bake for 40 minutes, or until each potato is fork tender. Allow potatoes to cool until they can be handled.
While the potatoes cook, place the quinoa in a fine sieve. Rinse it under running water for about a minute. Transfer it to a small saucepan and add 1 cup water. Bring the quinoa to a boil and then reduce heat to low. Cover and simmer the quinoa for 15 minutes. Remove the quinoa from heat, fluff it gently with a fork, and then re-cover and allow it to steam for 5-10 minutes.
Place the kale in a medium sized mixing bowl. Add the hemp oil, lemon, salt, pepper, and shallot. Place the quinoa in a mixing bowl and add the carrot, pepper, celery, hemp oil, lemon, salt, and pepper. Massage the kale with your hands until it's reduced in size and soft. Add the quinoa, carrot, pepper, and celery. Toss the ingredients to combine well.
When the potatoes have cooled, cut them in half lengthwise and then gently scoop out most of the flesh. Chop the flesh roughly and add it to the quinoa mixture, along with the almonds (or other nuts). Stuff as much of the quinoa and kale salad as you can into each half of the sweet potato skin. Serve, along with any leftover filling.
Leftover stuffed skins will keep for up to two days in an airtight container in the fridge.
So much goodness in one place! I love the contrast of textures and flavors.
Per the recipe instructions, this will serve two people as an entree or four as an appetizer. No matter what, I suggest you serve the skins with the leftover kale and quinoa salad, which is delicious in its own right. Topping it all with avocado slices would be delightful, and black beans would also make a very tasty addition to the dish.
An added bonus of the recipe is that it's easy to wrap the skins up in some saran or tin foil and transport them someplace for a packed lunch; I did just that on campus yesterday! No matter what, these stuffed skins are a fun and playful way to approach the idea of a wrap/taco/burrito dish. I hope you enjoy them as much as I have.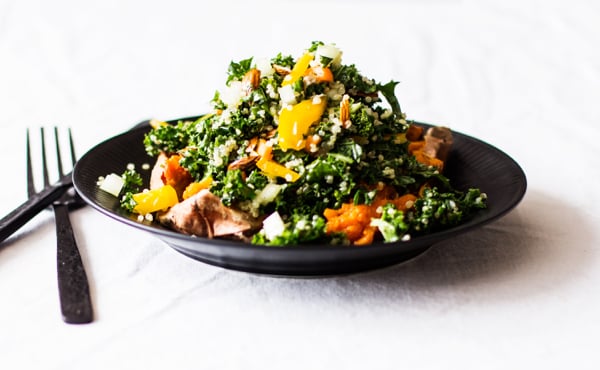 xo
Images courtesy of Lighter.