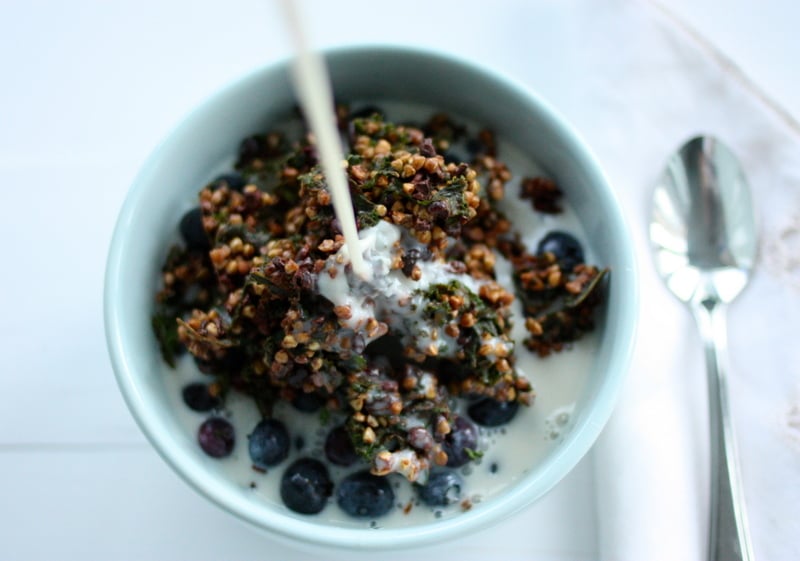 Friends, I am incredibly moved and inspired by the incredible comments on yesterday's post. Thank you so much for sharing your insights and feelings with me and this community. I'll be reading, re-reading, and responding in the coming days. For now, I'll only say that it was one of the harder posts I've written–lots of raw emotion, no pun intended–but I'm so glad I shared, and grateful to be reminded that I always can. Up until now, I've taken the role of a facilitator with green recovery, but I'd definitely like to start adding more of my own experience to the conversation.
But today, let's get back to food for a little while. I'm sharing my first ever "kale-nola," which was bound to happen at some point. There are few foods I don't secretly want to infuse with kale, and granola, no matter how delicious on its own, is no exception. Crunchy sweetness meets everyone's favorite superfood: what's not to like? If there is a kale-phobe in your life, this recipe might be the game changer.
So far, I haven't had much success with kale chips in the oven, unless it's a simple, olive oil + salt variety (which are delicious, but different from heavily coated, nutty, cheezy varieties). Kale-nola is similar in that I can't yet seem to get good results by baking–it can't get dry enough–but if anyone has a great method for oven kale chips that are with a thick sauce/coating, please comment and share, because I'm sure it'll work for the granola, too. I'd love to offer up that option.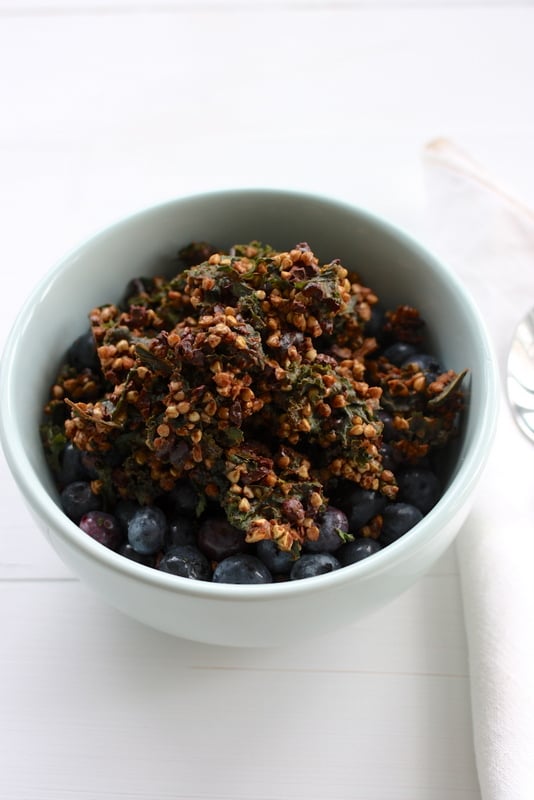 Kale-Nola (Raw Kale, Buckwheat and Cacao Granola)
Author -
1/2

cup

almond butter

1/4

cup

water

1/4

cup

sweetener of choice

agave, maple syrup, coconut syrup, brown rice syrup, etc.

2

tablespoons

cacao or cocoa powder

1

teaspoon

vanilla

Pinch

of salt

11/2

cups

buckwheaties

see this post for instructions

3

cups

kale

washed, dried thoroughly, and chopped

1/3

cup

cacao nibs
1. Blend or whisk together the almond butter, water, sweetener, cacao/cocoa, vanilla, and salt.

2. Combine the buckwheaties, kale, and cacao nibs in a large mixing bowl. Just as you would a kale salad, "massage" the almond butter and cacao mixture into the kale and buckwheat mixture. Make sure everything is coated heavily; you don't want to use a light touch here! I used nearly all of the sauce to coat my granola, and had about a quarter cup or three tablespoons leftover. (I stirred it into hot oats in the morning, and it was delicious, just FYI.)

3. Spread the mixture onto a rectangular, Teflex lined dehydrator sheet. Dehydrate at 115 for 6-8 hours. Remove the granola from the Teflex and transfer to a mesh sheet. Dehydrate for another two hours, or until totally dry/crispy. Enjoy with banana, berries, as a snack, or sprinkled on top of a thick smoothie (yum!).

Makes 5 to 6 cups.
Check out all of the texture! So much crunch from the buckwheat and cacao, mixed up with crispy, delicate green kale.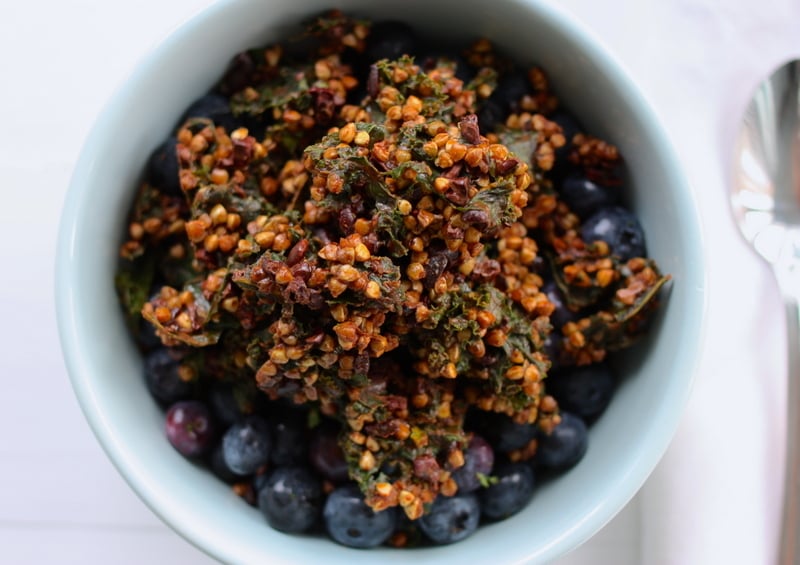 A few folks have told me lately that they've purchased the round, Ronco-style dehydrators and are wondering how to make kale chips in them without Teflex. I used to cut regular parchment paper into an appropriately sized circle, then trace out a hole in the center. It worked like a charm!
I served my kale-nola with a ton of blueberries and a nice splash of almond milk.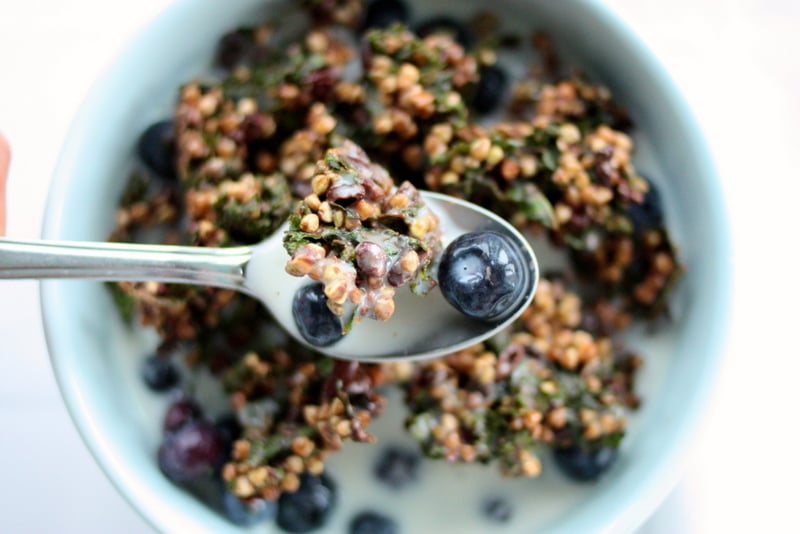 A lovely breakfast: crunchy, sweet, and green.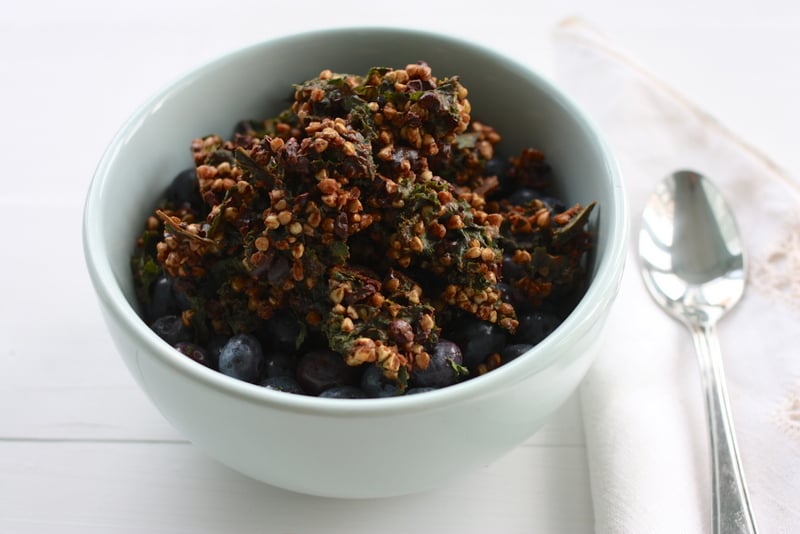 Hope you guys enjoy it. With that, I'm off to bed. Up next: some tips on packing for easy vegan travel, and a peek at my latest vegan lunch idea for Food52.
xo