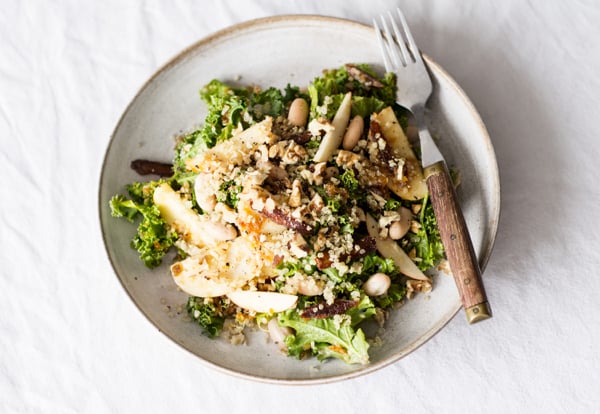 I wish I could begin this post by telling you all how well my biochem exam went, but I'm afraid it was no better than Orgo. That said, the end is near, and rather than dwelling on the negative (finals), I thought I would focus instead on the positive: I was so busy this year that I forgot my four year quitiversary on April 19th. In honor of that, this kale salad with creamy apricot ginger dressing, which combines a ton of powerful phytonutrients on one plate.
If you're new to my blog, here's the deal: I was a smoker for about eight years. I blogged about quitting not long after I started CR, and I still like to commemorate my quitiversary in some fashion each year.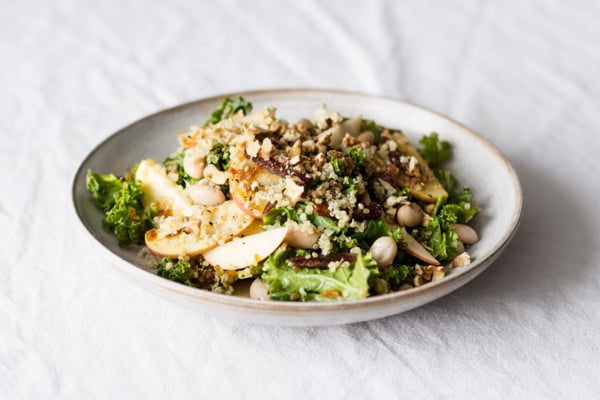 Recently, a reader asked me about foods that might contribute to lung health and/or lung cancer prevention. This is a tricky question–there aren't too many foods that have been directly associated with lung cancer prevention, but all color-rich diets that are high in phytonutrients are a good place to start.
When it comes to the prevention of chronic disease, I tend to think more in terms of dietary patterns (manage stress, move your body, focus on plants and phytonutrient rich, colorful foods) far more than particular foods or ingredients. So, whether for lung health or simply because it's delicious, here's a salad packed with leafy greens, colorful apricots and apples, and a dressing that features Omega-3 fatty acids and anti-inflammatory ginger.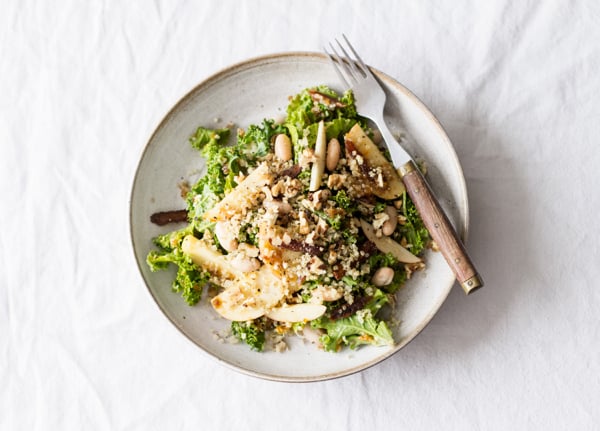 Kale Salad with Creamy Apricot Ginger Dressing
Recipe Type
:
salad, side dish
Cuisine:
gluten free, soy free, tree nut free optional
Author:
Prep time:
Cook time:
Total time:
For the creamy apricot ginger dressing:
1/4 cup dried apricots
1/2-inch piece peeled fresh ginger root
1/4 cup orange juice
2 tablespoons apple cider vinegar
1/2 teaspoon salt
1/8 teaspoon black pepper
1/4 cup olive oil
For the salad:
1 large bunch curly kale, stems removed, washed, dried, and chopped into small pieces
1 1/2 cups cooked navy beans
6 dried apricots, sliced thinly
1/4 cup chopped walnuts (substitute hemp seeds or pumpkin seeds)
1 large honeycrisp or Fuji apple, chopped or julienned
1 cup cooked quinoa
Blend all dressing ingredients together in a powerful blender till smooth.
Place the kale into a large mixing bowl. Pour the dressing over the kale. Massage the kale thoroughly with your hands, until the kale is very well dressed and soft. Toss in the beans, apricots, walnuts, apple, and cooked quinoa. Mix everything well. Serve.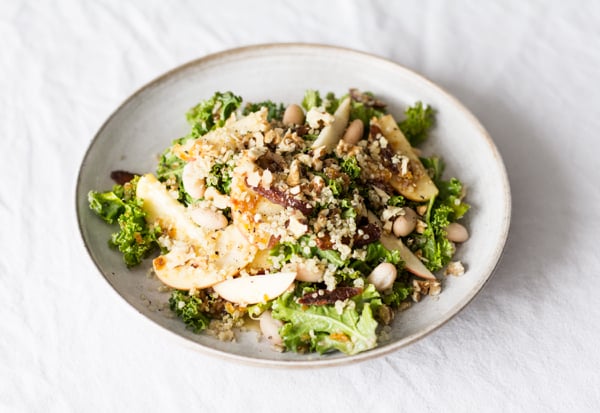 Sweet, crunchy, tangy, and tart, all at once. What more can you ask for? Oh, yeah: healthy, too.
You can serve this salad with a sandwich, a bowl of summery soup, or a whole grain dish. No matter how you serve it, I hope you'll enjoy it. And if you're reading this post because the theme of quitting speaks to you, please take to heart my words that anyone can quit. I know it's hard, I know it's painful, but if I can do it, you can, too.
xo
Images for this post updated in January 2017. Images courtesy of Lighter.