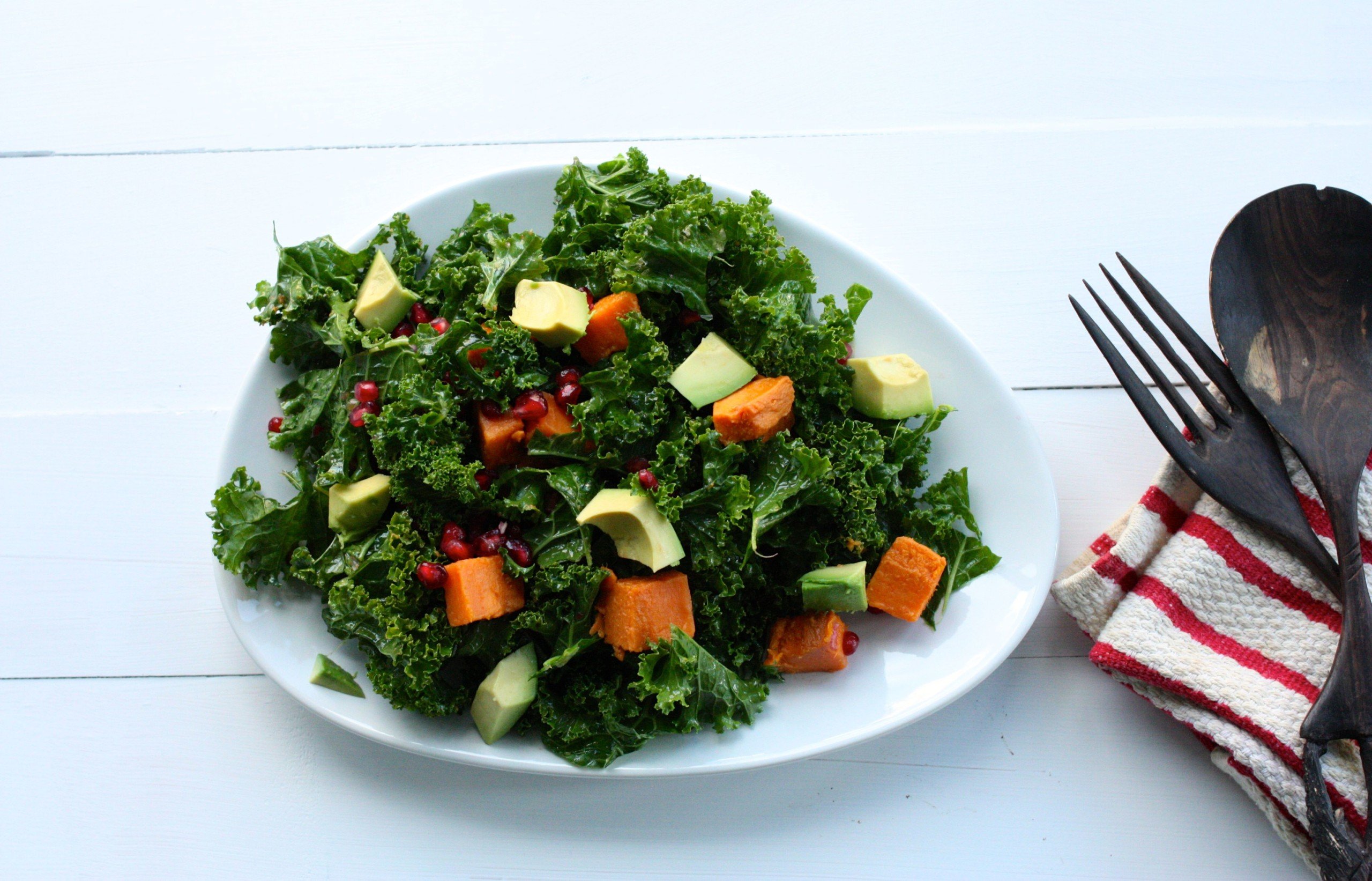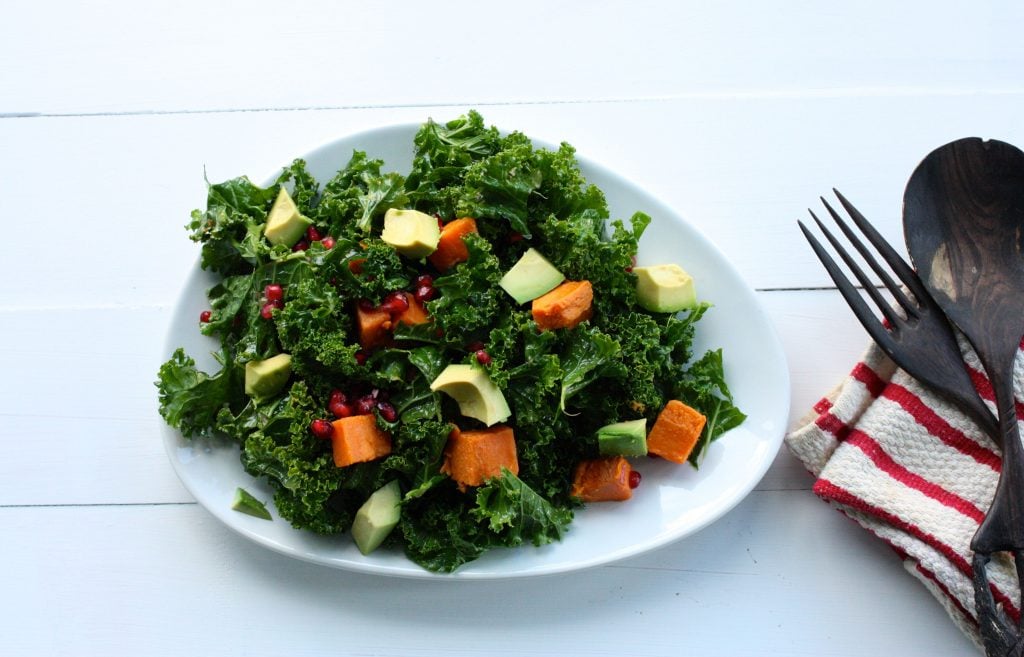 I have been eating this kale salad, or a variation of it, for weeks now. It's colorful, seasonal, and features plenty of contrasting textures (crunchy pomegranate arils, creamy avocado, dense roasted sweet potato, and fresh kale). Once the potatoes are roasted, it's easy to make, and the leftovers keep beautifully.
I use sweet potatoes in the salad because they're always abundant in my home. They store well, so I tend to purchase a lot at a time, and they can make a very easy dinner in a pinch: simply bake a sweet potato, stuff it with fixings of choice (I like coconut butter, coconut bacon, nutritional yeast,  black beans, lentils, hemp seeds, toasted almonds, sauteed greens, marinated raw greens…the list goes on), and serve it with a generous salad, a hearty vegetable soup, or some legumes. If you're in a rush, you can chop the potato and roast it (it'll cook more quickly than it would if you bake it whole). That's the method I use in this recipe, and it doesn't take long, but you can also take care of the roasting a day in advance if you want this salad to come together quickly.
With all of that said, this salad would also be delightful with butternut squash, acorn squash, delicata squash, and, if you're lucky enough to find some, kabocha.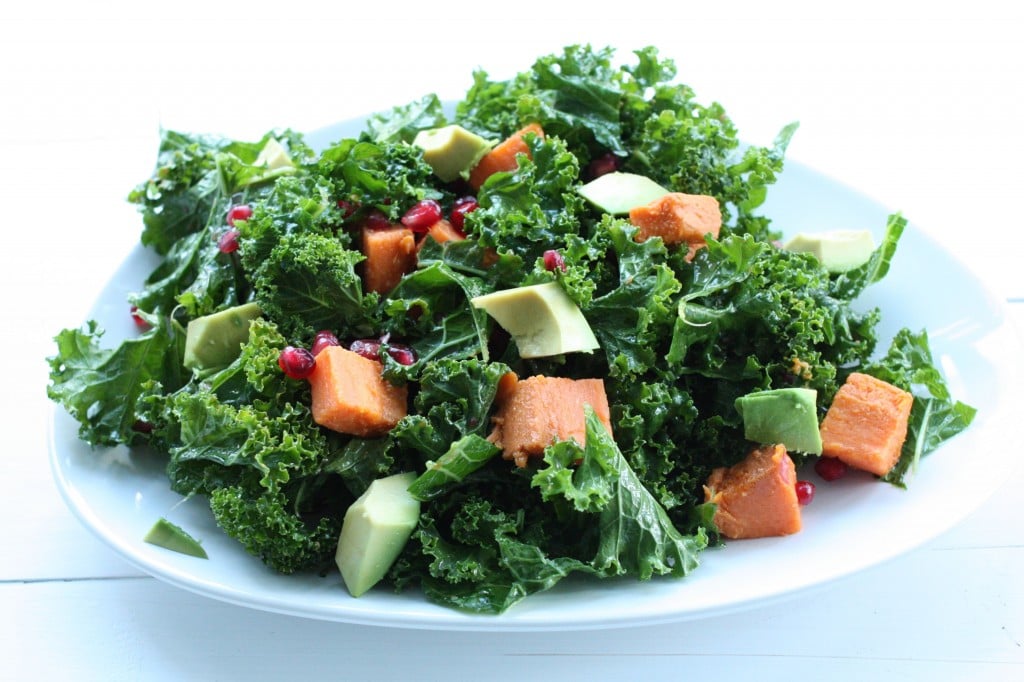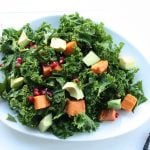 Kale Salad with Roasted Sweet Potato, Avocado, and Pomegranate Seeds
Author -
4

small

or 2 large sweet potatoes, chopped into 1 inch chunks (about 4 generous cups)

1

tablespoon

melted coconut oil

6

cups

curly kale

washed and dried, stems removed, and chopped

2

tablespoons

olive oil

1 1/2

tablespoons

apple cider vinegar

1

teaspoon

dijon mustard

Sea salt and black pepper to taste

1

large

or 2 small Haas avocado, pitted and flesh scooped out, chopped

1/2

cup

pomegranate arils
1. Preheat your oven to 400 F. Toss the potato in the coconut oil, transfer to a baking sheet (or two) and roast potatoes until they're just golden and fork tender (22-25 minutes). Allow them to cool slightly.

2. Place the kale into a large mixing bowl. Whisk the olive oil, vinegar, and mustard together and season to taste with salt and pepper. Toss the dressing over the kale and massage it thoroughly with your hands, till it's taking on a slightly wilted texture. Check the salad for seasoning, and feel free to add a little more oil or vinegar as needed. Add the potatoes and avocado, and toss gently to combine everything.

3. Divide salad onto four serving plates, and top each with a few tablespoons of pomegranate arils. Serve.

Makes 2-4 servings. Recipe can be halved. Leftovers will keep in the fridge overnight.
I love a lot of texture in a salad, and on that score, this recipe delivers! To say nothing of bright, holiday-ready color 🙂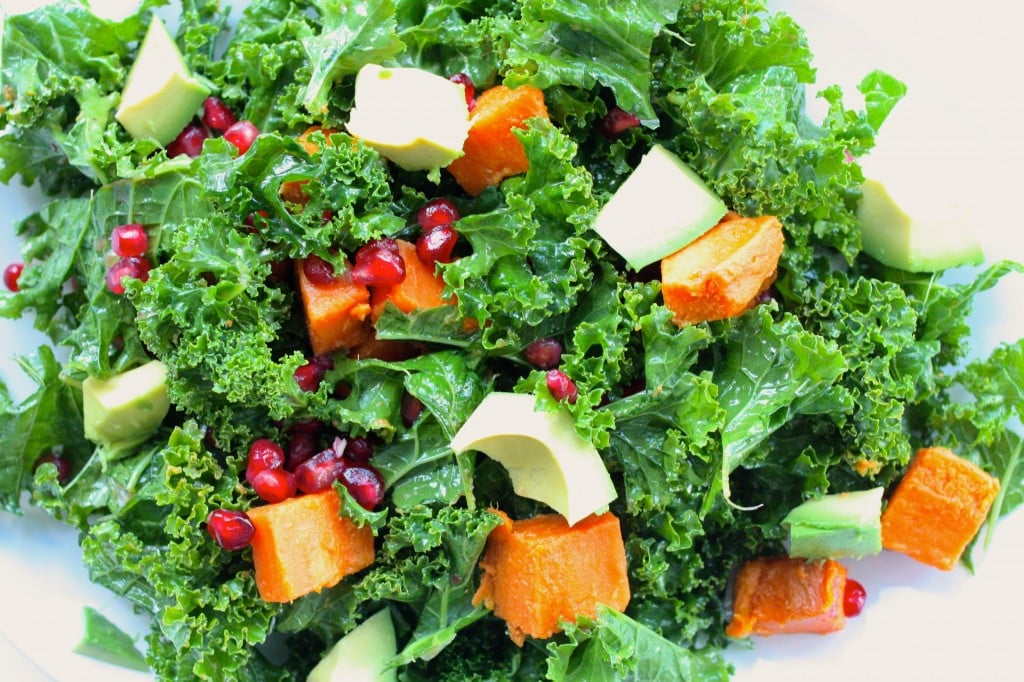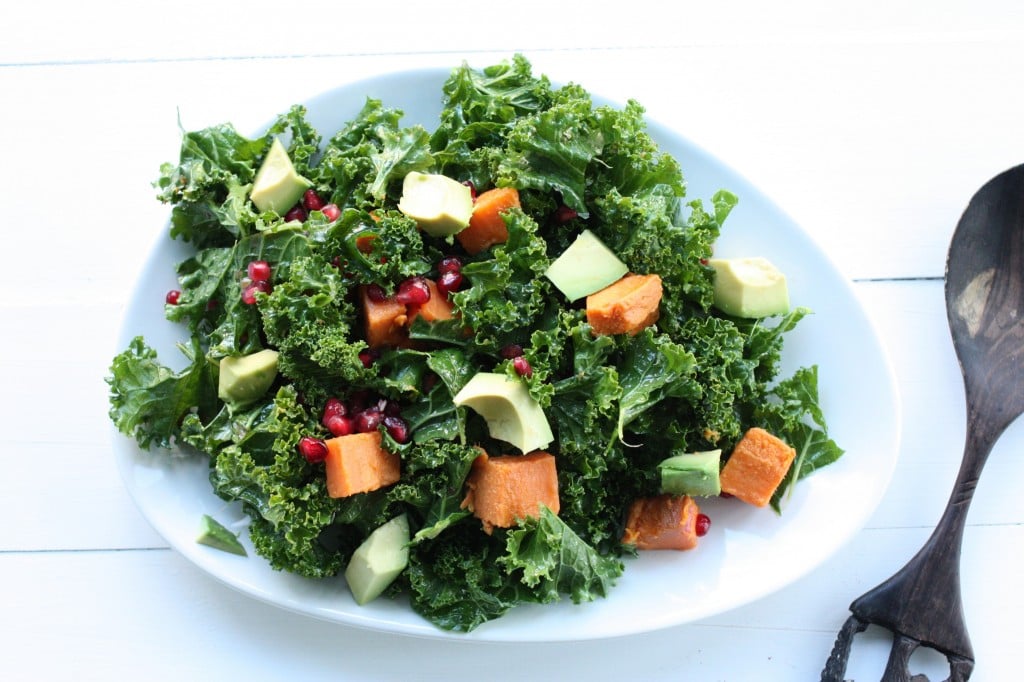 By the way, if the idea of opening a pomegranate for the seeds is giving you a headache, fear not! I felt that way, too, till I found this very handy video. Very helpful.
Perhaps this salad will brighten up your plate this month, as temperatures drop. I hope it does. And I will see you all back here, with a luscious dessert recipe and another idea for edible giving in hand. Till soon!
xo