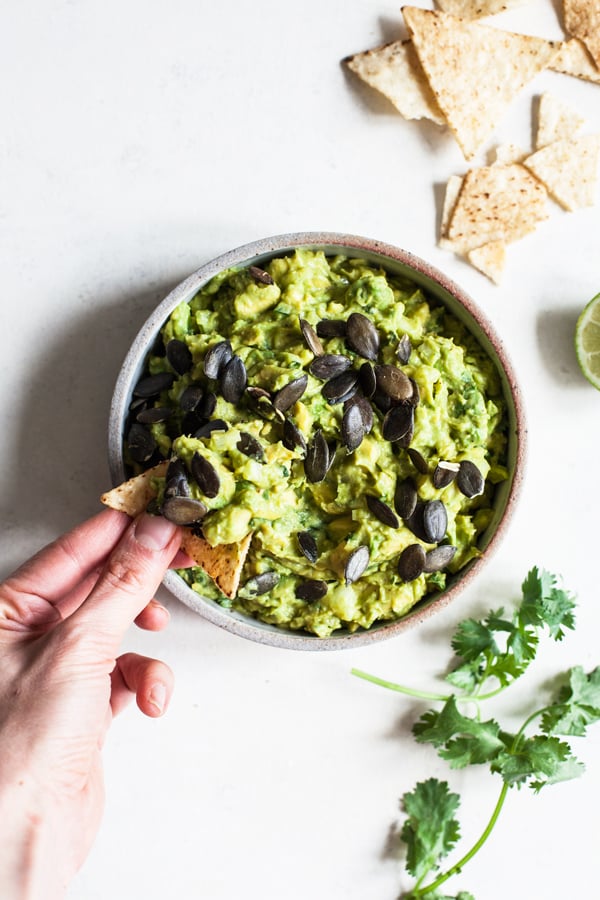 "Guacamole wasn't on the original recipe list for this book. Too basic, I thought."
That's what Kathryne Taylor–also known as Kate from her vibrant blog, Cookie and Kate–has to say about the origins of this recipe. She goes on to describe how she perfected her guacamole game by adding a couple of key flavor/texture boosters, like salted toasted pumpkin seeds and a drizzle of spicy adobo sauce. Her best-ever guacamole with toasted pepitas & chipotle sauce is the result, and it's totally worthy of the title.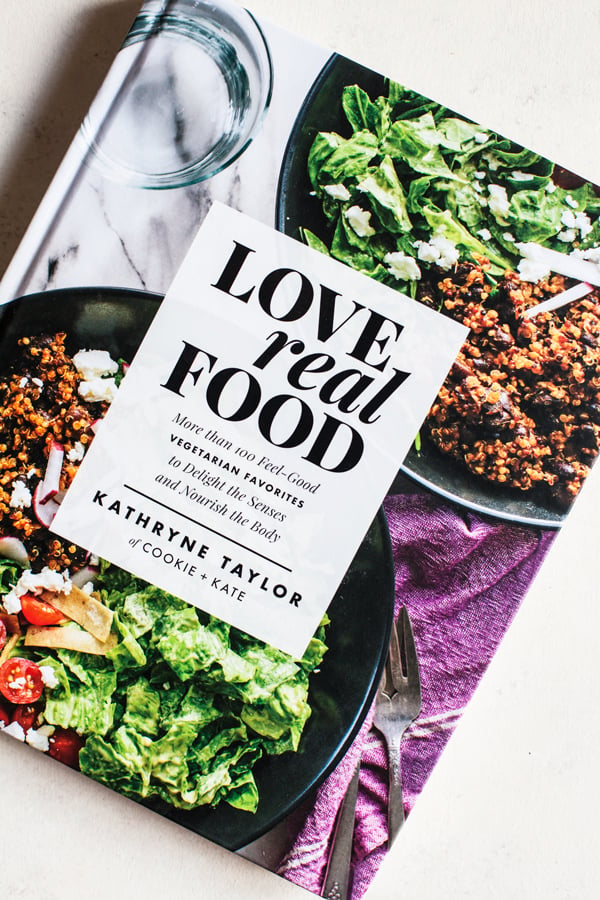 The guac is from Kate's new book, Love Real Food, which I've been savoring page by page this month. The book features over 100 creative vegetarian recipes made with whole foods ingredients. It's also packed with hands-on instruction, bold photos, and crowd-pleasing meal ideas. If you're a fan of Kate's blog, then you'll love the book; it's true to her spirit in every way, from tone to imagery to recipe style. Kate's voice is equal parts sweet, sassy, humorous, and approachable: she's a great guide for someone who's new to plant-based cooking.
Kate starts the book with a quick primer in working with whole, plant-based foods, then talks readers through ingredients and offers some simple culinary how-to. The recipes that follow are colorful, seasonal, and they always feature a ton of fresh produce (Kate's blog has a monthly farmers market and cooking guide, which I love, and the book builds naturally on her seasonal emphasis).
Some of the recipes I've bookmarked or made so far are the kale and quinoa salad with crisp celery, plumped cranberries, and lemon dressing, the outrageous herbaceous chickpea salad (which I've made twice now, and it's every bit as good as it sounds), the Mexican roasted veggie bowl with beer beans, and the hearty lentil minestrone. I'm also totally smitten with Kate's desserts, especially her easy-to-make chocolate oatmeal cookies.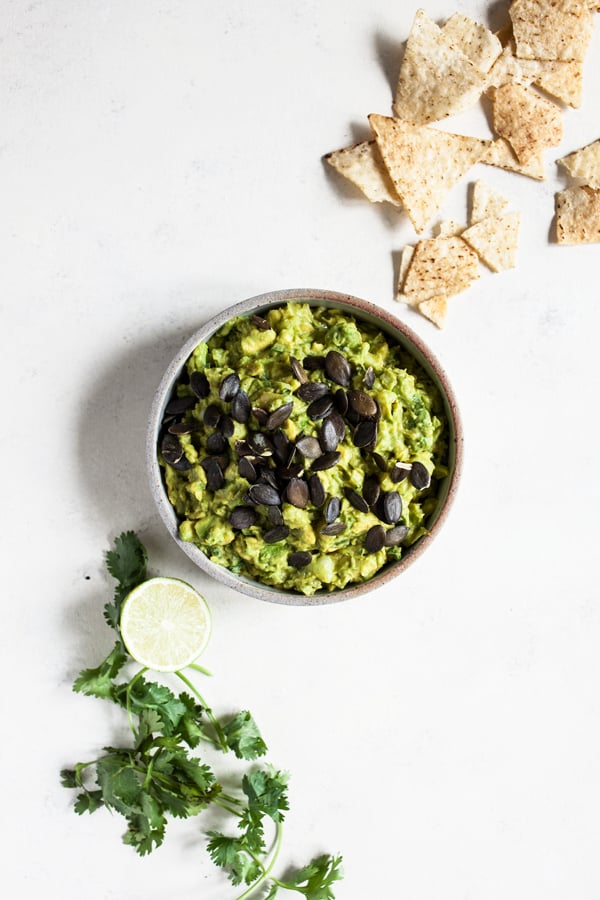 One of my favorite features of the book is smart, detail-oriented tips that Kate offers with each recipe. I've made so many batches of guacamole over the years, experimenting with different proportions and styles and mix-ins. But Kate gave me some new pointers and ideas, like using a pastry cutter to mash the avocados (now that I've done it this way, I probably won't do it any other way–it's so easy, and it gives the guac a perfect texture). She also sold me on using white onion instead of red, which is what I've used in the past. It's sweeter and more subtle, and in her recipe, it's perfectly balanced with the other ingredients.
What makes the guacamole so great, though, is the use of spice, including coriander and chipotle en adobo. It takes the guacamole to the next level, and it's indicative of Kate's approach overall, which is to take beloved recipes, create them with real food ingredients, and then kick the flavors up with confident seasoning.
Kathryne Taylor's Best-Ever Guacamole with Toasted Pepitas & Chipotle Sauce
Author -
¼

cup

raw pepitas

hulled pumpkin seeds

½

teaspoon

extra-virgin olive oil

4

medium avocados

halved and pitted

½

cup

finely chopped white onion

about ½ small onion

¼

cup

finely chopped fresh cilantro

1

small jalapeño

seeded, deribbed, and finely chopped

3

tablespoons

lime juice

from about 1 ½ limes, or more if needed

¼

teaspoon

ground coriander

1

teaspoon

kosher salt

1

tablespoon

adobo sauce

from a can of chipotle peppers in adobo*
To toast the pepitas, combine the pepitas and olive oil in a small skillet. Cook over medium heat, stirring frequently, until the pepitas turn golden on the edges and start making little popping noises, about 5 minutes. Set aside to cool for a few minutes.

Using a spoon, scoop the flesh of the avocados into a low serving bowl, discarding any bruised, browned areas. Using a pastry cutter, potato masher, or fork, mash up the avocado until it reaches your desired texture (I like my guacamole to have some texture, so I stop mashing once there are just small chunks remaining).

Promptly add the onion, cilantro, jalapeño, lime juice, coriander, and salt. Stir to combine. Taste and add additional salt (I often add up to ½ teaspoon more) and/or lime juice, if needed.

Top the guacamole with the toasted pepitas and drizzle the adobo sauce over the top. To store leftovers, press plastic wrap against the surface of the guacamole and refrigerate for later. Leftovers will keep well for 3 days. If the top turns light brown, just scoop off the browned bits and you should find bright green guacamole underneath.
*Look for canned chipotle peppers in adobo sauce in the international/Hispanic aisle of well-stocked grocery stores. If you can't find them, use a chipotle-flavored hot sauce.
The recipe makes a good amount, which means it's perfect for sharing or using as an appetizer. You can definitely cut it in half, though it might be worthwhile making the whole batch just so that there's more to savor. It's so good: perfectly seasoned, just the right texture (not too chunky and not too mashed), and very tangy. I'm really glad Kate shared it after all.
You can use the guac in any of the traditional ways–for serving with corn chips, using in burritos, etc.–or you can use it to make a killer serving of avocado toast.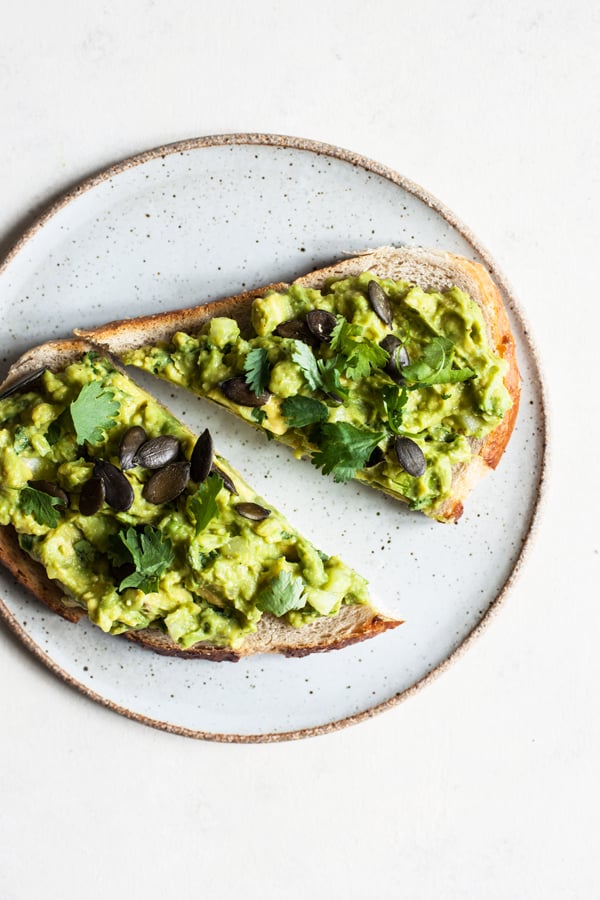 I was out of regular pepitas at home when I made the guac, but I had Austrian pumpkin seeds, which are bigger and darker than the regular ones. Definitely less traditional, but I really liked their toothsome texture!
If you're curious about Love Real Food and you'd like a chance to experience the book for yourself, good news: I'm sharing a copy of the cookbook in today's giveaway. Simply enter below for a chance to win. The giveaway is open to US and Canadian readers, and I'll announce the winner a week from today.
Good luck, and big thanks to Kate for sharing her passion for produce and plant-based eating with all of us.
I'm wrapping up a long week, but my first summer term is finally inching to a close (I'll be finishing up officially on Tuesday). I've got some studying to do this coming weekend, but I hope to squeeze some cooking and outdoor time in, too. And I'll be back with the usual roundup on Sunday. Happy (almost) weekend!
xo