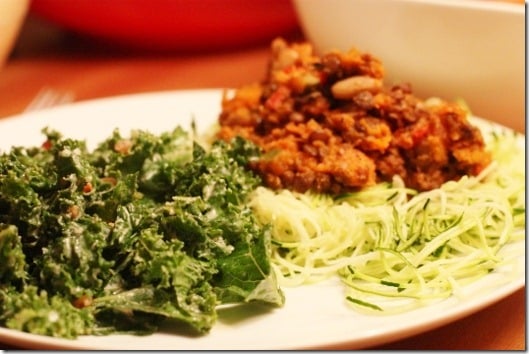 Two posts ago, I gave you all some ideas on how to prepare vegan suppers that are fast, simple, and intuitive. Vegan cooking strikes a lot of newcomers as time-consuming, and one of the questions I most frequently receive via email is, "I feel like I spend all of my time in the kitchen since going vegan. How can I get dinner on the table faster?"
Two of the other questions that I receive most frequently are, "you never show us leftovers on the blog. Do you cook enough only for one or two, or do you eat leftovers?" and "my boyfriend isn't raw/vegan. How can I cook for both of us without compromising the way I'm trying to eat?" Hopefully, today's post will give you a little snapshot into how I'd respond to both of these questions.
Let's start with question #1: leftovers. In truth, I do tend to cook only for one or two; you've probably noticed that the majority of my recipes (as listed on the blog and in my recipe database) only serve 1-2 people. I'm also a volume eater to the core, which means I infrequently have a lot of food leftover, unless it's something like a dip, spread, cracker, or sauce, which I mean to have last a week or two.
Every now and then, however, I find myself with either a full or a half portion of a dinner recipe leftover, which means finding creative ways to use it. Take Sunday: I had about 1.5 cups of my "cheater's ratatouille" (aka the white bean and vegetable sauce from my white bean and summer vegetable pasta) from Friday night leftover. There are a couple of things I'd typically do with a sauce like this if I were just eating on my own:
I'd scoop it over a big spinach salad and devour it as is
I'd put it into a collard or whole grain wrap and enjoy it for lunch
I'd serve it over spiralized zucchini
I'd serve it with some of my juice pulp crackers as dippers, along with a big salad
But on this evening, I was eating with M, and I knew that a cup and a half wouldn't fill us both up if I tried to recycle the sauce on a new batch of pasta.
This is when it pays off to get a little creative with our leftovers: if you have a half portion or any portion that isn't sufficient to serve as a meal, just peek around your kitchen to figure out what'll complement your leftovers. I had a stew of vegetables, white beans, tomato sauce, and oregano; I also had two yams, a pantry full of dried legumes, a ton of fresh veggies, and a well stocked spice rack. One of my favorite summer (cold) salads is a yam and lentil salad that I mix and cool in the fridge: it's a great way to have meal that's both cooling and dense. (I'll share that recipe soon.) One of my other favorite dishes is a sweet potato and black bean chili, which uses both cumin and tomato for flavoring. Putting these ideas together, I figured it would be pretty tasty to mix my veggie/tomato sauce with some cooked yam and lentils, add some cumin, and eat the resulting mixture either cold or warm.
I cooked a cup of regular brown lentils in my rice cooker, baked two sweet potatoes, and let it all cool. I skinned and cubed the potatoes, added the lentils, and then added my leftover sauce:
Since I had a few bell peppers in the fridge, I also added one of those, chopped.
Voila! A tasty melange of both leftover and non-leftover food, which allowed me to stretch a past dinner into a complete and new one:
When it came time to serve this dish, I put into practice some of my favorite tricks of the trade when it comes to cooking for a raw foodie and a non-raw foodie. As you've probably surmised, M is an open minded eater who likes his food warm nevertheless. So I usually share cooked meals with him and eat raw when I'm on my own, or I find creative ways to serve some of the same foods and modify my portion to be higher-raw. And easy way to do this is to serve one portion over cooked grains, and the other over spiralized zucchini, which is what I did on Sunday night:
A quick, easy, and non-stressful way to enjoy a high-raw meal while also sharing dinner with a loved one who's a more traditional eater. And we both enjoyed the kale salad with miso sesame dressing.
This is all in keeping, by the way, with a post I wrote previously on cooking for two: his hers, and theirs. Check it out for additional tips! I think it's actually pretty easy to eat higher and lower raw, as long as the meal in question is all plant-based. All it takes is a little creativity and kitchen intuition. Most important is your frame of mind: don't get overly orthodox about mixing this or that. On first inspection, it makes little sense to combine an Italian pasta sauce with yams and lentils and cumin. But when you consider that many Mexican dishes have both tomato and cumin as a base of flavor, it makes total sense. Think creatively, and think about the many successful flavor pairings you've had in the past, and it becomes very easy to turn one meal into another.
What's your favorite thing to do with leftovers? Any fun tips on serving raw and cooked food in the same home?
With that, a long day of number crunching commences. Time to hit the library – here's to the start of a long weekend!
xo