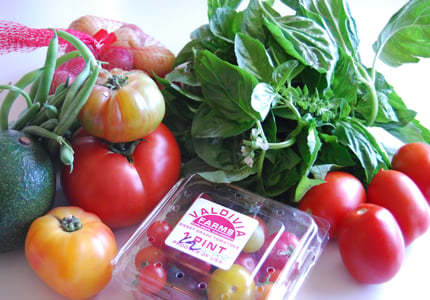 Hey all,
Wow! What an enthusiastic response to raw rehab! Please, keep 'em coming. The only thing I ask is that you not send me scenarios that are very personal; this isn't an open call for dietary advice, but a chance for you to share practical stumbling blocks (culinary, social) that you think others might be experiencing, too.
Since the questions came flooding in, I thought I'd answer one in today's post. This comes from Jen, who originally requested that I bring raw rehab back:
I am getting pretty good at meal planning and I actually attribute that to the little bit of prep that raw meals require…my problem is that even though I am doing all of this, I feel like I am wasting a lot of food. Vegetables go bad, dressings/pates look questionable and I'm unsure if they are still good enough to eat, or I just am plain not creative enough to throw leftover ingredients together to make a meal of my own (not a recipe.) I really don't know how to fix this, but maybe if you can offer tips on how long you should keep things like dressings and pates before they should be thrown out and how I can maximize all my ingredients? Maybe I just need to go shopping twice during the week to have more fresh produce. The only problem I see with that is that if I don't have healthy food ready in my house in the middle of the week, I'm likely to eat some crap I've got in the back of the freezer or order out.
Good question, Jen!
I am always astounded by the number of times readers write in to ask me about storing nut pates and dressings. So before I get into specifics of food storage, let me clear this up:
Most nut pates will last 2-6 days in the fridge. The time span is highly variable, and that's as it should be: different nut pates and seed pates take different amounts of time to spoil. Here are some basic rules of thumb:
Sunflower seed pates don't have a long fridge life: they turn brown very quickly, which is off putting (if not actually hazardous). Plan to eat your sunflower seed pate within two days.
In general, seed pates tend to turn a bit more quickly than tree nut pates. Estimate that pumpkin and sesame seed pates will probably be good for three days or so in the fridge.
I find that pates made with softer nuts (like cashews, pignolis, and even walnuts) will go off before pates made with macadamias, almonds, and brazil nuts. Estimate 3-4 days in which to eat them.
I find that almond, macadamia, and brazil nut spreads can easily last for a week in my fridge without any spoiling.
Store all of your pates in tupperware or mason jars, and in the fridge (I prefer mason jars because they're more environmentally friendly!).
If you're making a pate that you don't expect to last long (such as a sunflower pate), cut the recipe in half! No need to make any recipe in excess.
What about dressings? Well, in my experience, most raw dressings that are oil or nut based have quite a long fridge life. I would say most all of the ones I use regularly keep for a week in the fridge. The one exception I'd make is for avocado based dressings; these can keep for a long time if there's a lot of citrus or other acid, but they're more likely good for three or four days, rather than six or seven.
Hope that gives you a good idea of what to expect! Before we move on, though, a brief pause to discuss a favorite topic of mine: kitchen intuition.
You know how we all like to go on and on about intuitive eating? Well, I'm afraid that intuitive eating is only one part of healthy living. Another huge part is intuitive cooking–the capacity to prep, cook, and store food with a sense of confidence, ease, and spontaneity. If you're constantly looking to recipes and blogs for prescriptive advice on how to make food, and if you don't learn how to flex your own kitchen muscles, I can guarantee that kitchen time will always remain daunting. Here are the sorts of questions that make me want to teach a class in kitchen intuition:
How long does _________ keep in the fridge?
Can I substitute [ingredient #1] for [practically identical ingredient #2]?
I don't like [ingredient that appears in an infinitesimal amount]. Can I leave it out of the recipe?
I like spicy food. Can I add [spice of choice] to the recipe?
The more you cook, the more you realize that small substitutions and omissions won't make or break a recipe; that customizing spices and flavors is perfectly fine; that a tiny bit of detective work will easily allow you to see whether or not a food has gone off. The joy of cooking (as opposed to baking, which is a little prescriptive) is that it allows you the freedom to customize and experiment! You'll have some terrible flops and missteps (we all do) but you'll learn from them, and emerge a far more self-assured cook.
And part of being a self assured cook is having the guts to figure out which leftovers are still tasty and which have become sketchy. Guys, listen: if you're not sure if something has gone off or not, do a little recon: look, sniff, and taste. Has it changed color? Is there mold anywhere? If so, you want to steer clear. Does it smell sour, bitter, moldy, or otherwise nasty? Obviously, into the trash it goes. And if the food looks and smells fine, then simply taste a tiny bit to see whether or not the taste is still normal. I'm not saying you ought to dig into questionable leftovers with a fork and knife; I'm saying that a tiny lick or nibble ought to tell you right away whether or not the food is good; of course, you'll spit it out if it's not. Very few foods won't indicate through smell or taste when they go bad; a small bit of exploration will point you in the right direction quickly.
What about keeping produce fresh? This is a great question, Jen. I have two major tactics:
Store veggies properly
Know what lasts, and what doesn't
As far as (1) goes, I store all of my vegetables in Debbie Meyer's green bags. No joke. I know it's easy to mock anything that gets sold in infomercials, but hear me out: these bags really do a remarkable job of keeping produce fresh.
My only qualm is that they're plastic. I also don't know if they're BPA free (does anyone else know?). What I do know is that they help keep my veggies crisp and remarkably fresh; this, in turn, prevents me from wasting money by throwing out wilted greens and moldy broccoli. This, to me, outweighs the fact that the bags are plastic. In addition, they can each be reused 10 times, and they can also be recycled. Score.
As for (2), I tend to group my veggies into three loose categories:
Broccoli, cabbage, zucchini, celery, cauliflower, fennel, beets, carrots, root veggies, brussels sprouts, onions (if you're into that)
Tomatoes, bell peppers, cucumbers, avocados, sprouts, radicchio, endive
Greens
I buy all veggies in the first category once weekly, in abundance, and feel confident that they'll last all week. I buy veggies in the second category, which are slightly more delicate, in small amounts, and I replenish with a second shopping trip if I need more (which I don't always). I live in a city where produce is easy to pick up on the way home from work or in passing, and I know that many of you don't have that luxury. If you don't, I still think you might try as best you can to work a second grocery trip (if needed) into your schedule; doesn't the chance to cut down on wasted food AND the motivation to consume only healthy, fresh foods make it worth it?
What about greens? Since I eat more of these than any other veggie, I find that my shopping patterns are a little variable. I can usually keep kale, chard, collards, romaine and bok choy in green bags for a solid week. I buy mesclun and spinach in smaller amounts, and I simply pick up more if I need them. An average week in Gena-world means at least 2 heads of kale/chard/collards, 1 pack of 3 romaine heads, 2 boxes mesclun, and possibly a giant bag of spinach, too. Yes, that's a lot. Yes, I eat it all. And, to answer another question I often get, no, I don't fret about the money. My leafy green bill each week is about 25 bucks (sometimes 20), and it's all 100% worth it. Keep in mind that I never spend money on fish, cheese, meat, poultry, or alcohol, and that grains and legumes are cheap; my veggie expenses, at least in my own hierarchy, are worth it.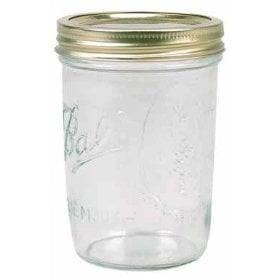 Last but not least, what about nut storage? I store nuts in glass mason jars in my fridge or freezer, to prevent rancidity. Many of you ask me whether I soak, sprout, or dehydrate nuts. The answer is that I usually soak them before using them in recipes, but if I happen to forget, then I forget. I never sprout or dehydrate them (unless I'm making a special recipe, like candied or spiced nuts). But if you have the patience to sprout them or dehydrate them, believe me, I commend you.
So. Does this help? I know that issues of storage can be a little overwhelming. It's easy to spend money on vegetables and feel confident that they're worth it, but when you're spending and seeing much of it go in the garbage, it can feel very discouraging. Take heart! With a little planning (like one very short second grocery trip) and a little intuition (like tasting a nut pate and realizing that, even though you expected it to have gone off, it's still totally OK!), you'll find that raw prep isn't quite as daunting as it may seem.
Happy Tuesday, friends.
xo