Happy weekend!
As promised, I've gathered up some highlights from my sojourn on the west coast last week. I've never been to LA for non-work purposes, so this was my first opportunity to explore the city for fun. That said, the real purpose of this trip wasn't to visit cultural attractions, or to wander neighborhoods, or even to eat. It was to see friends. A few of my nearest and dearest are in the LA area, and I've owed them a visit for a long time now. It was wonderful to catch up with them, and in spite of the fact that I was gone for about ten days, the time felt much too short.
I hopped on the plane two weeks ago, full of excitement to be escaping a freezing cold day in DC. I'm fairly devoted to winter, as I've mentioned before, but I can't say I wasn't smiling at the prospect of 65 degree temperatures and sun.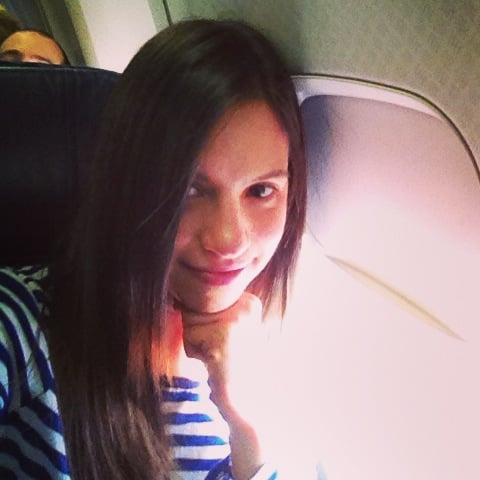 …that was before our three hour delay on the tarmac. By the time I got to LA, it was too late to go to the newly opened Gracias Madre for a bite, which was my plan (I've been to the San Fran location, and it's amazing). But I was greeted cheerfully at LAX by my friend Geoff, whom I've known since the publishing days, and ushered into the city, where he'd kindly offered to host me (and join me for some vegan dining adventures). We were excited to catch up, but after about twenty minutes of conversation, and the realization that my body thought it was 3 am, I decided it was best to get some sleep.
When I woke up early in the morning, I was greeted by this scene: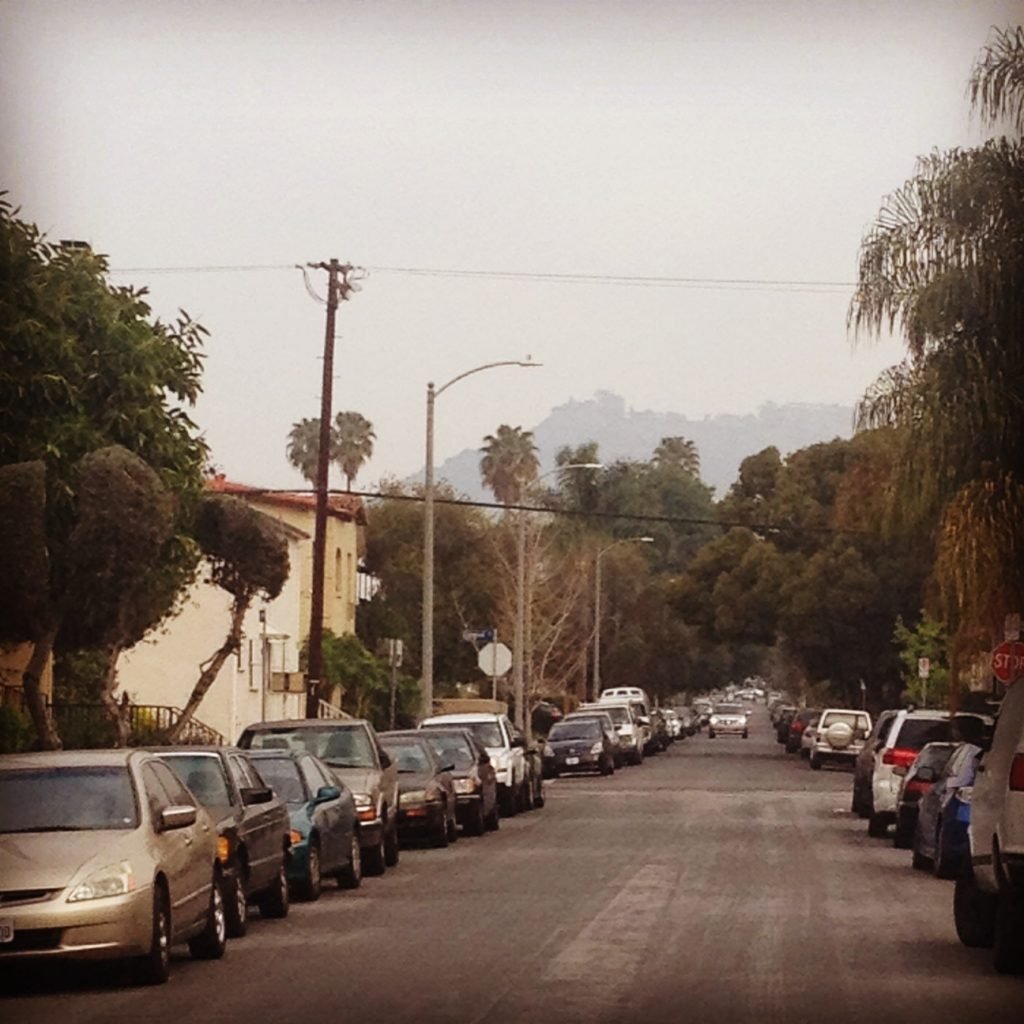 And as the morning rolled along, the mist burned away and the sun grew brighter and the skies turned clear blue. California.
One of my favorite things to do in any new city is to find a yoga studio to explore. I searched for a couple in walking distance and settled on Earth's Power Yoga. Heated vinyasa is my regular practice (though I also love regular vinyasa and occasionally attempt astanga), so I was pretty sure I'd like the classes. I did, especially Sarah Demay's class. I only got to power hours on the visit, which meant not quite enough time to build up an advanced flow, but I liked Sarah's energy and sequencing a lot. The room was hotter than I'm used to–almost Bikram hot, per the photo below–but fortunately not enough to impede my practice.
After yoga, I was pretty hangry, so I took Geoff's advice and went to Erewhon market for breakfast.
Good grief. I've spent a lot of time in health food stores in my day, and this is about as good as it gets. Erewhon not only offers a ridiculously expansive produce and grocery section, but it also features a ton of prepared vegan and raw food dishes, lots of pressed juices and smoothies, and a crazy good juice and smoothie bar. I was totally overwhelmed, but decided to go with a smoothie of banana, young coconut meat and water, kale, and medjool dates…AKA heaven. Can't wait to recreate this at home.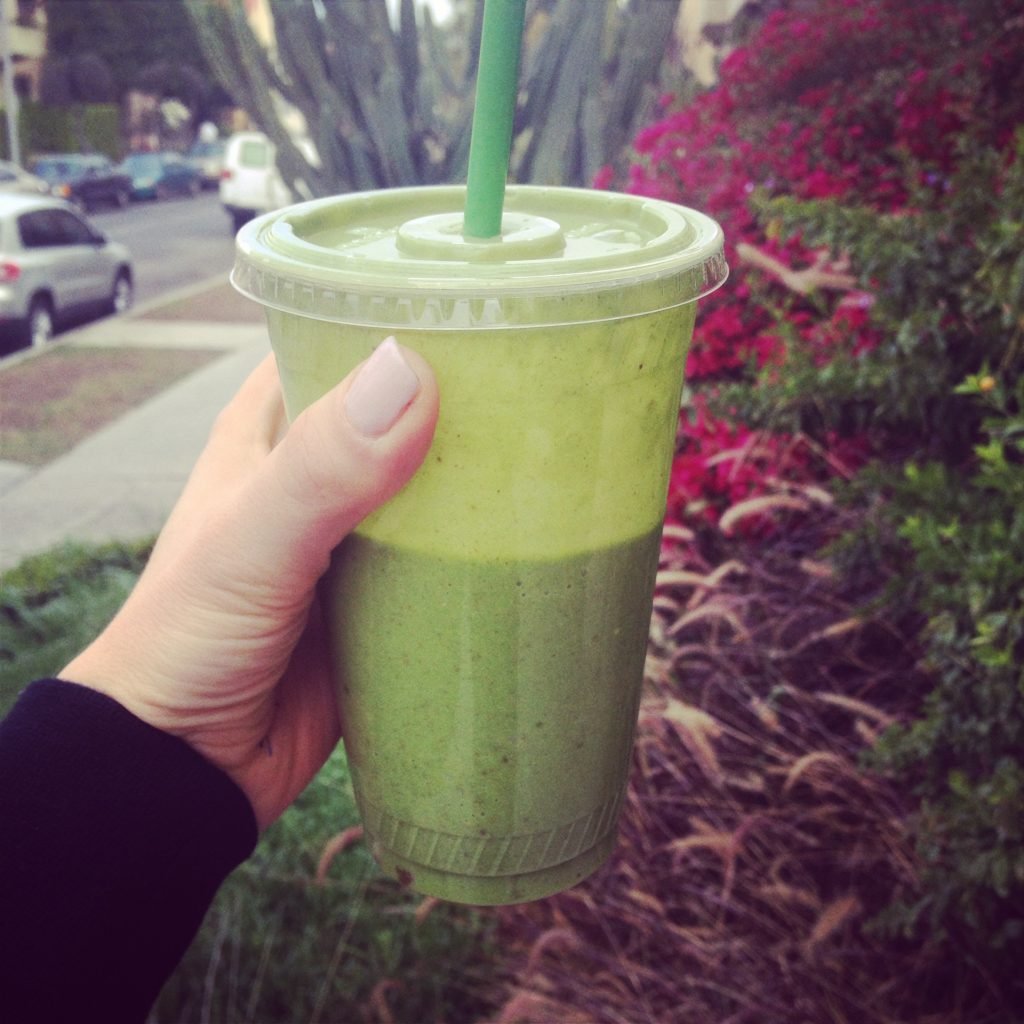 I also picked up some pour over coffee at Andante Coffee Roasters, across the street. So good. A few folks asked me on Instagram if I tried Andante's pressed juices. My response was that, while they all looked great, coffee is my morning priority 😉
I had a little work catch up time in the morning, and before I knew it I was off to visit my friend Jeff. I had lunch on the go: a raw spirulina wrap from Erewhon that was stuffed with cashew cheese, cabbage, kale, and a bunch of other veggies (the spirulina is in the wrap itself, not the filling). Best raw wrap I've ever had. For serious. I ordered it twice more before leaving LA.
Jeff lives on Topanga, which meant these majestic views on my way to and from his place. I'd never seen this part of LA before, and it is so beautiful.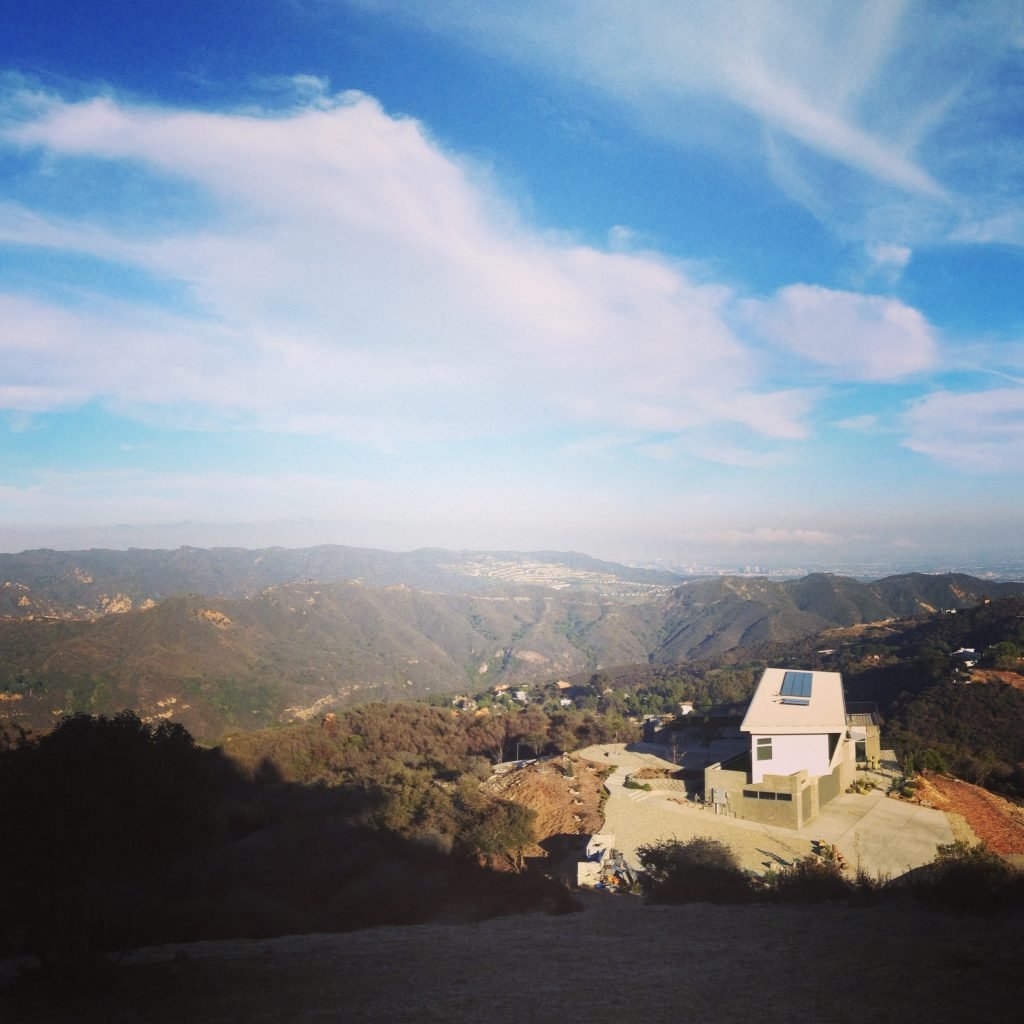 After some lovely catching up, chocolate snacking, and conversation, Jeff and I headed into Santa Monica, where I finally got to check out Rawvolution!
I've had Matt Amsden's book for at least five years, and I've enjoyed so many of the recipes (zucchini pasta, the seaweed soup, the onion bread, which is one of the few ways to make me really love onions). I've always wondered what his restaurant fare was like. Since I visited in an awkward time in between lunch and dinner, I didn't want to order too much, but I decided I had to try his superfood soup (coconut water, cucumber, watercress, avocado, nori, superfood powder, spices).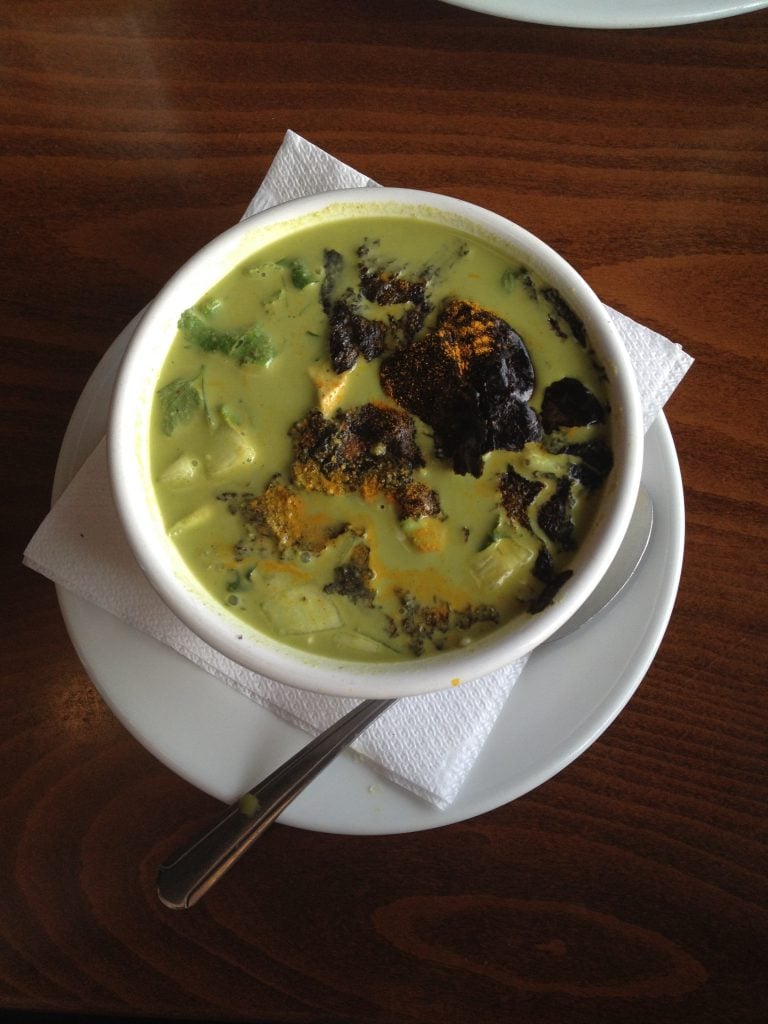 Our server told us that it was her favorite, and she seemed to know what she was talking about. I was a little worried that I'd be bored, having eaten (and made) so many green soups in my day, but this was honestly terrific. Having just declared my wrap the best raw wrap I've ever had, I'm loathe to use another superlative, but this really was the best green soup I've tried. And this, unlike the wrap, is something I can try to create at home!
The day went quickly, and before I knew it, I was off to dinner with my college BFF, Jordan, for dinner at Real Food Daily. Before Jordan arrived, though, I had a chance to meet Jenni, who writes Hugger Food. I mentioned Jenni in this past weekend reading. She is a longtime CR reader and a thoughtful, strong fellow blogger. I told her that this trip was a little zany, but asked if we could have a drink, and she graciously said yes. It was so fun to meet her. As is so often the case when I meet up with a longtime blog friend in person, things got deep pretty quickly. We spoke about career change, eating disorders, and our paths to veganism. It was pretty great.
Not long after, my friend Jordan arrived for a bite at RFD before some long awaited catching up. I was so thrilled to see him, and I wish that pictures from our meal had turned out better, but the lighting just wasn't working with me. What ordered, though, was terrific: a white bean and butternut squash soup, followed by the "great cardini" salad (Tuscan kale, romaine lettuce, garbanzo beans, red quinoa, roasted yam, croutons with creamy almond shallot dressing, avocado, spiced pumpkin seeds and macadamia parmesan). Again with the superlatives: one of the most awesome salads I've had in a while. And yet another item to try to create at home. I snagged a photo from Yelp, just so that you could peek. Credit to Carl B.!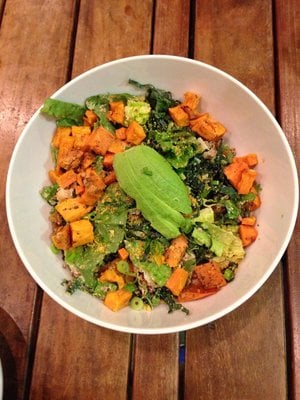 As good as the food was, it couldn't compare to the joy of seeing Jordan (Jordy, as I call him). We hang out rarely because we're on different coasts–usually only once or twice a year. But when we spend time together, it's always as if we're Freshmen at Columbia again, buzzing with things we want to tell each other and ideas we want to share and observations that we're sure only the other will understand. We stayed awake chatting as if we were nineteen again, sitting on my dorm room floor, ignoring our paper deadlines and talking into the wee hours. And it was as restorative and comforting and fun as I knew it would be.
There is, of course, a lot more to share from this trip, including adventures in Disneyland (!) with my friend (and fellow blogger) Kathy, lunch at Cafe Gratitude with Kristy, and a long train ride up the coast to see my friend Christina. But Saturday beckons, and I'll pause here. See you all tomorrow for weekend reading.
xo