Happy Friday! I'm here with more recaps of my west coast trip. We left off with my exploration of Erewhon natural foods market, a trip to Rawvolution, and dinner at Real Food Daily, as well as some precious time with two very dear friends. On Wednesday morning, friend time continued as I was reunited with this lovely lady: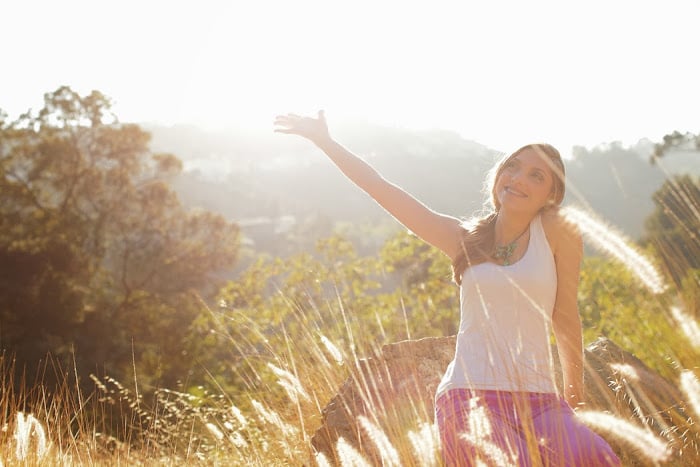 One of the reasons I was most excited to visit LA was the opportunity to see Kathy, whom so many of you know through her phenomenal blog, Health Happy Life. Kathy is so many things to me: dear friend, blogging mentor and role model, and trusted confidante. She is also, apparently, as much of a child at heart as I am, because when we discussed my visit the activity we settled on almost right away was an overnight trip to Disneyland.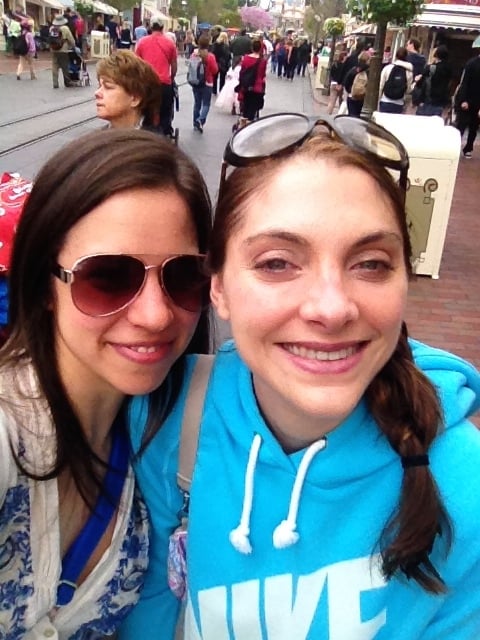 Yup. Disneyland. We went, we saw, we conquered. It was all dreamy, aside from the part where Kathy made me go on Paradise Pier. That was super scary. But I made it, even if I kept my eyes closed for 84.7% of it.
After a day of rides, we had dinner together at the lovely Carthay Circle. And before we'd even had a chance to eat, we were of course documenting it all on the Insta.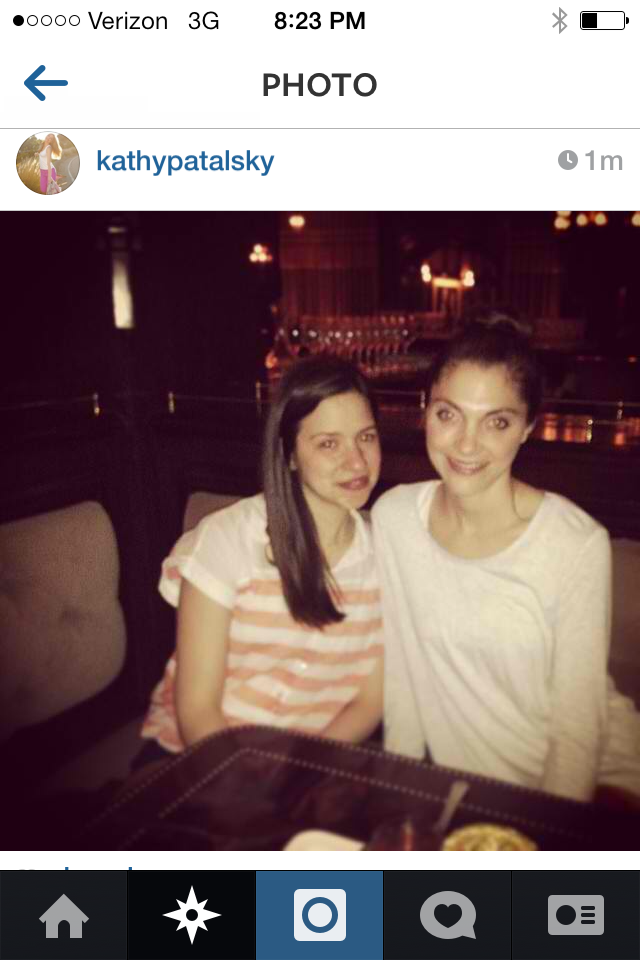 Carthay Circle doesn't list a ton of vegan options on the menu, but they were more than happy to accommodate us. We were assured that the chef could put together a vegetable plate for us, along with some black rice. The dish was fantastically flavorful. My camera wasn't cooperating in the low light, but you can kind of see it here. We both appreciated the dish and its presentation!
When Kathy and I arrived back in LA the next morning, we were sad to leave Disney, but we did have something tremendous to look forward to: lunch with Kristy of Keepin' It Kind.
I first met Kristy last summer at VVC, but I'd been an enormous fan of her work for quite some time before that. Kristy's blog is thoughtfully written, generous, and full of beautifully photographed and creative vegan recipes. The title of her blog is also very apt; you needn't spend much time around Kristy to see how warm-hearted she is. I was so happy that she, Kathy, and I had a chance to meet for some delicious vegan food at the famous Cafe Gratitude.
I haven't been to Cafe Gratitude since I visited the San Fran location with my friend Amanda, well over three years ago.
The first time I visited, I was blown away by the restaurant's wholesome-yet-delicious offerings, and I was every bit as impressed this time around. I could eat at this place every single day and not grow tired of it. You can check out the menu here. So much kale, so much cashew cheese, so much quinoa. So much of all the good stuff. I decided to start with the seasonal raw soup, a blend of red pepper, tomato, and young Thai coconut. It was fantastic, and it reminded me a lot of the red pepper coconut soup I used to love so much at Bonobos before it closed. I also got the "I am fulfilled" salad (mixed greens, carrots, beets, tomatoes, cucumbers, sprouts, avocado, teriyaki almonds and a large flax cracker with zucchini cilantro hummus). It was abundant, full of texture and taste. The balsamic fig dressing was a highlight, just as it was the first time I visited the restaurant and tried it. I've even made my own version!
I may have gotten a little psyched about taking pictures. Kathy may have busted me.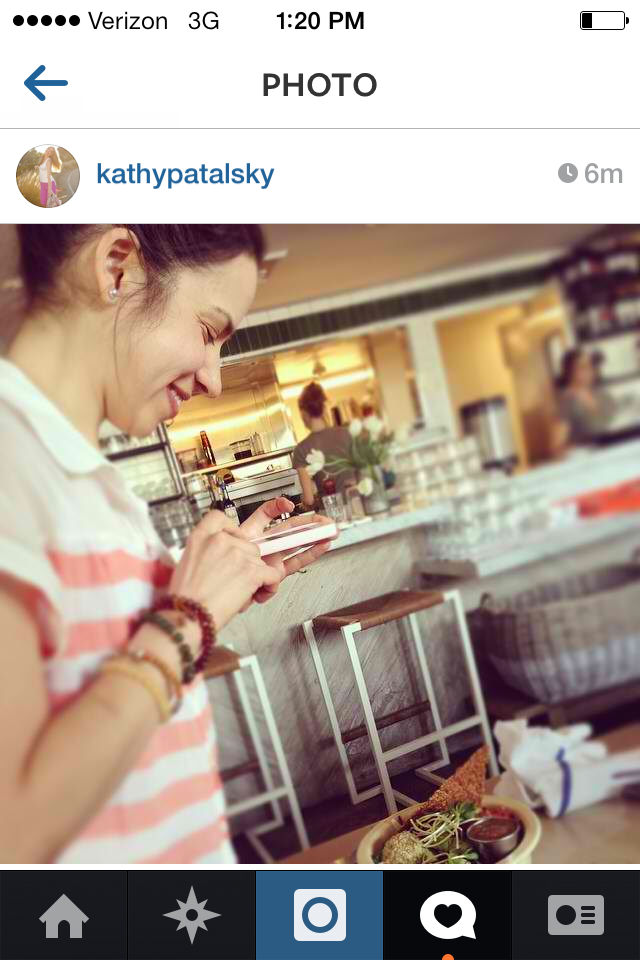 In all, this was a great meal, enriched by the company of two strong, inspiring women. It was hard saying goodbye to Kathy after lunch, but we started cooking up ideas for other travel adventures to help ease the goodbye. I can't wait to hang out with her again.
If my day wasn't rich enough in great vegan fare, I had one more restaurant stop to make before bedtime: dinner at Crossroads.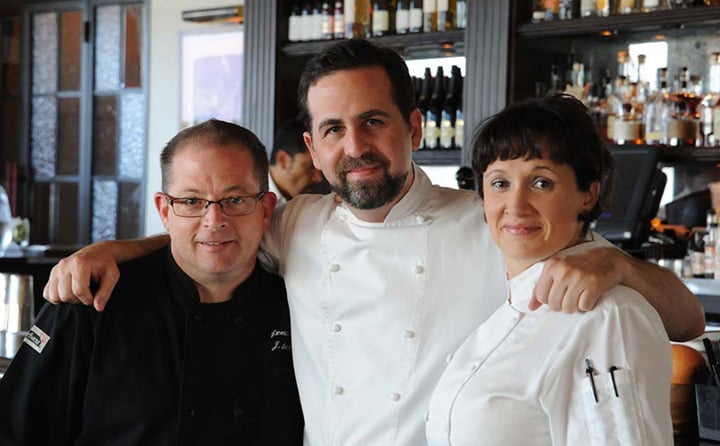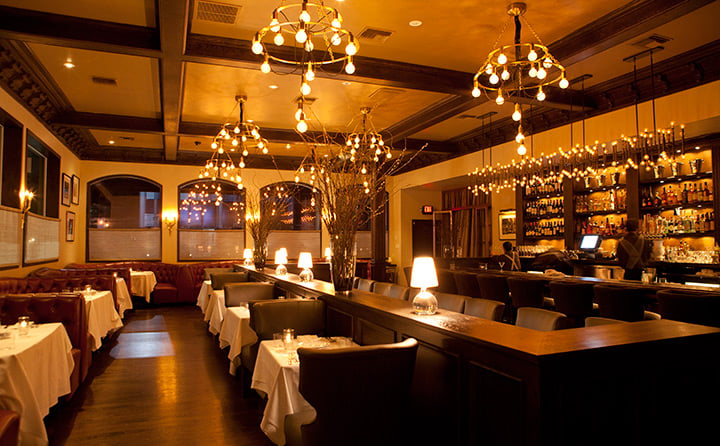 Images courtesy of Crossroads LA
I've been hearing about Tal Ronnen's LA eatery for months now, so I was of course thrilled to have a chance to try it. The space itself was spacious and beautiful, and the service was extremely attentive. Before our food had even arrived, we felt pampered. And we felt even more pampered after we'd ordered wine and the restaurant's signature appetizer: artichoke "oysters" (artichoke purée, crispy oyster mushroom, yellow tomato béarnaise, and kelp caviar). The dish was creative and delicious, a perfect first bite.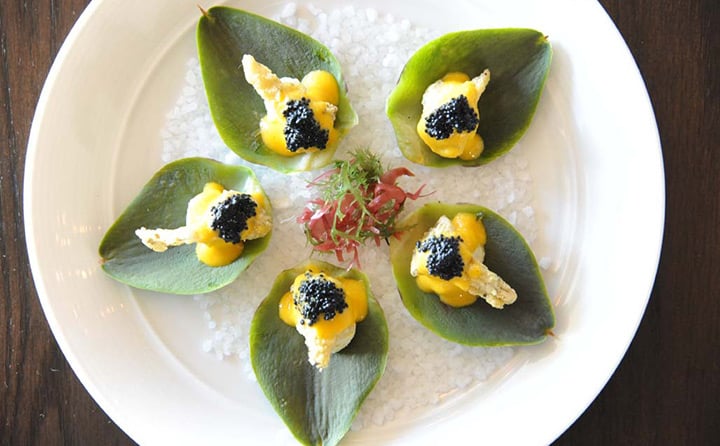 I snagged a photo of the dish from the Crossroads website, along with the images above. The remainder of my photos are in dim camera phone lighting–sorry!
For our next course, we ordered spicy Moroccan heirloom carrots with chili and cumin and marcona almonds. The dish was fine, but we agreed that it was the weakest, if only because the carrots were a little undercooked. The flatbread we ordered, though–truffle leek flatbread with black truffle, caramelized leek, roasted mushroom, almond ricotta, and frisée–was outstanding. The crust alone was a standout.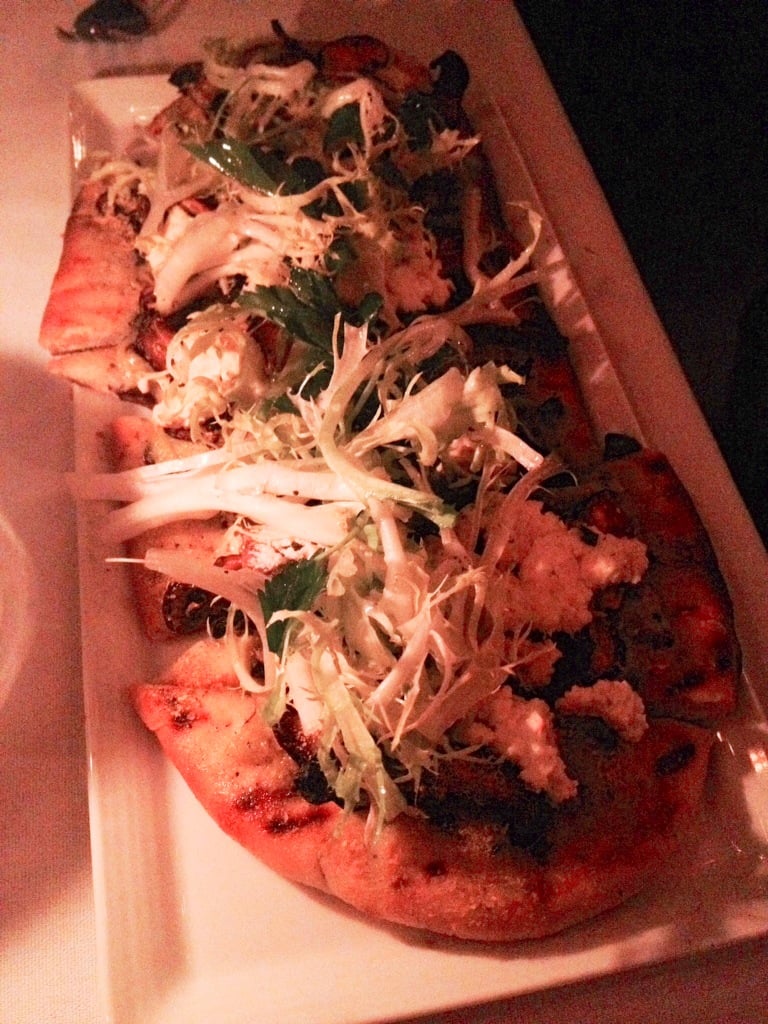 For my entree, I ordered the risotto del giorno, which on this giorno was tomato and red pepper. It was perfect. So flavorful.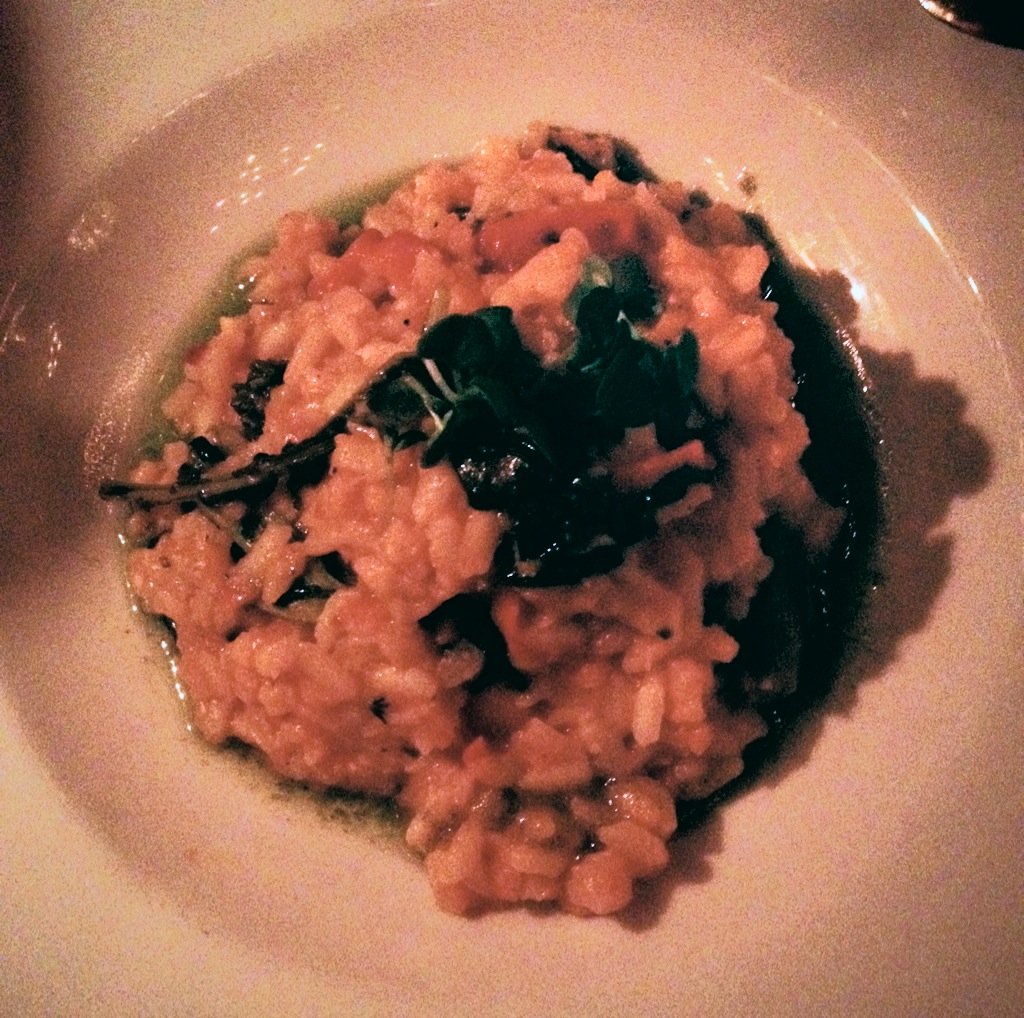 My friend Geoff ordered the papardelle bolognese, which he gave two thumbs up. It's hard to tell from the photo above, but the one criticism we both had was that the portions were small (in fact, the word we both used was "tiny"). So we had ample room for dessert. Torn between the lemon cake with lemon curd and brown sugar buttercream and the banana bread pudding with rum caramel, we decided not to choose and ordered both.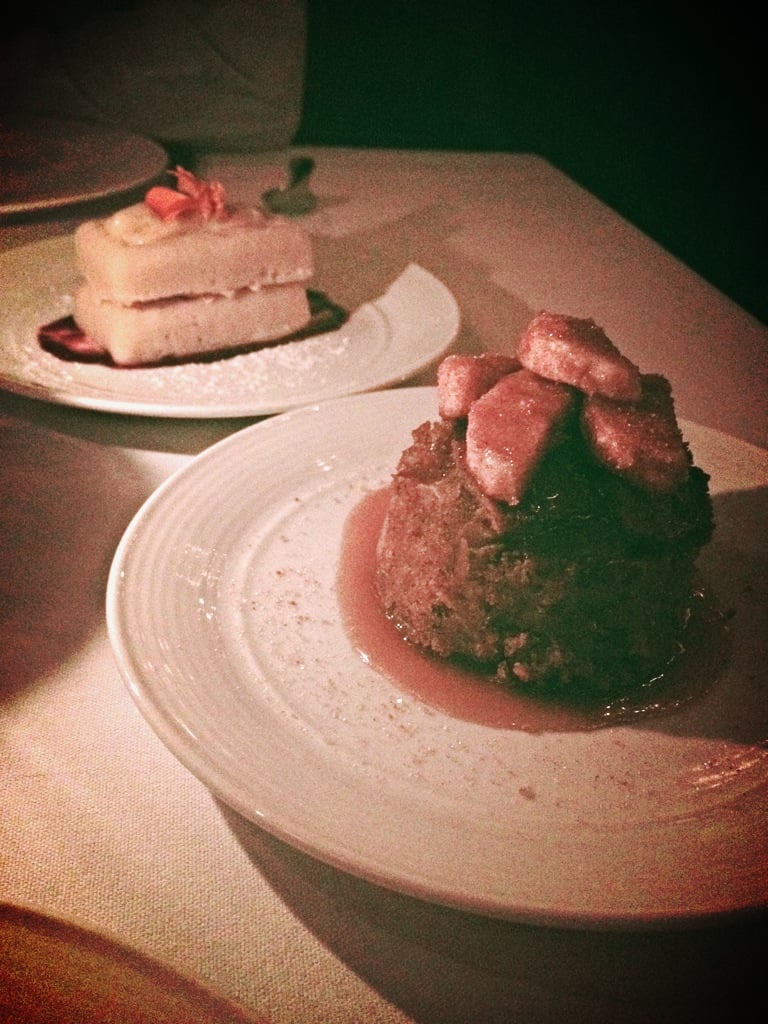 The lemon cake gets major kudos for its spectacularly authentic vegan lemon curd (without butter? how??). But the cake itself was a bit dry. The banana pudding was incredible.
I'm really glad I got to experience Crossroads. If you go, I'd only warn you that you'll need to order a substantial amount of food in order to feel full, and because the restaurant is on the pricier side, it's likely to be expensive. That said, the wait staff is knowledgeable and courteous, and it's always a joy to experience upscale vegan food that can hold its own against any conventional restaurant. Geoff, an omnivore, was impressed, which is saying a lot, and I was delighted to taste some dishes that are fancier than anything I'd make at home.
For my final recap, I'll tell you all about my epic train ride to Monterey and the awesome vegan Mexican we found in town. For now, I wish you all a lovely start to the weekend.
xo