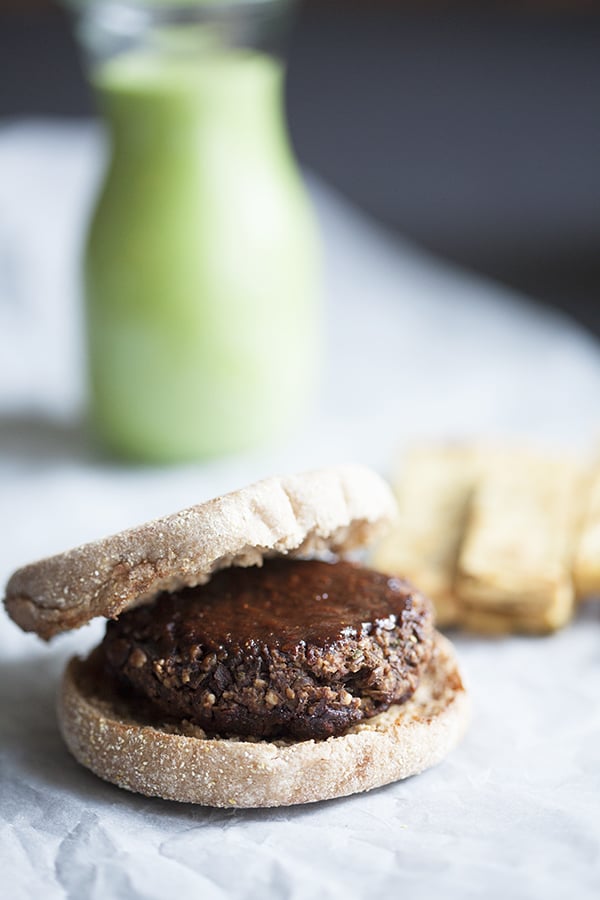 It's not unusual for a vegan to love beans and lentils, but my love of pulses may go beyond the pale. I eat pulses every single day, often several times daily. They are a veritable food group for me. Like most folks, I have my favorites–chickpeas, navy beans, black beans, and lentils–but I also love adzuki beans, cannellini beans, split peas, lima beans, and cranberry beans. Pulses have texture, versatility, and remarkable nutrient density. They are an affordable staple food for much of the world's population, and I consider them to be the most profoundly super of superfoods.
What's a pulse, you may be wondering? I myself didn't know the difference between a pulse and a legume until…well, this morning, as I was writing this post. Apparently, the word "legumes" refers to the plants whose fruit is enclosed in a pod. The legume family includes more than 13,000 species, including alfalfa, clover, peas, soy, peanuts, and mesquite. Pulses are part of the legume family, but a pulse is the dried seed of a legume plant–so, dried peas, edible beans, lentils, chickpeas, and more. Pulses are unique in that they're dried naturally in the field instead of harvested prematurely. Pulses are also grown purely for consumption, which means that (unlike legumes) they're never used for oil extraction.
If you're wondering why I'm so jazzed about pulses today, it's because I recently had a chance to develop a pulse recipe for a very special international event. Each year, the United Nations designates a theme or topic for international observance. Topics of observance are selected based on their ability to address four main areas of interest: Food/Nutrition, Security & Innovation, Market Access & Stability, Productivity & Environmental Sustainability, and Creating Awareness. I'm happy to tell you that the UN has named 2016 the International Year of Pulses.
Why pulses? Let's start with their incredible nutrition profile. I don't think I have to list the health benefits of beans and legumes for this audience, but who doesn't love a little nutrition trivia?
●Pulses are high in protein, making them a great source of nutrition for vegans and vegetarians. One ½ cup serving of pulses offers 7 to 9 grams of protein, or 15 percent of your recommended daily intake.
●Pulses are gluten-free, sodium-free and cholesterol-free, with a low glycemic index and load.
●Pulses are high in fiber. On average, one ½ cup serving of pulses delivers ¼ of your recommended daily fiber intake.
●Pulses are one of the most antioxidant-rich foods. The antioxidant content of lentils is twice that of blueberries, and three times that of pomegranate juice.
●Pulses are high in essential nutrients like folate, iron and potassium. Chickpeas contain 3x more folate than kale and more than twice as much iron as chicken.
Pulses also have some incredible sustainability benefits. They can be grown in a variety of climates with little or no irrigation, which makes them both drought-tolerant and frost-hardy. Pulse crops also pull nitrogen from air and return it to soil, where it acts as a fertilizer (both for pulses and also for crops planted after). This means that pulse crops can be used to "fix" nitrogen levels in rotation with other crops. Pulses are cost-effective, too: in the United States, the average cost of a serving of lentils is $.07, compared to $1.07 for a serving of beef, $0.71 for a serving of pork and $0.67 for a serving of chicken.
In honor of The International Year of Pulses, the UN has selected the USA Dried Pea and Lentil Council (USADPLC) as the body to manage the International Year of Pulses activities here in the US. The USADPLC will be an ongoing resource for pulse recipes, nutritional information and sourcing information in the Unites States. Most importantly, the UN has asked each country to submit one national signature pulse recipe, and the USADPLC is in charge of selecting the USA's entry.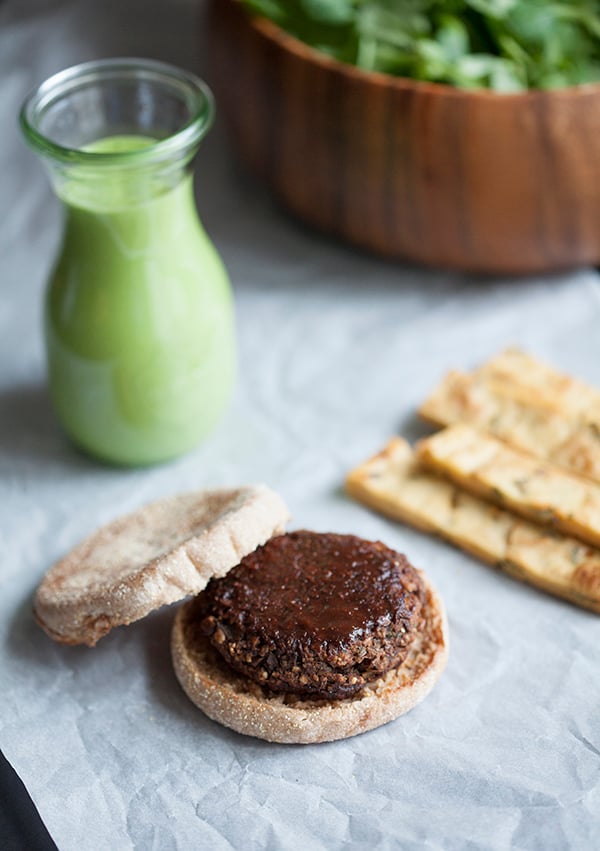 That's where this recipe comes in. When the USADPLC asked me to submit a recipe for a contest in which the US's national signature pulse recipe is going to be chosen, I was thrilled. I can't think of a better tribute to a group of ingredients that I love so much–ingredients that continually enrich my cooking and nourish my body.
I had endless recipe concepts in mind when I started to ponder the challenge, but in light of the fact that this is to be a national signature recipe, I wanted to offer my own tribute to that most all-American of classics: the burger.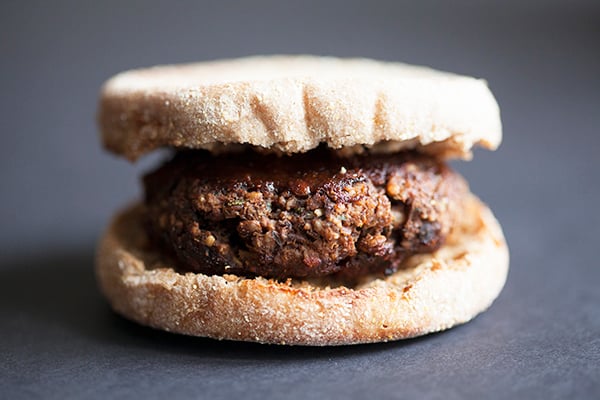 But of course, I also wanted to add a nontraditional twist. This lentil burger is packed with umami and texture. You'll taste delicious shiitake mushrooms, sundried tomatoes, smoked paprika, chili, and walnuts in addition to the hearty lentils. And for extra flavor, you'll taste a tart, sweet, sticky tamarind barbecue sauce (which I now want to put on anything and everything).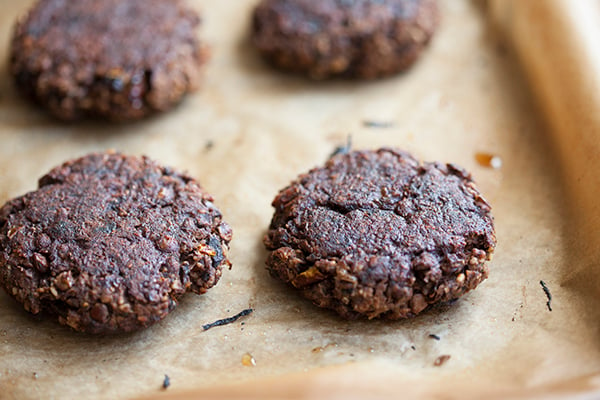 No burger meal is complete without fries, and for this particular challenge I wanted to highlight pulses as much as possible. So what could have been more appropriate than chickpea fries?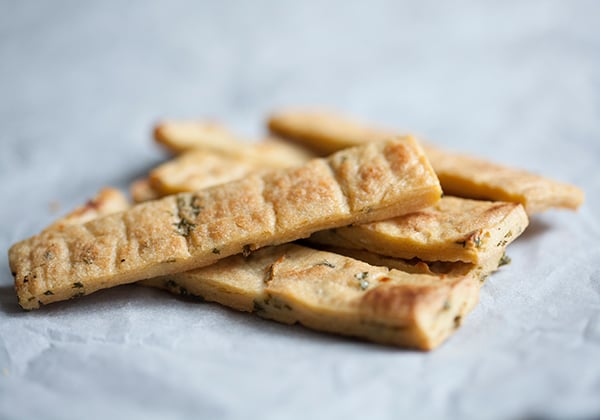 One of my favorite vegan dishes in NYC is the famous plate of chickpea fries at Peacefood Cafe. I've often wondered what pixie dust the restaurant sprinkles in these fries to make them as delicious as they are (the fact that they're fried probably has something to do with it, but still). While I don't kid myself that this humble, homemade version is as delectable as that dish, I am really glad that I've figured out how to make chickpea fries at home. They're crispy and delicious, and I even managed to bake this version, so that they stay on the light side.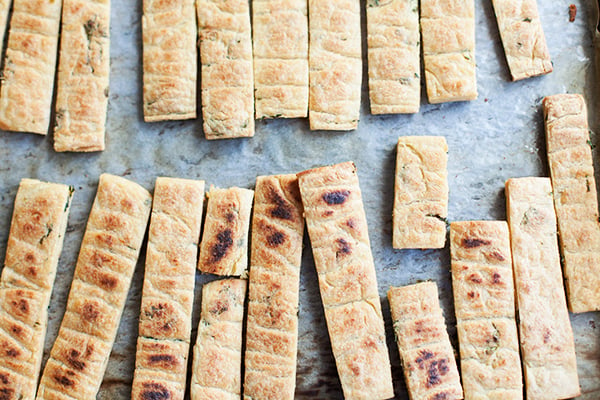 When I was serving these fries, I happened to make a fortuitous discovery. We had some of my delightfully green tahini dressing in the fridge, and Steven and I had the idea to use it as dipping sauce.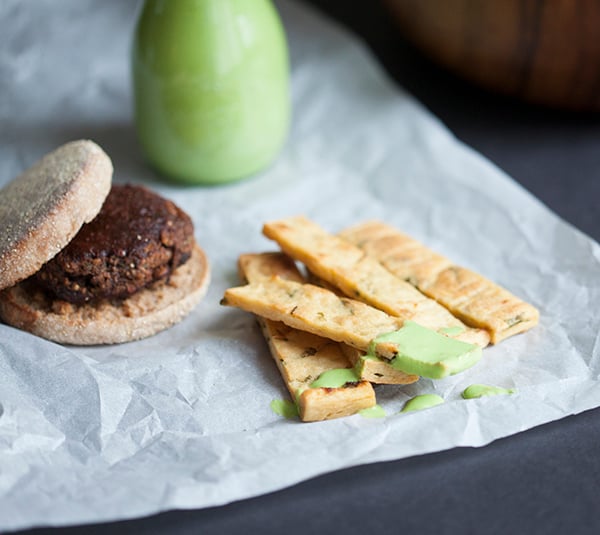 Wow. So much better than ketchup.
Altogether, this is a hearty, satisfying meal with tons of texture. I love the range of flavor here, the variety of spices and herbs. It's reinvented comfort food at its (vegan) finest. And here, without further ado, is the recipe. It looks like a ton of ingredients and steps, I know. But fear not. The fries are optional, the barbecue sauce can be made in advance, and canned lentils are A-OK. As long as you get the burger part together, you're good to go.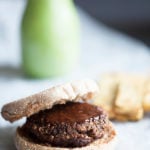 Lentil Tamarind Barbecue Burgers with Chickpea Fries (gluten free)
Author -
Shiitake Lentil Walnut Burgers
1 1/2

cups

cups dry brown lentils

or 2 cans cooked lentils

4 1/2

cups

water

1

tablespoon

olive oil

3/4

cup

chopped white or yellow onion

6

ounces

thinly sliced shiitake mushrooms

about 2 heaping cups

1/2

cup

sun dried tomatoes

hydrated in hot water for at least 10 minutes and finely chopped

3

cloves

garlic

minced

1/2

teaspoon

smoked paprika

1

teaspoon

chili powder

1/2

teaspoon

dried thyme

1/2

teaspoon

dried oregano

3/4

cup

raw walnuts

1/2

cup

rolled oats

1/2

teaspoon

salt

1/2

cup

breadcrumbs

Black pepper
Tamarind Barbecue Sauce (Makes 1 Cup)
Chickpea Fries (makes 6-8 servings)
To make the barbecue sauce, whisk all sauce ingredients except for the pepper together. Check the seasoning and add additional pepper as needed. Store in an airtight container in the fridge for up to 5 days.

To make the burgers, pick through the lentils to find any pieces of debris or grit. Rinse the lentils under cold, running water. Add them to a medium sized pot along with the water. Bring the lentils to a boil and reduce them to a simmer. Simmer them for 20 minutes, or until they're entirely tender but not yet mushy (check them at the 15 minute mark for consistency). Drain the lentils, set them aside, and allow them to cool to room temperature. Alternately, you can use 2 cans of cooked lentils (about 3 cups total) in this recipe.

Heat the olive oil in a large skillet over medium heat. Add the onion. Season the onion and cook it for 4-5 minutes, or until the onion is soft and clear. Add the mushroom and cook them for another 4-5 minutes, or until they've rendered all of their liquid and are soft and reduced in size. Add the sun dried tomatoes and garlic. Sautee for another minute, or until the garlic is quite fragrant. Add a few splashes of broth as needed to prevent sticking.

Add the paprika, chili powder, thyme, oregano, and 2 cups of the cooked lentils. Stir all of the ingredients together until the lentils are warm and the spices are evenly incorporated. Remove the ingredients from heat.

Preheat the oven to 350F. Place the walnuts and oats in a food processor fitted with the S blade along with the 1/2 teaspoon salt. Pulse until both the oats and nuts have been ground into a course meal. Add the hot lentil mixture and pulse a few times, just enough to break the lentils and mushrooms down, but not enough to create puree.

Turn the lentil mixture out into a mixing bowl. Using your hands, mix in the breadcrumbs and the remaining cup of cooked lentils. Check the mixture for seasoning and add salt and black pepper to taste. The mixture should have a thick consistency, similar to conventional uncooked burgers. If it's too sticky, add a few tablespoons of water.

Shape the mixture into 8 burgers. Place the burgers on a lightly oiled baking sheet. Brush the tops with a layer of tamarind barbecue sauce (recipe below). Bake the burgers for 15 minutes. Flip the burgers and brush the bottom side with barbecue sauce. Continue baking for another 10 minutes, or until each side of the burger is crispy. Serve on a whole grain or sprouted burger bun, a whole wheat or gluten free English muffin, or between a few crisp lettuce leaves, topped with additional tamarind barbecue sauce.

To make the chickpea fries, Place the chickpea flour, water, salt, cumin, and garlic into a blender. Blend till smooth.

Add the chickpea mixture into a medium or large sized pot. Heat over a medium flame, stirring constantly. The mixture will quickly begin to thicken, so watch it carefully and whisk constantly. After about 10 minutes, the mixture will be very thick. Trade your whisk for a spoon and beat it continuously as you stir in the parsley.

Quickly transfer the mixture to a parchment-lined baking sheet. Use an inverted spatula to smooth it over evenly. Transfer the baking sheet to the fridge for for one hour to chill.

Preheat the oven to 375F. Cut the sheet of chickpea dough into strips that are approximately 3/4" wide and 3" long. (If the parchment tears as you cut them, replace the parchment beneath the fries.) Brush the fries with oil.

Bake the fries for 15 minutes. Flip them gently and brush the underside with oil. Transfer them back to the oven and bake for another 12-15 minutes, or until both sides are golden. Serve, with

delightfully green tahini dressing

if desired.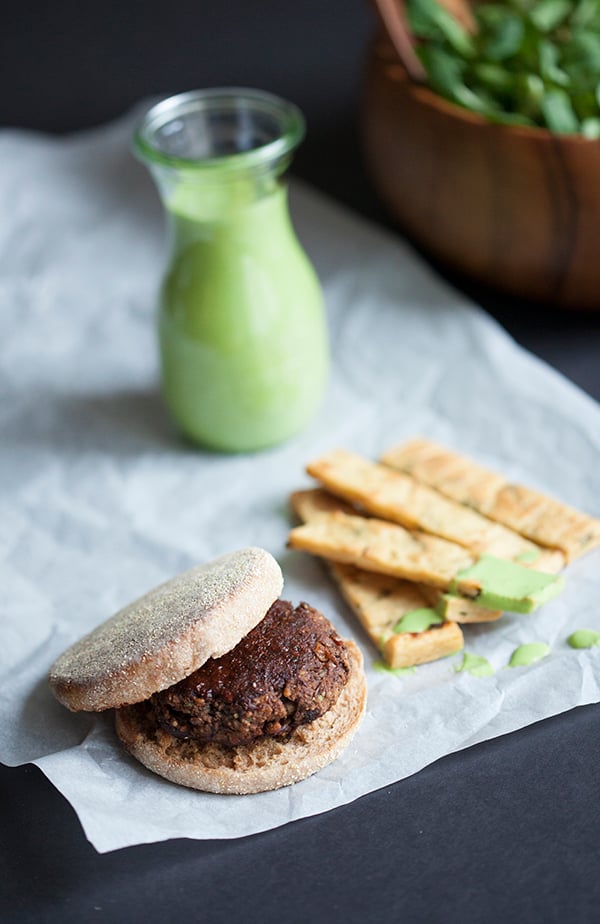 I hope that you're excited about the burgers. I have a bit of advance praise from Steven, who took one bite of the dish and declared it the best veggie burger he'd ever had. Me? Well, maybe I'm biased. But as someone who has called veggie burgers an "overrated" vegan food in the past (I know, I know–blasphemy!), I gobbled these up with gusto. And I won't even mention how quickly we both polished off the chickpea fries.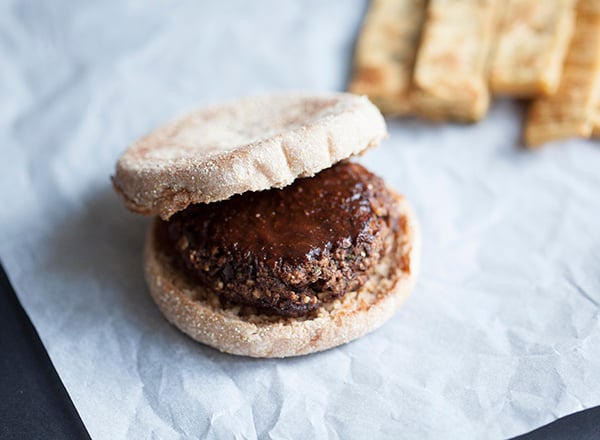 And now it's time to ask you guys for a little help. I would be thrilled to see a vegan recipe be chosen as the United State's national signature pulse recipe. And you can help to make it happen.
Between May 1 and May 15, you can visit the USADPLC's Facebook page and vote for my recipe by liking the photo. Your support would mean so very much to me. I'd love to share my love of pulses with the world!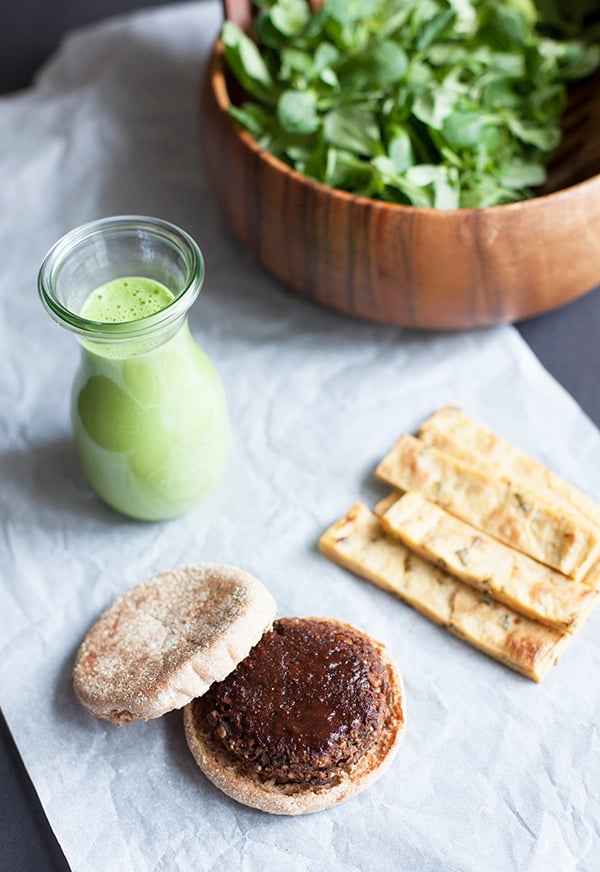 Thanks in advance for your support, friends. The USADPLC Facebook page will be ready for your vote by 12:30pm EST today (that's just about an hour from now!).
And in the meantime, I'm scrambling to get ready for a weekend as a bridesmaid in a dear friend's wedding. What a lovely springtime celebration it will be–and I'll be back for weekend reading on Sunday!
xo