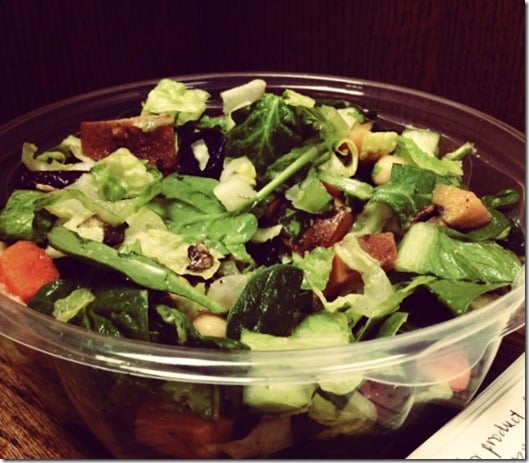 See that photo? That was taken three days ago, from inside a cubicle at the Georgetown library, where I had been parked for days, studying Orgo. Needless to say, a week bivouacked at the library with Orgo notes and intermittent bouts of frustrated crying can bring one's spirits down. What quickly elevates them is good food, and in my case, the food has lately been a whole lot of salads from my favorite DC eatery: SweetGreen.
"Favorite eatery" is a big title, but let's remember: I am a salad junkie. I could easily and happily eat salad thrice daily from here to eternity, and when the salads are as tasty as those SweetGreen offers, I'm happy to indulge. Beyond that, I love the ideals of the restaurant chain—it sources local, sustainable ingredients, and it works to keep on top of changes in the foodgeist. Kale chips, quinoa, and other plant-based superfoods abound on the menu. And in spite of the fact that SweetGreen is not a dedicated vegan eatery, it is a very vegan-friendly eatery. Two of the restaurant's eight menu salads/wraps are vegan, and all can be modified. If you, like me, like to create your own combinations anyway, you'll have legumes, grains, sweet potatoes, and plenty of seasonal veggies to choose from. And did I mention that when you request avocado, you get a whole half avocado? Not misery quarters or eights at this joint.
To give you some background, SweetGreen is (obviously) best known as a place to get salad, but the restaurant—which has locations throughout DC and in Philadelphia—is also a place to enjoy frozen yogurt, soups (which are, as far as I know, almost always vegan and gluten free), grain bowls (barley and quinoa base) and sassy drinks like cucumber ginger limeade. The restaurant uses 100% plant-based, compostable packaging, LED lighting, and even the furniture is made from reclaimed wood and old bowling wood. SweetGreen composts leftover food, and some locations have solar panels built into the roof. Best of all, the company was founded by some very entrepreneurial Georgetown students, so of course I feel a sense of alumnal pride.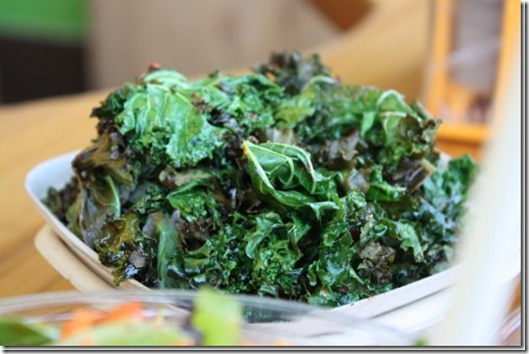 You can read more about the restaurant's philosophy here, but the tagline is "food that fits," and it's apt. SweetGreen offers healthy food that is also accessible, fast, and delicious, no matter what kind of eater you are. I've had plenty of experience with chopped salad in my day, and until I move to DC, I was pretty devoted to Chop't, but I have to admit that SweetGreen puts nearly all other salad spots to shame. I think this is because the locations themselves feel homey—I mean, check out the Georgetown outpost below—but also because they don't just stock watery vegetables that look as though they've just been dumped out of a can. Right now, the SG seasonal menu includes fresh, local strawberries, roast local asparagus, roast sweet potatoes, and spicy roasted broccoli. And that's just a glimpse of what's fresh daily.
Like most people, I have a SG standard salad: avocado, sweet potato, chickpeas, tomatoes, cucumbers, beets, carrots, peppers, broccoli, lemon, and lime.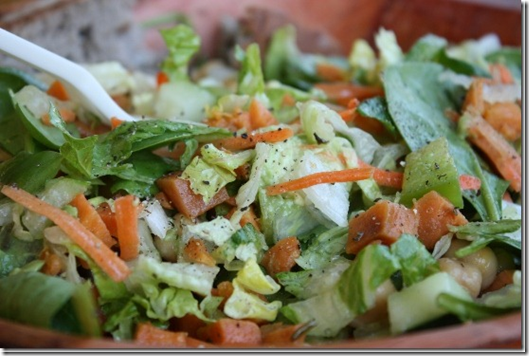 That said, I've tried (and loved) a ton of other options. I enjoy tossing the slightly spicy quinoa into my salads, and pairing it with white beans. Roasted mushrooms and asparagus are also a favorite, and my recent quinoa salad with grapes and avocado was actually inspired by a SweetGreen salad that I concocted on a whim.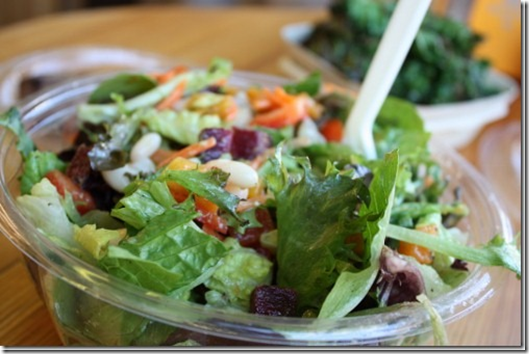 If the food and ethos isn't enough, my local friends are also big fans of Sweet Green. One of my favorite traditions after a long week is to meet Valerie on Friday night for SG salads; indeed, Val and I met for the first time ever at the Dupont location!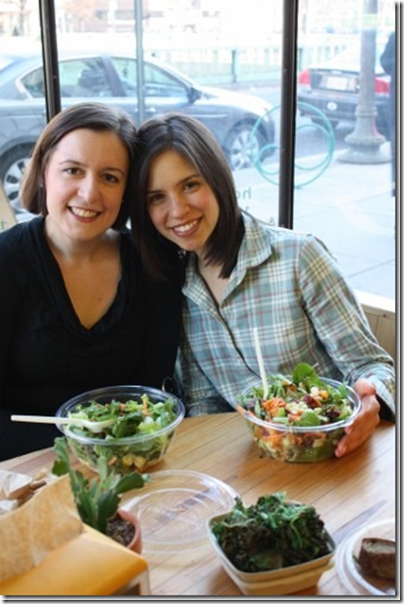 And after my final final this past winter, the first thing I did was scurry off campus to meet Anne for a salad there.
In these busy times, I can't always feed myself, but SweetGreen feeds me the way I would if I were home, with a bevy of vegetables at my disposal. I'm devoting a post to SweetGreen today so that you guys can see some of the lunches and dinners I grab when I can't make it home for dinner. I'm lucky to be near a location!
DC has one dedicated raw restaurant (Elizabeth's Gone Raw) and many vegan friendly options in the realm of fine dining (Nora's, Firefly, and Oyamel, to name a few), but I really urge you to check Sweet Green out if you happen to visit DC or Philly anytime soon. Many of us tend to think that a salad is a salad is a salad, but quality ingredients and smart, forward thinking recipe design can certainly make a huge difference. Sweet Green is proof!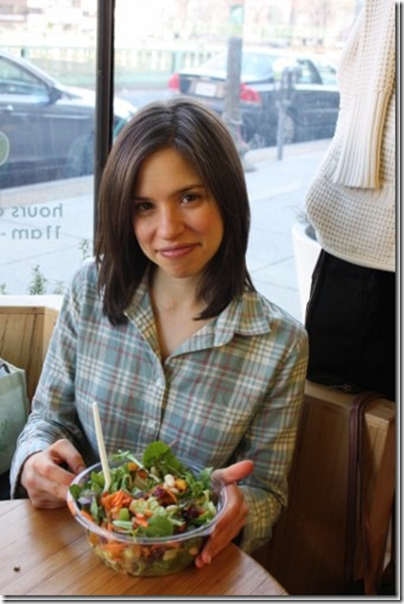 Before I sign off, did any of you read Sherry Turkle's article on "the flight from communication" in the Times recently? I typically recoil with anti-technology pieces, if only because, as a blogger, I've seen how profoundly, positively life-changing technology can be. My "blog friendships" are no less strong for having been formed through keystrokes: if anything, we share fundamental interests that make our friendships stronger. I also see how the internet allows us to form communities animated by shared passion (like the vegan community) and to support each other through hardship (the recovery community).
That said, Turkle's point about the "messiness" of human relationships versus the clean cut process of putting one's life online did speak to me. I'm candid with all of you when I struggle (see: post-bacc), but you do see the best of me here on CR, and I sometimes wonder if perhaps I've gotten too used to being perceived through the limited window I offer my readers. I'm also a huge, huge believer in the value of being alone in life—traveling alone, working alone, contemplating and reflecting alone, and generally being capable of moving through the world alone. Turkle also speaks to that point, and says,
We think constant connection will make us feel less lonely. The opposite is true. If we are unable to be alone, we are far more likely to be lonely. If we don't teach our children to be alone, they will know only how to be lonely.
I don't actually think that sending text messages or tweets makes me less alone, and indeed, I don't use those mediums to fight being alone (I never fight being alone; if I have any problem in this arena, it's that I often need to force myself to be more social!). But I wonder if perhaps others do, and whether the "connectedness" of our tech-savvy culture has in some way infringed upon our ability to be alone. Food for thought, anyway!
As always, curious for your opinions on this. And on salad. SweetGreen or otherwise.
xo