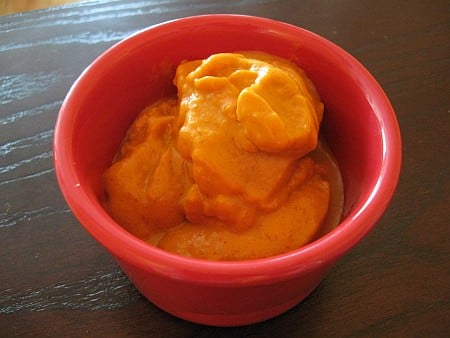 Many clients of mine tell me that they're struggling with sweet cravings after dinner, or that they're trying to break a dessert habit and failing. Life is sweet, and it's too short to live without the occasional sweet food—at least in my opinion. But it's important to stay balanced, and of course eating too much sugar can lead to certain health challenges.
This is when it pays off to have a set of trusty, low-sugar treats to rely on. The following options are ideal for folks who are trying to tame persistent sweet cravings, and they're also suitable for my readers who are dealing with health challenges that demand a low sugar approach (like candida overgrowth or autoimmune disease management).
Many of these are made with Stevia. If you don't know what Stevia is, it's a sugar-free sweetener that you can find in any health food store. Though I prefer using agave, maple sugar, yacon syrup, or coconut nectar to stevia, these sweeteners may still be too sweet for some, so in these cases Stevia is tremendously helpful.
Now, these desserts won't taste exactly like the desserts you're used to. But they're certainly tasty, and over time, you may start to appreciate their moderately sweet taste more than you ever imagined you could! A special thank you goes out to my friend Ricki, who follows an ACD (anti-candida diet) and recently gave her readers a beautiful round up of her own favorite desserts. She helped inspire me to write this post, and I've included one of her creations here.
So, without further ado, my favorite low-sugar sweet treats!
1) Dark chocolate
If you're buying chocolate that's 70% or more cocoa, and free of added sugars (look for syrups or sugars on the label), feel free to indulge! This is a quick, easy low-sugar treat that's also highly portable, so you can take it out to dinner and not feel like a sad sack while your friends are ordering gooey desserts. Eat up!
2) Pumpkin Pie Ice Cream
Remember my Pumpkin Pie in a Bowl Soup? Well here's a neat trick. Make the recipe (omitting any salt) and freeze it overnight. When you're ready to eat, let it soften (you can throw it in a food processor or Vitamix to give it a soft-serve texture if it's gotten a little icy).
This is quite possibly my favorite dessert, and it's absolutely guiltless—frozen or not. It's healthy, delicious, highly evocative of comforting sweets, and very low in sugar.
3) Ricki's Carob-Coconut Sweeties
I'll let the master chef say a few words about these:
"One of my favorite junky sweet treats when I was in my teens and 20s was Nielsen "Macaroons."  They were essentially milk chocolate (or should I say, "milk chocolate flavored") rosettes–sort of like Hershey kisses with toasted coconut in them–and I adored them.  I'd stop at the Bulk Barn on my way home from class and purchase a small bag, then munch away during the bus ride home. . .

Although I haven't eaten the Nielsen variety in about a decade, these little confections reminded me of them–only much, much healthier.  To me, these sweets taste like actual milk chocolate (not chocolate "candy"), mixed with coconut."

Ingredients:
1 heaping Tbsp (20 ml) smooth natural almond butter
1 heaping Tbsp (20 ml) tahini (sesame paste)
2 level tsp (10 ml) carob powder (sift if lumpy)
pinch salt
2 tsp (10 ml) finely ground chia seeds (use 1 Tbsp/15 ml for the agave/maple syrup option, as they will be too soft otherwise)
8-10 drops stevia liquid (this is probably 3 packs of the solid stuff)
1 tsp (5 ml) pure vanilla extract (optional)
heaping 1/4 cup (65-70 ml) unsweetened, dried shredded coconut
Tbsp (15 ml) hemp seeds (or hemp nuts), optional
In a food processor (I use my Mini-Prep; any small processor is recommended for this recipe), blend the almond butter, tahini, carob powder, salt and chia until you have  a smooth paste.  Add the stevia and vanilla, if using, and whir again to blend.  Add the coconut and hemp seeds and pulse until evenly distributed.  Scoop the mixture by teaspoonfuls and roll into balls.  Refrigerate (or freeze) 20 minutes or more to allow the mixture to firm up a bit.  (If you can't wait to dig in, they're still delicious right away, but they will be fairly soft).   Makes 4-5 balls.
4) Coconut Shake
Young coconuts are delicious, hydrating, full of healthy fats, and they're also a naturally sweet–yet not too sweet–food. As part of my ongoing attempt to re-create the culinary genius on display at Bonobos, I've created my own low-sugar version of their infamous coconut chai.
Ingredients:
Meat and juice of 1 thai coconut
Healthy sprinkle cinnamon
Dash of nutmeg
Healthy sprinkle garam masala
1 packet Stevia
Throw it all in a blender and enjoy!
5) Cinnamon Baked Sweet Potatoes
Yes, you heard me. One of the best low-sugar desserts is also one of the easiest. Cut a sweet potato into rounds, throw it in the oven at 400, bake until fork tender, and sprinkle with a dash of cinnamon and Stevia about ten minutes before you remove the rounds. Serve them along with your dinner, or enjoy them right after the meal. Yum!
Or…
6) Sweet Potato Mash
This is an equally tasty, slightly more decadent way to eat sweet potatoes for dessert. It would also work nicely with butternut or acorn squash.
Ingredients:
1 sweet potato, skinned
Cinnamon and nutmeg
Stevia
Almond milk, organic butter, or water to thin
Steam the sweet potato. Throw it in a food processor with cinnamon and Stevia to taste. Begin pulsing until potato is broken down, then thin out the mixture with a touch of water, almond milk, or organic butter until it reaches a creamy consistency. Enjoy warm, with cinnamon sprinkled on top.
7) Avo-Berry Pudding
This was inspired by my beloved chocomole, which is heavy on the dates (a candida no-no). It's not quite as decadent, I admit, but it's really pretty great, and it's also full of fiber, healthy fat, and antioxidants. So eat up!
Ingredients:
1 ripe avocado
1 packet Stevia
½ cup blueberries
Throw it all in a food processor and pulse. Scrape the processor down and begin mixing again, drizzling in water until a smooth and pudding-like consistency is reached. Enjoy!
8 )Ani Phyo's Almond Shake

I love raw smoothies as much as the next girl, but they're often loaded with sugar. This is my take on Ani Phyo's incredibly tasty Chocolate Mylk Shake, made with Stevia in place of dates. Enjoy it!
Ingredients:
1 cup almonds
1/2 cup ice
1/2 vanilla bean, or 1/2 tablespoon vanilla extract, alcohol free
1 packet stevia
2 tablespoons cacao powder
2 tablespoons coconut oil, liquid
2 cups water (or as much as you like)
Place all ingredients in your high speed blender, and blend until smooth.
I hope these delectable treats show you that staying away from sugar—for whatever reason you're trying to stay away—doesn't mean a life devoid of sweetness and pleasure. I also hope you'll all keep in mind that craving sweet foods every now and then is natural, not a sin! If you're trying to limit late night munching or dessert overdrive, I recommend the following tips:
1) Examine your craving. If you're eager to gobble up dessert simply because you're in the habit, take a deep breath. Ask yourself if you need something sweet, or if you're just on autopilot. It's also worth asking if you're craving sweets because you feel entitled for some reason ("hey, I ate a healthy dinner! I'm allowed!") or because you're stressed.
If the answer is yes, then wait a few minutes. Drink some water. If you still want sweets, then have one of the recipes above, or something similarly sensible. And don't feel bad! Clearly, you needed the dessert. And you ate something healthy, so you've got no reason to spend the rest of the night in remorse.
2) Sip ginger tea or water with a drop of peppermint oil. So often what we interpret as a "sweet craving" is really a desire for a different taste on our palates. So offer yourself that change of taste with teas or essential oils: they'll give you a new, palate-cleansing taste without unnecessary food.
3) Keep busy. If you're bored at night, you may be more drawn to sweets than you would otherwise. Read, write emails, stretch, or just walk around your apartment: these small activities will do wonders to replace the sugar urge.
4) Incorporate sweet foods into your dinner. This is a hugely helpful tip, and it's often overlooked. We frequently fetishize sugar because the foods we eat don't offer us anything sweet. So eat more carrots, root vegetables, sugar snap peas, and vegetable juices. They'll give you the sweet flavors you're craving without a lot of sugar—and with a host of vitamins and nutrients, too!
Most importantly: make peace with your cravings. If you beat yourself up about nighttime snacking, you'll turn the habit into a self-fulfilling prophecy: each night you'll try to resist, and each night you'll give into the siren's call. Instead, stay calm, and be assertive about the way you handle your cravings. If you've slowed down, taken a few breaths, and established that yes, you really do want something sweet, then go for it. Cravings often indicate that our bodies are crying out for something, and in this case, that something is a little sweetness. With the treats above, you don't have to choose between doing what's healthful for you, and giving your body what it asks for.
Have a great evening, everyone!
xo