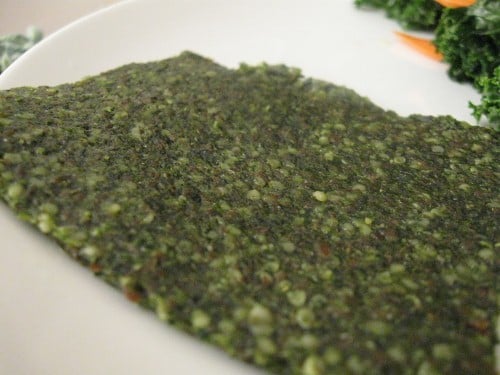 Hey all!
Happy belated St. Patrick's Day to you! I've never been one for this holiday — crosstown traffic in NYC and green Irish car bombs aren't really my thing — but I was inspired by certain blog posts yesterday to showcase some green cuisine for you all.
Remember the last time I posted a raw bread recipe? I mentioned then that I'm usually more likely to select Ezekiel bread, brown rice bread, or another variety of minimally processed, whole grain, cooked bread than take the time to dehydrate. The twins, however–whose culinary energy is a constant source of inspiration–recently wowed me with their raw flatbreads (available here for purchase). To attempt to replicate their creations on my own would be folly, for I have not the baker's touch. But I can at least try to make a homespun version of my own, and that's precisely what I did last weekend.
Since the wonderful folks at Nutiva were recently kind enough to share a sampling of raw hemp products with me–including oil, seeds, and protein powder–I decided to make a hemp bread. And since few things come out of my kitchen that aren't green, I decided to toss some spinach in. The result was a tasty, soft, and savory raw bread that's loaded with essential amino acids, protein, fiber, and healthy fat.
Lucky Hemp Bread (makes 6-8 slices)
Ingredients
3/4 + 1/3 cup hemp seeds
3/4 cup flax seed, ground in a coffee grinder or spice mill
1 tsp sea salt
1 tsp Spike (or other favorite mix of savory herbs and spices)
1 tbsp lemon juice
1 tbsp flax oil
1/4 chopped onion (optional)
1 cup spinach
First, mix the 3/4 hemp seeds and flax in a food processor with the sea salt and the Spike or herb mix. Add lemon juice, flax oil, onion if using, and spinach, and mix again, adding water as needed. You want the mixture to moist and dough-like, but not at all runny or overly sticky.
Remove mix from processor and stir in remaining 1/3 cup hemp seeds. When it's well combined, check the dough for taste, and add salt, spices, or water as needed.
Flatten to 1/4 inch on two paraflex sheets in your dehydrator. Dehydrate overnight (6-8 hours). Turn the bread over by putting another paraflex sheet over the bread, and then flipping the whole thing. Dehydrate for another 6-8 hours, or until bread is very dry and firm, but still pliable. Cut into slices (I used a pizza roller) and enjoy.
Serve as a sandwich bread, with salads, or as a raw snack. Here, I served it with some kale salad and steamed brussels sprouts: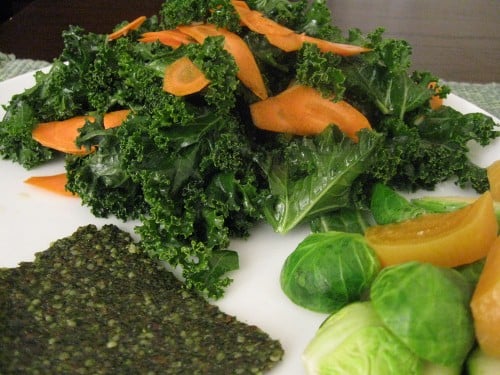 And topped it with some leftover pumpkin seed pate: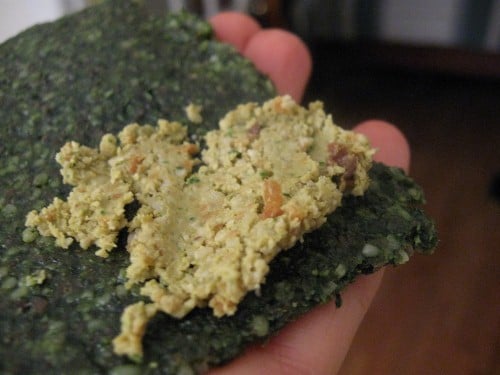 Tasty!
The more raw bread I make, it seems, the easier it gets. When it comes to bread, I'm still more likely to opt for a whole grain and baked version than a raw variety. But I don't mind having options, and raw breads lend a lot of variety and fun to my routine!
Hope you're all having a nice end to the work week. Before I go, a special announcement:
I'll be in Chicago for a short trip between April 18 and 20. As much as I wish I had a lot of time to hang out in the windy city, the schedule is going to be tight. Nevertheless, I can't let the whole trip pass without a blog meetup. So my girls Jenn and Val and I were thinking of a blog lunch on Sunday the 18th — something in the neighborhood of 1 or 1:30. If anyone would like to join, just shoot me an email ([email protected]) with the subject line Chicago. I'll keep you posted as details emerge!
xo