Ladies and gentleman, I'm in love. Beauty has a name, and its name is Lulu's Raw Chocolate.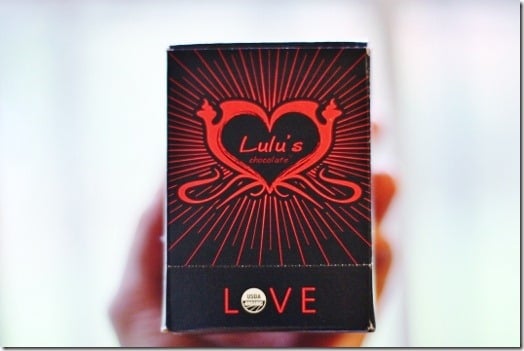 "Chocoholic" is a big word, but let's just say that chocolate and I have a special relationship. It is my favorite dessert by far: I'll take a great piece of high quality dark chocolate over a cookie or cake any day of the week, and twice on Sunday. It's often my favorite snack (a little sugar, a little caffeine, and a boost of antioxidants pair very nicely with mid-afternoon energy slumps). It is my favorite flavoring for smoothies and puddings (check out my chocomole and my chocolate & zucchini smoothie). And, when I'm tethered to my desk for a long night of studying, hot almond milk cocoa is my favorite thing to sip.
Since I started Choosing Raw, I've reviewed a few raw chocolate brands for the blog. First was Fine and Raw, which I really loved. Then was Gnosis, a raw chocolate company that is founded and run by my lovely friend Vanessa Barg. I've also mentioned a number of my favorite chocolate bars that aren't raw: Green & Black (read labels carefully, as not all are vegan), Endangered Species Chocolate, Rapunzel, and Salazon (which is especially yummy).
Now I'll tell you about my newest chocolate obsession, Lulu's Raw Chocolate. Organic, raw, and vegan, Lulu's chocolate is not only heavenly tasting, but also sourced through fair trade practices from Pacari farms in Ecuador, and packaged using compostable materials. 1% of the company's annual profits are donated to charity.
Today, my friends over atVegan Cuts are offering a specially priced pack of Lulu's chocolate bars, which is precisely the pack I got to sample (thanks, Jill!!). If you haven't checked out Vegan Cuts yet, you should: it's essentially a Groupon/LivingSocial-type site for vegan deals and steals, and it's fantastic! Today's deal is only one example of the kinds of fabulous discounts you can make away with when you shop on the site. And what a delicious example it is.
The sampler pack offers 6 flavors: Sedona Spice, Raw Love, Maca Love, Chocolate Maca Chunk, Aztec Crunch, and Smoked Sea Salt Almond. Of these, Sedona Spice and Smoked Sea Salt Almond were my favorites, along with Raw Love, which had hints of vanilla (yum). You know they were my favorite because they did not last long enough to be photographed. I did get a photo of the Aztec Crunch (which is covered in cacao nibs):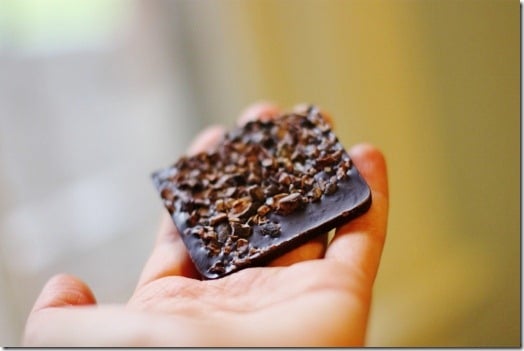 Rich, crunchy, and satisfying!!! And look how beautiful the inscribed backs of these bars are:
The only flavors I didn't really love were the maca ones. I have sort of a complicated relationship with maca—I've warmed up to it, but only in small doses and in certain recipes. These bars are a great value in that they offer you a LOT of maca along with a LOT of delicious cacao, but a LOT was ultimately too much maca for me. Even so, I crumbled some bits of the bar into granola and cereals and over smoothies, and that worked well. More importantly, I was so head-over-heels for the other Lulu's falvors that I didn't much care about the fact that a few of them were maca-heavy.
Note that all Lulu's bars feature coconut sugar, which is lower on the glycemic index than some other sweeteners. And all are 100% gluten free.
Would I purchase a pack of Lulu's chocolate on my own? I absolutely would. This is some of the best raw chocolate I've tried. Interestingly, it's also the raw chocolate that tastes most (to me) like regular chocolate. Which means it's a good "intro," if you will, into raw chocolate. With the holidays upon us, I can't recommend this brand highly enough for some vegan edible giving. Head on over to Vegan Cuts and check the deal out!
With that, it's back to work I go. Funnily, the link to my Gnosis post, above, made me nostalgic for my old desk lunches at the office; I ate at home today, but there was a "lemons out of lemonade" charm to the effort I used to put into my office meals.
Till tmw,
xo