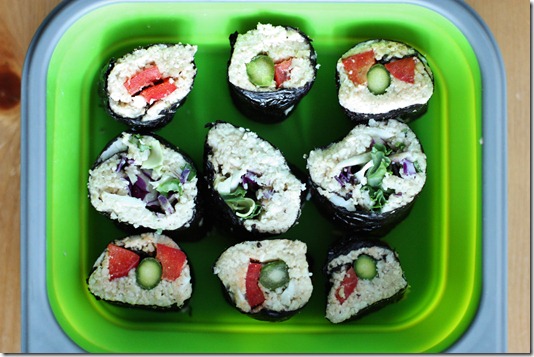 Last Thursday, I spent a few hours in the kitchen, testing recipes for my upcoming spring VegNews column, "Raw Done Right." My assignment? Raw sushi rolls made simple.
I'm a tremendous fan of raw sushi, as you guys probably know by now. A few of the recipes I've highlighted on my blog in the past include:
Raw Beet and Vegetable Stuffed Nori Rolls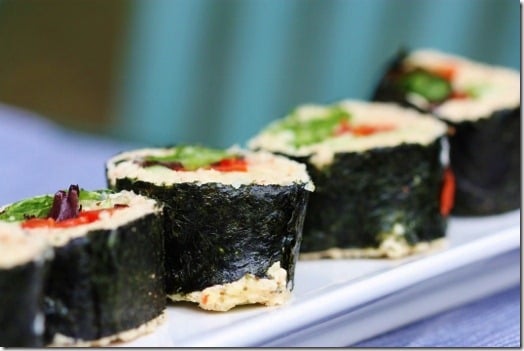 Sweet Potato and Beet Nori Rolls
Raw Nori Rolls with Cashew Ginger Filling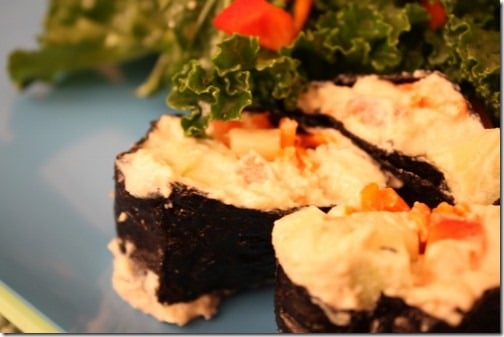 I can't tell you how I made my latest nori creation because it's top secret until the March issue of VegNews hits newsstands this spring! But I can tell you that this may be my favorite batch of raw sushi yet, that I used a new type of sushi "rice," and that it features seasonal vegetables. Yay!
In the meantime, I polished off leftover batches of test rice and some veggies I had at home to make these lovely, delicious raw rolls:
The got packed up with salad, cucumber slices, and a simple dressing of shelled hempseeds (1/2 cup), almond milk (1/2 cup), apple cider vinegar (1 tbsp), sea salt (1/4 tsp), 1 pitted date, and nutritional yeast (2 tbsp). All blended up in the Vita.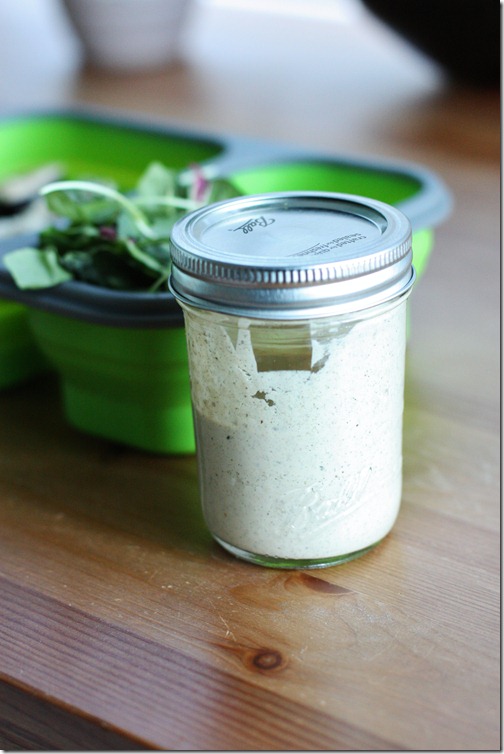 For a post-lunch snack, I packed one of these food bars from 22 Days. Full review coming soon!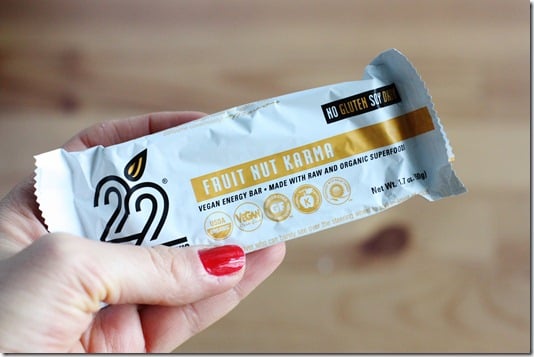 It was a creative and fun lunch!
Thanks to all readers who shared their thoughts on Lauren's touching post. It's so nice to see dialog unfold after these Green Recovery stories. Keep it coming!
xo