Hi all! Hope you had a great weekend.
Ages ago—seriously, ages, the lovely Mizpah Matus sent me her book, The Raw Food Solution, to review. I love getting books for review, but the problem is that it usually takes me ages to make enough of the recipes necessary in order to review them! So Mizpah, forgive me for the delay. Now that I've tried some of the stellar (and simple!) recipes in this book, I'm delighted to share it with the rest of you.
The Raw Food Solution is actually much more of a lifestyle guide than it is a recipe book. Mizpah has a wonderful, inclusive, and intelligent approach to raw foodism and its potential excesses; she encourages a gradual approach and a lenient attitude toward eating cooked food. Earlier this year, I interviewed Mizpah for an article about the evolution of raw foodism that I was writing for VegNews. I loved her quote, and I'm sharing it with you now:
I see so many people new to this lifestyle giving up or feeling like they are a failure because they can't be so extreme. So then they go back to SAD instead of adopting a more balanced way or doing a gradual transition, which is so unfortunate….I find that being more relaxed, especially when traveling, makes life so much easier and enjoyable. I'm also a former eating disorder sufferer so I definitely have come to appreciate the value of reducing the stress associated with eating and food choices.
I couldn't possibly say it better!
Mizpah and I do have different perspectives on a number of health questions. All of the recipes in the book look delicious, but they're not quite as calorie dense as the meals I need to stay fueled; yes, there are plenty of nut pates and nut-based entrees that would keep me nice and full, but on the whole, the salads and soups are a bit lower in protein, and sometimes in fat, than is my personal norm. I often paired some of the salads or soups with half a cup of legumes or quinoa for a protein punch. Entrees like the pad thai noodles or Indian Korma were perfectly filling on their own!
Mizpah also takes a cautionary approach to grains, and suggests that gluten is, ipso facto, harmful, whereas I'm a big fan of whole grains, and don't believe that gluten from high quality, non-GMO sources need be eliminated unless an intolerance, allergy, or sensitivity is present (or if you find that gluten doesn't work for your constitution). Finally, Mizpah advocates food combining, a practice which I don't recommend unless you swear by it (as per my FAQ's, I used to believe in food combining, until I deepened my health education).
But no matter! The raw world abounds with differences of perspective on many health questions. As consumers of information, we form opinions as best we can based on what we learn. I think it's healthy to expose oneself to much of the data out there, which is why I like reading books or resources that aren't totally in keeping with my own point of view. And I appreciate that Mizpah is utterly unbiased in the way she presents facts: even when she talks about gluten, she simply invites the reader to try avoiding it, rather than wielding the kind of anti-wheat scare tactics and fear mongering that I've seen some health practitioners use. And no raw fanatic is she: Mizpah addresses fairly the objections made against raw food in TCM and Ayurveda, while also making clear that she ultimately feels that raw diets are healthful. She positions herself as a gentle guide, rather than a guru.
But on to the exciting stuff: the food! I've made a ton of recipes from the book now, including Mizpah's pad thai, her Indian Korma, her BLT salad (dulse, tomato, romaine, macadamia mayo), and her buddha bowl. But I think Mizpah's recipes really shine when they includes fresh fruit (which she lauds as nature's perfect food). Her smoothies and fruit puddings are some of the best I've ever tried, and I've been hooked on them! Just this morning, I was sipping on her green monkey smoothie, which is a combination of Brazil nuts, cacao, protein powder, banana, flax, and greens. Very similar to the kinds of smoothies I often make at home!
Delicious!
But my truly favorite recipe from the book is Mizpah's incredible Luscious Lime Pudding. It is one of the best raw puddings I've ever made, and it actually got me to love mango (not my favorite fruit most of the time). The pudding is rich in healthy fats from coconut, chia, and avocado; I serve it with lots of fresh berries and a sprinkle dried buckwheat! I'm so in love with it that I asked Mizpah if I could reprint the recipe here. She said yes!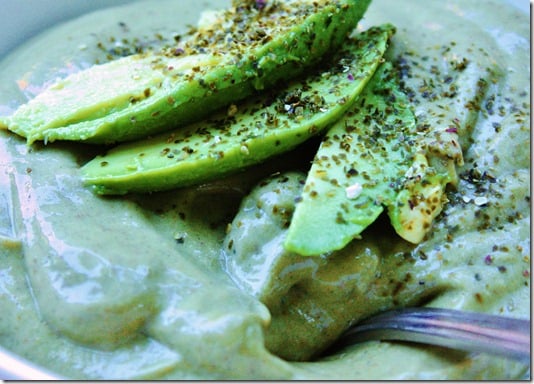 Luscious Lime Pudding, recipe © Mizpah Matus
Serves 2-3
2 mangoes or 2-3 bananas
1 small avocado
1/3 cup chia seed gel
1 tsp lime zest
Juice of 1 lime
1 tbsp raw agave (or stevia)
Small handful mint leaves (optional)
1-2 tbsp coconut butter
1/2 tsp spirulina or chlorella
2 scoops vegan vanilla protein powder
Water as needed
Combine everything except avocado and protein and blend until smooth. Add avocado and protein and keep blending till very smooth, adding water if desired. If you want the pudding to be thicker, add more coconut butter and keep cold!
As you can see, I enjoyed it with some avocado garnish and dulse flakes!
Thank you, Mizpah, for the recipe and the wonderful book!!! Readers, if you're interested in an informative raw foods primer that features blissfully simple recipes, check out The Raw Food Solution!!
I'm just wrapping up a weekend that was a nice combination of work and play. Highlights include SweetGreen lunch with the wonderful local herbalist and healer Melanie, who has been a blog friend for some time now, running into Valerie at said lunch, seeing Prometheus, which has a predictable denouement, but is stunning nonetheless, and my first class at Down Dog Yoga since before my spring break. Plus, a whole lot of physics. ΣF=MA. Etc.
I'll be back here tomorrow with my favorite new summertime slaw. See you then!
xo