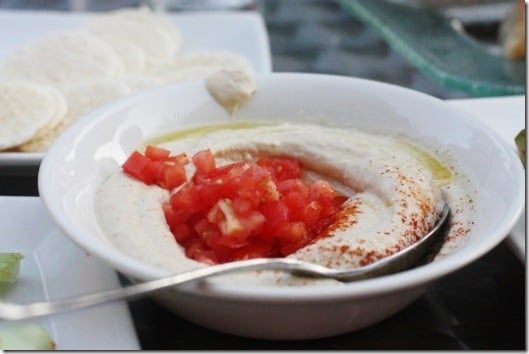 Hey all!
Thanks for such nice remarks about the camera debacle on Saturday. I'm glad that you enjoyed what leftover photos I did get, and that you'll give the recipes a try. I'm proud of them!
Today was my first day as a student at a brand new place: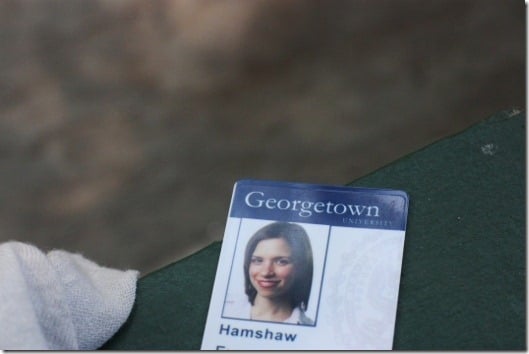 And tomorrow is the start of my twenty-ninth year, so it feels like the right time for new beginnings.
The day itself began with a smoothie of banana, frozen dark cherries, cinnamon, and dark cherry juice that was leftover from the big party this weekend. A little sweet, but the cherry + cinnamon combo was great, and I think I'll put the finishing touches on this one and share the recipe soon!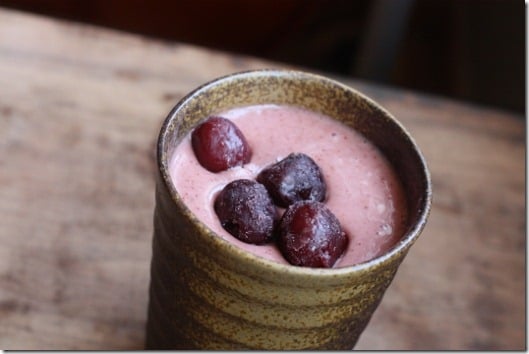 Soon it was off to campus for me. I admit, I was a little nervous: Columbia is really the only experience I have of university life, and the more I see of other schools, the more I realize how unrepresentative it was. Don't get me wrong: I loved Columbia, and I loved the student body, but I loved the school precisely because it was so very unlike your typical collegiate environment. It was quirky and urbane; the student body was full of eccentrics (along with some non-eccentrics, of course, but I think the most idiosyncratic among us flocked to the English department). Few of us knew anything about Greek life, or even about campus socializing. And sports? Forget it.
Georgetown looks a whole lot more like the university campuses of movies: it's gothic and spread out over rolling hills. A large track field is nestled into one corner, while little quads dot the rest of campus. There are baseball caps and lots of team t-shirts and lots of support for the Hoyas, a team name that is derived from the Latin chant of "Hoya Saxa!" ("what rocks!!").
Um, ok. Sure.
The Latin phrase that really speaks to me, if I'm to be honest, isn't that one, but rather "cura personalis," which means "care for the entire person." This is the motto of Georgetown University Teaching Hospital, an institution I'll be tied to closely, physically and ideologically, during my time as a post-bacc here. I don't think any phrase could better sum up the approach I hope I'll take to health care one day. Many of us feel that one of the shortcomings of contemporary allopathic medicine is its tendency to be overly specialized; to treat particular symptoms, rather than a living, breathing individual. I love that the GUH slogan prioritizes the whole person, rather than the illness as an abstract.
I also love the architecture of the place. Check it out!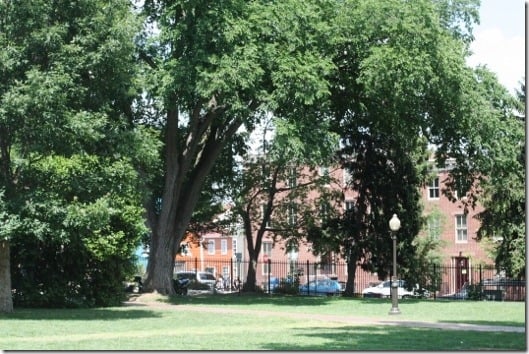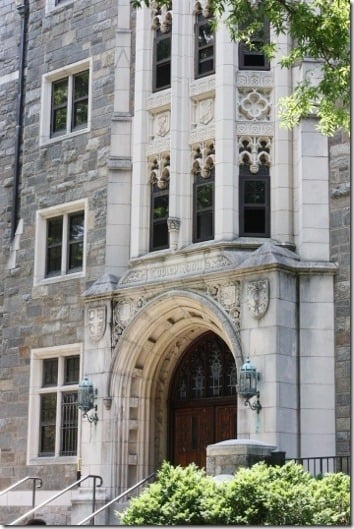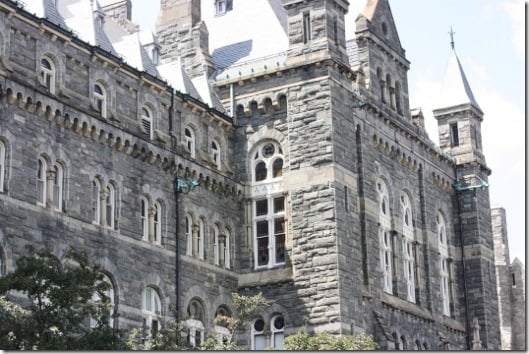 I'm excited to be here.
After a few hours of chem lab, in which we were told that skirts, dresses, sandals, and shorts would be off limit all summer (I can feel the sweat now), I made my way to the library to check out some books. My friend Laura reminded me, when I became a student again, that the nicest thing about student life is all of the free resources. She was right: I cannot wait to start reading for free again (ah, publishing industry perks, how I miss you!).
I returned back to my hobbit house after class for some unpacking, and soon enough it was time for a pre-bday dinner with M. We'd settled on Middle Eastern fare, because no special day is special for me without copious amounts of hummus:
Lucky for me, Lebanese Taverna has a "make your own hummus" option, where you choose a flavor, topping, and dippers. I went with classic hummus, tomatoes on top, and veggie sticks and rice crackers as my dippers. I also got some very delicious grape leaves, stuffed with rice and pistachios: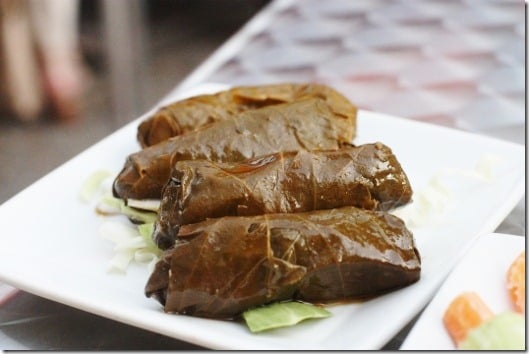 And a fattoush salad, full of cucumbers, tomato, onions (icks), pita, and red wine vinaigrette: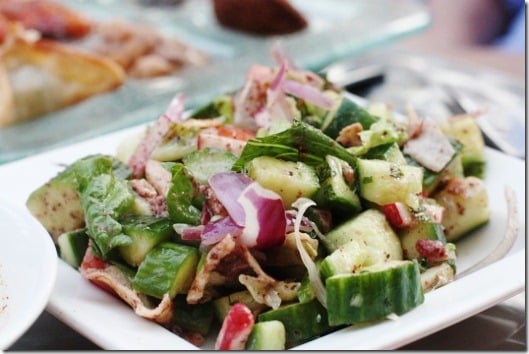 Loved it.
In all, a good start to a new semester—and, very nearly, to a new year. Things will be even better in less than a day, when I get to see Chloe right here in the district. Till then, have a good night!
xo