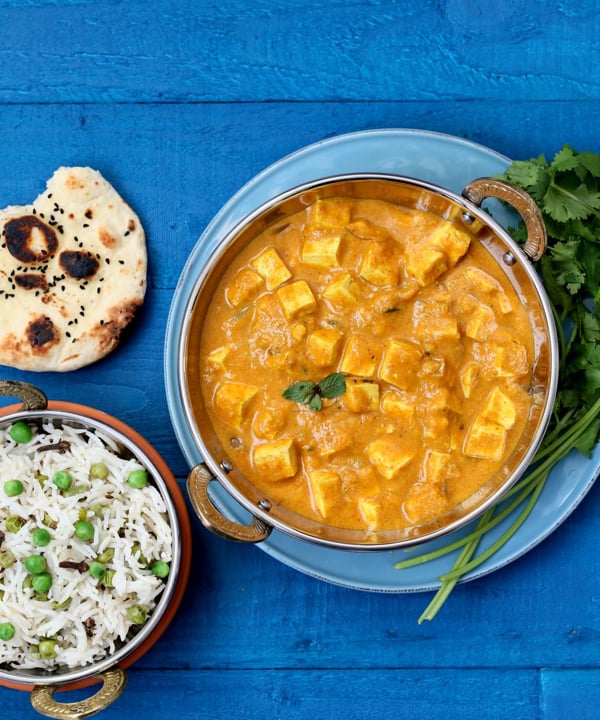 If you spend a bit of time perusing vegan blogs, then you have no doubt come across Vegan Richa's fabulous website. It's one of the most colorful, lush, and inspiring vegan recipe blogs on the internet. Richa Hingle is a former software developer who underwent a craniotomy to remove a meningioma in 2006. Since then, she has chronicled her journey into a plant-based diet on Vegan Richa and chronicled her healing process and other musings on her personal blog, Hypnagogic.
What I love about Richa's story is that everything is so powerfully integrated. As she was healing from her surgery, she started fostering dogs from a death row rescue organization and from the Seattle Humane Society. Though balance issues prevented her from handling big dogs, she found the process of fostering to be healing. She also took solace in baking, which I think will make sense to any of the bakers who are reading. There is certainly something soothing in the act of measuring, mixing, and patiently waiting for things to emerge from an oven, transformed.
In the midst of all this, in spite of a bout of panic disorder and agoraphobia, Richa began giving powerful, deep consideration to her diet. You can read her vegan story here, but I'd like to share a small portion of it, because it's so moving:
"I was blogging to keep me occupied and as I could work in the kitchen longer and on the machine longer, I picked up bread baking and then slowly kept branching out into other experiments. Because of the health issues, balance, vertigo, ups and downs, anxiety and such, my short term memory around the downs usually isnt great. So there are gaps where I don't remember things clearly.
As I got more involved in rescue groups on Facebook, found out more and more about animal testing etc, I also happened upon the term Vegan, vegan food blogs, and slowly all the connections started happening in my head. We went through a few months of eliminating things the house to non animal tested products, no meat, switching to pasture fed local cow milk, cage free eggs and the usual transition phase.
I dont really remember the exact day or month or exactly how I ended up on vegan Facebook groups and reading more and more vegan food blogs. Things just started falling into place. Adopting Chewie helped us make a deeper connection with other species and fostering brought us closer to the reality of how animals are treated for commercial use. One of our foster pups, Tuggie, was from a Puppy mill (dog factory farm). He was skin and bones, super scared of everything and never responded to anything, and he was the better of the lot of 30 odd pups rescued. It took him 3 weeks to show any emotion, to wag a tail, to show that he was happy about getting food or going for a walk. His condition, both physical and mental, also helped us understand the torture that is needed to change an animal's personality so much. It was heartbreaking.
I had a health setback in 2010, but once I was back blogging food and reading more about the dairy and egg industry and the supposed "humane" practices, I just knew, that I couldnt live with all the cruelty anymore. And then began our diet transition."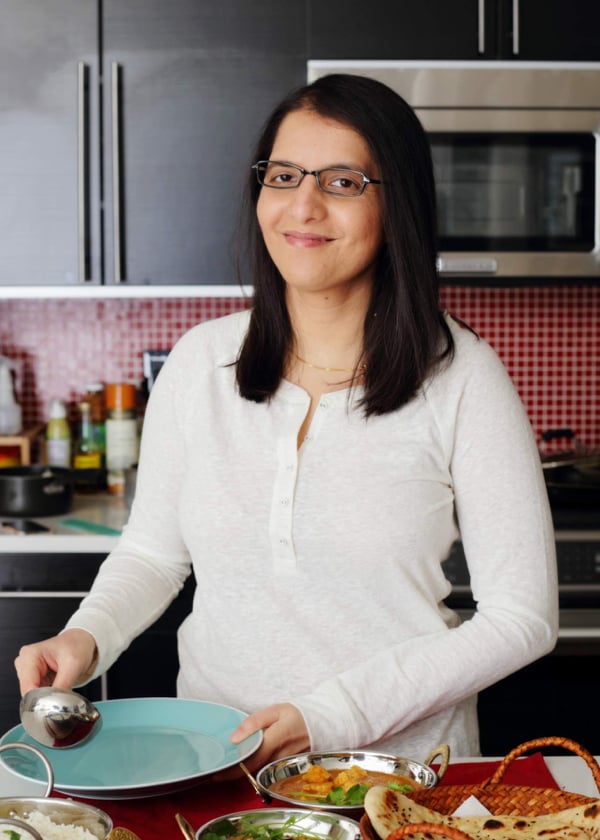 A longtime reader of mine once commented that people who have had health struggles often seem to be more receptive to veganism. The assumption, I think, is that they take interest in veganism for the purposes of physical healing, but she noted–and I agree–that it may be much deeper than that. I think it's possible that physical suffering helps us to make the connection, to empathize more deeply with animals. I know that each time I've dealt with health issues in my life, be they mental or physical, I've emerged with a stronger sense of humility and a greater sense of kinship with both human and non-human animals. The famous saying of "be kind, for everyone you meet is fighting a hard battle," seems to resonate a lot more strongly. This is, I think, part of what's going on in Green Recovery stories: the pain of an ED has lit up new areas of empathy and compassion, which in turn open the doors to veganism.
In any case, I think that Richa's story is a beautiful illustration of how a challenging or painful personal experience can give new meaning and new depth to the idea of ahimsa. That Richa is such a prolific blogger, recipe developer, and photographer in spite of the fact that her right eye was affected by the surgery and tires easily is a huge testament to her energy and work ethic (she also says that food photography "is working like Tai-chi for my eyes," even if reading long pages is still painful). Whenever I look at Richa's blog, I'm well aware of how much craftsmanship and work has gone into her recipes and images.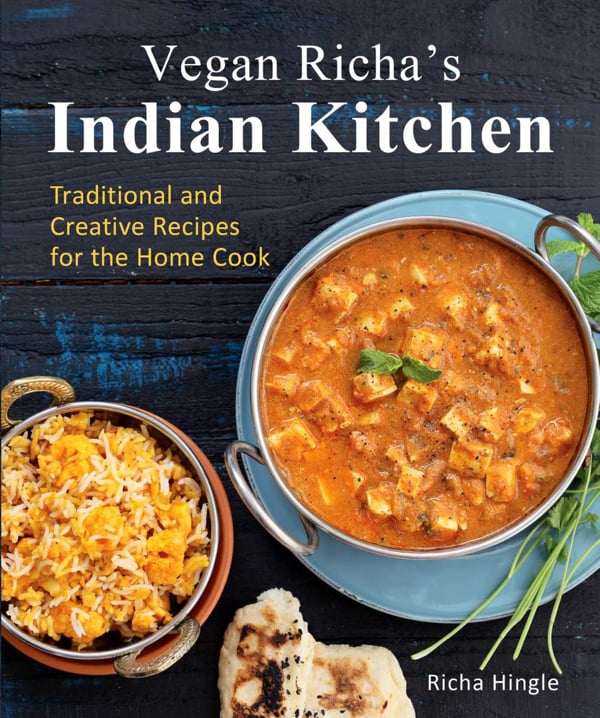 Such craftsmanship is on prominent display in Richa's marvelous new book, Vegan Richa's Indian Kitchen. The book is a testament to Richa's creativity as well as her cultural heritage. It features over 125 flavorful, colorful Indian dishes, prepared without any dairy, yogurt, poultry, fish, or other animal products. Here is a small sampling of some of Richa's vibrant creations: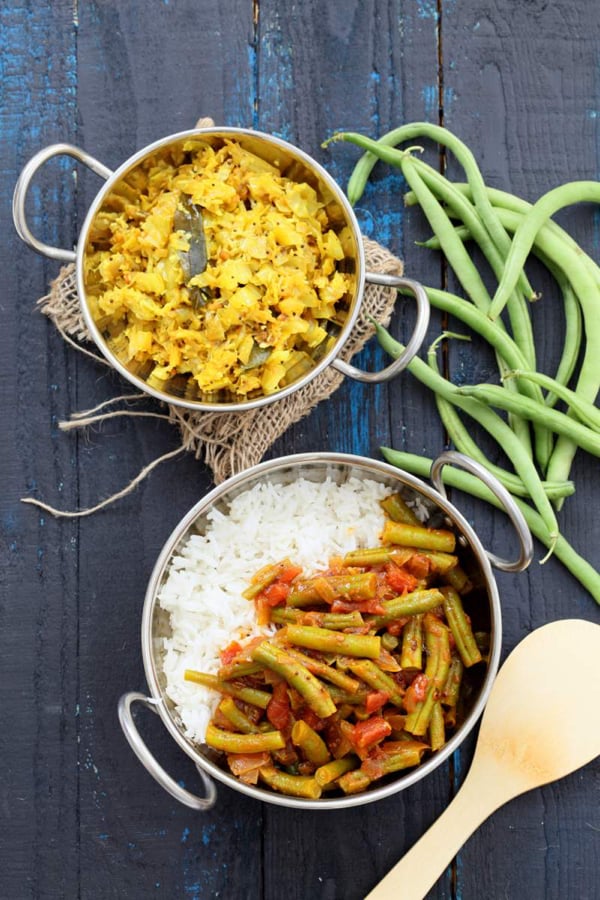 Easy curried green beans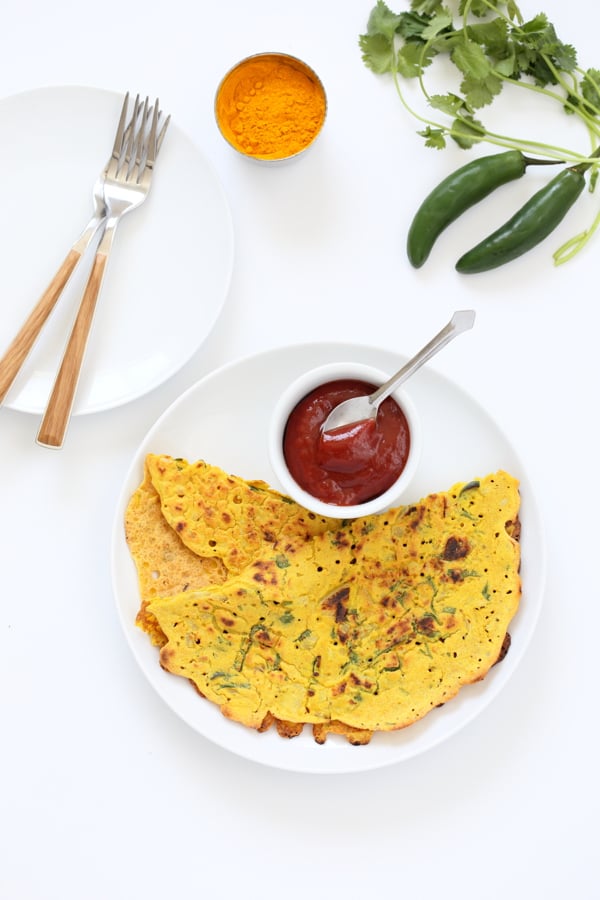 Breakfast chickpea flour pancakes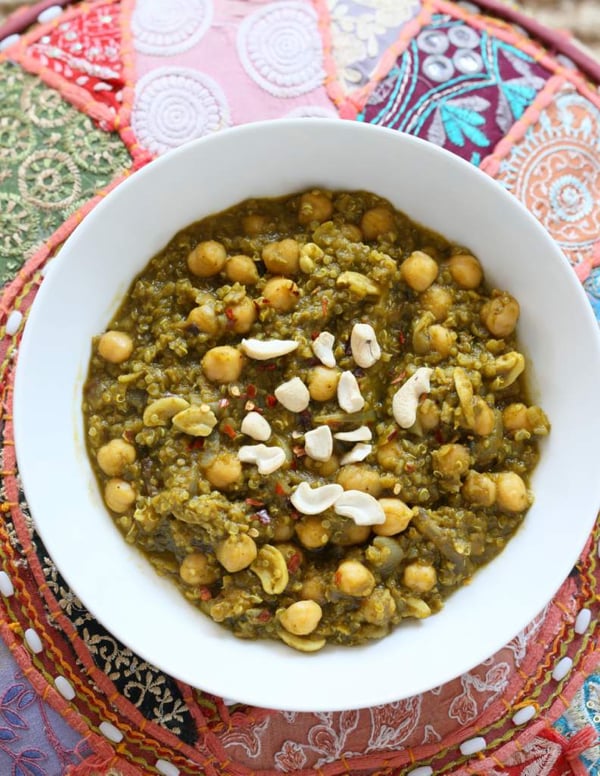 Chickpea spinach stew with lentils and quinoa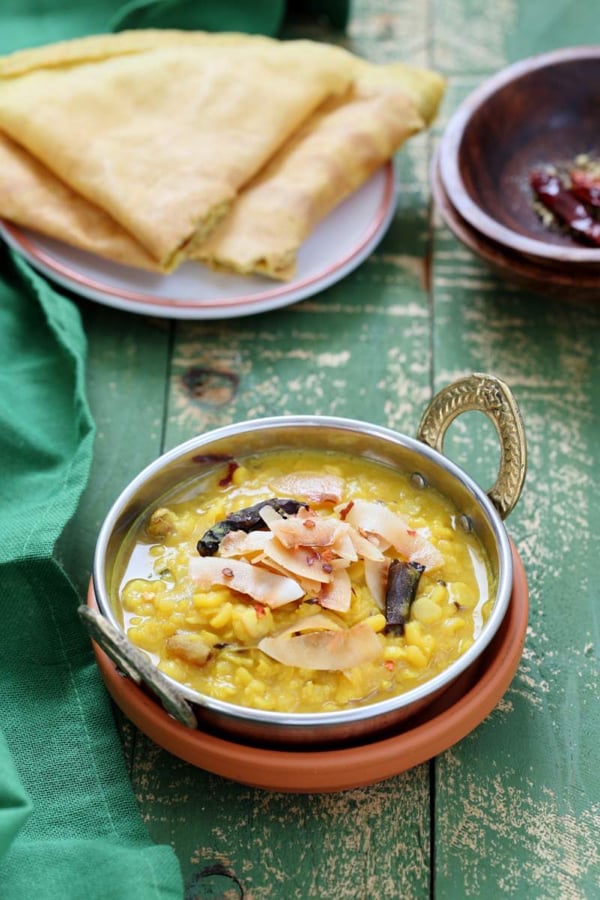 Split pea soup with spices and coconut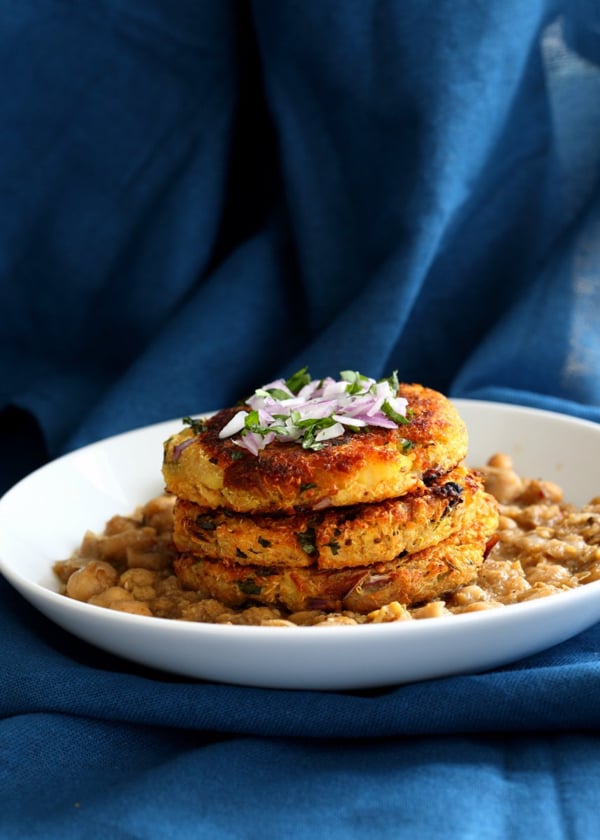 Potato chickpea patties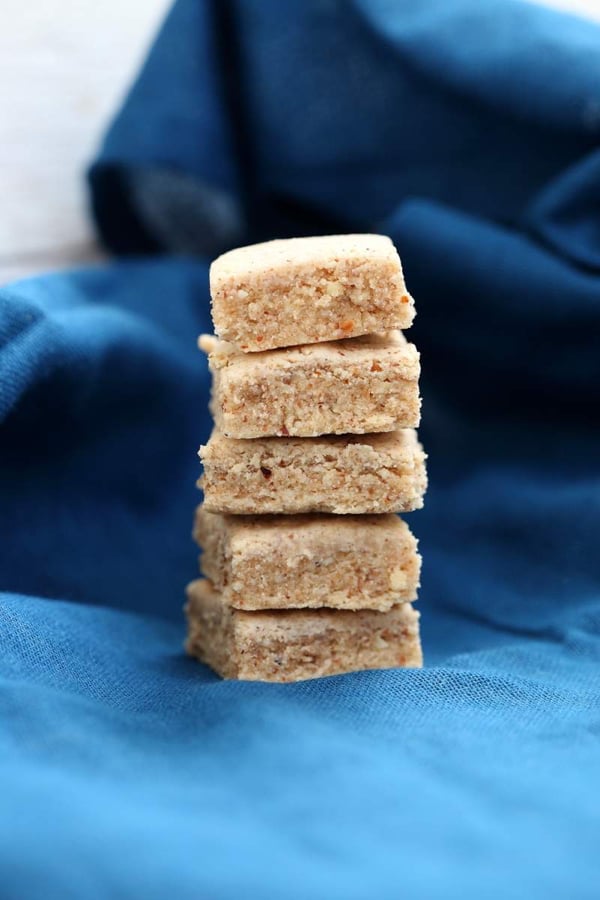 Fudgy cardamom Squares
Other recipes include spicy baked cauliflower florets, roasted cauliflower and radish with mustard, nigella, and fennel seeds, masala lentils, vegan paneer, mushroom and peas in spicy coconut sauce, and many more.
I'm so excited to have this book in my hands, because I've really been trying to branch out and explore new cuisines as a home cook. My forays into Indian food have been slow, mostly because I'm sensitive to heat/spice, and also because I've really only grown accustomed to using onions and garlic regularly in my cooking in the last few years (my mother rarely used them when I was growing up, and I had a slight aversion to them until I trained myself to get over it). Bold, richly spiced food is a recently acquired taste for me. In a lot of ways, I consider this to be a blessing; it means that I get to explore a ton of new recipes and cooking techniques for the first time. I look forward to letting Richa be my guide as I move beyond chana masala and red lentil daal!
This book is also a powerful, lovely reminder that so many of the world's cherished cuisines lend themselves easily to a plant-based paradigm. One of the arguments I've heard against veganism is that food is culture/tradition, and that veganism is an affront to that idea. I think that food is culture/tradition, but I think that a creative culinary spirit can often find ways to translate cherished recipes without sacrificing authenticity. More importantly, I think it's important to remember that many cultures around the world enjoy diets that are mostly plant/starch based already. Within these culinary traditions, veganism is not the radical departure that it seems to be for a lot of Western eaters.
I'd love to share a recipe from Vegan Richa's Indian Kitchen that seems to embody Richa's vibrant and expressive approach to cooking. This tofu mango curry is a perfect choice, and it's also perfectly suited to summer. Richa says of the recipe,
"Mangoes are abundant in India, where they are always juicy and sweet. In the United States, mangoes can be a bit tart. For desserts or curries like this one, I prefer mango pulp or puree in canned or bottled form. You can use a ripe mango, if you prefer, but be sure to puree it well before using. This is a simple recipe but the resulting dish is very alluring with its sweet and spicy sauce. It can easily be made soy-free [with the use of legumes or hemp tofu].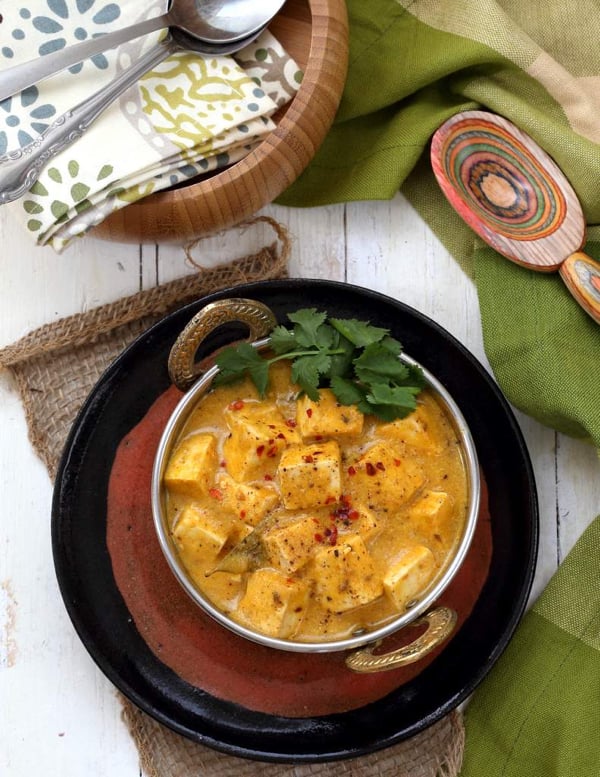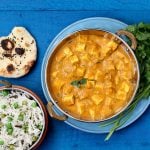 Mango Curry Tofu from Vegan Richa's Indian Kitchen (and a giveaway!)
Author -
*Curry*:
3/4

cup

chopped red onion

1

1-inch knob of ginger

3

cloves

garlic

2

tablespoons

water

1

teaspoon

safflower or other neutral oil

1/4

teaspoon

cumin seeds

2

bay leaves

4

cloves

garlic

1 1/4

cups

canned or culinary coconut milk

3/4

cup

ripe mango pulp or puree

unsweetened or lightly sweetened canned

1/2

teaspoon

salt

2

teaspoons

apple cider vinegar

Generous dash of black pepper

1/4

teaspoon

Garam Masala

for garnish

2

tablespoons

chopped cilantro

for garnish
Cut the tofu slab into 1/2-inch slices. Place them on a clean kitchen towel. Cover with another kitchen towel. Place a 10-pound (approximate) weight on top and let sit for 10 minutes. Alternatively, you can use pressed tofu. Cut the tofu slices into 1/2-inch cubes.

Heat the oil in a large skillet over medium heat. When the oil is hot, tilt the skillet so the oil coats it evenly. Add the tofu and cook until lightly brown on some sides, stirring occasionally, 4 minutes. Add the cayenne, cinnamon, garam masala, and salt and mix well to coat. Cook for another 2 minutes and set aside.

In a blender, combine the onion, ginger, and garlic and blend into a smooth puree with 2 tablespoons of water. Heat the oil in a large skillet over medium heat. When the oil is hot, add the cumin seeds, bay leaves, and cloves. Cook for 1 minute. Add the pureed onion and cook until the onion mixture is dry and does not smell raw. Stir occasionally to avoid sticking, 13 to 15 minutes. Add the coconut milk, mango pulp, salt, and vinegar and mix well. Add the tofu and all the spices from the tofu skillet to the sauce skillet. Add a dash of black pepper.

Mix, cover and cook until the sauce comes to a boil, 5 minutes. Reduce the heat to low and cook uncovered until the sauce thickens and desired consistency is achieved, about 15 minutes. Taste and adjust the salt and tang. Add 1/2 teaspoon or more sugar if the mango pulp was not sweet. Garnish with cilantro and a dash of garam masala and serve hot.
Mangoes are yet another food that I've warmed up to slowly, but Janet pointed out some time ago–and Richa seems to echo the sentiment–that my experience with them had probably been colored by the fact that mangoes sold in the US are often firmer and less sweet than they are in other countries. This recipe seems like a perfect vehicle for them. And, since I love tofu and curry already, I can't wait to try it. I hope you'll try it, too.
I'd love to give one of you a chance to win your own copy of Vegan Richa's Indian Kitchen. The folks at Vegan Heritage Press have offered a copy of the book to one lucky CR reader. You can enter below to win.
The contest is limited to US and Canadian residents. Good luck, and the winner will be announced in two weeks!
With that, it's time to prep for some nutrition clients. I wish you all a great weekend, and I'll be back on Sunday with weekend reading.
xo
Recipe from Vegan Richa's Indian Kitchen Copyright © 2015 by Richa Hingle. Used by permission Vegan Heritage Press, LLC.