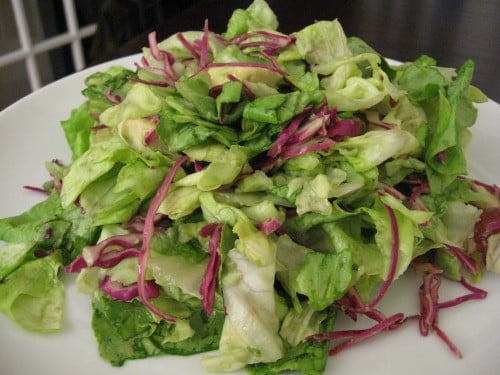 Hi all!
Glad that the kelp noodles got such a good response! And thank you for your kind congratulatory wishes to Chloe 🙂
You've all had a chance to get acquainted with some of my favorite salads. There's the fennel, cherry tomato, and avocado salad — a summertime classic. There's my imitation of Pure Food and Wine's magnificent S&M salad, which is always a salty, savory treat. There's the butter lettuce, cherry tomato, and corn salad, dressed with a rich "buttermilk" dressing. And who could forget my ultimate favorite: massaged kale salad?
Tonight, I present a favorite salad that was inspired by my very dear friend Mary.
It's not surprising to me that this is Mary's favorite salad creation. It's sweet, bright, and nourishing — in short, it's a whole lot like Mary herself! It's also summery and fresh, which feels apt, given that Mary is a beach lover like me. The base of this salad is Mary's favorite green, butter lettuce. To that, she adds red cabbage, grapes, and our favorite food, avocado. The dressing is a simple lemon and stevia mix: the avocado in the salad provides enough fat to make oil unnecessary. To my own rendition of the salad, I added some celery, which complimented the red grapes nicely.
This salad is easy to prepare, easy to digest, and absolutely delicious. Thank you, dear Mary, for the inspiration!!
Mary's Salad
(serves 1 person with a big appetite — and Mary and I always have big appetites!)

Ingredients:
1 small head butter lettuce
3/4 cup thinly sliced red cabbage
2 stalks thinly sliced celery
1/2 cup sliced red grapes
1/2 – 1 whole avocado (depending on size)
2 tablespoons lemon juice
A few drops liquid stevia, or agave to taste
Salt
Directions:
Mix all of the vegetables and the grapes together in a large bowl. You may want to do this with your hands, so that the avocado gets smooshed around and coats all of the lettuce leaves. Drizzle stevia or agave on the salad along with lemon juice. Mix it all up, adjust lemon and sweetness to suit your palate, and season with salt. Voila!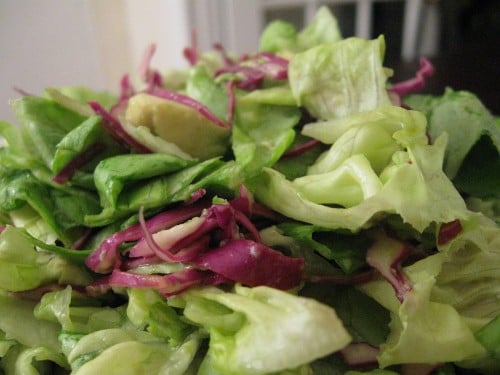 There's nothing quite like inspiration from a good friend.
I hope you've all had a good four-day week! I'll be back this weekend with a a recipe and a Question of the Week!
xo