Two years ago, I ate at Horizons restaurant in Philadelphia, and blogged about my meal. It was exceptional, I said, and I looked forward to returning. When I moved to DC, it occurred to me that I would love to take a day trip to Philly for a second meal there. It was only then that I got the news that Horizons had closed, but that the owners—Kate Jacoby and Richard Landau—had opened a new restaurant, Vedge, on Locust Street. The restaurant was so called not only because it's vegan, but also because they focus of the menu was primarily on vegetables, rather than on faux meats or imitations of traditional omni dishes.
I loved this idea. Though I do think that faux meats have an important place in the transition to veganism, and that they can be helpful in sticking with the lifestyle over time and sharing it with others, I also think that they are often far less wholesome, innovative, and impressive than exceptionally prepared vegetables, grains, and legumes. And while I know many longtime vegans who are devotees of faux meats, most of my omnivore friends actually prefer interesting vegetable dishes to imitation meat dishes when they flirt with vegan dining.
And so it was with high hopes that I waited for Vedge to open. A month or so ago, when JL blogged about her meal there, I knew I could wait no longer. I resolved to visit on my first non-exam weekend, and two days ago, I made good on that goal! I am so glad that I did: Vedge is incredible, and I can honestly say that my meal there was one of the more memorable I've ever had.
I had an added reason to visit Philly: my friend Sam lives there, and I've been eager to catch up with him since this crazy semester began. Sam, an omnivore, was totally open to vegan dining (I assured him that we could procure a late snack if he wasn't full from dinner, though I was also totally confident that this would not be necessary).
(Image source)
I'm not sure what he expected, but as soon as we walked into Vedge and were greeted by the elegant, warmly lit townhouse space, Sam noted that the restaurant was far more "sexy" than he expected from a vegan establishment. Though I assured him that vegans are the living, breathing embodiment of sex appeal, I also knew exactly what he meant: a lot of vegan restaurants feel casual, feature tiny tables in a tiny space, serve no alcohol, and smell a lot like wheatgrass. I personally love those places, but when it comes to showing my friends that vegan fine dining is just as "fine" as omni fine dining, I love restaurants like Vedge, Candle 79, or Pure Food and Wine, which are sleek, elegant, and upscale.
Vedge is sexy alright. The restaurant is laid out over several rooms in a gorgeously restored historic home (for some cool coverage of the restaurant's construction, click here). Guests enter into the bar area, which is bright and energetic:
(Image courtesy of the Vedge website)
There is a main dining room, a "vegetable bar" with high seating, a cocktail lounge, and a cozy "cove" dining room, which is the room we sat in. I love dining spaces that feel like home interiors, so the bookshelf detail and fireplace made me very, very happy.
We began with a glass of wine for me and a "kyoto sour" for Sam:
Then we began the nearly impossible task of going over the menu, and deciding what we wanted to eat. Vedge is a "small plate" restaurant, and we were advised to get about three dishes each, with perhaps one "snack." It's very, very hard for me to do justice to this menu without showing it to you, so please, click here to see the wealth of options from which we had to choose.
It wasn't easy, but we settled on the following:
"peel and eat" luppini beans as a starting snack
local spinach from the "dirt list" of daily vegetables
wood roasted sweet potato pate with grain mustard and baguette
roasted rutabaga salad with charred onion, farro, pistachio, and greens
golden beets, smoked tofu, avocado, capers, dill sauce, and pumpernickel
steak spice seared tofu with English peas and potato ratatouille
braciole with smoked eggplant and cauliflower, fresh garbanzos, olive, and salsa verde
I honestly could have eaten anything else on the menu happily (except perhaps the seitan, but only because I don't really care for seitan). But I was thrilled with our selections.
When the peel and eat beans arrived, we peeled and ate dutifully, until we started to debate whether it might not be so bad to eat the skins? Surely I eat more fibrous things than that, I reasoned. I make crackers from my juice pulp, for Pete's sake.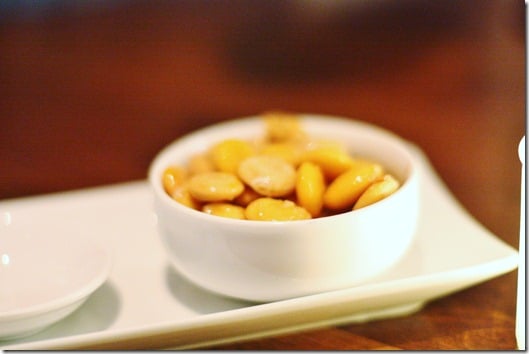 So we ate them, and we were both fine. Proceed at your own risk. Either way, they were delicious—touched with sea salt and sauteed garlic.
The spinach was also garlicky, but the garlic was cooked well, so I really enjoyed it. The spinach leaves were perfectly tender and fresh, and they hadn't been cooked down so much that they'd lost their bright flavor.
Our sweet potato pate and rutabaga salad arrived next. I wouldn't say that the rutabaga salad was my favorite dish, because it feels like an injustice to the braciole and everything else, but I will say that it's the dish I would most want replicated for me right now if I had the choice. Me and greens: it's a love story for the ages.
And when greens are paired with sweet, slow roasted rutabaga slices and chewy farro, it's hard not to understand why. This was a perfect salad.
The sweet potato pate was equally noteworthy: so smoky and sweet! With the mustard, it was totally irresistible, and I think Sam and I could have eaten a vat of it if we'd been allowed to. I plan on doing my best to replicate this for you guys (sorry for the pic—some of these came out blurry).
Our next dish was the beets with smoked tofu and avocado. Over the course of the whole evening, this was the dish that reminded me most of my own cooking: simple, bright. The beets were wonderfully sweet, and the tofu had a very subtle and sophisticated smokiness. A lovely and refreshing course midway through.
The pumpernickel toast was just the right bite.
More tofu arrived soon: our steak spice tofu with English peas and potato ratatouille. Though this wasn't Sam's favorite dish of the night (he liked it, but didn't flip out) it was actually one of my favorites! I like tofu very much, but I almost always opt for tempeh in restaurants instead. It was nice to enjoy tofu for a change, especially since this piece was far more expertly prepared, tender, and flavorful than even the best restaurant tofu I've tried. It was perfectly cooked, salty but not too salty, and delicate. I enjoyed that the dish channeled the concept of steak, but gave it incredible, melt-in-your-mouth, lightness.
And last, but certainly not least, was the astonishing braciole. This was an eggplant roll up (not totally unlike my rollatini) stuffed with cauliflower "rice" of sorts, all united with a rich, smoky flavor and served over chickpeas and salsa verde. Truly incredible stuff. We were both blown away.
My camera did not do it justice, so I'm using the restaurant's shot:
As we were eating, Sam noted that he does feel "different" when he has a vegan meal: lighter, more energized, yet not unsatisfied. I smiled to hear this: I love when people who are new to vegan dining make this observation. I'm used to the lucky mix of energy + comfortable fullness that comes from plant-based fare, but it's a joy to watch someone else grow acquainted with it. And I was feeling very much the same way: totally satisfied, yet—thanks to the magic of vegetables and the smaller portion sizes—not at all stuffed.
Which was why we were both delighted to dig into the chocolate pot de crème with sea salt for dessert.
As he took a bite, Sam said "this is as good as any pot de crème I've ever had, or better." It was my first pot de crème, but I'm sure he was right. I cannot imagine surpassing this delicious, indulgent, rich treat.
Except, perhaps, with the five ice cream and sorbets that Kate Jacoby kindly sent us! What a treat:
The sorbet was a rich, vibrant citrus (I forget which kind); the ice cream flavors were chocolate chili, pineapple with lime, "Manhattan" (like the cocktail), and saffron. The saffron was most innovative, but the spicy chocolate was absolutely my favorite. I loved the combination of warming spice + cool ice cream!
After dinner, Sam and I retreated to the lounge for drinks, where we reflected on the good food, among other things. I finished my wine (I almost never drink, so a glass of wine can take me hours!) and we admired the cool windows in this stately room, which feels like somebody's "study":
As well as the chandelier, made of spoons:
I've had the pleasure of a great many exceptional vegan dining experiences. Millennium, Candle 79, Pure, Portobello last summer—you guys have read about the highlights! This dinner easily ranks alongside the five or six best restaurant dining experiences of my life as a vegan, and probably my life as a whole. It's a big statement, I know, but what is even bigger is that Sam—who had never eaten at a vegan restaurant before—echoed it exactly. I know that vegan food is amazing; Sam didn't. For him to call it one of the best meals in his recent memory was quite a big deal, and I think it's a testament to the wonderful chefs, owners, and staff at Vedge. They are not only pleasing their loyal vegan diners, but also introducing eaters of all inclinations to the beauty and power of plant-based food.
Thank you to Kate and the Vedge team for such an exceptional dinner. I hope to return soon and try everything else. Readers, take note: Vedge is definitely worth a Philly pilgrimage! I hope you have a chance to experience it soon yourselves.
And with that note, it's back to the usual grind I go. I'll have some of my own, humble food for you tomorrow!
xo