Happy Sunday Eve! I'm neck deep in calculus midterm studies right now (Daphna, to answer your question, Columbia requires cacl 1+2 as a pre-req, but I'll email you more of the details), and the only reason they're not bringing me down is because the last week was filled with so much quality time with blog friends.
"Blog friends." It's a peculiar expression, isn't it? I don't typically designate the provenance of my friends, so I'm not sure why I do it when I talk about the people I've become close to through blogging. At the risk of sounding cutely contemporary, I happen to think that relationships that form online—be they platonic, professional, or romantic—often have the potential to be deeper and more meaningful than relationships that form through the normal course of socializing. After all, people who cross paths online usually do so because of a shared interest, hobby, or even a world view (for example, the many vegans who meet and share ideas in the ether). There's no replacing the value of real world interaction, but the internet happens to be a wonderful place to identify and cultivate relationships that have a foundation of commonality—a foundation that transfers nicely into waking life.
It's hard for me to describe the rich and supportive blogging community to people who don't blog or read blogs. How can I do justice to the remarkable generosity that near strangers extend to each other every day in the blog world? Or—more difficult still—how do I explain the surprising intensity of friendships that form from these exchanges? It all sounds a little implausible to skeptical ears, I'm sure, but any blogger who has made a even one close friendship through blogging—and most of us have made many–knows what I'm talking about. When we bloggers do finally meet in person, we feel as though we're meeting an old and dear friend; greetings always come in the form of hugs, and conversation ignites with no effort at all.
This week, I was lucky enough to see some of my closest friends from the blogosphere, and have meet a few others for the first time. It all began on Tuesday, when I met up with this girl for dinner:
That is Melissa, the woman who started it all: Melissa was the first blogger I ever wrote an unsolicited email to (as a fan). She was the first blogger I ever met in person (over a ridiculously fun dinner at Caravan of Dreams). And she was the woman who actually persuaded me to start a blog. For the record, I argued with her for about a year; I kept insisting that I didn't have the writing skill, the time, or anything to say. (If nothing else, time has proven that I was wrong about that last bit!) When I did start blogging, she was the person who helped me pick out a blog URL; who saw my site before it went live; who sat next to me at my first bloggers summit, and so on.
Melissa and I have spent New Year's Eve lounging on her sofa—all dressed up, with no intention of going anywhere at all. We've worked out together, cooked together, and survived NYC-Boston bus rides together. We've counseled each other through relationship ups and downs. We've vented about professional stress, traded thoughts about career direction, and supported each other with health advice. In short, there's not much we haven't experienced as friends. Blogging brought us together, but at this point, it's easy to forget that either of us write a blog when we sit down to eat.
Except, of course, for the fact that we both take pictures of our food.
Mel and I had dinner at Peacefood Café, where I ordered my standard: the fluffy quinoa salad (quinoa, greens, avocado, corn, peppers) and a side order of roasted kabocha squash:
Two and a half hours later, neither of us wanted dinner to end. It did, but there will be another very soon!
If dinner with Mel wasn't fun enough, I was treated to a meal with a blogger I haven't yet met only a few days later. On Thursday night, my friend Bitt and her husband, Chris, were in NYC, and we arranged to have dinner.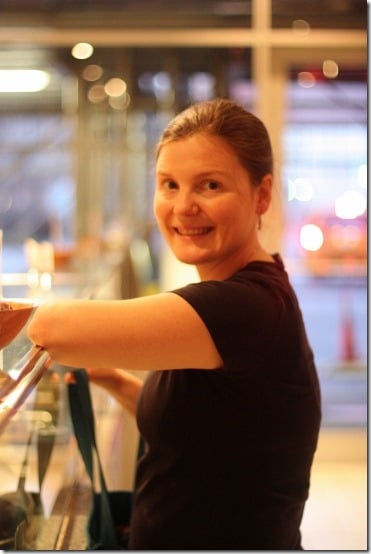 Bitt is one of the bloggers I admire most. She's kind and thoughtful, but she's also whip smart, funny, and will not suffer fools gladly. She's one of the more committed vegans I know, and she's taught me so much about compassion. Bitt knows how to educate and provoke thought without preaching or losing her cool; I've seen how deftly she manages to outspokenly defend animals without coming across as vitriolic, and I truly respect it.
Raw food lovers that we are, Bitt and I used our meetup as an excuse to hit up one of my favorite raw vegan joints in NYC: Bonobos. As usual, I was all over their kale salad.  Instead of ordering my customary soup, though, I opted for one of the incredible raw nori rolls: walnut pate, sprouts, peppers, carrots, and beets stuffed into a sheet of untoasted nori, and served with a basil dressing. It was fantastic!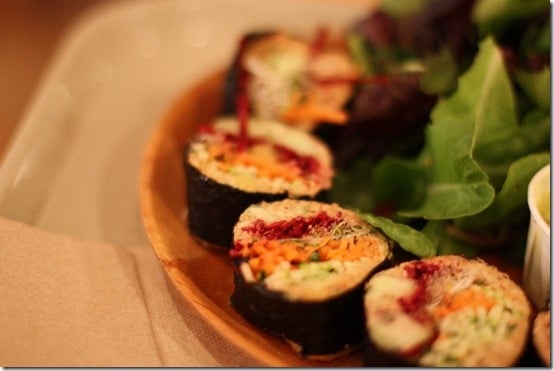 Eating at Bonobo's makes me so, so happy! It's as if someone entered my own kitchen, and decided to prepare exactly the kind of food I love for me. To make matters better, my company was ideal: Chris and Bitt were every bit as smart, witty, and warm as I knew they would be. I hope they'll be in NYC or DC again soon, and I also want to visit them in Seattle, if they'll have me. It'll be all raw food and laughter, all the time.
On Friday morning, after a long and hard week, I made my way down to DC for my customary weekend visit. I'm always excited to be with M, but my bus ride went a lot quicker this time because I knew I'd be seeing some of my favorite bloggers, who had convened in DC for the national half marathon. If anyone's been wondering what #bloggersinvadedc is all about, this was it:
I have to take a moment to share my pride for Anne, who beat her PR by a whole 13 minutes. EPIC!
And I'm mad proud of the prince of the blog world, Evan, who is now officially a marathon finisher. No less than an hour after this boy crushed the finish line at 26.2 miles, he was every bit as witty and adorable in person as he is online: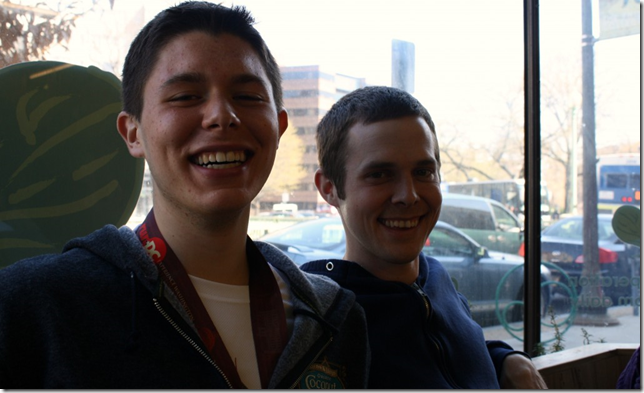 Finally, I'm proud of Sana, for not only rocking her 5K, but for being unashamed to talk about peeing in her pants in a public restaurant. Woman, I thought I was uncensored.
Sana, Anne, Evan and I met in Dupont after the race for a small bloggie lunch. In attendance was a blogger I've been waiting to meet for a long time: my friend Matt! You all may remember Mr. No Meat Athlete from his recent guest post on CR. Matt balances life as a PhD student, new dad, blogger, ultrarunner, and fledgling businessman with ease and grace, and he dreams big, just like me. It was so good to finally say hi, and even more apropos because this is Matt's first week as an (official) vegan. I've known that this was in the cards for Matt for a long time, and I'm so proud that he's finally taken a calm, confident leap.
You can imagine my delight when the exhausted runners wanted nothing more than to feast on…salad. Yes, salad. I love enlightened athletes. We met up at Sweetgreen, where we devoured a few giant bowls of leafy stuff. My mix was avocado, carrots, chickpeas, spinach, romaine, squash, olive oil, lemon, and salt: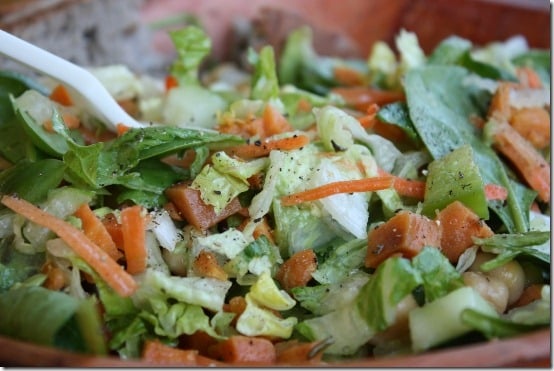 Time flies when you're having the best time ever. A few hours later, we were still gabbing away about life, blogging, food, fitness, and our mutual friends. Of course, savvy bloggers that we are, we took a time out to torture the table next to us ask a nice man at the table next to us to take a photo of us all. On four different cameras.
That's Sana, Evan, Matt, Anne, and me. Aren't Anne and I a cute couple? Look at us, playing with cameras:
Whenever Anne and I hang out, it feels as though no time has been lost. I adore her, plain and simple.
There is no more rewarding or meaningful part of being a blogger than the friendships you take away. I am so grateful for the awesome women and men I've met because of CR, and the kindness and generosity they've showed me. I <3 you all. (Sidenote: did you know that "<3" just got added to the OED? Along with OMG, muffin top, and TMI. Nice.)
Before I go, I thought it would be cute to share a cell phone pick that another dear blogger friend, Diana, sent me a few days ago. It's me at Bonobo's, and it was taken when she and I had lunch with Sophia in August.
It's weird: I look at that photo and think about how, at the time, I hadn't yet decided to dedicate my life to health care, and I wasn't in love, and I had no idea what stochiometry was. A whole lot has changed in the last eight months.
But I guess my love of raw kale salad has remained.
xo