 Happy Monday, friends. I hope you all had an enjoyable weekend!
This week's menu plan is a little more fun than last week's, which was circumscribed by an exam. I'm making my African spiced yellow split pea and sweet potato soup again (with a few tiny modifications). I've been eating it often this winter; it's cheap, filling, nutrient dense, and I love the color and spice combination. I'm also excited to whip up the cauliflower and oyster mushroom tacos from Food52 Vegan on Friday night (they are a favorite recipe of mine from the book), as well as a new amaranth polenta recipe on Wednesday. If that one's a hit, you'll be seeing it on the blog!
Here's what's ahead:
Recipes:
●African spiced split pea and sweet potato soup
●Slow cooker black bean, butternut squash, and quinoa chili
●New amaranth polenta recipe
●Cauliflower and oyster mushroom tacos
Basics
●Basmati rice (to stir in the split pea and sweet potato soup)
●Bicolor quinoa
●Chickpeas
●Turmeric tahini dressing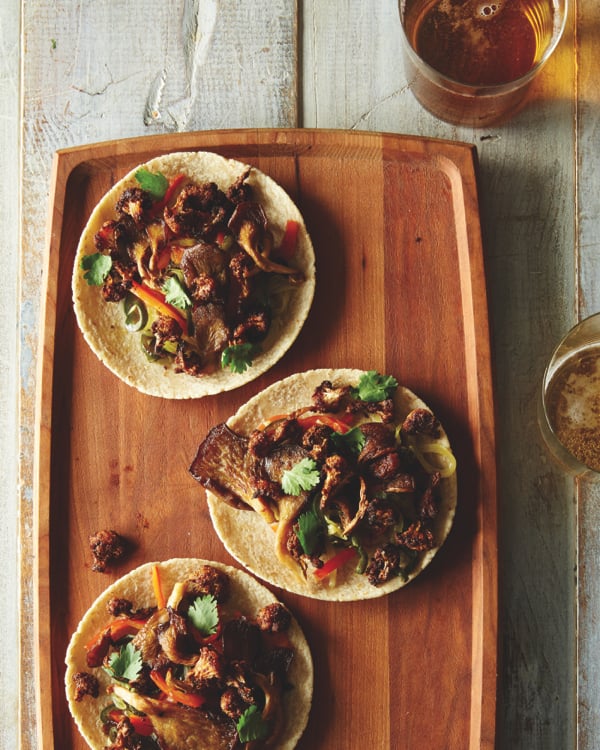 The Menu Plan
Sunday/Monday: African spiced split pea and sweet potato soup (with carrots and celery thrown in) | Big salad or steamed greens with turmeric tahini dressing
Tuesday: Leftover slow cooker black bean, butternut squash, and quinoa chili | Sauteed collards
Wednesday: New amaranth polenta recipe | Big salad with lemon vinaigrette
Thursday: Leftover yam and peanut stew with kale (from the freezer) | Green bean and walnut salad
Friday: Cauliflower and oyster mushroom tacos from Food52 Vegan
Saturday: Sweetgreen salads to-go (there's a new sweetgreen in the neighborhood, and sometimes we make it our Saturday night treat) or something from the freezer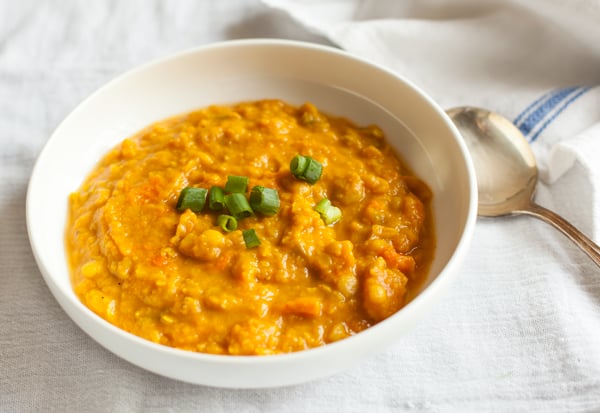 Before I sign off for today, I wanted to float a question to readers. As part of my Community class this semester, all students are being asked to do the SNAP challenge for seven days. This challenge is intended to help participants better understand what it means to be food insecure and have only SNAP benefits available for the weekly acquisition of food. You can read more about the challenge here and here.
Typically the challenge is to spend no more than $4.50 per day on food (about $31.50 for the week, per person). My class is being given a $40 maximum, which is pretty generous. If another person in our household wishes to participate as well, we're invited to combine food budgets (so, $80 for two people). We only shop at grocery stores or farmers markets that accept food stamps, and we can't pick up any additional food (so: no grabbing a cup of coffee at Starbucks, no restaurant dining, no takeout, no grab-n-go food). We can use spices, herbs, and oils from our pantry, but we have to purchase everything else we'll eat (which means that we can't use other pantry items we have on hand).
While I'll be doing as much grocery planning as I always do at the start of my week, we've been encouraged not to plan things too meticulously; the goal of the challenge isn't to game the system by coming up with an elaborate scheme to maximize the given budget. I'll be thinking about recipes that I can stretch for the week, but I won't be turning it into a perfect science, either. Steven wants to participate with me, and we're going to try to shoot closer to a $63.00 budget for two people, rather than $80, if possible.
I'm thinking about sharing the challenge in my Menu Plan Monday post for that respective week, as well as sharing some of the recipes I make while on the challenge. I wanted to take your temperature on it first, though — is this something you'd all be interested in reading about? In full disclosure, while I look forward to the challenge, I also have some conflicted feelings. To some degree it feels problematic to be a tourist for seven days in a scenario that defines everyday life for so many, and I wonder if it actually underscores privilege. Still, I hope the challenge will give me (and all of my fellow classmates) a better understanding of what it means to have one's food choices circumscribed each week, and I hope that I might become a more conscious consumer as a result.
Curious to hear if you'd like to follow along here on the blog — and if not, that's cool, too!
Have a wonderful Monday, all.
xo