 Happy Monday, everyone. I hope your weeks are off to a good start. I'm finally back in the swing of things with menu plan Monday brainstorming, which feels nice after all of the holiday upheaval.
This week, I'm focusing on grains other than quinoa (last week was sort of a quinoa parade, albeit a delicious one), and I'm whipping up a batch of the lentil tamarind burgers I made last year as part of a collaboration with the US Dried Pea and Lentil Council. 2016 has been named the International Year of Pulses by the UN, and you can expect quite a few more pulse recipes here on the blog to celebrate in the coming months.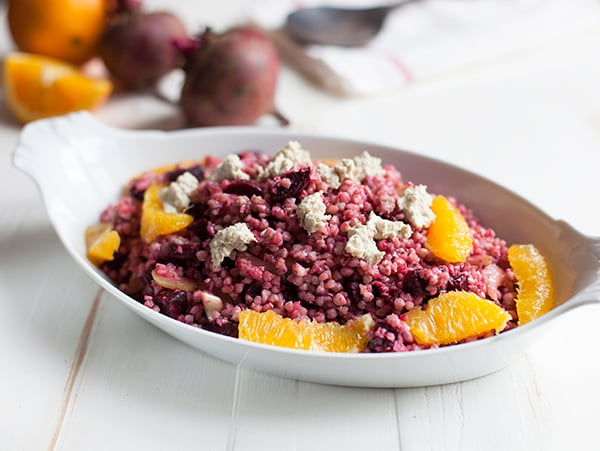 Another highlight for the coming week is my buckwheat, beet, and citrus salad with crumbled sunflower feta. This is a perfect dish for winter, and buckwheat tends to be underutilized in my kitchen, which means that I welcome a chance to use it. I love how the grain's earthy, nutty flavor contrasts with the sweet beets and tangy orange sections in this salad, and the sunflower feta is handy to keep around for use in other recipes through the week.
Here's the plan.
Basics
●Pot cooked buckwheat
●Pot cooked brown lentils
●Pot cooked brown rice
●Lemon hemp dressing
Recipes
●Yam and peanut stew with kale (a recipe that's on the Food52 site and in Food52 Vegan)
●Buckwheat, beet, and citrus salad with crumbled sunflower "feta"
●Soba noodles with bok choy, edamame, and miso sesame sauce (this recipe exactly, but using soba noodles in place of adzuki bean noodles)
●Lentil Tamarind Burgers
Menu Plan
Sunday/Monday: Yam and peanut stew with kale | Toast | Big green salad with lemon hemp dressing
Tuesday: Buckwheat, beet, and citrus salad with crumbled sunflower feta | Green bean and walnut salad with red wine vinaigrette
Wednesday: Buckwheat, beet, and citrus salad leftovers | Steamed broccoli with lemon hemp dressing for dipping
Thursday: Lentil tamarind burgers | Brown rice pilaf | Salad with red wine vinaigrette
Friday: Dinner out with friends
Saturday: Leftover lentil tamarind burgers, brown rice pilaf, and sunflower feta, turned into a giant dinner salad with veggie odds and ends, greens, and lemon hemp dressing
Turning our various grain + bean leftovers into dinner salads on Saturday night is something Steven and I often like to do, throwing in whatever vegetable scraps are lying around at that point in the week (I usually do my grocery haul on Saturday or Sunday morning). It's a nice way to make a cohesive meal out of various bits and pieces, and it's also easy for me to prepare. I'm excited about what's on the menu this week, and especially craving the buckwheat now that I've cooked up a big pot!
I'm also excited to return to the blog tomorrow and share one of my favorite household staple recipes: my go-to formula for lemon pepper baked tempeh cubes, and a delicious, nourishing bowl that you can use them in. On Thursday, I'll be reviewing an innovative new cooking oil, and sharing a tasty vegan pasta recipe to go with it. Hope you'll tune in, and for now, I wish you a good start to the week!
xo