 Happy Monday, everyone! I'm having a busy start to the week, so I'm grateful that this week's menu plan features a lot of batch cooking, as well as a bunch of leftovers from our trusty freezer. I noticed last week that the freezer was getting a bit crowded, and I have my first exam of the semester on Thursday night, so this week presents me with a perfect opportunity to defrost and create some space for leftovers.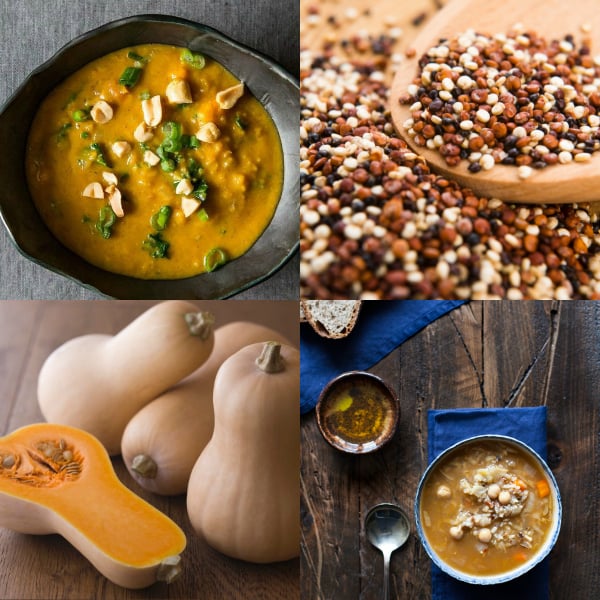 Just as I inadvertently planned the week of quinoa a few weeks back, this appears to be the week of butternut squash. Or, more broadly, the week of beta carotene, because there's some sweet potato thrown in the mix, too. Fortunately, a glut of winter squash and other root veggies isn't something I'll ever complain about! (I was sad when I polished off my root vegetable panzanella leftovers last week.)
Dinner last night included a creamy, spiced butternut squash soup that I'll be sharing the recipe for tomorrow. It was delicious, and we've got enough leftover for tonight, along with a hearty salad. Tomorrow I'm trying my hand at a quinoa, black bean, and butternut squash chili in the slow cooker (I have class Tuesday night, so it's a good day for setting and forgetting), which I'll share on Thursday if it's a success!
The rest of the week is all about leftovers for lunch and dinner–and thankfully, I've got some good leftovers to savor, including my rustic cabbage, chickpea and wild rice soup and a portion of my African yam and peanut stew with kale.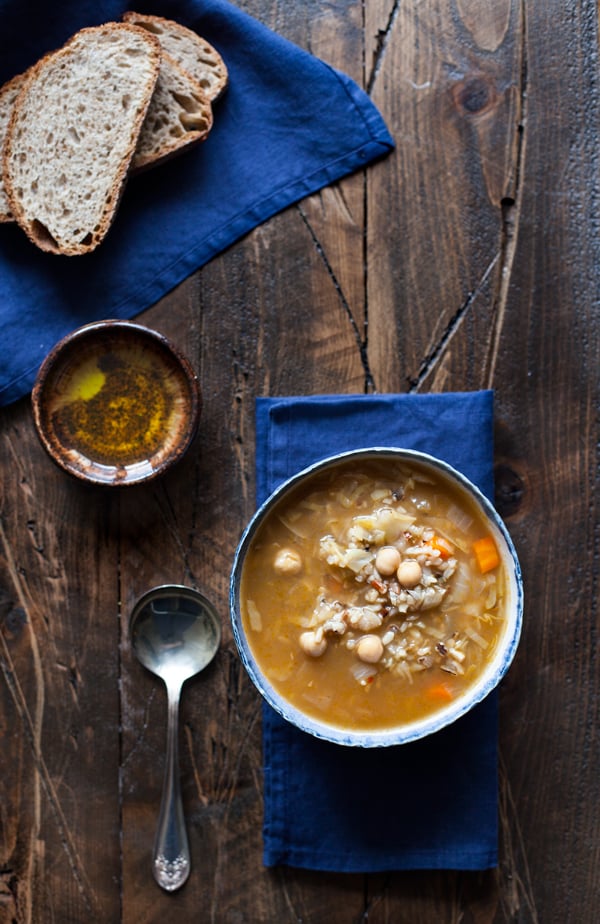 Here's what's getting cooked:
Recipes
●Butternut squash and five-spice soup
●Slow cooker quinoa, black bean, and butternut squash chili
Simple Staples
●Black rice
●Chickpeas
●Baked tofu
●Spicy carrot chili vinaigrette
The Menu Plan:
Sunday & Monday: Butternut squash and five-spice soup | Big salad with mizuna, cabbage, black rice, baked tofu, and spicy carrot chili vinaigrette
Tuesday & Wednesday: Quinoa, black bean, and butternut squash chili with tofu sour cream | Roasted broccoli or sautéed collard greens
Thursday & Friday: Rustic chickpea, cabbage, and wild rice soup | Toast | Big green salad with spicy carrot chili vinaigrette
Saturday: Yam and peanut stew with kale | Basmati rice | Cauliflower with carrot chili vinaigrette
I'm looking forward to the week ahead, especially as I'll be sharing Monday and Tuesday's recipes with all of you.
Speaking of that, tomorrow's soup recipe will be accompanied by a super exciting kitchen appliance giveaway! You don't want to miss this one, so be sure to check in tomorrow for details. Till then, I wish you a great Monday.
xo