 Happy Monday, friends. Today marks the first full week of a new semester–I've already had two of my three courses, but I'll have my third tomorrow night–as well as my first week of nutrition work with a few new clients. I'm excited about all this, and glad that I was able to get a bit of a head start on reading over the snowy, quiet weekend. New York is so fully restored to the normal hustle and bustle that it's hard to fathom how thoroughly buried and abandoned the city felt on Saturday, during the storm.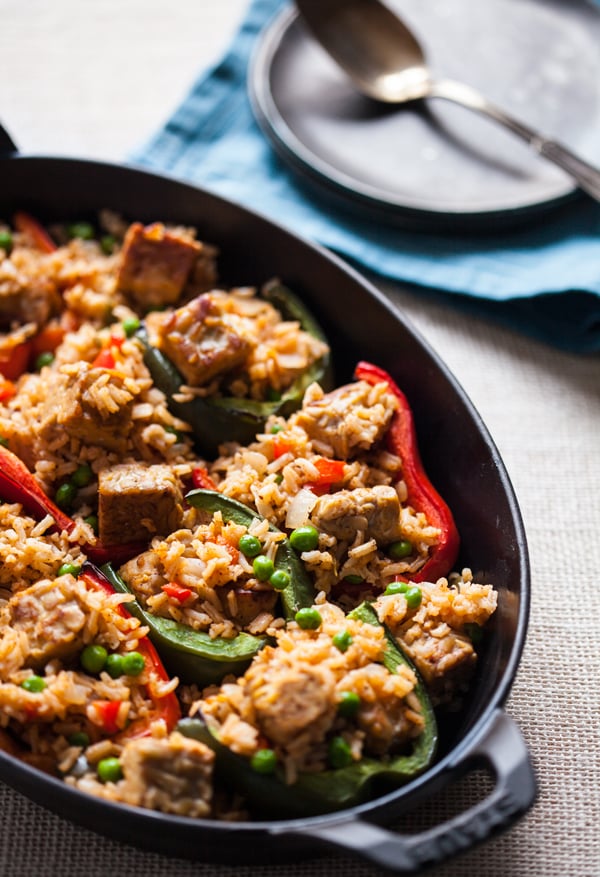 There are a few notable highlights in this week's menu plan. First is my rice and tempeh stuffed peppers, a recipe I made two summers ago and have sort of forgotten about since. This happens to me with old favorites, mostly because I'm scheming up new ideas for the blog, so it's always nice to go back and revisit a meal. I swapped corn (which I used the first time I made them) for peas (which is what I had in my freezer) and kept most else the same. What a great, hearty dinner this is, and I'm glad we've got leftovers for tonight.
I'm also really excited to enjoy the pumpkin quinoa risotto from my first cookbook, Choosing Raw. It's a really simple recipe, made with canned pumpkin puree, so it can be whipped up from a fall or winter pantry at a moment's notice. It's creamy and satisfying, and I haven't had it since last year, so I look forward to it. Pomegranate seeds are offered as garnish in the book recipe, but I'll probably just do a sprinkle of nooch or hempesan instead!
Here's what else is on the weekly plan:
Recipes
●Rice and tempeh stuffed peppers
●Pumpkin quinoa risotto from Choosing Raw
●Very green tofu scramble
●Lentil sloppy Joes
Staples
●Black beans (both for my lunch bowls, and also to be turned into refried beans for quick and easy breakfast tostadas)
●Quinoa and millet mix
●Baked sweet potatoes
●Smoky avocado and cumin dressing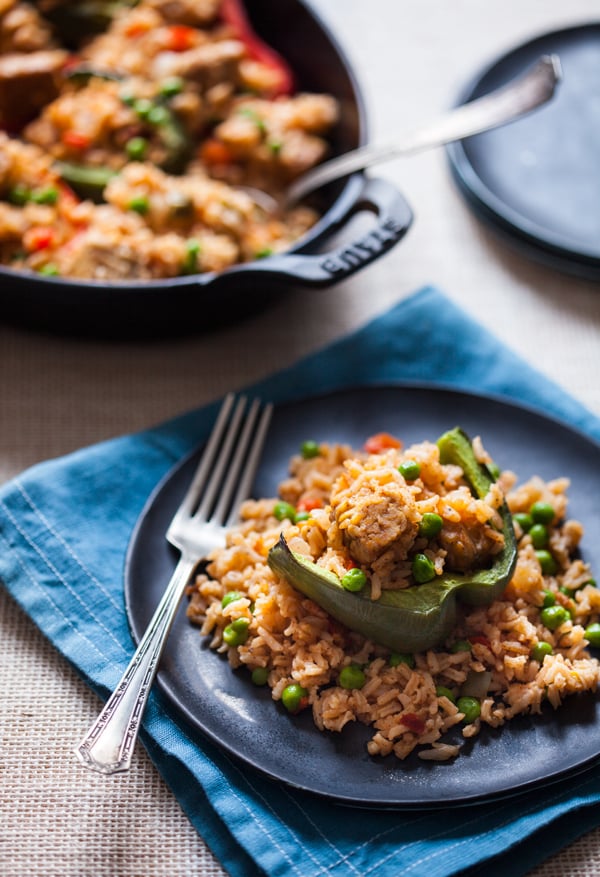 The Dinner Plan
Sunday / Monday: Rice and tempeh stuffed peppers | Big romaine salad with chopped veggies and my smoky avocado and cumin dressing
Tuesday: Pumpkin quinoa risotto | Sauteed broccolini
Wednesday: Very green tofu scramble | Baked sweet potatoes
Thursday: Lentil sloppy Joes over toast | Salad with smoky avocado and cumin dressing
Friday: Lentil sloppy Joe leftovers, served over polenta | Steamed or sautéed collard greens
That's the plan, friends. As usual, leftovers will find their way into lunches and breakfasts. Here's to another week of vegan eats!
I wish you a great and productive Monday, and I'll be back tomorrow with a delicious, flavorful skillet recipe that features one of my very favorite superfoods (legumes). On Thursday, a new, wintery salad, and on Friday I have a really thoughtful Green Recovery submission to share with you.
xo