 As I've mentioned, I'm doing the SNAP challenge this week, as an assignment for my Community Nutrition class. The SNAP challenge is intended to call attention to food insecurity by asking participants to spend one week living on a food stamp budget. This is adjusted slightly by state, but for our class, the allotment was $40 per person, per week. Couples or roommates were permitted to pool their individual budgets together for the home. Steven wanted to participate in the challenge with me, so we had up to $80 for meals, snacks and beverages between us.
Rules of the challenge are that oil, vinegar, and spices are permitted, but calorific sweeteners (like sugar) are not. All other pantry items are off limits, which for us means our usual collection of grains, dried beans, nuts, and nut/seed butters. Coffee is a discretionary choice: for me, it was a priority, so $8.99 went to coffee for the week (I could have chosen instant coffee, and probably would have if we'd been any closer to our budget). We ended up with $4.38 to spare. In some states SNAP benefits for two people for a week is closer to $63, so I was glad to come in slightly below $80, at $75.62.
I should point out that the SNAP program is intended to be supplemental, which means that recipients are expected to round their diets out with other food (though the extent to which this is possible can vary quite a bit in real life circumstances). My classmates and I come into this challenge with a lot of circumstances that SNAP recipients often don't have, though, including totally unfettered access to healthful food and jobs that don't demand hard physical labor. So, I think the fact that we're using the budget exclusively for a week is definitely counteracted by these advantages and others.
We were given incentives to shop at farmers markets for the week, which is indicative of real world snap initiatives like "double bucks." In spite of this, most students in my class chose to shop at Trader Joe's, Whole Foods, or other SNAP-eligable grocers were they felt that they could stretch their dollars further. SNAP participants often have extremely limited choices when it comes to where they shop, and the fact that so many of us chose to buy food at the same grocery stores we're used to was of course a major disconnect between the challenge and the reality it tries to capture.
I thought about Trader Joe's, but in the end I only had time for a single grocery run, and I chose Whole Foods primarily for the bulk section, where I knew I could stock up on whole grains and legumes, and the 365 brand, which makes inexpensive tofu and canned items. This means that my purchases were nearly all organic–another discretionary choice that I could have worked around in interest of stretching the budget further. I was lucky to find some of my produce, including yellow potatoes, broccoli, and kale, on sale. Here's my haul:
Produce
2.4 lbs yellow potatoes: $3.08
1 lb leeks: $3.23
1 head garlic: $0.63
1 lb Broccoli: $3.02
1 head kale: $2.00
2.33 lbs sweet potatoes: $5.80
2 limes: $1.00
1 lemon: $0.89
1.57 lbs onion: $2.34
1 bag frozen, chopped spinach: $1.69
2 lbs carrots: $2.49
1 bunch celery: $2.99
1 bunch chives: $2.69
2 bananas: $0.71
Proteins
Tempeh: $2.50
Tofu: $1.99
Navy beans: $2.71
Green lentils: $2.33
Yellow split peas: $1.88
Nutritional yeast: $1.87
Pantry
1/2 gallon soy milk: $1.79
Rolled oats: $0.90
Steel cut oats: $1.64
Raisins: $ 1.16
Brown rice: $1.60
Yellow grits: $1.55
Basmati rice: $3.98
Coffee: $8.99
Vegetable broth: $2.49
Canned, diced tomatoes: $1.99
1 loaf bread: $3.99
So far, I've bent the rules once, which is that we had leftover roasted cauliflower and mache at home today, more than 24 hours into the challenge, and I did put them into a bowl for lunch. There wasn't enough of either to give away to a friend, and throwing out food felt really out of keeping with the spirit of the challenge. Everything else we're eating this week comes from the shopping run.
Here's what I've planned in terms of meals for the week ahead. As you can see, I've done my best to keep things simple while also giving us variety.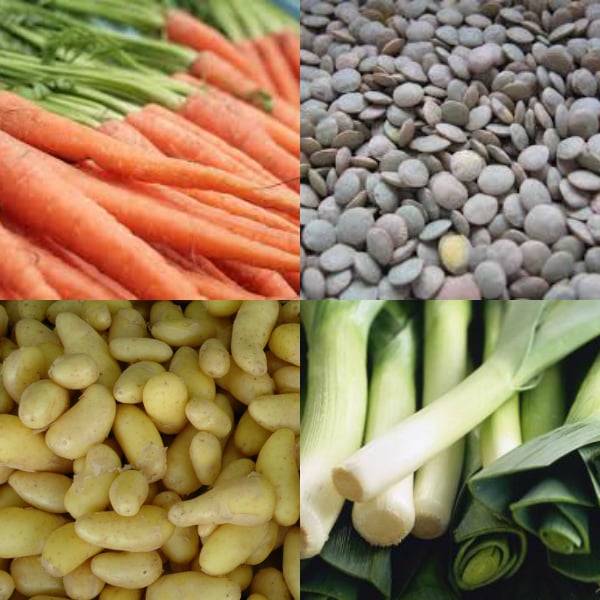 Meal Plan
Dinners
Sunday night: Potato leek soup | Toast
Monday night: Sweet potato and yellow split pea curry | Basmati rice | Broccoli
Tuesday night: Curry, rice, and broccoli leftovers
Wednesday night: Tofu, onion, and spinach scramble | Brown rice
Thursday night: Tofu scramble and rice leftovers
Friday night: Grits with spicy tempeh, kale and white beans
Saturday night: Leftover grits with spicy tempeh, kale and white beans
Breakfasts
Steel cut oats with raisins and banana (for Steven and for me)
Savory rolled oats with spinach and nutritional yeast (for me, later in the week)
Toast (for either of us if we get bored of oats)
Lunches
Leftovers, leftovers, leftovers
Brown rice and broccoli stem salad
Lentil, carrot, and celery salad
Spicy carrot ginger soup
One of the challenges of the week is that Steven's a student, too, and he's often on campus for both lunch and dinner. So, he'll be taking most of the leftovers with him, while I'll be using what leftovers remain, as well as the brown rice and lentil salads and the carrot soup. We've started splitting a big batch of banana raisin steel cut oats, but I suspect I'll be craving savory oats later in the week, and Steven will probably want some toast to mix it up.
So far, the challenge hasn't been very difficult, mostly because I'm used to planning meals carefully. $80 is close to what we spend most of the time, except that a) we usually have a well stocked pantry to rely on that can supplement our purchases and b) in spite of the fact that we don't eat out much anymore, one or both of us usually ends up picking up at least a few snacks/coffees throughout the week, if not a lunch or dinner.
The SNAP challenge is a highly imperfect approximation of what it feels like to live in true circumstances of poverty or insecurity. After all, most students in my class (myself included) are doing this challenge while continuing to enjoy many other lifestyle privileges. This contrast feels really jarring at times. But in many small ways, the challenge has already given me a lot to think about when it comes to my own privilege, and I suspect that it will make me a much more conscientious consumer moving forward. For those reasons alone, I'm glad I'm doing it.
I'll have a lot more to share this weekend, and I'll do a recap in lieu of a normal weekend reading post. In the meantime, I'll share at least a few recipes in the week ahead, including our hearty potato leek soup (which we had for dinner last night and Steven had for lunch today) tomorrow.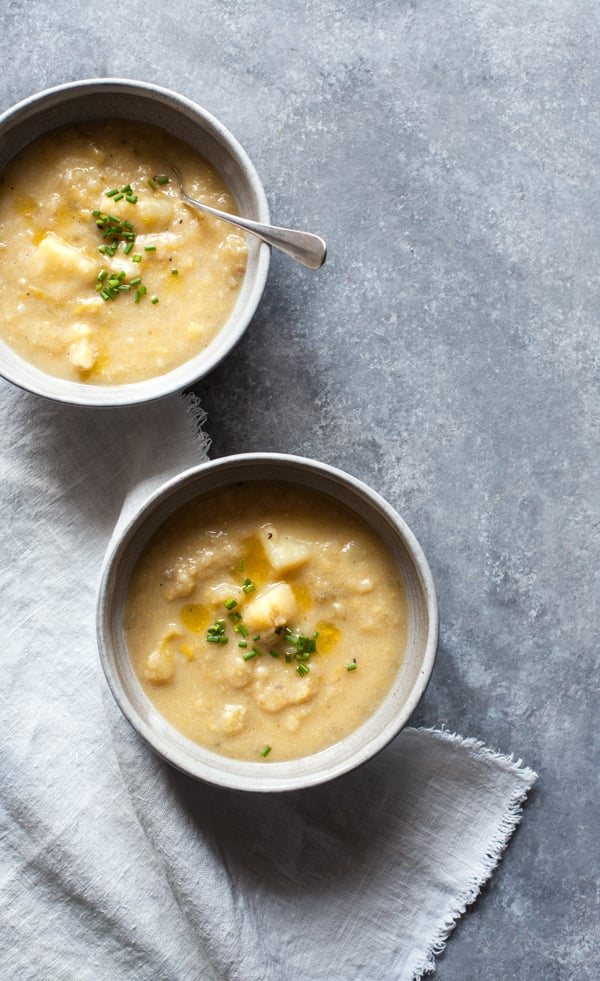 Have a great night, all.
xo