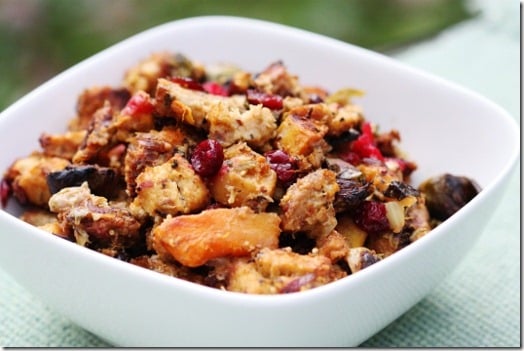 Happy (almost) Thanksgiving!
My holiday is split this year: I'm spending tonight in Arlington with my Uncle and Cousins, and tomorrow I'll be heading home to New York to be with my Mom and her boyfriend. For that reason, it's as good as Thanksgiving for me right now. How better to commemorate the special occasion with this fabulous recipe for millet, butternut squash, brussels sprout & cranberry stuffing–a vegan spin on Thanksgiving's greatest side dish!
This stuffing uses a gluten free bread base, which makes it suitable not only for vegans, but also those with wheat and gluten allergies. I used the Food For Life millet bread, which I actually got so that I could experiment with a GF version of my banana caramel bread pudding (more on that soon!). I will confess that I don't love this bread on its own—for toast, say—but I do love it in other applications, like this stuffing. It has the thickness and texture of cornbread without the hassle of actually baking cornbread, and it's made from one of my favorite whole grains—millet!!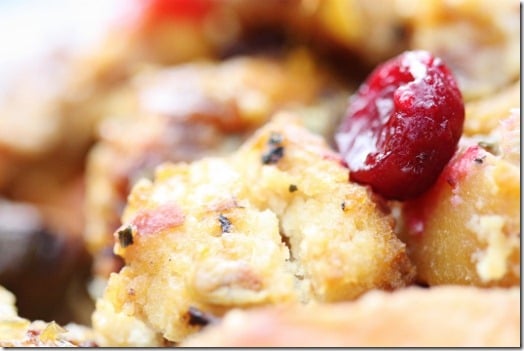 Like many stuffing recipes, this one involves a bunch of steps, but don't be deterred by the longer cooking process. You can definitely roast the vegetables 1-2 days in advance, or you can make the stuffing a day in advance and then pop it into the oven to bake on the day of your holiday celebration. Once the initial roasting step is over, really, it's easy as pie. (Maybe easier than pie.)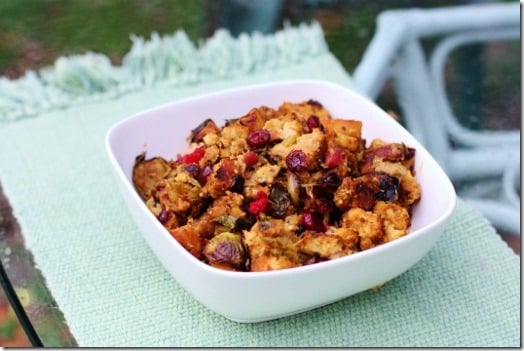 Millet, Butternut Squash, Brussels Sprout & Cranberry Stuffing
Cuisine:
vegan, gluten free, soy free, nut free
Author:
Prep time:
Cook time:
Total time:
1-1 1/4 pounds (16-20 ounces) peeled and cubed butternut squash (cubes should be 3/4-1 inch)
1 pound brussels sprouts, ends trimmed and cut in half
2 large or 4 small shallots, cut into quarters
2 tablespoons grapeseed, safflower, or canola oil, divided
1 cup chopped white or yellow onion (about 1 small onion)
1/2 cup chopped celery (1 large stalk)
10 slices [url href="http://www.foodforlife.com/product/breads/gluten-free-rice-millet-bread" target="_blank"]millet bread[/url] (or any whole grain or gluten free bread of choice), left out for a day to become slightly dry, then cut into 3/4-inch cubes
1 1/2 cups low sodium vegetable broth
2 tablespoons nutritional yeast
1 tablespoon chopped fresh rosemary
2 teaspoons fresh thyme leaves
1 teaspoon all purpose or vegan poultry seasoning
1/2 cup dried cranberries
Salt and pepper
Preheat oven to 375F. Line 1 or 2 (depending on oven size) baking sheets with parchment or foil. Toss the squash, sprouts, and shallots in 1 tablespoon oil and sprinklel with salt and pepper. Roast till vegetables are very tender and becoming caramelized (about 35-40 minutes). Remove vegetables from oven and reduce oven heat to 350.
Heat the other tablespoon oil in a large sauté pan over medium heat. Add the the onion and celery. Cook vegetables, stirring frequently, till they're tender and clear (about 5-7 minutes). Add the bread cubes and allow them to become gently toasted with the vegetables and oil.
Add the roasted vegetables, broth, nutritional yeast, cranberries, and seasonings to the pan. Heat and stir the mixture until the broth has been absorbed by the bread. Add salt and pepper to taste, as well as extra herbs if desired.
Transfer the whole mixture to a lightly oiled, 9 x 13 casserole dish. Bake for 20-25 minutes, or until the top is a little golden. Serve.
You can roast the vegetables a day or two in advance, or you can follow steps 1-3 and refrigerate the stuffing up to 1 day in advance. On the day you're serving it, simply transfer it to a casserole dish and bake as instructed.[br][br]Leftover stuffing will keep for up to 4 days in an airtight container in the fridge, and it's delicious.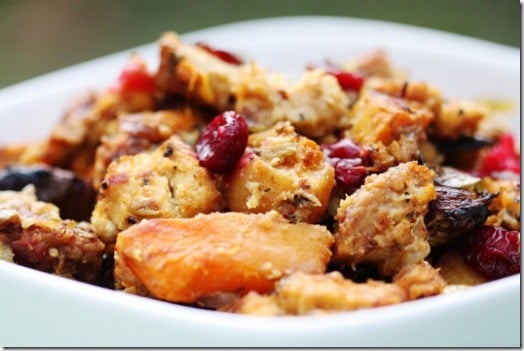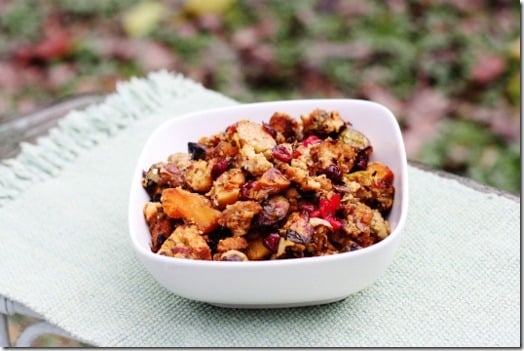 This is the kind of holiday dish that makes it easy for people with different eating styles–vegan, omni, gluten free, and everything in between–to share the same meal at the same table without any sense of sacrifice. It's such a keeper. My next challenge will be try try it with homemade vegan cornbread–maybe that can be next year's holiday offering!
For now, I wish you all a great Thanksgiving holiday.
xo