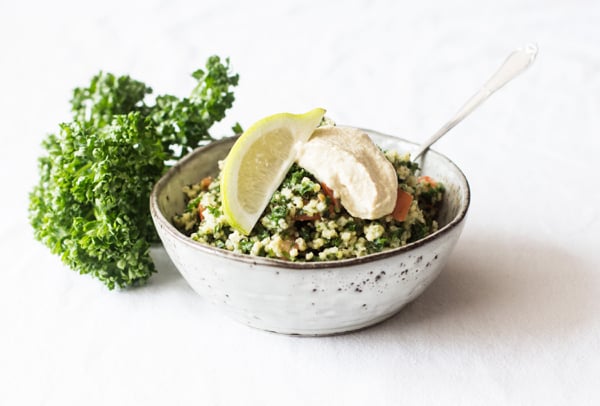 Hello, friends. It's been a long, steamy, sweaty, melty week, and I've been feeling under the weather, so I apologize for being a little scarce here at CR.
Oh, summer in D.C.. It's my third July in the District, and I'm starting to think that being stuck in a lab for the first two might have been a blessing in disguise. (OK, I take that back — summer physics was never a blessing in disguise.) Fortunately, I have matcha banana soft serve, carob chia pudding, and loads of salads to keep me cool and refreshed. And now I also have this delightful millet tabouli.
This recipe is part of my vegan lunch series for Food52, where I highlight some of the vegan lunches I throw together on any given day. It's a little bit like some of the lunchbox posts I used to share when I was on campus each day, but now that I'm a working again, sometimes from home, I don't always need the lunchbox!
I'm sure you've all seen quinoa tabouli recipes galore on vegan blogs, and rightly so: quinoa tabouli is very delightful, and it's a good, gluten free option for those who don't eat bulgur wheat. Because quinoa cooks quickly, it's almost as easy to make as the traditional version.
This week, though, I wanted to think outside the quinoa tabouli box, and it just so happened that I had a big bag of millet at home. It didn't take me long to put this millet tabouli together, and I am so happy I did! It's delicious, and in some ways, I think it's a little closer to the traditional dish than is quinoa tabouli; millet has some of the firmness and bite of bulgur wheat, whereas quinoa tends to be quite tender.
Anyway, go ahead and make this with millet, or make it with quinoa, or make it with bulgur wheat. However you make it, I hope you'll enjoy the dish as much as I have. Keep in mind that, though I used a combination of three herbs (basil, parsley, mint) you could use whichever one or two of these you have. It's an easy recipe to modify.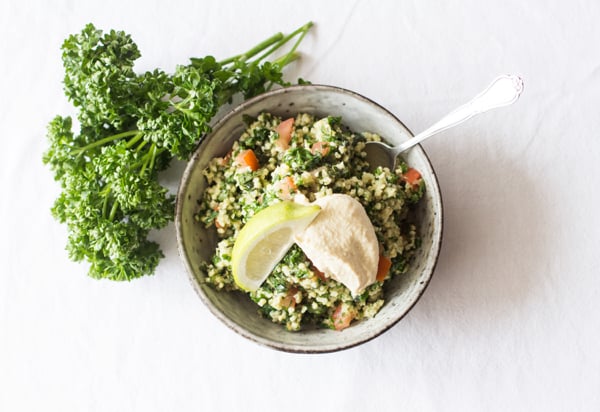 Millet Tabouli
Recipe Type
:
salad, side dish
Cuisine:
vegan, gluten free, soy free, tree nut free option
Author:
Prep time:
Cook time:
Total time:
1 cup millet, dry
2 1/4 cups water
2 tomatoes, seeded and diced
2 cups tightly packed parsley
1 cup tightly packed basil
1 cup tightly packed mint
2 cloves garlic
3 tbsp olive oil
Juice of 1 lemon
Sea salt and pepper to taste
Optional: 1/3 cup cashew cheese of choice (you can use [url href="https://www.thefullhelping.com/go-to-cashew-cheese-recipe/" target="_blank"]my go to cashew cheese[/url], my [url href="https://www.thefullhelping.com/raw-pizza-with-rosemary-cashew-cheese-arugula-and-balsamic-marinated-cherries/" target="_blank"]rosemary cashew cheese[/url], my [url href="https://www.thefullhelping.com/zesty-orange-cashew-cheese/" target="_blank"]zesty orange cashew cheese[/url], or my Italian [url href="https://www.thefullhelping.com/collard-wraps-with-italian-pizza-cheese/" target="_blank"]"pizza cheese"[/url])
Place the millet and water in a medium sized saucepan or pot. Bring to a boil. Reduce the heat to low, cover, and simmer 20-25 minutes, or until the liquid has absorbed and millet is tender. Fluff the millet with a fork and then allow it to cool to room temperature.
Transfer the millet to a mixing bowl and add the tomatoes. Use a food processor fitted with the S blade (or a mini chopper, or a knife) to mince all the herbs and the garlic together finely. Transfer them to the mixing bowl.
Whisk together the olive oil, lemon, and salt and pepper to taste. Pour it over the millet/tomato/herb mixture and combine well. Serve with a dollop of cashew cheese, if desired.
Leftover tabouli will keep for up to 3 days in an airtight container in the fridge.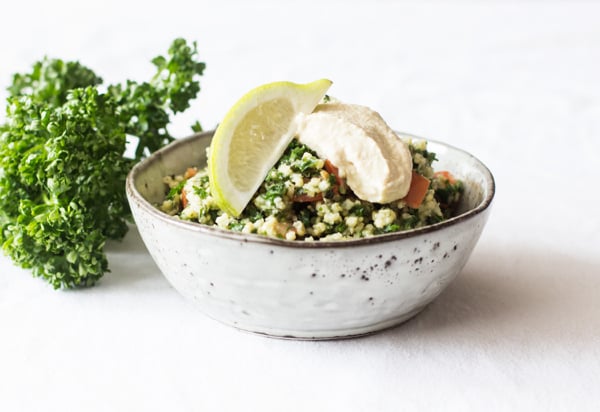 On that note, I'm off. I hope to be a little more engaged next week, and in the meantime, I wish those of you who in similarly melty climes as cool a weekend as possible. Make some vegan ice cream!
xo