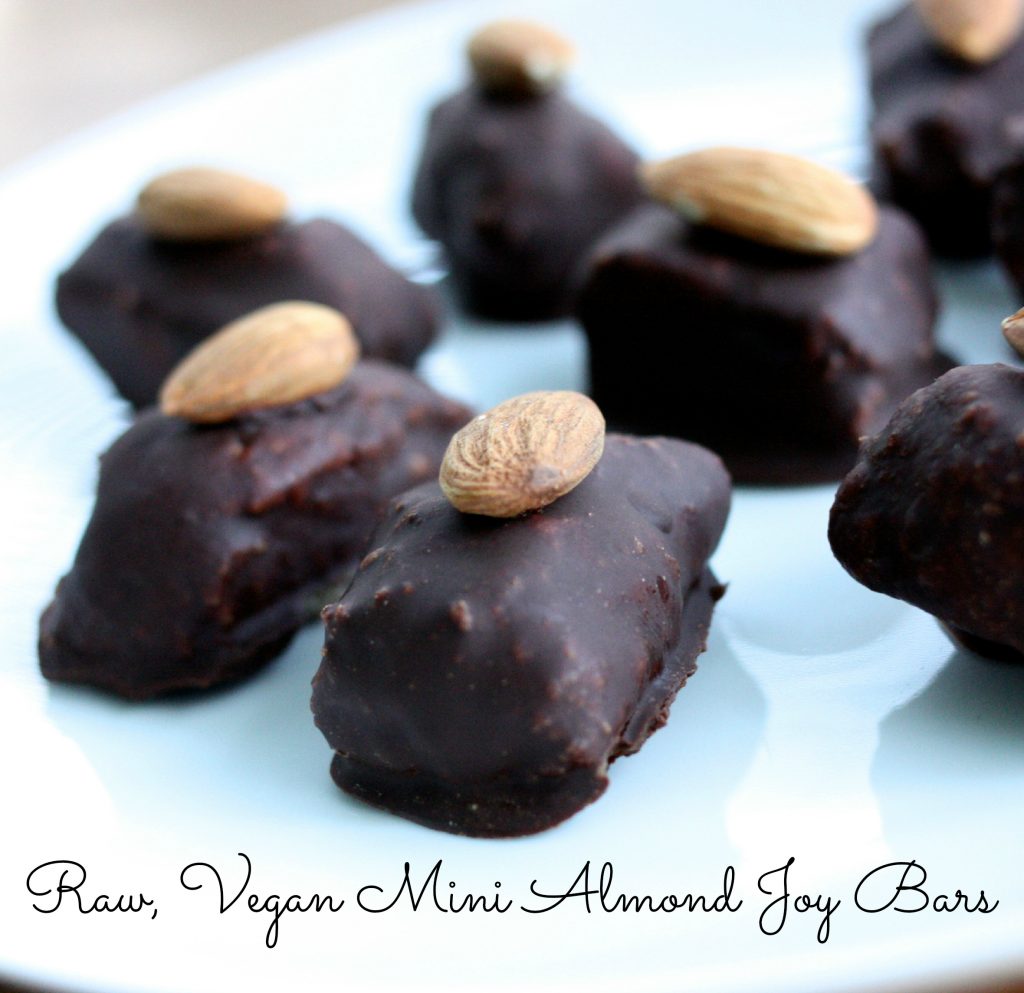 Hi all! Thanks for the warm responses to Meghan Telpner's interview–and her marvelous recipe for Orange Zest-Infused Stew!
Are you ready for a treat? I was browsing through Food52 this week (I'm one of their columnists, but I also love getting inspired by all of the creativity on the site), and I saw this recipe for mini almond joys, created by Kristin Rosenau of Pastry Affair. They looked easy and delicious, which is how I like my desserts to be. They were already darn near close to a raw food recipe, but I decided to put a homemade raw, vegan spin on them, using the simple homemade raw chocolate coating or chip recipe that I learned from Nicole Axworthy and Lisa Pitman. The results? Bite-sized (almond) joy. 
This recipe calls for cacao butter in the raw chocolate coating. If you don't want to invest in the cacao butter, or you can't find it, that's cool; just go ahead and follow the Food52 instructions for using melted chocolate. That said, cacao butter is a fragrant, beautiful, and fascinating ingredient, and a little goes quite a long way. I've had the same bag I got on Amazon for months, and each time I make a batch of chocolate, I get a lot out of it. So in spite of the price tag, it's worth checking out cacao butter for yourself–you can peek at the one I've used here!
Otherwise, this recipe is a cinch. Just watch.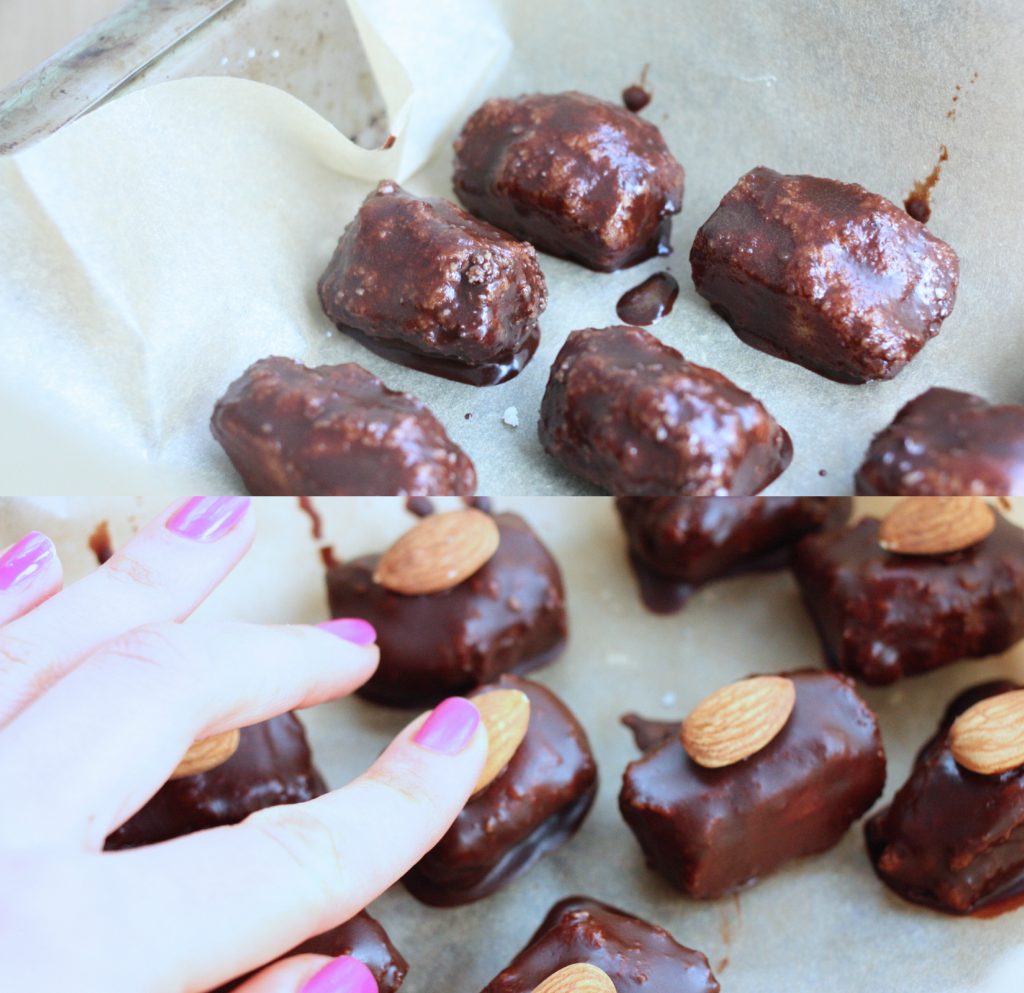 Mini Raw, Vegan Almond Joy Bars (Inspired by Food52 and Pastry Affair)
Author -
1. In a food processor fitted with the "S" blade, process all filling ingredients till well mixed and uniform. They'll be a little wet, but they should stick together well.

2. Shape the filling into twelve mini rectangles. Place them on a parchment lined shallow casserole or baking pan. Refrigerate for 30 minutes.

3. Set up a double boiler, using a medium sized mixing bowl. Melt the cacao butter, then whisk in the cacao powder, syrup, and sea salt.

4. Take each mini bar and dip it into the coating, quickly placing it back on the parchment. Return them to the fridge for 10-15 minutes, or until one coating has set. Repeat the process, so that each has a double coat.

5. Press one almond on top of each mini bar. Return them to the fridge for another 15 minutes (or more), to let them set. When ready to serve, let them sit outside the fridge for about 15 minutes, then share them!
See? Easy. Easy, but delightful.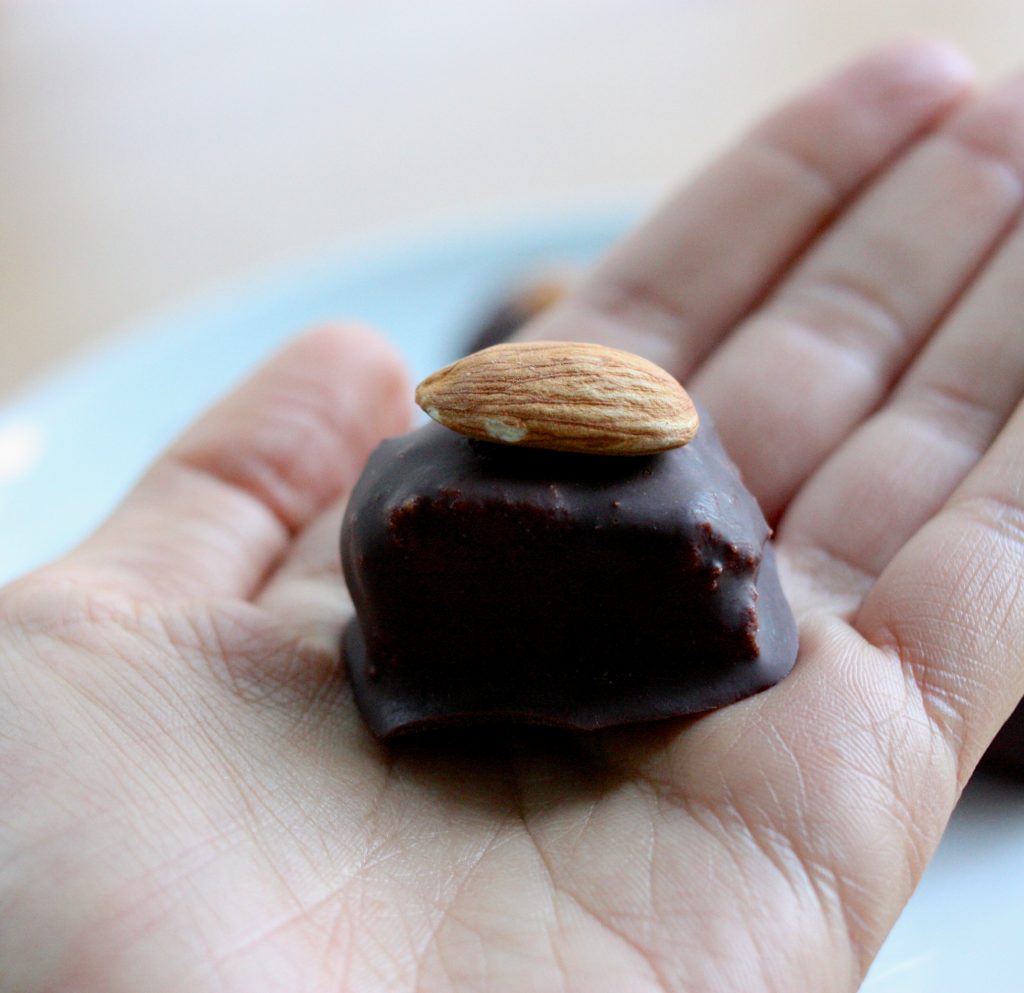 I was never a coconut person growing up–raw foods actually converted me–but I do recall Almond Joys with fondness, and these little raw, vegan snacks are a pretty wonderful adaptation. They've also been post-bacc tested, which is currently my ultimate barometer of recipe success.
Make some this weekend, and enjoy every bite!
xo