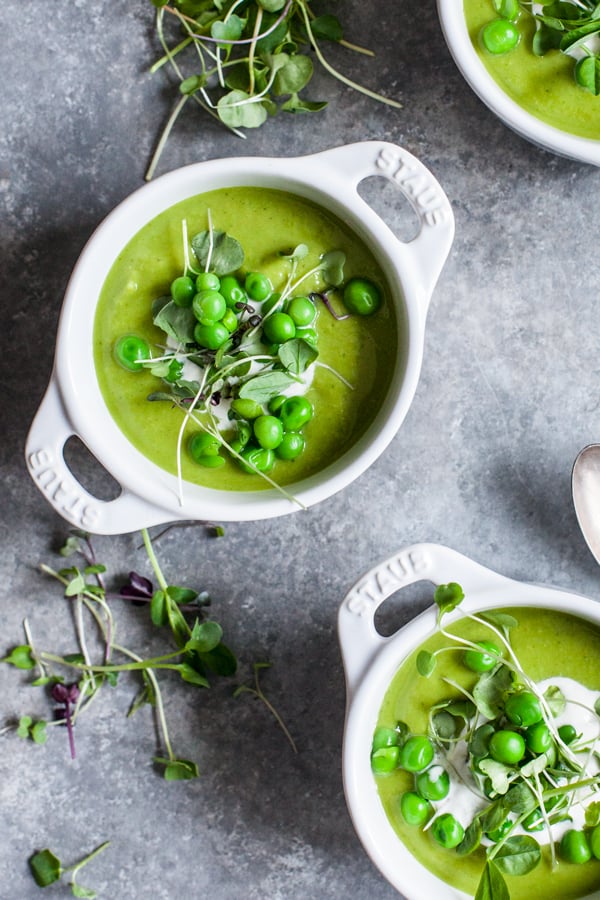 It's pea season these days, and I couldn't be happier about. I love green peas, in just about anything and everything. I love green pea guac for its lightness and texture. I love throwing peas into parsnip rice or quinoa.  And lord knows I love green pea hummus–so much that a variation of this recipe ended up in my first cookbook. My latest favorite, though, is this silky vegan minted pea soup with cashew cream. It's simple, elegant, and a perfect way to celebrate the season.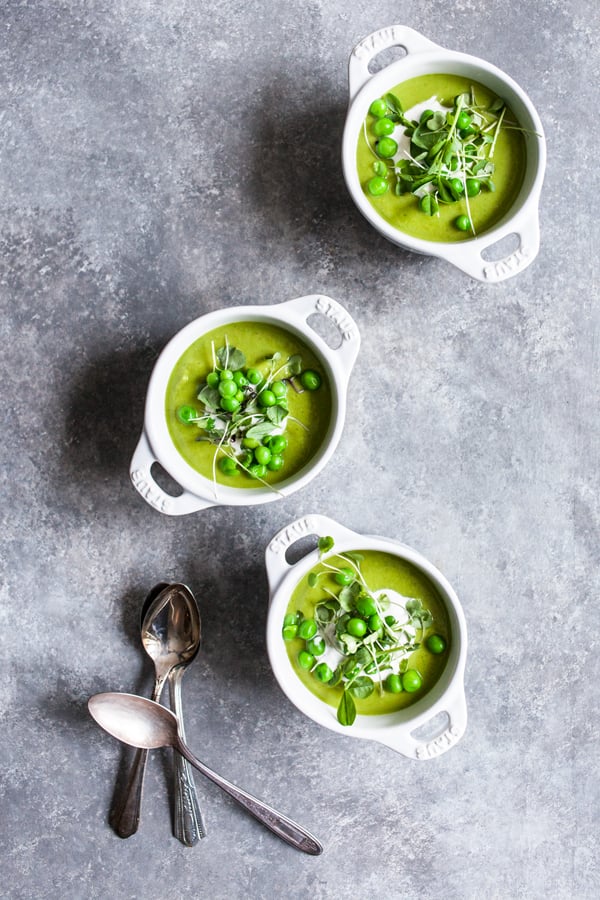 Part of what I love about the soup is its simplicity: a quick sauté of spring onions and shallots, the addition of peas, and then a spin in the blender. That's pretty much all it takes to get the soup on the table. My cashew cream helps to give the soup some creaminess and richness, and you can use extra for swirling and garnish. If you're allergic to cashews (or you don't have time to make cashew cream), you could try coconut milk or soy milk in the soup instead.
I could have multiplied the herbs in the soup (it's tempting, with so many fresh herbs popping up at the market), but I think that sticking to mint and parsley allows for bright, clean flavor. You can add extra flavor by using chives as a garnish, or you can use microgreens or pea tendrils instead. Both make for a lovely presentation!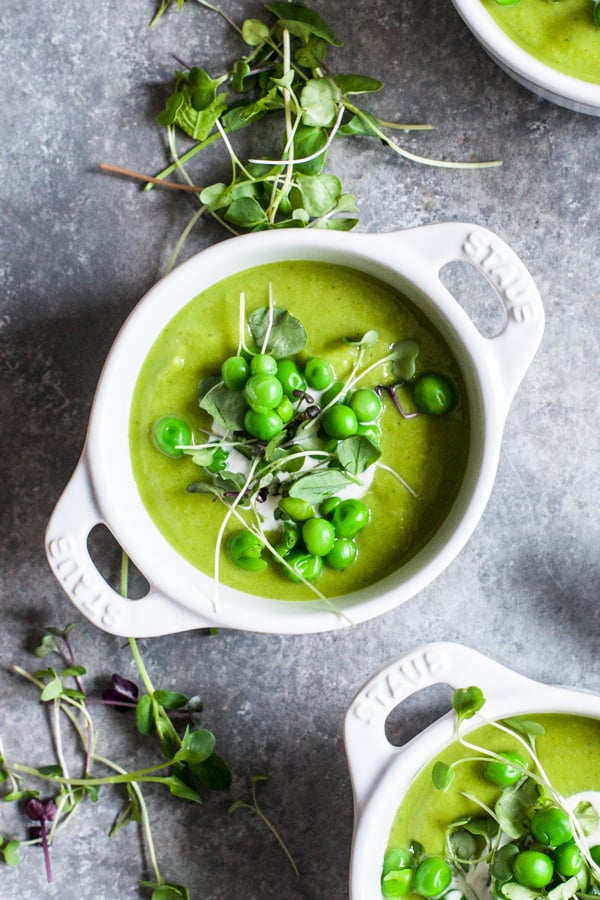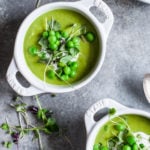 Minted Pea Soup with Cashew Cream
Author -
2

teaspoons

olive oil

1

spring onion

chopped (or 1 small white onion, chopped)

2

shallots

chopped

1/2

teaspoon

salt

Dash black pepper

3

cups

vegetable broth

6

cups

frozen

thawed green peas

1/2

cup

mint leaves

1/4

cup

parsley leaves

1/2

cup

cashew cream

plus extra for swirling/garnish

Optional: 1/4 cup microgreens

pea tendrils, or snipped chives, for garnish
Heat the olive oil in a soup pot or Dutch oven over medium heat. Add the onion and shallots. Cook until the onions are clear and soft (about 5 minutes). Add the salt, pepper and broth, and bring the broth to a simmer. Add the peas. Simmer the peas for 10 minutes.

Transfer the peas to a blender. Add the mint and parsley. Blend the soup until it's silky smooth.

Transfer the soup back to the pot. Stir in the cashew cream. Check the seasonings and adjust to taste. If the soup is a little too thick for your liking, add a splash of additional vegetable broth.

Divide the soup into bowls and garnish with a sprinkle of chives and a little swirl of extra cashew cream. Serve.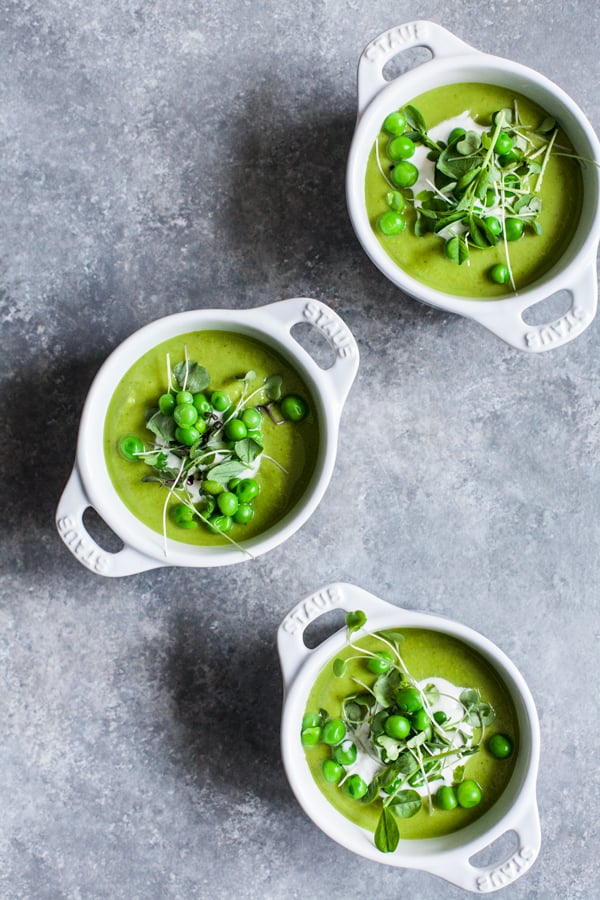 The first time I made this soup, I served it as an appetizer. Steven and I were having family over, and it was a hit. If I were enjoying it for lunch or dinner, I'd pair it with a grain or legume salad, a farro or rice risotto, or perhaps a grilled tofu + roasted veggie dinner. No matter how you'd like to serve the soup, I hope you'll have a chance to savor it before pea season is behind us. If you try it, let me know what you think!
On that note, I wish you all a great Tuesday. I'll see you soon, with a new breakfast recipe in hand.
xo